4th of July Recipes
Buffalo Chicken Pasta Salad
(Recipe courtesy of Betty Crocker)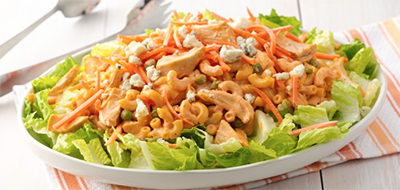 Ingredients
1 box Betty Crocker™ Suddenly Salad™ creamy macaroni salad mix
3/4 cup ranch dressing
1/4 cup Frank's™ RedHot™ Buffalo Wings Sauce
2 cups shredded cooked chicken
1 bag (9 oz) chopped romaine
1 cup shredded carrots
1/2 cup crumbled blue cheese (2 oz)
Directions
1. In 3-quart saucepan, heat 2 quarts water to boiling over medium-high heat. Add uncooked pasta (from Suddenly Pasta Salad box); cook at medium boil 12 minutes. Drain; rinse with cool water, then drain thoroughly.
2. Meanwhile, in large bowl, mix ranch dressing, wing sauce and seasoning (from Suddenly Pasta Salad box). Add chicken and cooled pasta; toss to coat.
3. Arrange romaine on large platter. Top with pasta mixture, followed by carrots and blue cheese.
---
Taco-Stuffed Mini Sweet Peppers
(Recipe courtesy of Betty Crocker)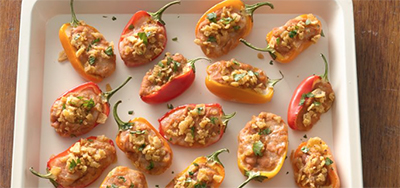 Ingredients
16 mini sweet peppers (red, yellow and orange)
3/4 cup Old El Paso™ refried beans
3/4 cup shredded Monterey Jack cheese (3 oz)
1/4 cup sour cream
2 teaspoons Old El Paso™ taco seasoning mix (from 1-oz package)
3/4 cup corn chips, crushed
Chopped fresh cilantro, if desired
Directions
1. Heat oven to 375°F. Line large cookie sheet with cooking parchment paper; set aside.
2. Cut each sweet pepper in half lengthwise, leaving stems intact. Remove seeds and membranes. Place halved sweet peppers on cookie sheet, cut sides up.
3. In medium bowl, mix refried beans, cheese, sour cream and taco seasoning mix until well mixed. Place mixture in resealable food-storage plastic bag. Cut 1/2 inch off 1 corner of bag. Pipe mixture into pepper halves.
4. Top each pepper half with crushed corn chips. Bake 15 to 20 minutes or until peppers are crisp-tender. Cool on cookie sheet 10 minutes. Top with chopped fresh cilantro.
---
Corn and Black Bean Salad
(Recipe courtesy of Betty Crocker)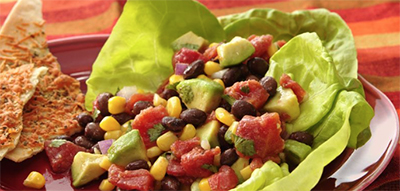 Ingredients
1/2 bag (16-oz size) Cascadian Farm® frozen organic sweet corn (1 3/4 cups)
2 cans (14.5 oz each) Muir Glen™ organic plain or fire roasted diced tomatoes, drained
1/2 cup Progresso™ black beans (from 15-oz can), drained, rinsed
1/4 cup chopped red onion
3 tablespoons chopped fresh cilantro
2 tablespoons fresh lime juice
1 tablespoon vegetable oil
1/2 teaspoon coarse salt (kosher or sea salt)
1/2 teaspoon ground cumin
1/4 teaspoon pepper
1 clove garlic, finely chopped
1 avocado, pitted, peeled and chopped
Directions
1. Cook corn as directed on bag. Rinse with cold water; drain.
2. In large bowl, stir together corn and remaining ingredients except avocado. Refrigerate until ready to serve, at least 1 hour. Stir in avocado just before serving. 
---
Blueberry Pie Bars
(Recipe courtesy of Betty Crocker)
Ingredients
1 roll (16.5 oz) Pillsbury™ refrigerated sugar cookies
1/2 cup quick-cooking oats
1/4 cup packed brown sugar
1/4 teaspoon ground cinnamon
1/2 cup granulated sugar
4 teaspoons cornstarch
Juice of 1 lemon
4 cups fresh blueberries
Directions
1. Heat oven to 375°F. Spray 9-inch square baking pan with cooking spray. Break up three-fourths of cookie dough into pan. With floured fingers, press dough evenly in bottom of pan to form crust. Bake 15 to 20 minutes or until golden brown.
2. Meanwhile, in medium bowl, crumble remaining cookie dough. Add oats, brown sugar and cinnamon; toss. Set aside.
3. In small bowl, stir together granulated sugar, cornstarch and lemon juice. Gently stir in blueberries. Sprinkle blueberry mixture evenly over crust. Crumble oat mixture over blueberry mixture.
4. Bake 30 to 40 minutes or until topping is golden brown and filling is bubbly. Cool 1 hour before serving. Cut into squares.