Brookshire Brothers is partnering with What's the Buzz Coffee Co., based out of Bryan, Texas, and the Center for Coffee Research and Education to support Central American farmers and to create an exceptional cup of coffee.
Together they are bringing a collection of three Texas A&M University-branded roasts to Brookshire Brothers shelves and to coffee buffs across the country.
12th Man Blend

This medium roast is the smoothest of the trio that includes beans sourced from 12 different small farms to represent the spirit of the Aggie tradition of the 12th Man.

Howdy Blend

This lighter roast has more fruity, fresher and aromatic notes with a light body that isn't as bold as the other roasts.

Midnight Yell

This roast has notes of dark chocolate and is the closest to a dark roast of the trio.
Each are easy-to-drink, smooth coffees that lack the acidity of some, according to What's the Buzz Coffee Co. creator Rodrigo Chavez. The pleasant taste comes from 100% Arabica beans and lie around a medium roast, where the aroma and flavor of coffee peaks, he said.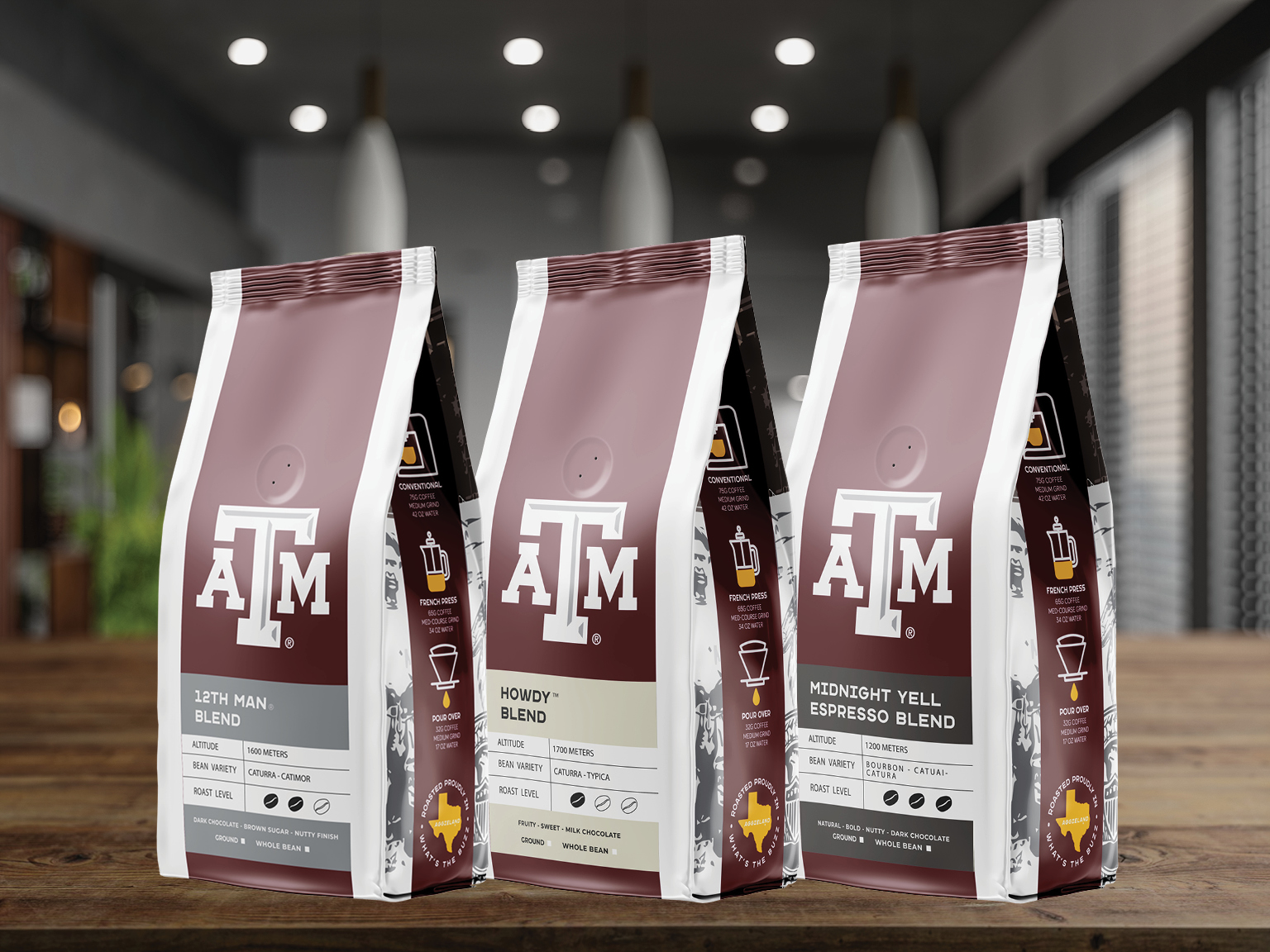 Each blend can be purchased at Brookshire Brothers in College Station, and you can grab a cup of 12th Man Coffee from the in-house coffee shop, Brookshire Brothers Brews. The Lufkin-based grocery chain has also created a direct-to-home shipping program that will offer customers across the country the opportunity to experience the flavor of the 12th Man Coffee. Online customers will have the option to purchase the new brands in whole bean or ground form and can take advantage of a special deal to buy all three blends for $30.
More importantly, these three blends are part of a larger program to invest in the success of coffee bean growers in Central America.
"Brookshire Brothers is a company committed to supporting our communities," said John Alston, President and CEO of Brookshire Brothers. "We are excited to be a part of such an innovative project that will positively impact the lives of small farmers in Central America for years to come. We hope our customers, as well as the nationwide Aggie family, will help us make a difference."

What's the Buzz was created by Rodrigo Chavez to roast a different kind of coffee. Chavez emigrated to the U.S. from Guatemala nine years ago, and he hated the taste of every coffee he tried.
"I wanted to do something about it," Chavez said.
So he purchased a small roaster and worked on making a good cup of coffee. One day, his neighbor smelled what he was doing and wanted to try what he had made. After that, she was hooked and wanted to buy more.
"That's basically what got me started," Chavez said. "I roasted more and more until I couldn't keep up with the roaster I had."
Eventually, he grew into his own roastery and began teaching people how to brew their own cups of coffee. From there he began working with the Center for Coffee Research and Education, which focuses on research into improved coffee genetics and processing. In tandem, this project helps small coffee farmers improve their crop, rise out of poverty and produce something that can be sold alongside large name brands.
"Coffee is in crisis right now because of low prices," Chavez said. "This is part of why we see a lot of migration from places like Guatemala; farmers are leaving their coffee on the tree without being picked because the prices are so low. But by raising and selling high-quality, specialty coffee, which costs a little more but is much higher quality, we are able to pay the farmers more money for their crops."
Together, What's the Buzz Coffee Co., the Center for Coffee Research and Education and Brookshire Brothers hope to make an impact.
"Most small farmers have less than 1 acre and don't live where they cultivate," Chavez said. "By changing the price, even $1 per day, you double their income."
With every purchase of 12th Man Coffee, you are not only buying high-quality coffee, you are supporting both the local community and the lives of a network of small farmers creating an economy of coffee in developing countries like Guatemala.