Thursday April 27, 2017
Cinco de Drinko
Throw a Cinco de Mayo fiesta like your amigos have never seen before! This Cinco de Drinko Guide will make you wish it was Cinco de Mayo year-round!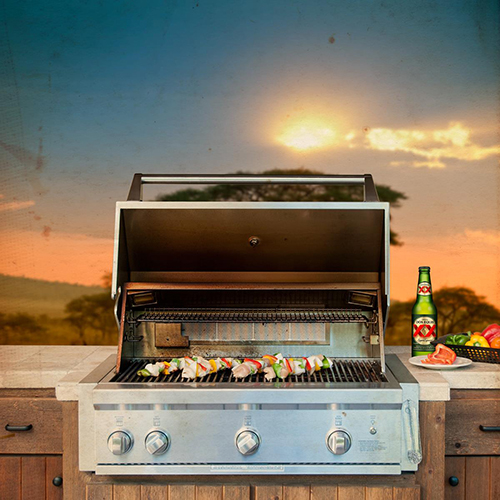 Dos Equis pairs well with any season, but especially grilling season. The refreshing and distinctive taste of Dos Equis Lager brings out the smoke and grilling flavor notes from any chicken or seafood dish, but we recommend this pairing. 
The Chelada
This may be roughly translated as "cold beer," but we think it's more than just that. This authentic cocktail concoction consists of a delicious mix of beer with lime. It is authentic to Mexico and has landed itself as our #1 pick for your Cinco Celebration. Simply mix Dos Equis Lager and the juice from one lime and call yourself bartender for the night. Before you pour, rim your glass with salt and you've just taken your party to the next notch.
Find out more about Dos Equis from our Beverage Depot. Check out What's Hot here!
Dos Equis Coconut Beer Shrimp with Sweet & Tangy Sauce
You'll be able to taste the highlighted sweet notes from cirtus orange marmalade and coconut through the malt, hops and unique strains of yeast found in Dos Equis Lager. 
Ingredients
4 eggs
1 cup Dos Equis
3-1/2 tsp Creole seasoning (divided use)
1-1/4 cup all-purpose flour
2 Tbsp baking powser
48 large raw shrimp, peeled, tails on, de-veined (Find what you need in your local Brookshire Brothers Market department!)
1-1/2 to 2 cups fresh or moist-packed shredded coconut
Oil for deep frying
2 cups orange marmalade (for the Sweet & Tangy Sauce)
1/4 Creole or Dijon Mustard (for the Sweet & Tangy Sauce)
3 Tbsp shredded horseradish (for the Sweet & Tangy Sauce)
Directions
Combine eggs, beer, 1 tsp Creole seasoning, flour and baking powder. Blend well. Season shrimp with remaining seafood seasoning. Dip the shrimp in beer batter and roll in coconut. Fry in oil heated to 350°F. in deep fryer, wok or deep saucepan. The oil should be at least 1-1/2 inches deep. Drop shrimp in a few at a time and fry until golden brown. Remove and drain on paper towel. For the Sweet & Tangy Sauce, blend ingredients and serve.
Cheers to you this Cinco de Mayo!