Tuesday April 3, 2018
Sprouting Good Health
Spring is in the air, and plants everywhere are bursting to life from their winter sleep. In the world of health and wellness, "sprouting" applies the same bursting-to-life principle as a way to unleash the nutritional powers of plant foods. Specifically, sprouting grains, nuts, and seeds are common practices that are known to enhance the nutritional qualities of wheat, barley, and other staple grains.  "Ancestral" style eating plans have been touting the benefits of this traditional practice for years, but only recently has it begun to catch on after it fell by the wayside with industrialization in the 1800s. Now, products are sprouting up everywhere, capitalizing on the merits of eating "properly prepared" seeds and grains.
So just what is so special about sprouting?  Sprouting unleashes a sleeping seed's locked up nutritional potential—the same nutrition that feeds a tiny plant as it begins to grow.  Nutrients remain dormant until the seed is activated through germination, a process triggered by the perfect combination of moisture, temperature, and light. These same nutrients are also locked away from the human body during digestion unless it is first sprouted.
The process of sprouting increases all the B vitamins, vitamin C, antioxidants, carotenes, and fiber in the plant food. When wheat and other similar grains are sprouted, the protein not only increases, but also it becomes a better, more complete source of protein.  This is an important feature of sprouted products, especially for vegetarians or those who have limited intake of animal proteins.
In particular, seeds contain special substances called "anti-nutrients", which essentially act as preservatives for their nutritional stores. These anti-nutrient compounds include phytic acid, tannins, enzyme inhibitors, and certain difficult to digest proteins (such as gluten).  Sprouting reduces these anti-nutrients, which helps makes the grain easier to digest and the minerals easier to absorb during digestion. Sprouting also decreases the gluten content of wheat, making it easier to digest.  Breads made from sprouted grains still contain gluten, however, so it's still not an option for those who need to stay gluten-free.
Even the Bible has a recipe for making sprouted bread: "Take wheat and barley, beans and lentils, millet and spelt; put them in a storage jar and use them to make bread for yourself." In reference to this verse, the "Ezekiel 4:9 Bread" is a popular sprouted bread that can be found in your local Brookshire Brothers.  Furthermore, if you like to bake, you might check out the variety of sprouted flours available as well.
You can also think outside the breadbox for sprouted products. Consider sprouted seeds (like pumpkin or sunflower), lentils, barley, quinoa, rice, and more. Another fun option is sprouting your own foods at home. Most grains require an overnight soak in filtered water followed by a rinse every 6-8 hours to keep them moist and inhibit mold growth. Raw grains and seeds must be used for sprouting since heat treatment will prevent germination. Quinoa can be sprouted in as short as 24 hours while other grains and seeds will typically take longer.  When finished, the product should be cooked for a slightly less amount of time than the typical cooking time since it will have absorbed water during the soaking process.
So show your body some love. Improve the quality of the carbs in your life. Give sprouts a chance.
It doesn't hurt to show some love to white bread too. THIS WEEKEND ONLY, get a FREE 20 oz loaf of Fresh Harvest bread when you purchase Food Club butter! To sign up for this offer, text JOIN [insert your store number] to 59652.
---
SPROUTED QUINOA AND PESTO WITH TOMATOES
Ingredients
1⅔ cup quinoa
1½ cups chicken bone broth, low sodium and high protein preferred
1 tablespoon extra virgin olive oil
1 small onion, diced
4 cloves garlic, minced
½ teaspoon red pepper flakes
One 14oz can chickpeas, rinsed and drained
One 28oz can of diced tomatoes, drained
12 ounces baby kale or spinach
1 ounce Parmesan cheese, grated, plus additional for garnish
½ cup prepared commercial pesto
Directions
At least one day before finished recipe preparation: 
Place 1⅓ cup of quinoa in fine mesh strainer and rinse under cold water for one minute.  Place quinoa in bowl and submerge in filtered water several inches above the quinoa to soak at room temperature for one hour (may be soaked up to 8 hours or overnight as desired).  Drain quinoa in fine mesh strainer.  Leave quinoa in strainer for sprouting and to keep moist and drained.  Place a towel over the strainer to keep dust out.  Rinse every 2-6 hours to keep quinoa moist and fresh for about 24 hours until quinoa sprouts appear.  (The sprouted quinoa will look like it has little tails.)  Place in refrigerator for up to two days or until ready to use in recipe.
When ready to prepare recipe:
Place quinoa in large saucepan with 1½ cups chicken broth and ½ teaspoon of salt.  Bring to a boil over high heat, and then cover and reduce heat to low and allow to simmer for about 15-20 minutes or until quinoa is tender.  (Cooking sprouted quinoa takes less time and liquid than unsprouted quinoa because it absorbs water during the soaking and sprouting process.)
In a large skillet, sauté onion over medium-high heat until softened, about 5 minutes.  Add minced garlic and red pepper flakes and cook, stirring, until fragrant.  Add diced tomatoes, chickpeas, and spinach/kale to the pot and cook for 2-3 minutes until greens are wilted and the tomatoes and chickpeas are warmed through. 
Take off heat. Stir in pesto and 1 ounce Parmesan until combined.  Season to taste with additional salt and pepper. 
Garnish with additional parmesan as desired. 
---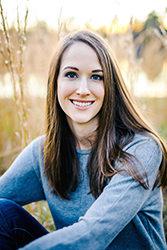 Angela Larson is a registered dietitian (RD) who works with Brookshire Brothers promoting 
real fresh, real delicious
 foods and nutrition education to the community. She is also a clinical dietitian representing Woodland Heights Medical Center in Lufkin where she does outreach education on food and nutrition. Food is her passion, so Angela loves trying new recipes and exploring the more holistic side of nutrition. Angela loves to cook, garden, and spend time outdoors. In addition to the 
Brookshire Brothers blog
, look for Angela's monthly articles in Charm East Texas. 
Pages