Monday May 16, 2016
Hurricane and Disaster Preparedness
Be Aware. Be Prepared. As hurricane season begins, we encourage you to gather supplies and create a Disaster and Emergency Preparedness Kit. When a disaster hits, having the right emergency supplies can mean the difference between life and death. Be ready for whatever storm lies ahead by packing these supplies in a ready-to-go fashion.
Checklist:
Water (When in doubt, have more than enough water. A general tip is 1 gallon per person per day)
Medications
Flashlights
Batteries (Gather enough batteries for a three-day supply)
Matches
Multi-purpose tool
Non-perishable food (Family members will each need enough food for three days)
Personal toiletry items
First aid kit
Battery-powered or hand-cranked radio
Sleeping bags/blankets
Essentials for your pets
Whistle
Tips:
Select a waterproof container/bag for all supplies.
Gather important documents and store a stash of cash.
Make an emergency plan.
Store your emergency kit in a safe place.
Adjust your kit and plan as your family structure changes.
Keep a local map in your kit to follow evacuation routes.
Stay informed with social media and/or local news media.
Keep an extra cell phone and charger on-hand.
Look in your weekly ad for the Hurricane Preparedness Icon placed with suggested supplies.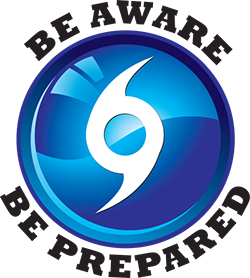 Friday May 6, 2016
Graduation Dessert Party
Planning a graduation party can be daunting—even for the pros.  Read these practical tips that can be applied to your own graduation bash.
Easy but Artful!
Orange-and-black school colors can pose a decorating dilemma. To keep away from a Halloween look, use white as the main color, accented with orange and black for invitations, centerpieces, food label cards, paper goods, cupcakes, even flowers.  Think outside of the box when dealing with tricky school color.
Use cupcakes as a centerpiece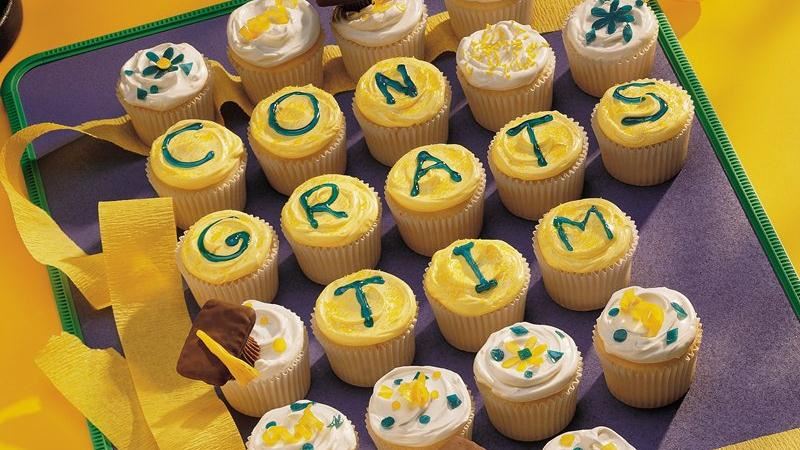 Search 'sprinkles' to find more recipes to adapt to school colors.
To give the serving table a multi-dimensional look, place boxes of varying size on the table, covered them with linens and places plates and platters on top.
More Artful Tips
Cover rented tables with plastic tablecloths, then wrap with length of tulle and tie with bow to keep ends in place.
Set the table 1-2 days ahead. Put out paper goods, serving platters, food label cards and, serving and eating utensils.
Set up self-service coffee and beverage tables. If you are outdoors, fill coolers with beverages and label what's on each one.
Make colorful food label cards for each food. Use half a lime as the food label holder for the plate of Key Lime Bars.
Strawberries, raspberries, thin slices of lemon or lime and lemon leaves all make super-easy garnishes for just about any platter.
For a dash of elegance, dust desserts with powdered sugar or cocoa.
*courtesy of BettyCrocker.com
Monday April 25, 2016
Sweet Tea Float
Rich vanilla ice cream in the refreshing Southern Breeze Sweet Tea. The number of scoops is up to you.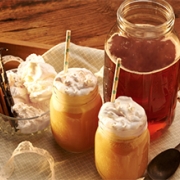 Ingredients (Makes 1 half gallon)
2 Southern Breeze Sweet Tea Bags
4 cups boiling water
1 quart club soda
1-2 scoops per glass Vanilla Ice Cream
Directions
Pour boiling water into a half-gallon pitcher over tea bags. Steep for 10 minutes.
Discard tea bags. Chill in refrigerator.
Mix chilled club soda with tea.
In a glass, add ice cream scoops; top it off with tea blend.
Tuesday April 19, 2016
Sutter Home DIY: Wine Cork Vase
Let's get creative and uncork your crafty side with this DIY cork flower vase project.​ It will add handcrafted flair to your décor and makes for a great conversation piece when friends and family come to visit. ​
Starting this project is as easy as drinking your favorite Sutter Home wines. All you have to do is collect enough corks to get started. This cork flower vase makes a wonderful centerpiece for any table or fireplace mantel, a candelabra or a vase for your favorite seasonal floral arrangements. If you love discovering new DIY projects and reasons to uncork your favorite Sutter Home wines for family and friends, we think this handcrafted and unique vino-inspired vase will really hit home.  ​
​What You'll Need:​
•   4-sided glass vase​
•   About 40-80 wine corks, depending on the size of your vase​
•   Craft glue​
 Directions: ​
​Position the corks horizontally and glue them along the sides of the vase with a strong adhesive craft glue.​
Stack the corks vertically along the four outer edges and glue into place.​
When the glue is dry, fill the vase with water and add flowers of your choice.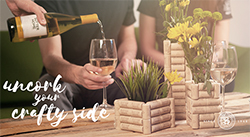 Monday April 18, 2016
Boost Your Beauty with Avocados
You may not realize it, but the benefits of avocados go beyond just enjoying the taste. Many of the same properties that make avocados vital to our internal health can keep you looking vibrant and youthful on the outside, too. Avocados contain 4% of your daily value of vitamin E — an antioxidant that protects body tissue from damage caused by substances called free radicals. Free radicals can harm cells, tissues and organs. They are believed to play a role in certain conditions related to aging. Avocados are an all-natural moisturizer that can rejuvenate and dramatically soften your skin and hair. To see for yourself, try these all-natural remedies that you can make at home using avocados and other ingredients found right in your kitchen.
Dry Hands
We all know that hands can get dry in the winter. Between the cold, rainy weather and wind, many of us have googled "home remedies for dry hands" a time or two. But did you know that besides the normal "wash your hands with warm water" and "use mild soap" suggestions and tips, you can actually find your best moisturizer in your kitchen?
Give moisturizing with an avocado hand cream a try by whipping up this easy treatment. It provides all of the benefits of avocado's nourishing oils with gentle exfoliation delivered by the rolled oats.
Avocado hand cream recipe:
1/4 fully ripened Hass avocado, halved, pitted, peeled
1 egg white
2 tablespoon rolled oats
1 tablespoon lemon juice
In a shallow bowl, mash avocado until smooth. Add egg white, oats, and lemon juice. Stir until combined. Massage into hands. Leave mixture on for 20 minutes. Rinse with warm water.
Dark Circles & Puffy Eyes
A little Vitamin K, C and E are all your eyes need to get some relief! You can get all three of those things from avocados! Just cut up some triangle-shaped slices and place under your eyes for 20-30 minutes.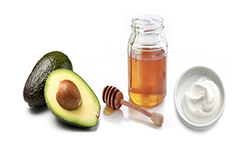 Frizzy Hair
Why can avocados calm frizzy hair? Its oils are light and moist, much like the oils that our skin produces naturally. The nutrients in avocados help smooth and weigh down frizzy hair.
The avocado hair mask recipe below combines avocado with egg whites for an extra protein boost that can ramp up your hair's shine factor and tame frizzy hair at the same time.
Avocado hair mask recipe:
1/2 Hass avocado
2 egg whites
Combine egg whites with mashed-up avocado. Leave in hair for 15 minutes, then wash and condition.
Dead Skin Cells
We all want the glowing skin that comes from a facial. But, how realistic is that for us all with our busy lives? For at-home skin benefits, mix an avocado with yogurt and raw honey and rub it onto your skin. This soothing facemask will get rid of dead skin cells.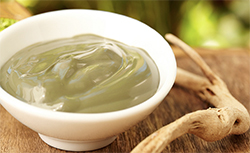 Thursday March 31, 2016
Nature's Health Food - Asparagus
The perfect addition to any meal this spring and summer - asparagus!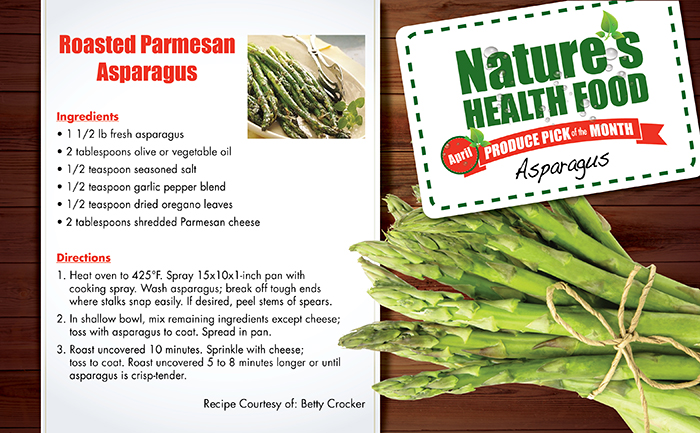 To download PDF, click here
Tuesday March 29, 2016
3 Lunchboxes to Put Some Spring in Your Kid's Step
April showers bring May flowers and these bright and cheery lunchboxes celebrate the best of both!
Springtime brings lots of colorful fun, so we're celebrating by adding it into our lunchboxes! We've got two bright and cheery combos sure to bring a smile to any kid's face. 
Our first lunchbox isn't just adorable, it's delicious too! We made a kid-friendly pasta salad with bowtie noodles plus a little salt and butter, then tossed it all together with Cascadian Farm frozen organic sweet peas. Next, using Betty Crocker™ Fruit Gushers®, we created an adorable flower  and added fresh snap peas for greenery. Last, but not least, we also added a tasty Larabar for a hint of sweetness!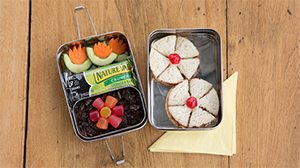 The second lunchbox is sure to satisfy your growing kid's appetite! We made peanut butter and jelly sandwiches in the shape of flowers, which is way easier than you might think. Spread peanut butter and the jelly of your choice between two pieces of bread and cut into a circle using a biscuit cutter. Then, cut 5 slits around the sandwich to make the "petals." Finally, garnish with a fruit Gusher to complete the flower!
We also made flower veggie sticks with carrots and cucumber. Simply cut a slice of cucumber about 1/3-inch thick. Cut the slice in half and remove the seeds. Take a washed and peeled carrot and also cut a slice about 1/3-inch thick. Using a small knife, cut out two small, triangular pieces from one end to create the look of flower petals. To assemble the "flower", place the carrot slice inside the cucumber slice and fasten with a toothpick for the "stem." For a sweet treat, we made a "dirt garden" with ½ cup of chocolate pudding topped with crushed Oreo cookies. The flower was made using Dots candies, but any flowery and sweet garnish will work. We also added a Nature Valley granola bar to eat at lunch or to be saved for a yummy snack.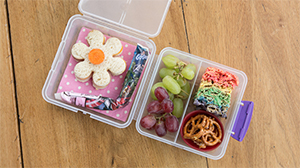 Our final flower power-packed lunch is super easy and super cute! We put together a turkey and cheese sandwich and using a cookie cutter, made it into an adorable flower. We wanted this lunchbox to be super-easy but still fun so we added a Go-Gurt, red and green grapes, and pretzels. We also packed along one of our rainbow Chex Bars (a fun take on the regular Rice Krispy Treat). Instead of making one batch, we divided the recipe into five small batches and added food coloring to each portion individually and stacked each colorful layer. Any other fun treat you have on hand would work great, but we couldn't pass this fun snack up with all the bright colors!
What are some of your favorite springtime, lunchbox-approved recipes? We want to hear from you!
Tuesday March 22, 2016
How to Speak Wine Geek
The terms said in any in-depth discussion of wine can seem like a foreign language at times, but these basic definitions will help make it all feel more accessible.
General Terms
Aging
Holding wines for a period of time in barrels, tanks or bottles to affect the character of the finished wine.
Appellation
The official geographic origin of a wine.
Barrel
A wooden container typically made of oak (generally 60 gallons in capacity) used for fermenting and/or aging wines.
Barrel-aged
A term used for wines that matured in oak barrels for a period of time after fermentation.
Maturation
The aging period at the winery during which the wine evolves to a state of readiness for bottling. Also, the ongoing development of fine wines during a period of bottle aging.
Terroir
A French word for the particular growing conditions of a vineyard (soil, slope, climate and altitude) that give the grapes grown there their unique characteristics.
Varietal
A wine made principally from one variety of grape (e.g., Zinfandel).
Varietal character
The characteristics common to a particular grape variety or the characteristics of a wine related to the grape variety from which it is made.
Wine Characteristic Terms
Aroma
Odors in a wine that originate from the grape. Some distinguish these smells from "bouquet," but the term is often used to describe all smells of a wine.
Balance
The relationship between a wine's alcohol, acid, fruit and tannin. A wine is considered well balanced when none of these components stand out significantly from the rest.
Body
A tactile sensation describing the viscosity or "weight" of wine in the mouth. Body is correlated with the level of alcohol and extract. Wines are described as light, medium or full bodied.
Bouquet
The odors of wine attributed to the winemaking process, such as fermentation, processing and aging, particularly those that develop after bottling.
Crisp
A term for a wine that feels clean and slightly brittle in the mouth, usually from high acidity.
Dry
A wine that is not sweet because all perceptible sugar was consumed during the fermentation process.
Finish
The final impression a wine leaves after you have swallowed or spit it out.
Length
A term describing a wine's sustained sensory impression across the tongue.
Mature
A wine that has reached its optimum point during aging, exhibiting a pleasing combination of aromas, flavors and bouquet.
Oaky
Toasty, smoky or vanilla smells and flavors contributed by the oak during barrel aging. Coffee, chocolate and butterscotch are among many flavors that can be affected by the level of toasting done to a barrel. The origin of the oak used in a barrel can also influences flavors.
Palate
A term used as a synonym for "mouth," or to refer to the characteristics of a wine that manifest in the taster's mouth.
Rich
Description of a wine that offers an abundance of flavor and texture.
Style
The characteristic combination of components (alcohol, acid, tannin and sugar) associated with the wines of a region, a winery or a particular winemaker.
Tannin
A substance found in the skins, seeds and stems of grapes and a principal component of red wine's structure, extracted during fermentation while in contact with the skins and seeds. Oak barrels also impart some tannin to wine. Tannins can be detected in wine by the slight drying sensation along the gum line that they create.
Tuesday March 22, 2016
Reese's Perfect Pass Snack Mix
This recipe is everything you expect in a snack mix - salty with a sweet punch that will knock you off your chair (unless the basketball games knock you off first)!
Ingredients
1-1/2 cups pecan halves or pieces
1 cup COCA-COLA
2 tablespoons sugar
Sea salt
1/2 cup REESE'S Peanut Butter Cups Minis
1/2 cup REESE'S PIECES Candies
1/2 cup small pretzel twists
Directions
Heat oven to 350°F. Lightly spray shallow baking pan with nonstick vegetable spray.
Place pecans in medium bowl; add COCA-COLA. Let pecans soak 10 minutes. Drain COCA-COLA and discard.
Toss pecans with sugar; spread coated pecans on prepared pan. Lightly sprinkle pecans with sea salt.
Bake 10 to 15 minutes or until pecans start to glisten and appear dry. Stir occasionally while baking. Cool completely.
Stir in mini peanut butter cups, candy pieces and pretzels. Store in cool, dry place. About 3 cups snack mix.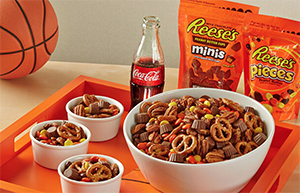 Tuesday March 1, 2016
Cooking with Wine
What wine to use? What to do with the leftover? Red or white, dry or sweet? So many questions, but they're all answered here with three simple rules!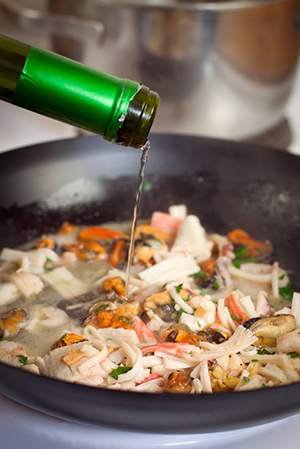 Buy a bottle you'll drink
Rule #1 - Don't venture into a new recipe that calls for a wine that you know you don't like. When cooking with wine, the alcohol cooks out and the flavors are more concentrated. If you are not a fan of a varietal of wine, don't attempt the recipe.
Money isn't everything
Rule #2 - Just because the price tag is more expensive, doesn't mean your meal needs it. Most recipes that call for using wine can have a price cap at $12-$15 per bottle. Also, "cooking wines" are not necessary. Buy your favorite bottle for your taste buds and budget.
Leftover wine?
Rule #3 - You've just finished your decadent dish, but you have half a bottle of wine leftover. Most people may know what we would do with it (drink it, right?)...But, for those who are avid chefs-in-the-making, store that bottle (with the cork) in the refrigerator. It should have a shelf life for up to a week for you to tackle your next recipe!
Now, go have some fun in the kitchen!
Pages