Monday April 3, 2017
Easter Egg-cellent Chocolate Covered Strawberries
Take an untraditional spin on Easter this year! When you hide those decorative and colorfully-dyed Easter eggs, save the cartons and hurry down to your local Brookshire Brothers for fresh strawberries. These chocolate covered strawberries can be the perfect sweet treat to complement your Easter celebration!
Easter Chocolate Covered Strawberries
Ingredients
16 large strawberries
1 1/2 cups milk, dark or white chocolate chips
Candied sprinkles, colored sugars, etc.
Parchment paper
Directions
1. Wash strawberries thoroughly. Dry carefully by patting gently with paper towels.
2. Place chocolate chips into small, microwaveable towl with tall sides.
3. Heat bowl in the microwave on high for 30 seconds. Remove bowl; stir chips with spoon. Return bowl to microwave and continue to microwave on high for an additional 30 seconds. Stir and repeat until chocolate is melted.
4. Dipping on strawberry at a time, submerge into melted chocolate by holding the steam between your fingers.
5. Slowly remove the strawberry from the chocolate (allowing excess chocolate to run off) and place on a piece of parchment paper to dry.
6. Immediately decorate the chocolate-covered strawberry with your favorite sprinkles.
7. Allow the chocolate to cool and harden at room temperature. Serve immediately or store in a tightly covered container in the refrigerator for up to 24 hours.
Monday April 3, 2017
How to Brunch 101
Dinner parties may be in your wheelhouse, but can you transition into a 10am brunch? With the Easter season around the corner, we're here to teach you how to make your next brunch extra delightful!
Brunch Buffet
We love a good brunch because it's easy on the host, and who doesn't love good coffee cake? Most of the menu items can be prepared ahead, giving you ample opportunity to mingle and enjoy the party along with your guests.
A staple brunch recipe is some kind of egg bake, along with a breakfast meat and lots of cheese. Many casserole recipes can be interchanged for your preference of bacon or sausage. 
*Expert tip: A vegetarian dish is always a good backup idea!
Fresh Flowers
Nothing says "brunch" like a bouquet of Spring's best flowers. Pick up whatever blossoms look the prettiest at your local Brookshire Brothers and scatter informal bouquets throughout your home. 
*Expert tip: White ceramic pitches make charming vases!
Ribbons & Bows
Traditionally, brunches are a "women only" kind of gathering. The men usually stick to the football game on prime time TV, sitting on the sofa with a rack of ribs. With this in mind, don't skimp on the feminine touches. Wrapping your forks and spoons with a simple ribbon can give a bit of cheer and elegance to your brunch. 
*Expert tip: Your floral department can assist in making large bows!
Final Touches
We love seeing a host go the extra mile in creating the perfect scene for any occasion. To really set the stage for a perfect spring-theme brunch, try your hand at creating the perfect adornment for your guests' glasses below.
Easy Candied Mandarins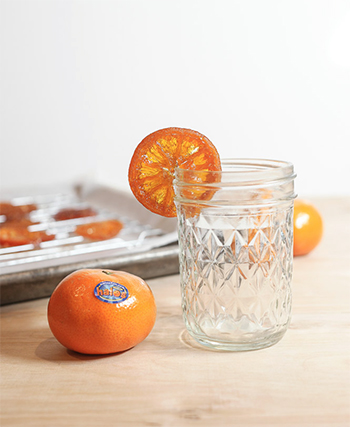 Recipe courtesy of Halos Mandarins
Ingredients
1/3 cup honey
1 cup water
5 Halos mandarins
Directions
1. In a wide-base pan, mix honey with water and heat over low until combined completely.
2. Slice mandarins as thin and uniform as possible, discarding the end pieces. Gently add them to the honey-water, and add a small amount of additional water if necessary to keep the mandarins completely submerged.
3. Cover and heat on low for 45 minutes to an hour, checking it occasionally to ensure that the mandarin slices don't burn.
4. Turn the heat up to a low-medium and keep covered for another half hour, checking frequently. Remove from the stovetop as soon as they start to bubble. The honey will have formed a caramel-colored syrup that hardens as it dries.
5. Remove the mandarin slices onto a slotted stainless steel baking rack or broiler rack placed on top of parchment paper on a baking sheet. Cook in a 250-degree preheated oven for thirty minutes. Turn them over and cook for another thirty minutes. Let cool completely.
Expert tip: If they're still slightly tacky, you can dust with coconut sugar to help make them easier to handle!
Monday March 27, 2017
Make Me Some Peanuts & Cracker Jacks
With local youth baseball and softball games starting and the big league's opening day right around the corner, we're having some fun with these baseball-inspired recipes (courtesy of Kraft).
Dill Pickle-Popcorn Mix
Pick a piece of dill pickle popcorn, grab your favorite seat on the couch or on the bleachers and root on your favorite team with a perfectly pleasant popcorn snack! This Dill Pickle-Popcorn Mix is ready to be enjoyed in just 5 minutes.
Ingredients
1 pkg. (3 oz.) microwave popcorn, popped
1 Tbsp. butter, melted
2 Tbsp. chopped fresh dill
1/2 cup Planters Sea Salt & Vinegar Peanuts
Directions
1. Place popcorn in large bowl.
2. Add butter and dill; toss until evenly coated.
3. Add nuts; mix lightly.
Peanut Grillers
Steaks on the grill...sure.
Shrimp on the barbie... ok.
But nuts? Oh, yes! This baseball treat
will have you holding onto your
helmet! Don't miss out on the 
next big thing! 
Ingredients
1 cup Planters Dry Roasted Peanuts
Directions
1. Heat grill to medium heat.
2. Fold 30-inch-long piece of heavy-duty foil crosswise in half; crimp edges to make rim around all sides. Spray with cooking spray.
3. Spread nuts in single layer in foil pan; place on grate of grill.
4. Grill 6 to 8 min. or until nuts are lightly toasted, stirring frequently. Cool 5 min.
Baseball Dessert
Finish off sweet and score one for the home team with our easy pudding-and-cookie dessert. Red licorice makes easy seams on this big-league-worthy ball. This crowd-pleaser will be going, going, gone soon!
Ingredients
1 pkg. (3.9 oz.) Jell-O Chocolate Flavor Instant Pudding
2 cups cold milk
35 Oreo Cookies, divided
1-1/2 cups thawed Cool Whip Whipped Topping
1 piece red string licorice (36 inch)
Directions
1. Beat pudding mix and milk with whisk 2 min. Let stand 5 min. or until thickened.
2. Line 8-inch round pan with plastic wrap. Arrange 14 cookies on bottom of pan, cutting to fit if necessary; cover with 1 cup pudding. Repeat layers. Cover with plastic wrap. Refrigerate 24 hours.
3. Uncover dessert. Invert onto serving plate; remove plastic wrap. Frost dessert with Cool Whip. Cut remaining cookies in half; arrange around edge of dessert. Cut licorice into 2 (8-inch) pieces and 20 (1-inch) pieces. Use licorice to decorate top of dessert to resemble a baseball.
Friday March 17, 2017
St. Patrick's Day Lucky Shake
Hiland Milk has gathered all of the leprechauns and four leaf clovers to bring you a tradition you'll be wanting to adopt! Try your luck at this Lucky Shake recipe and if you're really lucky, you won't want until next St. Patty's Day to try it again!
Lucky Shake
Ingredients
2 cups Vanilla Ice Cream
1/ 1/4 cups Hiland Dairy Milk (any variety)
1/4 teaspoon mint extract
8 drops green food coloring
Directions
Combine all ingredients in a blender. Blend until smooth - enjoy!
Monday March 13, 2017
A Madness-Inspired March
Grab your friends and turn on your favorite game – we've got a starting lineup that you're sure to enjoy!
When you think of March, you may think of spring, St. Patrick's Day, and spring break. But we know the sports-lovers around the world think of the buzzer-beaters, overtimes, and dramatic upsets. Whether you're keeping track of your bracket or enjoying the company of your family and friends, we're happy to bring you the best recipes, game plans and activities that will make your house the place to be this March! 
Warm-up
When sending invitations or calling your best friends to join your watching party, encourage them to wear a color of their team or a team shirt/jersey. Once everyone arrives, make sure you snap a picture of your guests. You can even hashtag #BrookshireBrothers or tag us on Facebook @BrookshireBros to share your party with us!
Decorations
Plan according to the game you're watching. Have fun theming your living room or man cave with streamers, pennants and sports posters. And don't fear color when it comes to party accessories – go for the coordinating plates, cups and napkins!
Activities
Everyone loves a little fun! When your guests arrive, ask them on whom they're rooting for and have an ongoing tally of who's going to win. You could make it even more interesting if there was a prize for the guests who pick the winning team! 
Recipes
Start off savory and serve a game-day favorite, pizza! Try out this recipe, courtesy of Betty Crocker – Moroccan Madness Pizza. Then top it off with a sweet treat! We love these Malted Madness Cookies from Betty Crocker.
Looking for more advice? Visit with one of our Employee Partners in-store! Find a store near you.
Tuesday February 14, 2017
Mardi Gras Celebration
The time is here to celebrate and we've got all things Mardi Gras! From the beads, to the recipes, and everywhere in between, get your Fat Tuesday fix!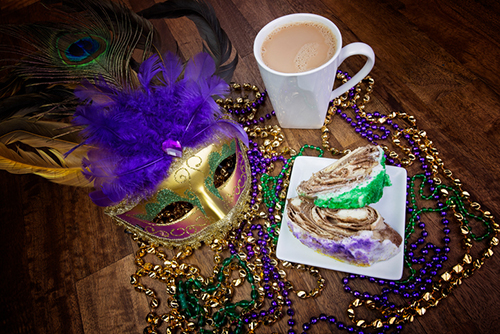 Where did it all start?
Louisiana and Alabama (originally settled by the French and Spanish) were the first to celebrate Mardi Gras. Now, many US cities participate!
Mardi Gras or Fat Tuesday?
It's actually both! In French, 'Mardi' translates to 'Tuesday' and 'Gras' translates to 'Fat' - giving Mardi Gras its origin. 
What do the colors symbolize?
However you celebrate, make sure you decorate in the appropriate colors! Purple symbolizes justice; green represents faith; and gold represents power.
How can you participate?
Contact your local Chamber of Commerce of Convention and Visitors Bureau to see if there is any Mardi Gras celebrations in your hometown. You can also throw your own party by inviting friends and family over, cooking these Cajun-inspired recipes, and planning some DIY activities with the kids such as a scavenger hunt with beads, doubloons and candy hidden throughout the house. Another way to keep the kiddos busy while the parents indulge on Fat Tuesday is by putting the kids to work fashioning paper plate masks. Cut eye holes and attach ribbon for tying on or tape on bamboo sticks for handheld masks before decorating starts. Supply mask makers with colored paper, stickers, beads and feathers along with scissors and glue. Give several prizes: Most Creative, Best Use of Supplies, Most Ferocious, etc. 
Can Brookshire Brothers help with my celebration?
We sure can! We've got your King Cakes, Recipe Tips, and everything you'll need to create the perfect party in store! Find a store near you today!
Friday February 3, 2017
Valentine Chocolate Covered Strawberries
You may have heard about, or even tasted, our famous Chocolate Covered Strawberries!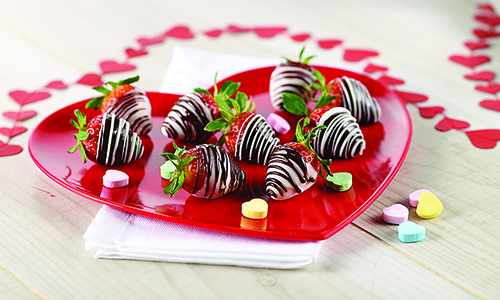 These delicious berries will be the highlight of your Valentine's Day. Take the worry out of gift ideas and treat your sweetheart! Pick from 6 or 12 ct, and choose your choice of chocolate, white chocolate or mixed chocolate. You can pre-order yours today by printing the form below and returning to your local Bakery Department or Store Management. 
Click here to download your order form!
*Some varieties may not be available in all locations. See store for exclusions.
Tuesday January 24, 2017
CForce Premium Artesian Water Announces Availability in Brookshire Brothers
Gena and Chuck Norris' premium artesian water to be sold in new stores across Texas and Louisiana.
CForce Bottling Company, owned by Gena and Chuck Norris, announced that its premium artesian water, "CForce" is now available for purchase at over 110 Brookshire Brothers locations throughout Texas and Louisiana. CForce premium artesian water is already available in 300 Maverik Convenient Stores in the west, and a number of other C-Stores in Texas. With the addition of these new grocery stores, CForce will now be available in over 12 states throughout the country.
CForce premium artesian water is bottled at the source, on the Norris family ranch in Navasota, TX. Dated back more than 23,000 years, the water emerges naturally through ancient volcanic rock and is then deposited into a deep, sustainable aquifer, making it pure, smooth and naturally high in pH. Through an engineered delivery system, the water flows directly to the bottling facility, so that it remains untouched by man until opened.
"We are thrilled that CForce premium artesian water will be available in Brookshire Brothers, to more customers throughout Texas and Louisiana," says Gena Norris, owner and CEO of CForce Bottling Company. "We are proud of our product and excited to offer a premium water at an affordable price point."
In addition to brick and mortar availability throughout grocery and convenience stores, CForce is also available for purchase on Amazon.com.
About CFORCE Artesian Water
CForce Bottling Company, a certified woman-owned business, was founded in 2015 by Gena and Chuck Norris. While looking for a new well site, the Norris family discovered the pristine water source on their Lone Wolf Ranch in Navasota, TX. CForce Bottling Company prides itself on being a different kind of company, and appreciates all of its partners.  For more information, visit www.cforce.com.
About Brookshire Brothers
Brookshire Brothers is employee-owned and community driven. Its assets include 115 retail outlets incorporating grocery stores, convenience stores, as well as free standing tobacco, pharmacy and petro locations.  The Lufkin, Texas based company's footprint stretches east to Lake Charles, Louisiana, west to Dublin, Texas, north to Whitesboro and south to Ganado.  For more information about Brookshire Brothers and its family of brands please visit www.brookshirebrothers.com
Monday January 23, 2017
Texas-Sized Big Game Snacks
Your team is set, but is your menu game day ready? Lucky for you, we've got the perfect snacks for your loud and loaded potato skins-loving uncle and delightful sweets for that reminiscing running back. 
  Party Wings and Boneless Wings are the go-to
  protein-packed hors d'oeuvre that will satisfy
  everyone. You can find this and other great party
  trays from your local Brookshire Brothers Deli.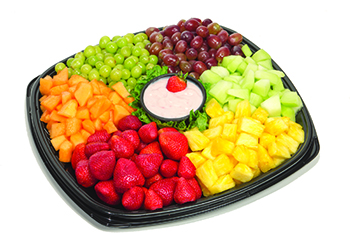 For a lighter snack that the Football Wives will appreciate, go for our Fruit Tray with sweet fruit dip. Complement Trays like this can be found when you order from your Deli.
---
Looking for a personal touch this year? Score big with this tried and true Sweet & Salty Chex Mix Recipe from our Catering Coordinator, Kate Rudasill. With a craft beer favorite from The Beverage Depot, Robert Earl Keen Honey Pilsner, this recipe gives the best of both worlds when it comes to salty and sweet. 
We've got everything you need, whether you're looking for a deli solution or ingredients to make your own creation, at your local Brookshire Brothers. Find a store near you today!
Thursday January 19, 2017
The Concession Stand
The best way to keep crowds happy is to buy big and save big! Our Concession Stand offers your booster clubs, school carnivals, and sporting events with the best quality from your local Brookshire Brothers. Our competitive prices and convenient order process helps you stay focused on your event. We're here to bring you convenience when it's needed most!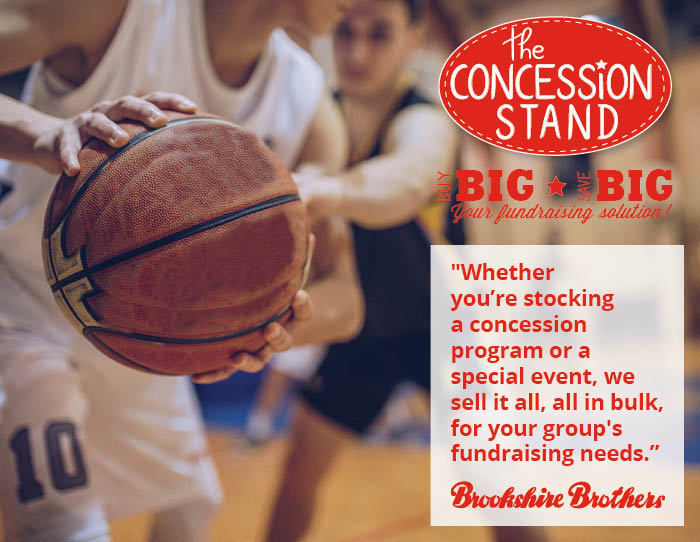 Ordering is as easy as 1 - 2 - 3!
2. Return the Concession Stand order form to your local store
3. Pick up your order when it's ready!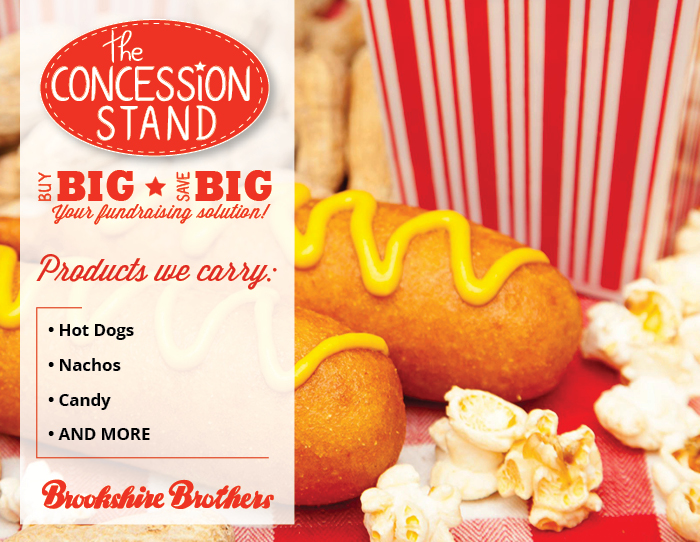 Read how our employees have helped these customers' events run smoothly with The Concession Stand:
"Phyllis Newby from our store in Smithville helped us so much! A lot of my friends told me about how great everything turned out and she was the main person we talked to. I'm so glad we chose to order from Brookshire Brothers."
"The Dublin, TX Broookshire Brothers and Kathleen made our event go from good to great! I was able to focus on other details and know that the concession items would be taken care of."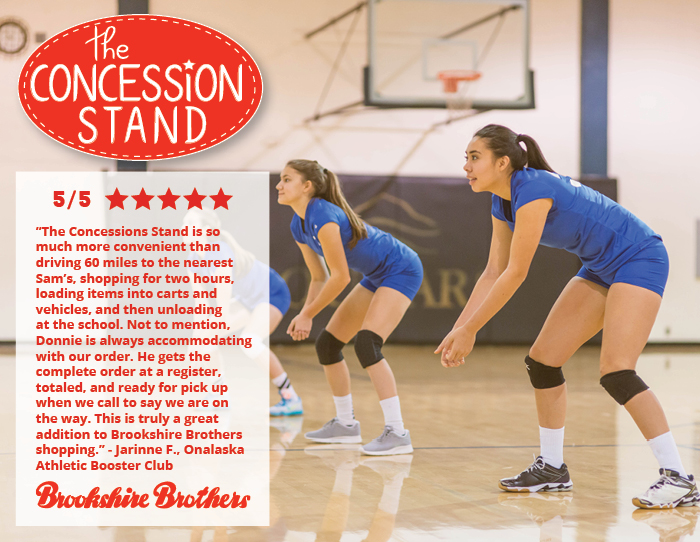 "Mr. Baker made everything easy for us. I know everyone here in Hamilton was pleased to hear I ordered everything from The Concession Stand at Brookshire Brothers. It's so nice to have someone here in town to take care of our needs!"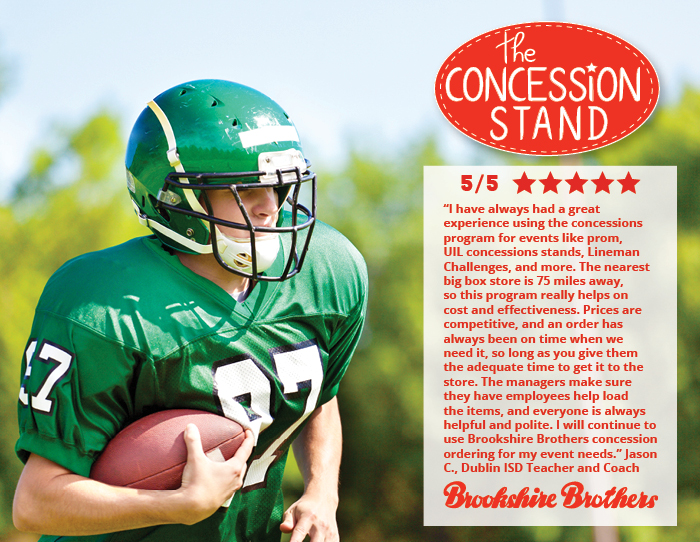 "I couldn't have been more excited when I ran across the Concessions program at Brookshire Brothers. From the first moment we discussed our event with David Hailey, he was there to help with every item."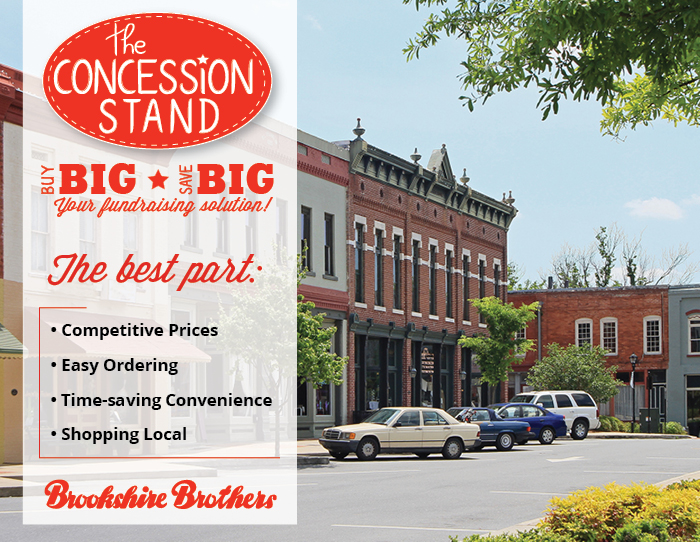 Read more about how to order here.
Pages