Monday October 7, 2019
5 Meals for $50 - 10/09/2019
Do you dread the process of planning dinners for the week? Do you feel overwhelmed with all the shopping, prepping, and cooking when it comes to feeding your family? Sweat no more. We're here to make it easier for you with this easy guide that will save you time AND money. Keep reading for five complete dinners to feed your family of four—all under $50! You can find all the recipes below, as well as an easy to follow shopping list!
Meal 1 - Stouffers Family Size Lasagna Fast Feast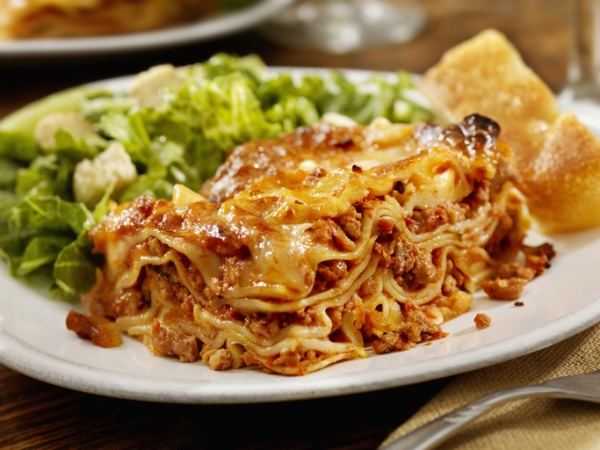 This meal features our Fast Feast with Stouffers Lasagna, Food Club Parmasan Cheese, Food Club Garlic Toast and Fresh Express Salad. Visit your
weekly ad
for details. 
---
Meal 2 - Original Ranch Pork Chops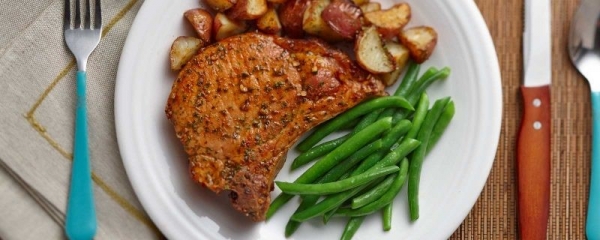 Ingredients
1 tbs Hidden Valley – Original Ranch Seasoning & Salad Dressing Mix
Dash of paprika
6 pork loin rib chops, about 1-inch thick
Kosher salt and ground black pepper to taste
 Directions
Preheat oven to 450°F.
In small bowl, stir the seasoning mix with a dash of paprika.
Season the chops on both sides with salt and pepper; then sprinkle both sides with the seasoning mixture.
Place a rack in the middle of the baking sheet.
Arrange the chops on top. Bake the pork chops for 20 minutes, turning once halfway, until browned or and internal temperature of 160°F is reached.
Serve immediately with roasted potatoes and Food Club Green Beans.
---
Meal 3 - Twisted Tornado Dogs
Ingredients
1 package of Bar-S Skinless Smoked Sausage
1 cup pancake mix
1/3 cup water
2/3 cup vegetable oil
8 wooden skewers
Directions
Pour vegetable oil into large skillet and bring to a medium heat.
Insert a skewer into each sausage.
Starting at the bottom, make an incision in each sausage and twist upwards to create a spiraled cut along the entire length of the sausage.
Create a gap between each layer by gently pulling the sausage down the skewer.
Mix water and pancake until you achieve a dough-like consistency. Add additional pancake mixture if needed to make the dough more workable.
Section dough into eight even balls and roll into long strips.
Wrap a dough strip around each sausage, tucking the dough into the open slits of the sausage.
Place sausage in the heated oil. Rotate every 30 seconds until evenly browned (approximately 2-3 minutes).
Remove and serve immediately.
*Recipe courtesy of our vendor partner Bar S.
---
Meal 4 - Easy Chicken with Tomatoes and Spinach
Ingredients
1 tablespoon olive or vegetable oil 
4 boneless skinless chicken breasts (about 1 1/4 lb)
1 clove garlic, finely chopped
1/2 teaspoon dried oregano leaves
1/2 teaspoon seasoned salt
1/4 teaspoon pepper
1/4 cup dry white wine or water
2 medium plum (Roma) tomatoes, sliced (about 1 cup)
1 bag (6 oz) fresh baby spinach leaves (about 3 1/2 cups)
Directions
In 12-inch nonstick skillet, heat oil over medium heat.

Sprinkle chicken with garlic, oregano, seasoned salt and pepper.

Add chicken to skillet; cook 15 to 20 minutes, turning once, until juice of chicken is clear when center of thickest part is cut (at least 165°F).
Stir wine into skillet.
Top chicken with tomato slices.
Cover; cook 2 to 3 minutes or until tomatoes are thoroughly heated.
Add spinach.
Cover; cook 2 to 3 minutes longer or until spinach is wilted.
---
 Meal 5 - Jambalaya with Kountry Boys Smoked Sausage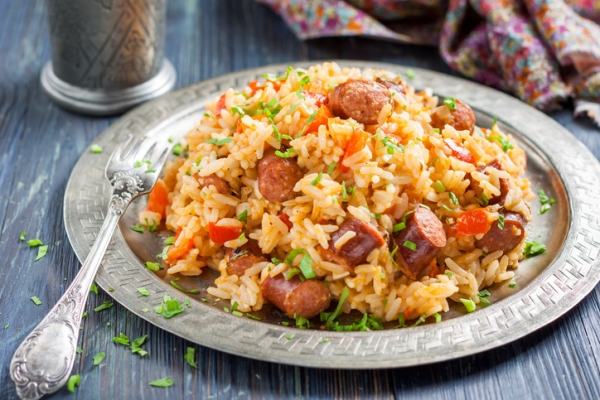 Ingredients
1 (5.0 ounce) package of RICE-A-RONI® Red Beans & Rice
1 (12 oz) package of sliced (1 inch slices) Kountry Boys Smoked Sausage
1 tablespoon margarine
2 cups water
1 (14-1/2 oz) can Food Club tomatoes, undrained, chopped
1/2 cup chopped onion
1/2 cup chopped celery
1/2 cup chopped green bell pepper
 Directions
In a medium saucepan, combine rice-bean mix, 2 cups water, 1 Tbsp. margarine, Special Cajun Seasonings, chopped veggies and sliced sausage; bring to a boil.

Cover, reduce heat to low and simmer 20-25 min. or until rice is tender. Rice will be saucy.

Let stand 5 min. before serving.
Be sure to tell us #HowIFeedMyFamily at your local #BrookshireBrothers store and don't forget to download all of the recipes and your shopping list today!
Pages