Tuesday June 23, 2015
Nature's Health Food - Watermelons
This sweet and spicy treat is perfect for summer. Wow your friends with this new twist on an old favorite!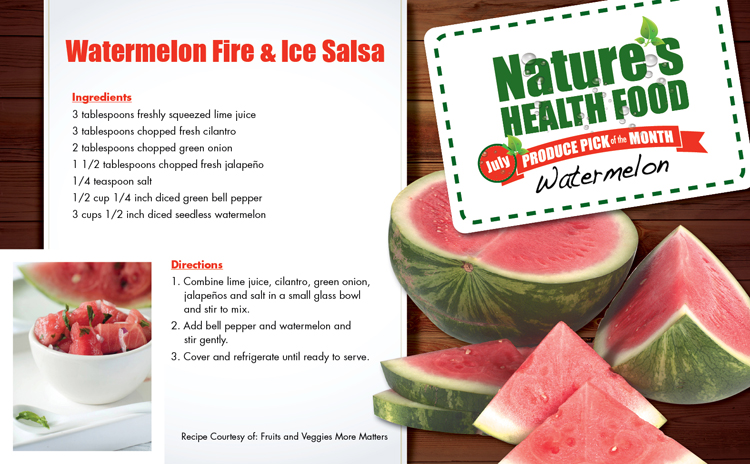 To download PDF, click here
Tuesday June 16, 2015
Wine'd Up Your Burger
With summer, burgers and beer, where does that leave the wine? Don't stress, we've got great recipes that pair with your favorite glass of wine!

1. With wine, guests will gobble these up.
Let's talk turkey: These burgers are best with a glass of Pinot Grigio... The Casablance Bisteeya Burger
2. Let us steer you in the right direction.

Take this burger beyond Grade A with a juicy Zinfandel, rich with blackberry flavors and a hint of black pepper... The Strawberry BBQ Bacon Burger
3. This little piggy goes to the market for red.
Well, hello again, Zinfandel. Pour a glass while whipping up this recipe... The Kansas City Barbeque Pork Combo Burger
4. Venture beyond cheddar.
Burgers stacked with Manchego or Jack? Zinfandel comes out on top. Set out a glass for me too... The Chorizo Beef Burger
5. And patties made from pork too.
Pour some Pinot Grigio and your guests will squeal with delight at such a brilliant pairing... The 'Ono 'Ohana Burger
Monday June 15, 2015
Stretch Your Summer Budget
Stock your pantry with these must-have ingredients and enjoy stress-free meals all summer long.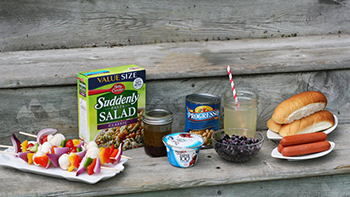 1. Fresh Produce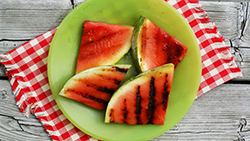 Fruits and vegetables are at their peak in the summer, which also means they are at their cheapest. Make this the summer of experimentation with fresh produce. Try making salsa out of watermelon, or better yet, grill it! Mix veggies and fruits next time you're making kabobs. Give pickling fresh vegetables a go (peppers, perhaps?). And when fresh produce isn't an option, make sure your freezer is stocked with frozen vegetables and frozen fruit. Frozen produce and fruit is preserved at the peak of freshness so it has all the nutritional value and flavor of the fresh stuff.
2. Suddenly Salad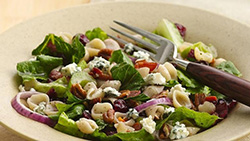 Summer wouldn't be summer without the increase of impromptu picnics and get-togethers. Stock your kitchen with a few boxes of Suddenly Salad, and you'll be prepared for spontaneous summer gatherings. It's an awesome item to have on hand because it's so easy to customize! Simply toss in whatever fresh veggies you have on hand—cherry tomatoes, diced cucumbers, chopped spinach, etc.—and some olives, cheese, chopped bacon or nuts. In mere minutes, you'll have a party-ready side dish. (The Cranberry, Bacon and Blue Cheese Pasta Salad recipe, pictured above, gets it right.)
3. Salad Dressing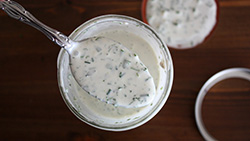 Salad dressing is one thing I almost always make homemade. Why? One, it's easy. Two, it tastes better. Three, because it saves me money. The most basic of vinaigrettes uses three parts olive oil to one part vinegar (like balsamic or red wine vinegar, but feel free to experiment with what you've got on hand). Add a pinch of salt and pepper and some fresh or dried herbs. Place ingredients in a lidded jar, shake vigorously and voila, it's ready to go. 
Beyond this basic vinaigrette, I'd recommend learning a few additional homemade dressing recipes like Raspberry Vinaigrette and this iteration of Buttermilk Green Goddess (pictured above). Once you've mastered the basics, you may never go back to bottled dressing again!
4. Yogurt
Yogurt is a must-have ingredient any time of the year, but it's especially delicious and refreshing in the summer. For a quick, filling breakfast, I top yogurt (Greek, preferably) with fresh or frozen berries, chopped almonds and a drizzle of honey.
5. Taco Fixings
If you stock your kitchen with Old El Paso taco shells, beans and seasonings, you'll always be prepared for a last-minute Tex-Mex meal. All you need to add are grilled meat (look for what's on sale), fresh, in-season veggies, cheese and sour cream.
6. Canned Beans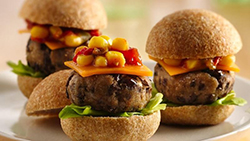 Beans are both versatile and low-cost, making them a year-round staple in my kitchen. Progresso black beans, cannellini beans, and garbanzo beans are some of my favorites for use in summer salads and soups. When I'm feeling creative and have a little more time, I like to make Black Bean Sliders (pictured above) or homemade hummus.
7. Lemonade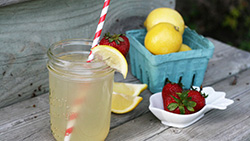 A cold glass of lemonade can make any day feel like summer. No matter what kind you make—homemade, frozen or powdered—you can't go wrong. Serve it up in a jar and garnish with fresh strawberries for an inexpensive, fancy-feeling upgrade. 
8. Hot Dogs
Hot dogs are a quintessential, all-American summer food. This summer, take it up a notch and set up a build-your-own hot dog bar. For toppings, try chopped jalapeño peppers, shoestring potatoes, refrigerator pickles, shredded cheese, chopped bacon or chili. In addition to the requisite ketchup and mustard, try hot sauce, ranch dressing and cheese sauce. 
With these tips in mind, you can enjoy all of summer's bounty without breaking the bank. Have fun, and let me know if there are other money-saving summer staples I should add to my shopping list!
Friday June 12, 2015
The Sweet Route to Dad's Heart
We've all heard the saying... "The only way to a man's heart is through his stomach." All children understand this old adage as well. Sure, all fathers could use a tie, but how about an edible tie? Keep your spot in Daddy's heart with this quick, easy, cute and most of all yummy recipe.
Father's Day Marshmallow Pops
Ingredients:
12 Jet-Puffed s'moremallows marshmallows
4 oz. of each icing variety (white and blue)
1 Tbsp. nonpareils
Materials:
12 paper straws
1 wooden toothpick
Directions:
Dip toothpick into water and insert on the bottom side of the s'mores mallow going half way up. Wiggle toothpick around several times to expand hole. Remove toothpick and immediately insert paper straw into hole. Repeat for all marshmallows. Set aside.
Fill a piping bag with a round decorating tip or a sandwich size zip-top plastic bag with the icing. If using plastic bag, snip a tiny opening on one of the bottom corners with kitchen shears. You can also buy icing already in tubes! 
Using white icing, pipe shirt's collar and side pocket onto s'mores mallow. Repeat for all pops. Using blue icing (or any other color), pipe tie right below collar. Immediately attach nonpareil decorations using tweezers. Only pipe one tie at a time as icing tends to dry really fast and it must be wet in order for nonpareils to adhere.
Set aside and let dry. You may cut the straws a little shorter and insert them into the center of frosted cupcakes for adorable Father's Day cupcakes!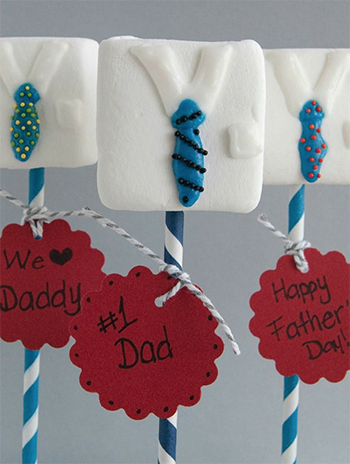 Tuesday June 2, 2015
2015 Texas Blueberry Festival
We are happy to once again sponsor the 26th annual Texas Blueberry Festival happening June 13, 2015! The most delicious festival in the Lone-Star State attracts thousands of blueberry-lovers to the downtown square of Nacogdoches, Texas. Guests of all ages will be entertained starting at 8AM and lasting through the day to 4PM. Live music, shows and activities can be expected, but here is a list of the tastiest attractions.

Blueberry Pie Shoppe
Join us at the corner of N. Mound & Main St. to purchase your fresh, hand-made blueberry pie. Beginning at 8AM, Brookshire Brothers' pie experts will be selling a limited amount of delicious pies for $10/piece. Keep it for yourself or give as a gift! The pies will be plated in a nice glass dish perfect for a special presentation. But be sure to stop by first thing, because when the pies are gone, they're gone!

Blueberries for Sale
2015 is a historic year for blueberry sales as we will have a record-breaking number of flats of blueberries available. At $25/flat or $2.50/pint, these Texas-Grown blueberries are sure to sell quick! And no need to worry about transportation of blueberries to your car - we will have a golf cart available to escort you and your berries safely. Don't want to wait until the day of the festival to get your favorite blueberries? Stop by your local store to get the same Texas-Grown quality blueberries. 

Blueberry Pie Baking Contest
"It's easy as PIE!" The highly anticipated bluebery pie baking contest is back and bringing multiple prizes with it! You could win up to a $100 Brookshire Brothers gift card by entering your family recipe. Participate in the contest by downloading the form below and returning to a Nacogdoches Brookshire Brothers stores or the Nacogdoches Chamber of Commerce. Entries will also be accepted the day of until 10AM at the Visitors Center, 200 E. Main St. We hope to see you there!
Click here for more information on the 2015 Texas Blueberry Festival.
Friday May 29, 2015
Blueberry How-To
Blueberries couldn't be a more effortless fruit. There's no peeling, coring or cutting — just pick and enjoy! This native North American fruit has been prized for centuries.
Types of Blueberries
Highbush, or cultivated, blueberries are grown for primarily commercial use.
Lowbush, or wild, blueberries occur naturally and grow in carpetlike vines in northern areas
Picking Blueberries
When you're picking blueberries, make sure they are plump and firm and are a frosted indigo color. Blueberries do not ripen after picking, so avoid picking berries that aren't fully ripened.
Blueberries are in peak season from late May to mid-August. One pint of blueberries is equal to 2 cups. Cover berries and store in the refrigerator after purchasing or picking. They will keep up to 10 days. Wash just before using.
Freezing Blueberries
Freezing blueberries is easy. Do not wash blueberries before freezing. The waxy coating protects them when frozen.
Spread berries on a cookie sheet or in a baking pan, and freeze until berries are frozen. Transfer them to a freezer container or a plastic freezer bag. If you're planning to use frozen blueberries in baked goods, the color may bleed into the batter. To prevent this, be sure the berries are frozen solid and stir them into the batter just before baking.
Blueberries and Nutrition
Don't let their small size fool you! Blueberries are a superfood with high nutritional value.
Blueberries are sometimes referred to as "brain berries" or brain food, because they are a top source of antioxidant phytonutrients. Early research suggests that regular consumption of phytonutrients may support healthy brain function.
Blueberries contain antioxidants called anthocyanins, which are thought to prevent harmful cell damage and reduce "free-radicals" in the body. These may help slow the aging process.
Blueberries are a good source of Vitamin C, as well as potassium, magnesium and fiber.
Blueberries are lower in calories than many fruits and have zero fat.
Tuesday May 26, 2015
Nature's Health Food - Blueberries
Enjoy Nature's Health Food for June. Blueberries are healthy and are sure to please the whole family.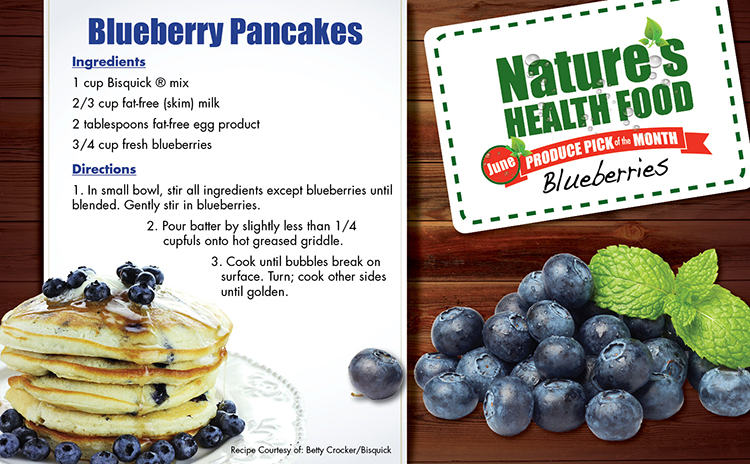 To download PDF, click here
Friday May 22, 2015
DIY Wine Stoppers
What's better than wine and DIY? We have a great idea on how to step into summer fun!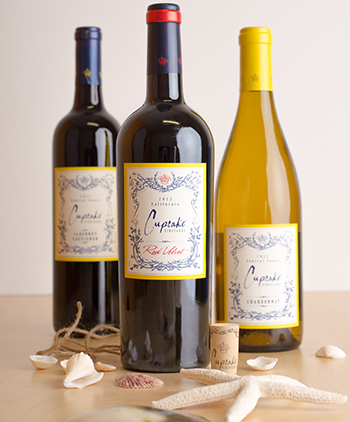 Step 1: Gather supplies! What you'll need:
A few bottles of your favorite Cupcake varietals plus the corks
Sea shells, starfish, or coral
Exact-o blade
Hot glue gun
Glue stick
Twine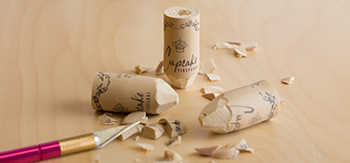 Step 2: Carefully cut the lower half of a cork to form a taper.
Step 3: Cut a small hole in the top of the cork, approximately 1/4 inch deep. This is where you will insert your shell.
Step 4: Place a small dab of hot glue in the hole and insert your shell, starfish, or coral. Hold until dry. To hide the glue, wrap the base with a small piece of twine. Secure with a tiny bit of hot glue.
Step 5: Use your new Sea Shell Wine Stopper next time you enjoy a bottle of Cupcake!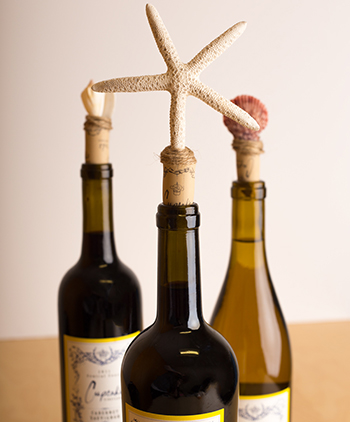 Wednesday May 6, 2015
Summer Snackin'
School is almost out and I can see a pantry full of cookies, chips, and popcorn. This is the go-to for most school-aged kids, but what if we made healthy snacks just as available? This year, take the time to prepare some cute and healthy snacks and your kids will thank you.
String Cheese & Pretzel Sticks
Give your kids a protein boost and a low-fat snack. This combo will keep your kids satisfied while you can catch up on a good book!
Want to make this snack extra fun? Split the cheese stick half way up and push the pretzel stick in the other end of your cheese stick to make a witch broomstick. We all know the way to a kid's tummy is through fun food!
Apples & Peanut Butter
You can't get away from this classic duo when thinking of healthy snacks. However, you can put a spin on it for your kids. Make little sandwiches out of apple slices and peanut butter. Create an even more filling combo by adding oats and raisins on the peanut butter. This treat will help you remember…an apple a day really will keep the doctor away.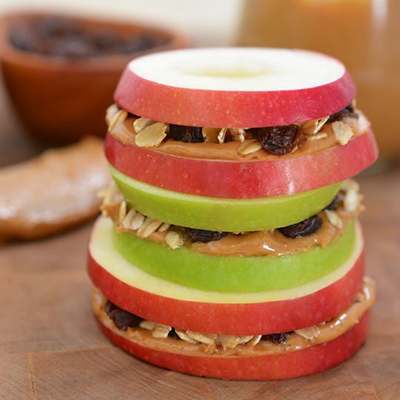 Grapes and Cheese Cubes
This fresh snack will be a family favorite. Stack the grape on top of the cheese cube and use toothpicks to make this a grab-and-go snack. If your kids are craving a sweet and salty bite, they'll polish off a plate of these.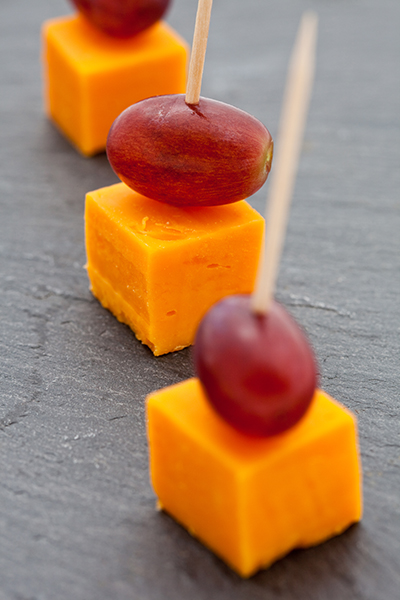 Don't just stop there. Continue making food fun for your kids with bento box ideas. Grab cookie cutters to create shapes or create a face in your yogurt. You could even use cheerios for eyes! Be playful and your kids will love the time and creativity spent in each delightful dish.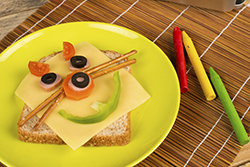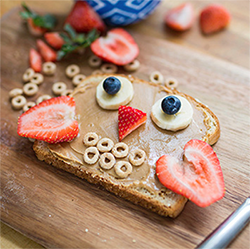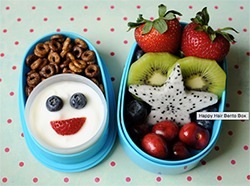 Borden Cheese is helping to keep your summer healthy!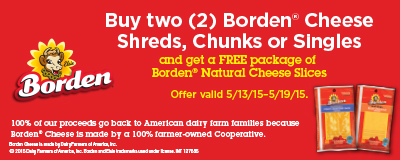 Thursday April 30, 2015
Hats Off to You!
As yet another school year is ending, senior-itis has kicked in full force for high school and college seniors alike. The only thing your student can think of is walking across the stage and receiving a diploma; but you know there is a lot that needs to happen between now and then. Senior receptions, class parties, graduation celebrations and awards banquets are just a short list of events that you'll need to prepare for. With the help of our advice, you'll be relaxed on graduation day knowing your parties were planned with ease.
Opt for a healthy choice for all party guests by picking up a vegetable tray from your local store. Earn extra hostess points by plating the vegetables on your own platter for presentation. Forego the stress of buying, washing and chopping veggies by serving our pre-chopped and readily available vegetables. This party-planning secret will allow time for celebrating and visiting with friends and family.
Cater to your graduate's appetite by serving our signature, fried chicken. Straight from Granny Brookshire's family recipe to your family gathering, our legs won't disappoint. Fresh, never frozen and good to the last crumb, this pleasing entrée is great for any size occasion…big or small.
What party isn't complete without a sweet treat? Finish off the evening with an assortment of our David's cookies that are a bite above the rest. These chunky, chewy favorites are for everyone to enjoy. Although they may be too good to pass off as your own, you can certainly boast about the ease and satisfaction of serving such an enjoyable dessert.
On the day of graduation, surprise the graduate in your life with a fresh floral bouquet from expert florists. We offer a delightful experience from start to finish when ordering your arrangement. After presenting the flowers at graduation, take the display home and set them as a centerpiece on your table as you prepare for another celebration.
Pages