Friday May 22, 2015
DIY Wine Stoppers
What's better than wine and DIY? We have a great idea on how to step into summer fun!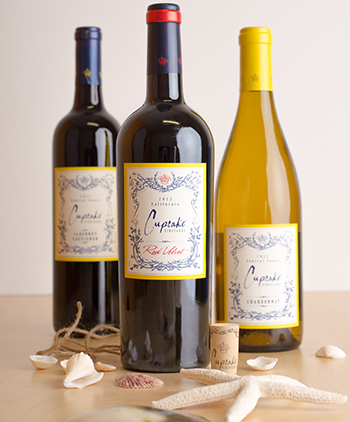 Step 1: Gather supplies! What you'll need:
A few bottles of your favorite Cupcake varietals plus the corks
Sea shells, starfish, or coral
Exact-o blade
Hot glue gun
Glue stick
Twine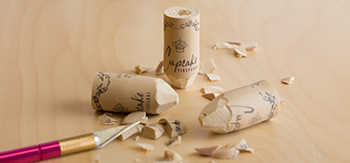 Step 2: Carefully cut the lower half of a cork to form a taper.
Step 3: Cut a small hole in the top of the cork, approximately 1/4 inch deep. This is where you will insert your shell.
Step 4: Place a small dab of hot glue in the hole and insert your shell, starfish, or coral. Hold until dry. To hide the glue, wrap the base with a small piece of twine. Secure with a tiny bit of hot glue.
Step 5: Use your new Sea Shell Wine Stopper next time you enjoy a bottle of Cupcake!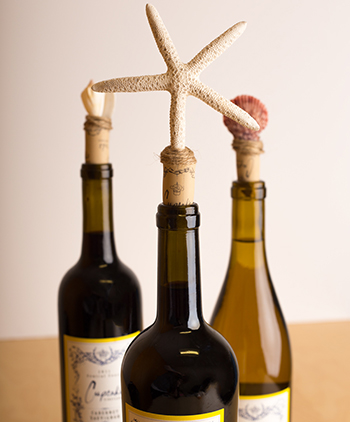 Wednesday May 6, 2015
Summer Snackin'
School is almost out and I can see a pantry full of cookies, chips, and popcorn. This is the go-to for most school-aged kids, but what if we made healthy snacks just as available? This year, take the time to prepare some cute and healthy snacks and your kids will thank you.
String Cheese & Pretzel Sticks
Give your kids a protein boost and a low-fat snack. This combo will keep your kids satisfied while you can catch up on a good book!
Want to make this snack extra fun? Split the cheese stick half way up and push the pretzel stick in the other end of your cheese stick to make a witch broomstick. We all know the way to a kid's tummy is through fun food!
Apples & Peanut Butter
You can't get away from this classic duo when thinking of healthy snacks. However, you can put a spin on it for your kids. Make little sandwiches out of apple slices and peanut butter. Create an even more filling combo by adding oats and raisins on the peanut butter. This treat will help you remember…an apple a day really will keep the doctor away.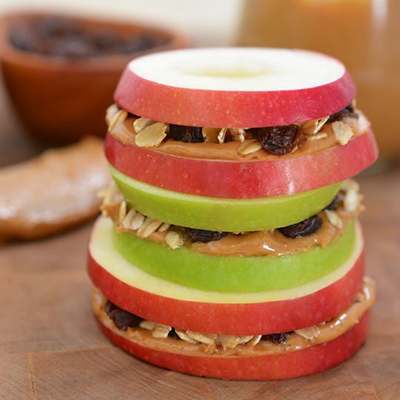 Grapes and Cheese Cubes
This fresh snack will be a family favorite. Stack the grape on top of the cheese cube and use toothpicks to make this a grab-and-go snack. If your kids are craving a sweet and salty bite, they'll polish off a plate of these.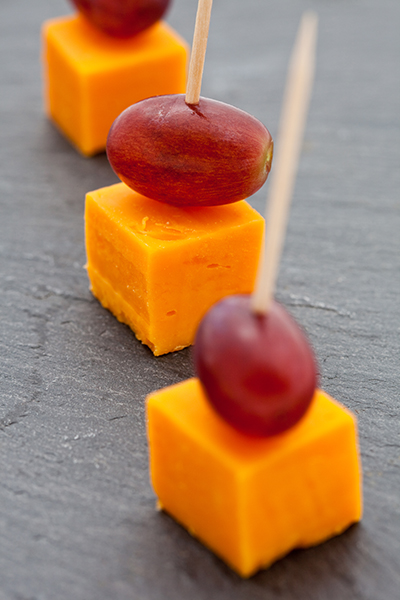 Don't just stop there. Continue making food fun for your kids with bento box ideas. Grab cookie cutters to create shapes or create a face in your yogurt. You could even use cheerios for eyes! Be playful and your kids will love the time and creativity spent in each delightful dish.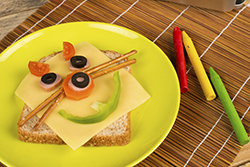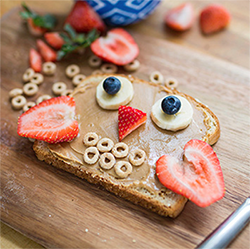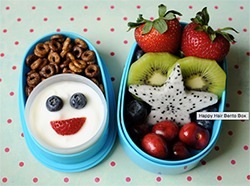 Borden Cheese is helping to keep your summer healthy!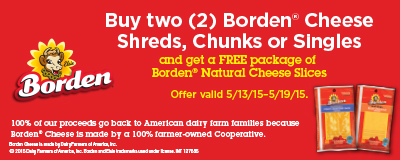 Thursday April 30, 2015
Hats Off to You!
As yet another school year is ending, senior-itis has kicked in full force for high school and college seniors alike. The only thing your student can think of is walking across the stage and receiving a diploma; but you know there is a lot that needs to happen between now and then. Senior receptions, class parties, graduation celebrations and awards banquets are just a short list of events that you'll need to prepare for. With the help of our advice, you'll be relaxed on graduation day knowing your parties were planned with ease.
Opt for a healthy choice for all party guests by picking up a vegetable tray from your local store. Earn extra hostess points by plating the vegetables on your own platter for presentation. Forego the stress of buying, washing and chopping veggies by serving our pre-chopped and readily available vegetables. This party-planning secret will allow time for celebrating and visiting with friends and family.
Cater to your graduate's appetite by serving our signature, fried chicken. Straight from Granny Brookshire's family recipe to your family gathering, our legs won't disappoint. Fresh, never frozen and good to the last crumb, this pleasing entrée is great for any size occasion…big or small.
What party isn't complete without a sweet treat? Finish off the evening with an assortment of our David's cookies that are a bite above the rest. These chunky, chewy favorites are for everyone to enjoy. Although they may be too good to pass off as your own, you can certainly boast about the ease and satisfaction of serving such an enjoyable dessert.
On the day of graduation, surprise the graduate in your life with a fresh floral bouquet from expert florists. We offer a delightful experience from start to finish when ordering your arrangement. After presenting the flowers at graduation, take the display home and set them as a centerpiece on your table as you prepare for another celebration.
Wednesday April 29, 2015
Nature's Health Food - Strawberries
Enjoy Nature's Health Food for May. Strawberries are healthy and great for smoothies and other snacks.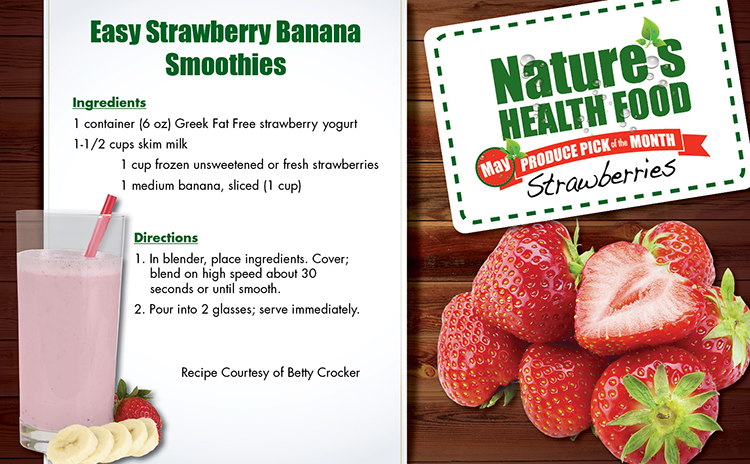 To download PDF, click here
Wednesday April 29, 2015
Celebrate Mom
"Mom, is my uniform clean?" "Mom, I'm hungry." "Mom, can you take me to the mall?" Sound familiar? You may not ever think about it but once a year, but your mother does a lot. And it's not that your mom needs or wants praise all year, but on Mother's Day, she is welcoming a break and some appreciation. 
However, not all mothers want gifts. Moms want a clean house, breakfast in bed, quality time, and a lot of love and laughter. So don't worry about the perfect gift this year, let us help create the perfect day instead.
The husband and the kids can pitch in on this easy breakfast for Mom!
Puffed-Pancake Brunch Casserole
Ingredients

½ cup butter 
2 cups Original Bisquick™ mix 
2 cups milk
8 eggs
1 cup shredded Swiss cheese (4 oz)
1 lb cubed cooked ham (about 3 cups)           
1 package precooked bacon, chopped 
2 cups shredded Cheddar cheese
¼ teaspoon salt
¼ teaspoon ground mustard 
Dash ground nutmeg
Directions
Heat oven to 375°F. Spray 13x9-inch (3-quart) glass baking dish with cooking spray. Place butter in dish; place in oven until melted, about 10 minutes.
In medium bowl, mix Bisquick mix, 1 cup of the milk and 2 of the eggs with whisk until tiny lumps remain. Pour over butter in baking dish. Layer with Swiss cheese, ham, bacon and Cheddar cheese. In large bowl, mix remaining 1 cup milk, remaining 6 eggs, the salt, mustard and nutmeg. Pour over casserole.
Bake uncovered 35 to 40 minutes or until golden brown. Let stand 10 minutes before serving.
Don't just stop there! Grab a bouquet of flowers (our florists have great designs) and a card, pick up some paper plates, cups, and cutlery so Mom doesn't have to worry with dishes, and wake her up with breakfast in bed. This easy and filling meal is sure to leave everyone satisfied and ready for the day. When Mom wakes up feeling full and refreshed, plan some crafts with the entire family. Believe it or not, Moms love those handmade signs. Commemorate this day by bringing out the paint and create "hand bouquets" and have everyone sign their name by their handprint.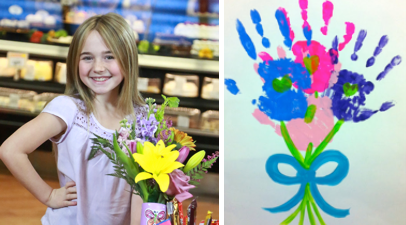 After an afternoon of painting and other activities, bring your mom a fresh bowl of strawberries. If you really want to treat her, slice up an Angel Food Cake and have whipped cream to serve with the strawberries!
Finish off the day with dinner and a movie. Let the kids help in the kitchen cooking dinner while Dad finds a good family movie. Let us suggest the perfect main course that will top off the perfect family day.
Mother's Day Grilled Chicken
Ingredients
4 boneless skinless chicken breasts
½ cup sweet-spicy French dressing
¼ cup soy sauce
1 clove garlic, finely chopped
Directions
In 1-gallon resealable food-storage plastic bag, mix all ingredients; seal bag. Turn bag to mix.
Refrigerate at least 2 hours to marinate.
Heat gas or charcoal grill. Remove chicken from marinade; discard marinade. Place chicken on grill over medium heat. Cook 10 to  12 minutes, turning once, until juice of chicken is clear when center of thickest part is cut (170°F).
Mom will LOVE this grilled chicken! Pair with the kids favorite sides and you can't go wrong. We hope this full-proof guide to Mother's Day makes the Mom in your life feel extra special this year!
Monday April 27, 2015
Tips for Cinco de Mayo
Spring is no longer waiting in the wings as summer inches closer and closer each day. The 5th of May marks the beginning of warm weather and potluck entertaining for many. New neighbors, old friends, or whoever is on the list will find plenty of reasons to mingle and enjoy memorable Latin food and fun geared to grown-ups.
Decorate
Shop for paper and plastic goods for eating and serving this meal, especially if eating outside or serving a crowd-size group. Be inspired by serving dishes you have to give your party its color theme.
Use cultural flowers (available in some locations) and brightly colored ribbons for a centerpiece.
String lights or colorful Mexican cutout banners inside or out.
Arrange groupings of cactus or succulents in pots around the party area. Plan for a fiesta look when planting pots of flowers on your deck or terrace this year!
Music and Dance
Bring on some great Mexican music. Check to find music that may be new to you or that's perfect for dancing.
Find someone who knows some Latino dance steps and practice with them so you can help friends enjoy these dances at your party, too!
Tasting
Everyone has an opinion. Tasting a favorite salsa can give guests a way to mix and mingle when they may just be getting acquainted. If you know each other well, you will know how competitive your friends like to be!
Tasting salsas can take several directions. Guests can all be asked to "doctor" a particular brand like one of our Old El Paso® Thick 'n Chunky salsas or Muir Glen® organic salsas and bring it to share.
Or, just have guests bring their favorite store-bought or homemade salsa. Evaluate each for color—from green to deep rich red, and flavor—from mild to fiery, from smoky to fresh. Tortilla chips are perfect for tasting salsa. Have water to sip between tastes. Select a favorite or favorites!
Monday April 27, 2015
How to Rim a Margarita Glass
Sure salt is classic for rimming that margarita glass, but why not have some fun? We've got something for everyone from sweet tooth's to spice-lovers! Here are 5 fantastic and fun ways to rim your margarita glass. First things first, no matter what you're planning on using, you need to know how to rim that glass! It's super simple. Start with a plate or shallow bowl of water, lime juice or lemon juice, then dip in the rim of your glass. Alternatively, you could cut a lime or lemon wedge and moisten the rim with it; it's totally up to you.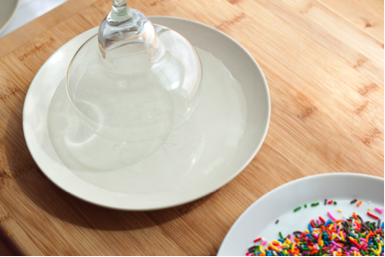 Next, you want to evenly dip the rim into whatever you're rimming the glass with...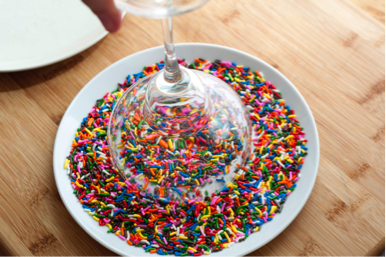 …in this case we used multicolored sprinkles! Look at how pretty they look!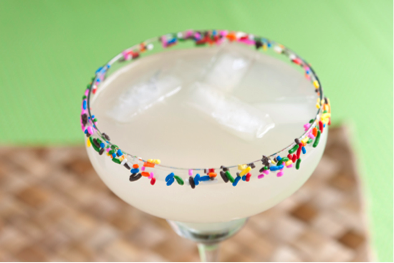 How about something orangey? We made a super simple orange sugar by mixing orange zest with granulated sugar.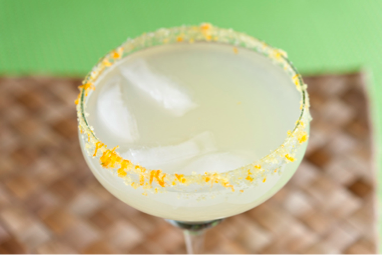 Still on the sweet side, we used color sugar crystals. This one is great for themed parties. Make your Cinco de Mayo party extra festive with multi-colored rims!
Let's move to a more savory idea, shall we? How about a chili salt rim for the adventurous? It may sound fancy, but it is super easy to make. Mix together course salt and Mexican chili powder. It will be smoky and packed with flavor.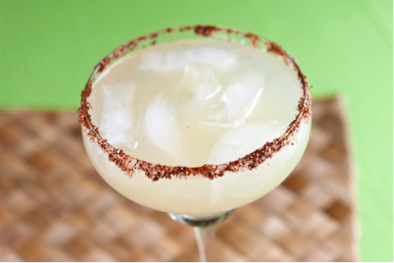 Then, for our spice lovers, we made a jalapeno-lime salt! It's spicy, fresh and is perfect with that margarita. Mince a jalapeno (no seeds) super fine then mix with lime zest and coarse salt. Dip in the glass and you'll be on your way to a fantastic celebration!
Speaking of a parties and celebrations, how about this idea – Set up a station with two or three of the ideas above, lots of glasses and a pitcher of margaritas. Then, your friends can choose their own and get involved. They'll love it and you get to spend more time enjoying the party.
Want to make the party even easier? Opt for pre-made margaritas and pick up a pack of the Bud Light Lime-a-Ritas! Enjoy!
Monday April 20, 2015
Spice up these All-Time Favorites
Do you want to try something new but are afraid you won't like it? Do you have a favorite drink that is your "go-to" for parties? Do you want to taste your favorite drink while adding a new spin to it? Take a look at these great recipes to spice up your evening!
---
Honey Ginger Lemon-Ade-Rita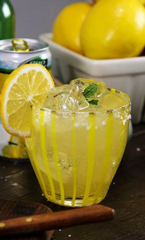 Ingredients
4 oz Lemon-Ade-Rita
2 oz ginger beer  
.25 oz lemon juice  
.75 oz honey   
4-5 mint leaves   
Rim: sugar and salt  
Garnish: lemon wheel and mint leaves
Method
  Muddle mint leaves & lemon juice in glass.
  Add ginger beer, honey, and Lemon-Ade-Rita into glass and stir.
  Pour over ice.
  Garnish and serve.
---
Springtime Sipper
Ingredients     
5 oz Barefoot Moscato  
2 oz raspberry lemonade frozen concentrate - thawed  
Sliced strawberries
Method
Layer strawberry slices and ice in a glass.
Add raspberry concentrate and Barefoot Moscato.
Stir to blend.
Garnish with lemon slices and strawberry.
---
Wicked Good Wheat Tea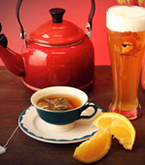 Ingredients     
1 Belgian White Shock Top               
1 tea bag (Chamomile or Green Tea recommended)
Method
Steep a cup of your favorite Chamomile or Green Tea.
Chill tea for 10-15 minutes until cool.
Pour part of a cold Shock Top into a glass.
Pour tea into beer.
Add orange wedge to beer.
---
The Reddhead

Ingredients
1 bottle of Redd's Apple Ale
.25 oz Ginger Ale         
Lime
Method
Pour the Redd's Apple Ale into glass.
Add ginger ale and stir.
Squeeze lime.
Garnish with lime and serve.
Monday April 13, 2015
Blue Moon and Baseball
A true original craft beer, baseball, and the Blue Moon Brewing Company have a history that makes any baseball fan a natural Blue Moon fan.
At Blue Moon Brewing Company, brewing is an art. And it's been that way since head brewmaster and founder, Keith Villa, first created Blue Moon Belgian White Belgian-Style Wheat Ale back in 1995 in downtown Denver, Colorado. Blue Moon started brewing at the corner of 22nd & Blake at the beginning of the '95 baseball season. The only reason to call out baseball is because the brewery is located in a baseball stadium.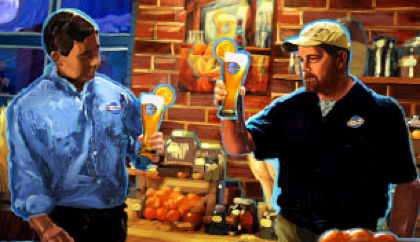 It all started with Keith's idea to craft a beer inspired by the flavorful Belgian Wits that he enjoyed while studying brewing in Belgium. He brewed his interpretation using the highest quality ingredients like Valencia orange peel, versus the traditional tart Curaçao orange peel, for a subtle sweetness. Then he added oats and wheat to create a smooth, creamy finish that is inviting to the palate. As a final touch, he garnished the beer with an orange slice to heighten the citrus aroma and taste.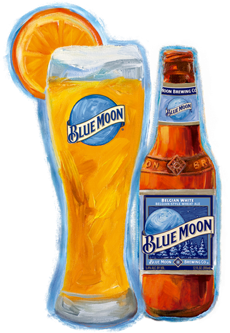 Originally called The SandLot Brewery, Blue Moon focused on brewing craft beer for the fans at games.
By the middle of the season, a roster of beers was ready to start pouring. It included Slugger Stout, Rightfield Red, and a fan favorite called Bellyslide Wit.
Monday April 6, 2015
Simply Sushi
A popular request is now a popular demand. Lufkin and the surrounding Angelina County sushi-lovers are raving over the sushi that is made fresh daily in our Brookshire Brothers, Gaslight Plaza location. Qualified chefs from SW Sushihouse are in store preparing and cooking sushi and other Asian favorites to delight your taste buds.
For years, Brookshire Brothers customers have been asking for Sushi in-store. We listened and sushi debuted in our Lufkin Gaslight location in mid-March 2015. Customer feedback has exceeded our expectations and sped up our plan to offer sushi in additional stores.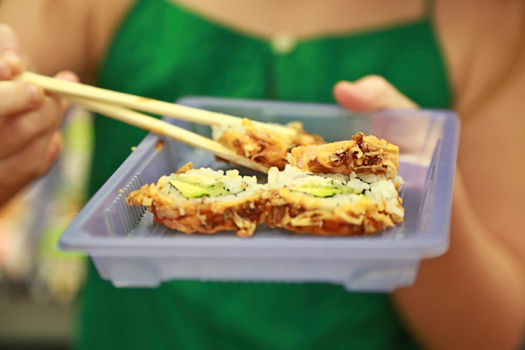 Nervous about trying sushi? For the amateur, it can be intimidating. However, sushi chefs, Hanah and Andy, make trying and buying sushi an experience! They offer free samples daily and are happy to talk you through your taste test. There are countless rolls and combinations available for the creative customer, as well as the staple and more traditional Asian offerings like egg rolls, dumplings, and spring rolls.
If you are trying to lose weight and stay healthy, opt for sushi for your next meal. It is low in calories and full of other health benefits. The rice used in every roll is an excellent source of protein and is also gluten-free for those with wheat allergies. The ginger can help aid digestion as well as boost your immune system to help fight common colds and the flu. The nori, or seaweed wrap, is the most nutritious. It is rich in Vitamins A, B1, B2, B6, C, and niacin.
From the nutritional content to the wide range of varieties, sushi is sure to please everyone. Our chefs even take special requests. Many vegetarian customers have requested specific rolls for their needs and those are made while the customer shops.
Pages