Monday April 13, 2015
Blue Moon and Baseball
A true original craft beer, baseball, and the Blue Moon Brewing Company have a history that makes any baseball fan a natural Blue Moon fan.
At Blue Moon Brewing Company, brewing is an art. And it's been that way since head brewmaster and founder, Keith Villa, first created Blue Moon Belgian White Belgian-Style Wheat Ale back in 1995 in downtown Denver, Colorado. Blue Moon started brewing at the corner of 22nd & Blake at the beginning of the '95 baseball season. The only reason to call out baseball is because the brewery is located in a baseball stadium.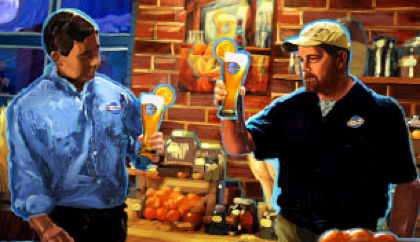 It all started with Keith's idea to craft a beer inspired by the flavorful Belgian Wits that he enjoyed while studying brewing in Belgium. He brewed his interpretation using the highest quality ingredients like Valencia orange peel, versus the traditional tart Curaçao orange peel, for a subtle sweetness. Then he added oats and wheat to create a smooth, creamy finish that is inviting to the palate. As a final touch, he garnished the beer with an orange slice to heighten the citrus aroma and taste.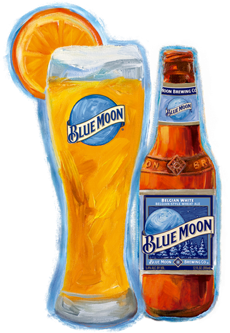 Originally called The SandLot Brewery, Blue Moon focused on brewing craft beer for the fans at games.
By the middle of the season, a roster of beers was ready to start pouring. It included Slugger Stout, Rightfield Red, and a fan favorite called Bellyslide Wit.
Monday April 6, 2015
Simply Sushi
A popular request is now a popular demand. Lufkin and the surrounding Angelina County sushi-lovers are raving over the sushi that is made fresh daily in our Brookshire Brothers, Gaslight Plaza location. Qualified chefs from SW Sushihouse are in store preparing and cooking sushi and other Asian favorites to delight your taste buds.
For years, Brookshire Brothers customers have been asking for Sushi in-store. We listened and sushi debuted in our Lufkin Gaslight location in mid-March 2015. Customer feedback has exceeded our expectations and sped up our plan to offer sushi in additional stores.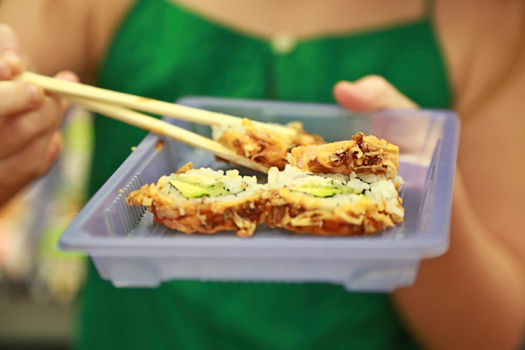 Nervous about trying sushi? For the amateur, it can be intimidating. However, sushi chefs, Hanah and Andy, make trying and buying sushi an experience! They offer free samples daily and are happy to talk you through your taste test. There are countless rolls and combinations available for the creative customer, as well as the staple and more traditional Asian offerings like egg rolls, dumplings, and spring rolls.
If you are trying to lose weight and stay healthy, opt for sushi for your next meal. It is low in calories and full of other health benefits. The rice used in every roll is an excellent source of protein and is also gluten-free for those with wheat allergies. The ginger can help aid digestion as well as boost your immune system to help fight common colds and the flu. The nori, or seaweed wrap, is the most nutritious. It is rich in Vitamins A, B1, B2, B6, C, and niacin.
From the nutritional content to the wide range of varieties, sushi is sure to please everyone. Our chefs even take special requests. Many vegetarian customers have requested specific rolls for their needs and those are made while the customer shops.
Friday March 27, 2015
Easter Wine Pairings
Family, friends, food… all words that are synonymous with Easter. Every year, many families shop for bright and colorful new outfits, plan the holiday menu, and look forward to Easter Sunday. However, pleasing a large family can prove to be difficult. Look to these tips for help in creating the perfect Easter meal and treating your guests to a complementing beverage.
Try an Easter staple by preparing ham and serving with a true companion wine, a Riesling. The glaze topping and saltiness of the meat balance the sweet fruit profile of the wine to provide a glorious combination.
Be more traditional this year and cook a rack of lamb. Pair a nice merlot with the lamb to handle the robust flavors of the lamb. This duo is sure to create a family favorite.
Opt for a change in the family's routine, and arrange a brunch. This could be a welcomed variation to the "normal" holiday foods. If the menu items are mainly breakfast items, go for a sparkling wine. You could serve alone or as a mimosa to provide a sweet Easter treat.
Cater to your vegetarian and/or health conscious friends and family by grilling salmon. Not only will grilling allow time to entertain outdoors with guests, but you could also visit and sip on a coordinating Chardonnay while waiting for dinner.
Monday March 16, 2015
The Story Behind the Best Fried Chicken in Town
When Austin and Tom Brookshire started our company in 1921, groceries were front and center. Their goal was to provide the best products in Texas at a good value together for their customers. As the company and the family grew, they discovered their own recipe for success. It was right in Granny Brookshire's kitchen! Her fried chicken was legendary. Sunday lunch was an event not to be missed if Granny was frying!
Made with FRESH, never frozen, Pilgrim's Pride marinated chickens, Granny's secret blend of spices and tender love and care, Granny's chicken was a family favorite that the brothers knew would provide true Texas flavor and have people coming back for more!
It took the brothers a while to convince Granny to give up her recipe to use in the delis and convenience stores that were popping up in Texas and Louisiana, but a Granny's love knows no bounds. She finally shared her secret recipe to see her grandsons succeed. Now, 94 years later, we'd like to think Granny Brookshire would be proud to see that each piece of chicken that our delis make is breaded with the same tender love and care that she used all those years ago.
Monday February 2, 2015
Wine Baskets

Sweet on Texas, Sweet on You!
$19.99
Includes:
Single Bottle Llano Texas Sweet Red
Light Up Rose
Russell Stover Pecan Delight Candy
Make it Moscato, Make You Mine!
$19.99
Includes:
Single Bottle Cupcake Moscato D' Asti
Russell Stover Pecan Delight Candy
Shine on Sweetheart!
$23.99
Includes:
Shiner 6pk Bottles
Cracker Jack Butter Toffee Popcorn
Jack Link's Peppered Beek Steak (2)
Jack Link's Teriyaki Beef Stick - Super Size
Russell Stover Assorted Chocolates (Small)
Corn Nuts Original
Smartfood Butter Popcorn
Red, White, & Sweet on You!
$29.99
Includes:
Llano Texas Sweet Red
Robert Mondavi Private Selection Chardonnay
Russell Stover Heart Shaped Candy (Small)
Smartfood Butter Popcorn
Nut Harvest Milk Chocolate Almonds
Rold Gold Classic Dipped Tiny Twists Pretzels
Butter Up My Sweetheart!
$34.99
Includes:
Clos du Bois Chardonnay
Cupcake Moscato
Russell Stover Assorted Chocolates (Small)
Smartfood Butter Popcorn
Pepperidge Farm Milano Dark Chocolate Cookies
A Toast and a Taste for My Valentine!
$39.99
Includes:
Kendall Jackson Vintner's Reserve Chardonnay
Korbel Brut
Russell Stover Assorted Chocolates (Small)
Brookside Dark Chocolate Pomegranate Candy
Stacy's Bagel Chips
Thursday August 14, 2014
Catch the Hatch!
The season comes but once a year - it's the very brief but very important harvest of the Hatch Chile. They are a prized New Mexican chile grown in the Mesilla Valley just north of Los Cruces. That's where sunlight is intense and the nights are cool. This combo creates a chile that has a wonderful earthy flavor, with a hint of sweetness and kick to it.
Though the Hatch chile season is only six weeks long, at the roasting you can get a box of chiles and let the experts roast them for you on the spot.  Then you can freeze the roasted peppers and eat them all year long.  We carry a full line of Hatch chile products, from the brand Melissa's, guaranteed to heat up your cooking 365 days a year - instead of just during the six week season!  From salsa, to Dried Hatch Chiles…and from Hatch  Chile Powder to  a Ristra or string of chiles Brookshire Brothers brings Hatch home!
Hatch Chili Happenings:
Lufkin (Gaslight location):  August 15, 3-6pm and August 16, 10-5pm
Caldwell: August 16, 10-2pm
Wimberley: August 22, 3-6pm and August 23, 10-5pm
Magnolia: August 29, 3-6pm and August 30, 10-5pm
Montgomery: September 5, 3-6pm and September 6, 10-5pm

Wednesday September 11, 2013
Dressed for Success – Manhattan's Dressing
Customers will soon find a product in their local Brookshire Brothers that originates right here in Lufkin, Texas!  Destin Sabani, the creator of Manhattan Dressing, developed the recipes during his thirty years in the restaurant business. A native of northeastern Italy, Sabani has lived in Lufkin for 18 years operating several successful restaurants including Manhattan and Roma's - anchors in downtown Lufkin.  Sabani says, "For years, my customers have asked me for my recipes. They are the ones who encouraged me to offer my salad dressings on the retail market." Sabani approached his friends at Brookshire Brothers for their expertise.  The Lufkin-based grocer is proud to partner with Sabani to stock and promote his four dressings - Italian Tomato Vinaigrette, Tomato Ranch, Tomato Blue Cheese and Chipotle Tomato Ranch.  Each one is carefully mixed with the finest ingredients and are fabulous not only on salads but also as marinades.  Shoppers can now find Manhattan Dressings at all seven Brookshire Brothers locations in Angelina and Nacogdoches counties.  Company spokesperson Sally Alvis adds, "It's a great partnership. Destin has a home-grown product and as another locally owned company, we have the synergies to help him get his dressings on the market.  It's a highly competitive category in supermarkets, but Brookshire Brothers is confident customers in the Lufkin/Nacogdoches area will support Destin's dressing debut and be loyal to the new product." 
The media is invited to taste Manhattan Dressing at a red carpet unveiling onThursday, August 8th at Manhattan'sin downtown Lufkin.  Sabani will unveil his products during the 4:30-6:00 PM event. Representatives from Brookshire Brothers will also be available for comment.
Brookshire Brothers is an employee-owned company operating 76 retail grocery stores and 35 convenience stores in Texas and Louisiana. Started in 1921 by brothers Austin and Tom Brookshire, the company and its 7000 employee-owners remain customer driven, dedicated to celebrating family and community.  For more information, visit our website at
www.brookshirebrothers.com
.
Red Carpet Roll Out of Manhattan Dressing
Thursday, August 8th  4:30PM-6:00PM
Manhattan Restaurant - Cotton Square in Downtown Lufkin
Pages