Friday November 20, 2015
Trending This Year: Brown Ale Caramel Corn
This salty-sweet mix has all the highlights of happy hour: popcorn, pretzels, cocktail peanuts and beer.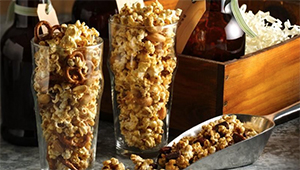 Ingredients
8 cups popped popcorn
1 cup mini pretzel twists
1/2 cup salted cocktail peanuts
1/2 cup brown ale beer
1/4 brown rice syrup or corn syrup
1/4 cup packed brown sugar
3 tablespoons butter
1/4 teaspon salt
Directions 
1 Heat oven to 300°F. Line two 15x10x1-inch pans with foil. Spray foil with cooking spray. 
2 In large bowl, place popcorn, pretzels and peanuts; set aside. 
3 In 2-quart saucepan, heat ale over medium heat, stirring frequently, until reduced to 1/4 cup, about 6 minutes. Pour into glass liquid measuring cup to confirm measure. Add back to saucepan. Stir in brown sugar, syrup and butter. Cook over medium heat until bubbly around edges, stirring occasionally. 
4 Reduce heat to medium-low; cook about 5 minutes longer, stirring occasionally, until thickened and syrupy. Remove from heat; carefully stir in salt. Pour over popcorn mixture in bowl; toss until evenly coated. Spread popcorn mixture in pans.
5 Bake 20 minutes, stirring every 5 minutes, to caramelize mixture. Cool completely, about 1 hour. Break into pieces. Store in airtight container.
Friday November 20, 2015
Red Wine Cranberry Relish
The perfect post Holiday wind down...try this recipe from Cupcake Vineyards!
Ingredients:
1 c. of Cupcake Vineyards Black Forest
1 and 1/2 c. white sugar
1 package fresh cranberries (12 ounce), rinsed
1 cinnamon stick
2 tbsp orange zest, peeled in slivers
In a medium saucepan, combine sugar and Cupcake Vineyards Black Forest and bring to a boil over medium heat. Add the remaining ingredients and bring the mixture back to a boil. Reduce heat and simmer for 10-15 minutes, stirring often.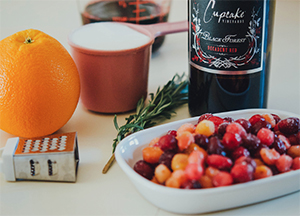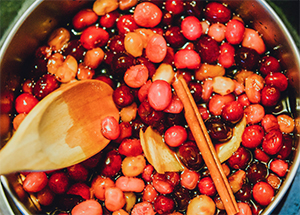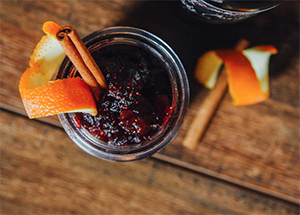 Wednesday October 21, 2015
Selfies & Sutter Home Deliver Hope
Get involved with Sutter Home's campaign for hope by sharing a Sutter Home wine selfie using the #sutterhomeforhope. For every selfie received, Sutter Home will donate $1 to National Breast Cancer Foundation, up to $50,000. Everyone at Sutter Home are as committed as you are to showing support toward finding a cure in the fight against breast cancer, which is why the Sutter Home for Hope initiative began in 2001. Thanks to you, Sutter Home has been able to contribute over $900,000 to National Breast Cancer Foundation. The goal for this year is $1,000,000! 
To continue the efforts this year, we are asking you to share how much you care by posting your Sutter Home wine selfie through Twitter, Instagram or Facebook. Just remember to tag it #sutterhomeforhope and make your posts public so Sutter Home can capture them.
By partnering with National Breast Cancer Foundation, the Sutter Home goal is to provide women with early detection, education and support service, while inspiring hope.
#SutterHomeForHope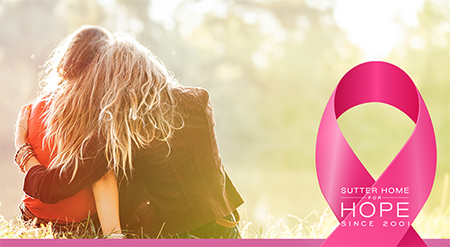 Friday October 9, 2015
Guide to Stemware
Red or white? Short or tall? Thin or wide? Bubbly or not? All questions to think about when serving your next glass of wine. Read up on this guide to stemware!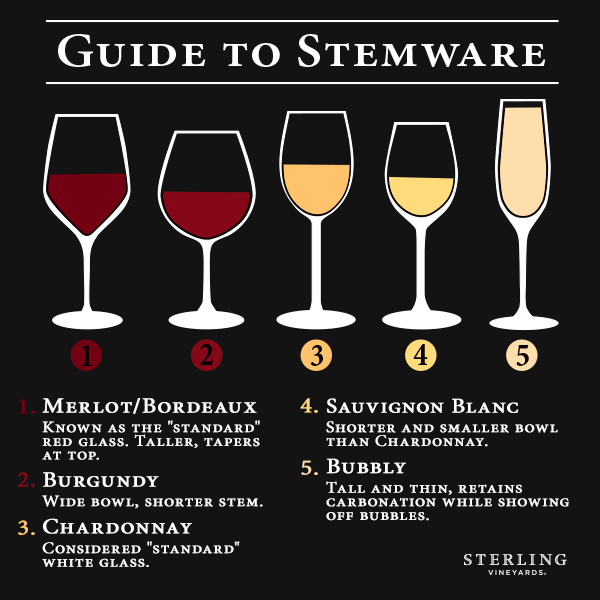 Monday September 28, 2015
Beer 101
Good beer is back with a vengeance! Thanks to the craft beer explosion, now is the perfect time to reintroduce yourself to beer. 
Today there are more breweries in the United States than at any time since the late 19th Century, with many more still to come. The brews they are crafting have as much complexity as the world's best wines, if not more so.
Here are the basics for enjoying your next cold one!
Hand Full of Ingredients
Beer is made of four basic ingredients. Each of these ingredients contributes flavor and aroma of beer: malt, yeast, hops, and water.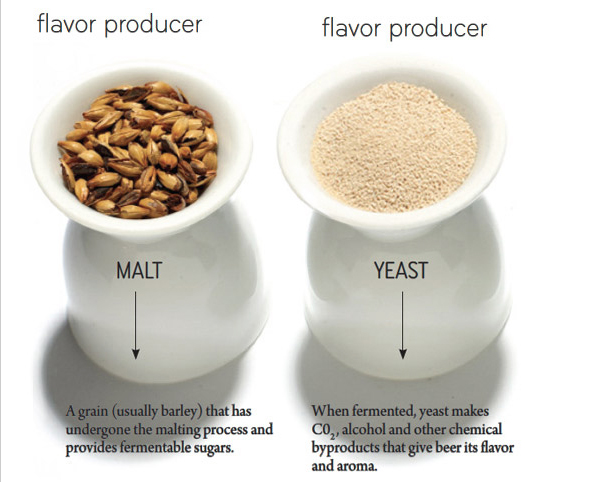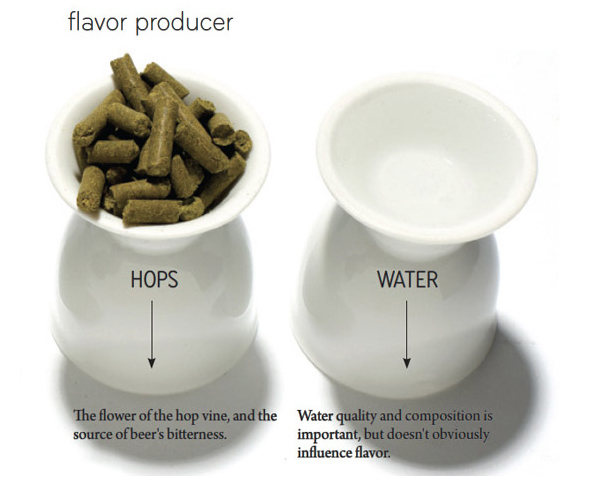 Every beer displays the character of all these ingredients to lesser or greater degrees. Beer styles are determined by the intensity of each ingredient relative to the others.
Beer Flavor Triangle
Some beers are heavier in malt, which we cicerones (the beer equivalent to a sommelier to wine) call malt forward. Others showcase hops (known as hoppy beers) or yeast (which we call yeast forward).
There millions of combinations of these ingredients. Add spices, honey, fruit, or any of the other additional tools in the brewer's kit and the possibilities for creating unique beer flavors are literally endless.
Ale vs. Lager
It is generally agreed that there are two broad subcategories of beer, ale and lager. The main difference between the two is the type of yeast used to ferment them.
Ale yeasts ferment at warmer temperatures (between 60 and 75°F) compared to the colder fermentation temps of lager yeasts (45 to 55°F).
The warmer fermentation of ale promotes the production of flavor and aromatic compounds, while the colder lager fermentation inhibits them. This is why lagers tend to have a crisper cleaner profile and ales are more fruity and spicy in flavor. Beyond these differences associated with yeast, the full range of beer flavors is available to both ales and lagers.
Beyond Light to Dark
Beer styles fall on a spectrum of flavor intensity from lighter to stronger.
Many think that flavor intensity corresponds to color: Light colored beers are light and darker beers are heavy. Wrong! Color really tells you little about the intensity of flavor in a beer.
A Belgian tripel looks very much like a pilsner, but 9% alcohol and the funky flavors of Belgian yeast make it significantly more intense. The black lagers of Germany are as dark as coffee, but drink more like a pilsner than a stout, with just a dash of roast.
Blond ales and golden lagers like pilsners fall on the lighter end of the scale. At the other end you find the big and brawny barley wines and imperial stouts, along with the tart and funky Belgian sour beers.  Beers at this end tend to be higher in alcohol, but that's not always the case.
In between, beers run up the scale from the luscious, caramel-tinged amber and Scottish ales to brightly bitter pale ales and rich, roasty porters and stouts.
Ideal Temperature
Ice cold is how Americans like their beer, but American-style lagers aside, that is not the best way to enjoy a finely crafted brew. Why?
The colder something is, the less you can taste it. And that includes beer!
The deep-freeze numbs your taste buds. When beer gets too cold the malty goodness disappears. Hop bitterness becomes more intense, harsh and unpleasant. To keep the correct balance, drink your lager beers at around 48°F and your ales at "cellar temperature," around 55°F.
Glass, Bottle, or Can?
Finally, be sure to pour that beer into a glass. Most of what we taste actually comes from what we smell. If you drink straight from the can or bottle you can't smell anything. You're cutting yourself off from three-quarters of the total beer experience.
A simple pint glass is fine for most beers, although a tulip glass or snifter will better serve those high-alcohol and highly aromatic beers like barley wines and Belgians.
Friday September 18, 2015
Ladies With Game Playbook
Football never looked better! Ladies, we've got your drink menu covered for Sunday football games with your man.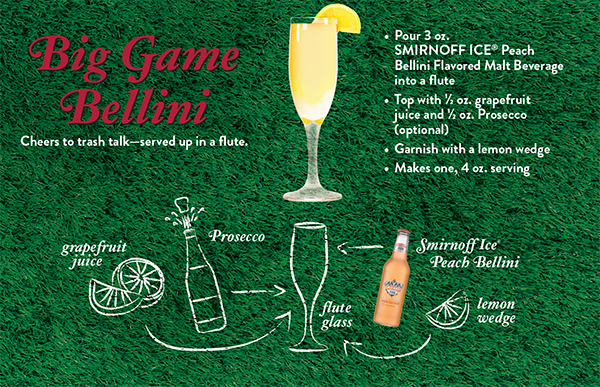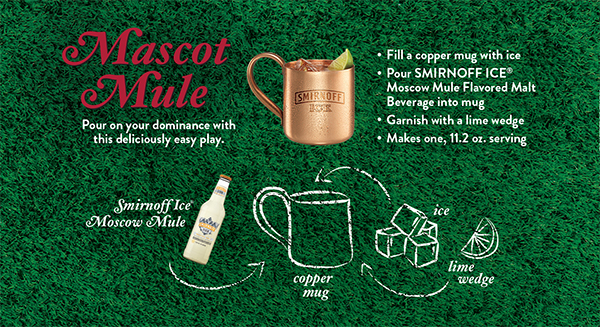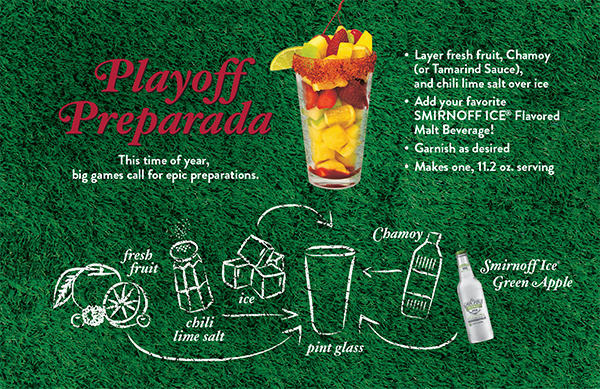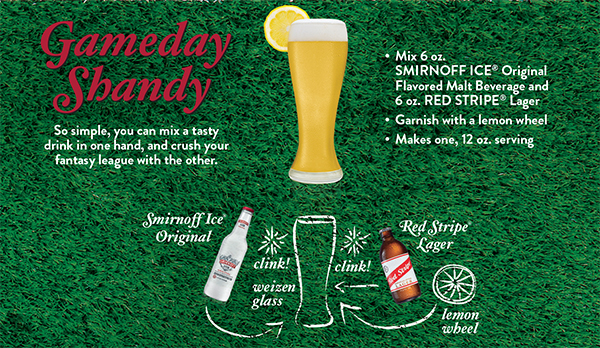 Tuesday September 15, 2015
Bringing Fall to the Neighborhood
Gather guests around an outdoor fire pit or an indoor fireplace. Cheer them with cheese and cider. That's just the beginning! Soup and salad are the perfect endings to an afternoon doing invigorating yard work, volunteering, crafting or baking together.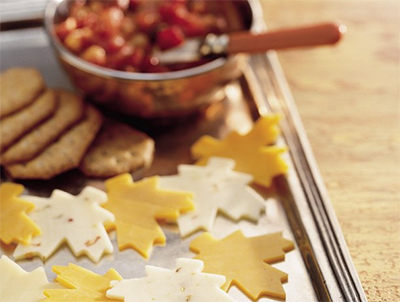 Soup Service
Try a variety of soups, but keep the favorites for your less adventurous eaters such as Taco Soup, Vegetable Soup, Beef Stew, or Chili.
Serve Slow-Cooker soups for easy prep.
Make your own bread bowls. To make, cut off tops of small, round bread loaves, and scoop out the bread from the loaves, leaving a 1-inch-thick wall (use the scooped-out bread for bread crumbs another time). Ladle soup into loaves just before serving; replace tops.
Buffet Best 
Have guests serve themselves buffet-style. Have TV trays or other trays available for guests to place their dishes and silverware on. They can then easily balance their meals on their laps while watching the big screen or sitting by the fire.
Make it easy for guests to grab silverware and a napkin by wrapping each place setting in a napkin with a piece of raffia or twine, like a package.
Centerpieces that "Center" Around Your Theme
Arrange apples and bananas in a wicker basket for an apple-picking party.
Arrange fall garden produce and colorful leaves for a yard clean-up party.
Or let an array of homemade bakery treats be your centerpieces. We love fall desserts that use apples, peaches, and pumpkins!
Favors & Crafts
Get ideas from Home Design magazines on the latest fall craft. Some of our favorite easy fall decor staples are wreaths, centerpieces and candles.
Send guests home with bags of home-baked or hand-made goodies to bring fall to their homes too.
Monday September 14, 2015
Wine Myths
Need advice on shopping for wine? We have several answers here!
"Red wine should be served a room temperature."
FALSE. The more simple and fresh the wine, the colder it should be served; on the contrary, the more complex and sophisticated, the higher the temperature. The important thing is to first define the style of wine before determining its temperature.
Fresh whites:between 44°and 48° F.
Whites with body: between 50°and 55° F.
Simple reds: between 57°and 60° F.
Reds with body: between 60°and 64° F.
Great red wines: between 64°and 68° F.
"White wines in the refrigerator and reds beside the grill."
FALSE. Wines, as we mentioned above, have different recommended serving temperatures. Refrigerators aren't the best choice because they practically "freeze" the bottles and the grill "boils" others. The best option is always a bucket of ice and water (five to ten cubes depending on the size), or with cold water and a little hot water, but remember that the maximums determine the water temperature.
"You should uncork the wine half an hour before serving."
FALSE. The wines that require oxygenating (very young reds or wines that have been in the bottle a long time) should be decanted before serving.
"The best place to store wines is underground."
TRUE. But always provided the necessary conditions for the keeping of wines are met, which are:
Stable temperature between 53°and 57° F.
Constant humidity of 70%.
Absence of light and without movement.
"Red wine with meat and white wine with fish."
FALSE. Although it is true that there are few alternatives for pairing white wine with red meats, red wines can be paired with fish with long persistence.
"The quality of wine can be seen from the bottom of the bottle."
FALSE. Glass is a good inert material that contributes absolutely nothing to the wine. The design of the bottle is just a marketing element rather than a match for its contents.
"Wine is good for your health."
TRUE. When consumed responsibly, wine has been linked to benefits for your health such as the digestion of saturated fats, contain antioxidants and prevent illnesses like hepatitis B or coronary problems.
"Sparkling wines give headaches."
FALSE. Although some think the sugar content and bubbles from sparkling wines contribute to headaches, it is more true that all wines can contribute to headaches or upset stomachs. Drink responsibly and with moderation is the best advice in avoiding upsets.
Friday September 4, 2015
Cook Hushpuppies Like A Champ!
You can cook like the Cajun Divas and all other hushpuppy cookoff teams who participate in the annual Texas State Forest Festival Southern Hushpuppy Championship!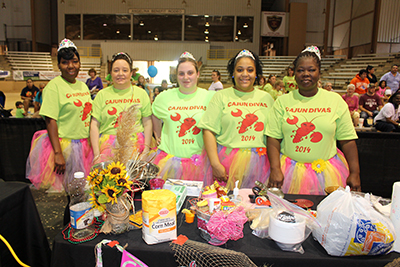 Take a look at these great recipes and compare yours to the teams who will compete this year.
Basic Hushpuppy Recipe
Ingredients:
Crisco® Pure Vegetable Oil, for frying
3/4 cup Martha White® Plain Enriched White Corn Meal
1/3 cup Pillsbury BEST™ All Purpose Flour
1 1/2 teaspoons baking powder
1/2 teaspoon salt
1/2 cup buttermilk
1 large egg
1/4 cup finely chopped onion
Directions:
HEAT 2 or 3 inches oil to 365ºF in deep fryer or deep saucepan.
COMBINE cornmeal, flour, baking powder and salt in medium bowl
ADD buttermilk, egg and onion. Mix untill well blended. Drop batter by tablespoonfuls into hot oil. Fry a few at a time 3 or 4 minutes or until golden brown. Turn as needed for even browning. Drain on paper towels. Serve immediately.
Want to get more adventurous like the teams you'll see at the Southern Hushpuppy Championship? Follow the basic recipe above and make small revisions.
Buffalo Chicken
Reduce milk by 1/2
Add 1 can shredded chicken
1 package of dry ranch mix
Baked Potato
Reduce milk by 1/2
2 shredded potatoes
1 cup of finely shredded sharp cheddar cheese
1 package dry ranch mix
Italian
1 lb. cooked ground Italian sausage
1 package spaghetti seasonings
1 cup of grated parmesan cheese
Mexican
1 package taco seasonings
1 package cooked and drained chorizo
Make sure to stop by the Southern Hushpuppy Championship while you are at the Texas State Forest Festival, presented by Brookshire Brothers. The championship is Saturday, September 19 at 2PM. The Texas State Forest Festival comes to East Texas Wednesday, September 16 and leaves Sunday, September 20. We hope to see you there!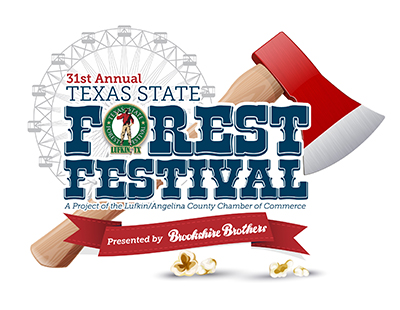 Monday August 31, 2015
Nature's Health Food - Grapes
September brings thoughts of cooler weather and holidays, but take advantage of one of the best summer fruits available, grapes! Our Produce Pick of the Month will have you ready to make this mouth watering salad year-round.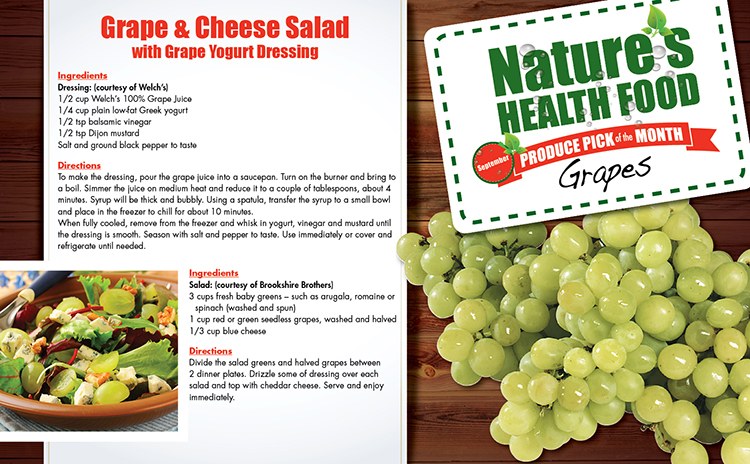 To download PDF, click here
Pages