Tuesday February 9, 2016
How to Get Cozy with Your Special Someone
Valentine's Day Shopping can be frightful, but getting cozy with your S.O. can be oh-so-delightful! If you find yourself empty-handed on Valentine's Day, heat things up on your own terms with these sizzling ways to warm their heart.
Build a Blanket Fort
When is the last time you've done something this fun and carefree? Go all out with mountains of blankets and plush pillows to create your own cuddle-worthy hideaway. If you really want to go the extra step, take candles with you and create a warm and cozy space to treat both of you!
Steamy Bubble Bath
Take a dip together in a piping hot bath drawn with calming bubbles and plenty of mood-setting candles. Don't forget to throw in some equally mood-setting Ménage à Trois Silk!
Wine & Dine
We've all heard the quickest way to a man's heart is through his stomach, but it doesn't stop with the men! Everyone likes to feel special with a homecooked meal and a nice glass of wine. 
Never underestimate the power of a simple, but thoughtful Valentine's Day celebration!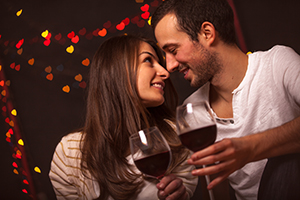 Wednesday December 23, 2015
A Simple New Year
Celebrate New Year's Eve without a lot of fuss! Gather friends and neighbors for a warm, cozy evening inside, or go outdoors if you're an active group. You'll find all the recipes and party-planning tips you'll need for an appetizer and dessert celebration to ring in this new year.
Easy Decorations
Casual get-togethers are often impromptu and require no special decorations. If you want to decorate, consider one of these:
Encourage guests to bring a battery-operated alarm clock. Set the alarms to go off at midnight, and place the clocks all over the party area! Or place a collection of the clocks on a mirrored tray as a centerpiece.
Make a quick centerpiece by placing glittering ball ornaments in a wire basket or crystal bowl.
Fun Serving Ideas
Use hollowed-out colorful bell peppers, cabbage, squash or round bread loaves for fun and colorful containers to hold veggie dip.
Embellish mug handles or bases of stemware with metallic curly ribbon. A different color of ribbon for each guest can keep drinkware from being misplaced.
Bump up plain coffee served with dessert to an inviting espresso bar! Set up espresso carafes (regular and decaf) with extras for stir-ins and toppers.
- Stir-Ins: flavored syrups, flavored creams or eggnog, cream and sugar 
- Toppers: whipped cream, ice-cream toppings, candy sprinkles, ground nutmeg or cinnamon
Casual Party Activities
Got snow? Make a snowperson! Ask guests to wear appropriate clothing.
Build a huge bonfire--remember to check your city's ordinances! Or just gather around your backyard fire pit. Tell stories of bygone years, or predict the future.
Hide a treasure of gold-colored medallions, gold foil-covered chocolate coins and golden baubles and beads found in craft stores. Entice guests with creative clues to answer so they can discover the treasure by the stroke of midnight.
Wednesday December 23, 2015
Brunch & Mimosas
Brunch is one of life's great pleasures, or at least it can be if done properly. With the right mix of food, drinks, and of course friends, it's possible to make brunch an epic experience. Whether you're looking for a spot in the streets of Houston or prepping for breakfast on a lake-front property – Read on and learn how to brunch like a boss.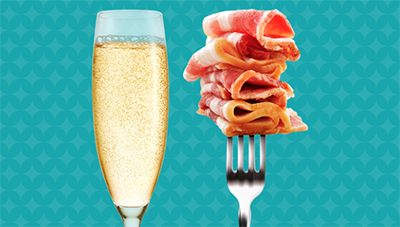 The Mimosa
Since you've found your way to this blog, I hope you know about this classic cocktail. In case you need a refresher, it's easy. A mimosa is simply equal parts champagne and orange juice.
If you have trouble remembering that, then just remember this: Mix Andre and OJ. Easy, right?
Eggs & Frittatas
What's brunch without eggs? Let's not even think about a world without them.
Various egg dishes are a lock to help balance out any acidity from a breakfast cocktail. Frittatas are an egg based dish that helps class up your brunch to the next level.
Want to give it a shot? Just mix your eggs with anything tasty in the fridge, heat in a pan, and serve when there's just a little bit of jiggle left in the 'ttata.
Add some sharp cheese to kick the savory factor up a notch.
Bacon
Talk about balance. You really can't beat the salty, savory flavors of a good piece of bacon mixed with the protein kick from your eggs.
Fried to a crisp, or cooked just well enough. Bacon is the, without question, the perfect breakfast food. (In my opinion, but really, come on. You know it's true.)
Finish up with a sip of that mimosa and you have entered brunch paradise.
French Toast & Pancakes
This might sound crazy, but adding a little champagne to your French toast or pancake mix injects an extra dose of deliciousness.
Pro tip: whisk in the champagne with the eggs, and then add the dry ingredients.
Presto, your breakfast just got fancy.
Salmon
Looking to take this epic brunch to the next, next, level? Don't write off salmon as a menu option.
Champagne has always made fast friends with seafood, and brunch is no exception.
Try pairing your bubbly with a little smoked salmon on either a bagel or within an omelet, and you'll feel like you're at a five star hotel instead of on your couch's four cushions.
Friday December 11, 2015
Make it a Meal
Feed 4 for just $4 each! Visit your local deli for your next family dinner!
Monday December 7, 2015
Christmas with Johnny Appleseed
Donut holes never tasted so good! Read more for a great hard apple cider kick to the traditional Christmas dessert.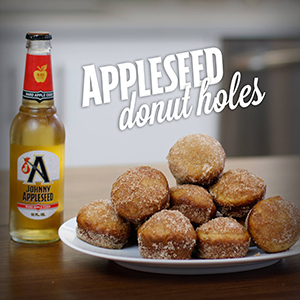 Ingredients
Donut Holes:
2 cups Johnny Appleseed Hard Apple Cider
2 whole cloves
2 cups all-purpose flour
1 1/2 teaspoon baking powder
1 1/2 taspoon baking soda
1 teaspoon cinammon
1/4 teaspoon salt
1 large egg
2 tablespoons salted butter, melted
2/3 cup light brown sugar
1/2 cup buttermilk
2 tablespoons apple sauce, naturally sweetened - no sugar added
1 teaspoon vanilla extract
Cinnamon Sugar Coating:
3 tablespoons butter, melted
1/2 cup granulated sugar
1 tablespoon cinnamon
Directions
Donut Holes:
Start by simmering the Johnny Appleseed with the 2 cloves in a small saucepan over medium heat for 15-20 minutes until the apple cider reduces down to ½ cup. Remove the cloves from the concentrate and pour the Johnny Appleseed into a container and refrigerate while you prepare the donut batter.
Position a rack in the center of the oven and preheat the oven to 350 degrees F. Spray a mini muffin pan with non-stick cooking spray and set aside.
In a large bowl, Mix together the flour, baking powder, baking soda, cinnamon and salt, set aside. In a medium bowl, combine the egg, melted butter, and brown sugar, whisk until smooth (the smoother this is, the fluffier the donut holes!) Then, add in the apple sauce, vanilla, buttermilk, and the refrigerated Johnny Appleseed concentrate.
Add the wet ingredients to the dry ingredients and whisk until just well-combined. Pour the batter by the teaspoon into the prepared muffin pans about ¾s of the way full. Make sure to not overfill. Bake the donut holes for 9-11 minutes.
Cinnamon Sugar Coating:

In a medium bowl, combine the sugar and cinnamon together. Dip the tops of each donut hole into the melted butter then coat with the cinnamon sugar mixture. Repeat with all the donut holes. Depending on how long you dip the donuts into the butter, you may need more butter and/or more cinnamon sugar. 
Friday November 20, 2015
Trending This Year: Brown Ale Caramel Corn
This salty-sweet mix has all the highlights of happy hour: popcorn, pretzels, cocktail peanuts and beer.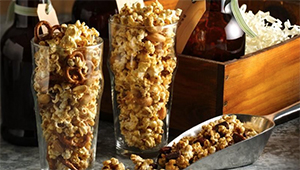 Ingredients
8 cups popped popcorn
1 cup mini pretzel twists
1/2 cup salted cocktail peanuts
1/2 cup brown ale beer
1/4 brown rice syrup or corn syrup
1/4 cup packed brown sugar
3 tablespoons butter
1/4 teaspon salt
Directions 
1 Heat oven to 300°F. Line two 15x10x1-inch pans with foil. Spray foil with cooking spray. 
2 In large bowl, place popcorn, pretzels and peanuts; set aside. 
3 In 2-quart saucepan, heat ale over medium heat, stirring frequently, until reduced to 1/4 cup, about 6 minutes. Pour into glass liquid measuring cup to confirm measure. Add back to saucepan. Stir in brown sugar, syrup and butter. Cook over medium heat until bubbly around edges, stirring occasionally. 
4 Reduce heat to medium-low; cook about 5 minutes longer, stirring occasionally, until thickened and syrupy. Remove from heat; carefully stir in salt. Pour over popcorn mixture in bowl; toss until evenly coated. Spread popcorn mixture in pans.
5 Bake 20 minutes, stirring every 5 minutes, to caramelize mixture. Cool completely, about 1 hour. Break into pieces. Store in airtight container.
Friday November 20, 2015
Red Wine Cranberry Relish
The perfect post Holiday wind down...try this recipe from Cupcake Vineyards!
Ingredients:
1 c. of Cupcake Vineyards Black Forest
1 and 1/2 c. white sugar
1 package fresh cranberries (12 ounce), rinsed
1 cinnamon stick
2 tbsp orange zest, peeled in slivers
In a medium saucepan, combine sugar and Cupcake Vineyards Black Forest and bring to a boil over medium heat. Add the remaining ingredients and bring the mixture back to a boil. Reduce heat and simmer for 10-15 minutes, stirring often.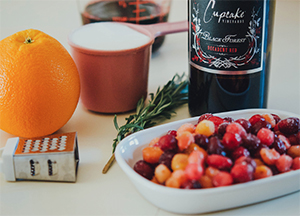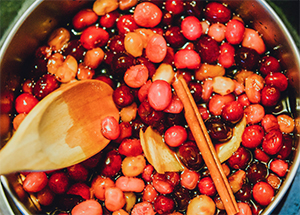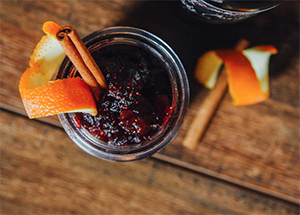 Wednesday October 21, 2015
Selfies & Sutter Home Deliver Hope
Get involved with Sutter Home's campaign for hope by sharing a Sutter Home wine selfie using the #sutterhomeforhope. For every selfie received, Sutter Home will donate $1 to National Breast Cancer Foundation, up to $50,000. Everyone at Sutter Home are as committed as you are to showing support toward finding a cure in the fight against breast cancer, which is why the Sutter Home for Hope initiative began in 2001. Thanks to you, Sutter Home has been able to contribute over $900,000 to National Breast Cancer Foundation. The goal for this year is $1,000,000! 
To continue the efforts this year, we are asking you to share how much you care by posting your Sutter Home wine selfie through Twitter, Instagram or Facebook. Just remember to tag it #sutterhomeforhope and make your posts public so Sutter Home can capture them.
By partnering with National Breast Cancer Foundation, the Sutter Home goal is to provide women with early detection, education and support service, while inspiring hope.
#SutterHomeForHope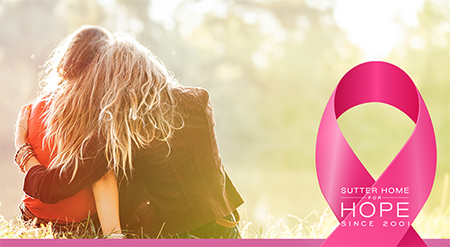 Friday October 9, 2015
Guide to Stemware
Red or white? Short or tall? Thin or wide? Bubbly or not? All questions to think about when serving your next glass of wine. Read up on this guide to stemware!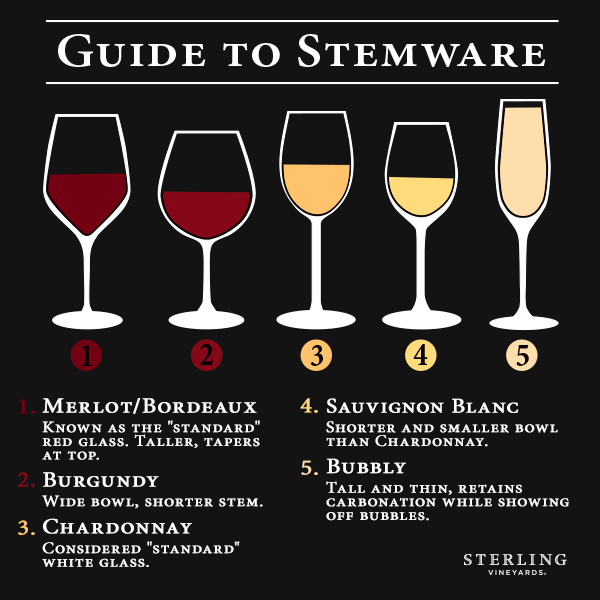 Monday September 28, 2015
Beer 101
Good beer is back with a vengeance! Thanks to the craft beer explosion, now is the perfect time to reintroduce yourself to beer. 
Today there are more breweries in the United States than at any time since the late 19th Century, with many more still to come. The brews they are crafting have as much complexity as the world's best wines, if not more so.
Here are the basics for enjoying your next cold one!
Hand Full of Ingredients
Beer is made of four basic ingredients. Each of these ingredients contributes flavor and aroma of beer: malt, yeast, hops, and water.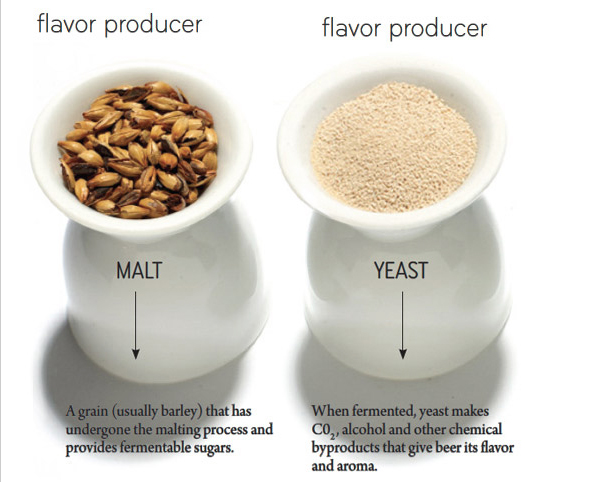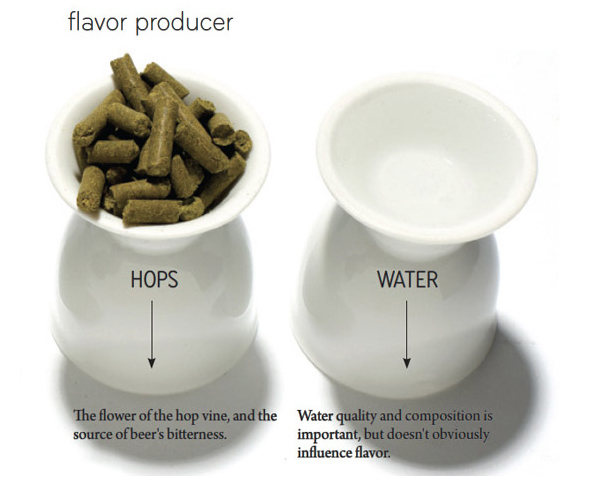 Every beer displays the character of all these ingredients to lesser or greater degrees. Beer styles are determined by the intensity of each ingredient relative to the others.
Beer Flavor Triangle
Some beers are heavier in malt, which we cicerones (the beer equivalent to a sommelier to wine) call malt forward. Others showcase hops (known as hoppy beers) or yeast (which we call yeast forward).
There millions of combinations of these ingredients. Add spices, honey, fruit, or any of the other additional tools in the brewer's kit and the possibilities for creating unique beer flavors are literally endless.
Ale vs. Lager
It is generally agreed that there are two broad subcategories of beer, ale and lager. The main difference between the two is the type of yeast used to ferment them.
Ale yeasts ferment at warmer temperatures (between 60 and 75°F) compared to the colder fermentation temps of lager yeasts (45 to 55°F).
The warmer fermentation of ale promotes the production of flavor and aromatic compounds, while the colder lager fermentation inhibits them. This is why lagers tend to have a crisper cleaner profile and ales are more fruity and spicy in flavor. Beyond these differences associated with yeast, the full range of beer flavors is available to both ales and lagers.
Beyond Light to Dark
Beer styles fall on a spectrum of flavor intensity from lighter to stronger.
Many think that flavor intensity corresponds to color: Light colored beers are light and darker beers are heavy. Wrong! Color really tells you little about the intensity of flavor in a beer.
A Belgian tripel looks very much like a pilsner, but 9% alcohol and the funky flavors of Belgian yeast make it significantly more intense. The black lagers of Germany are as dark as coffee, but drink more like a pilsner than a stout, with just a dash of roast.
Blond ales and golden lagers like pilsners fall on the lighter end of the scale. At the other end you find the big and brawny barley wines and imperial stouts, along with the tart and funky Belgian sour beers.  Beers at this end tend to be higher in alcohol, but that's not always the case.
In between, beers run up the scale from the luscious, caramel-tinged amber and Scottish ales to brightly bitter pale ales and rich, roasty porters and stouts.
Ideal Temperature
Ice cold is how Americans like their beer, but American-style lagers aside, that is not the best way to enjoy a finely crafted brew. Why?
The colder something is, the less you can taste it. And that includes beer!
The deep-freeze numbs your taste buds. When beer gets too cold the malty goodness disappears. Hop bitterness becomes more intense, harsh and unpleasant. To keep the correct balance, drink your lager beers at around 48°F and your ales at "cellar temperature," around 55°F.
Glass, Bottle, or Can?
Finally, be sure to pour that beer into a glass. Most of what we taste actually comes from what we smell. If you drink straight from the can or bottle you can't smell anything. You're cutting yourself off from three-quarters of the total beer experience.
A simple pint glass is fine for most beers, although a tulip glass or snifter will better serve those high-alcohol and highly aromatic beers like barley wines and Belgians.
Pages