Tuesday May 21, 2019
Students Solve a Need for Brookshire Brothers Distribution Center
Six months ago, Operations Manager Jay Jelinek would've never guessed that a sixth-grade 3D Design class would have the answer to an obstacle he and his team were facing in the Brookshire Brothers Distribution Center.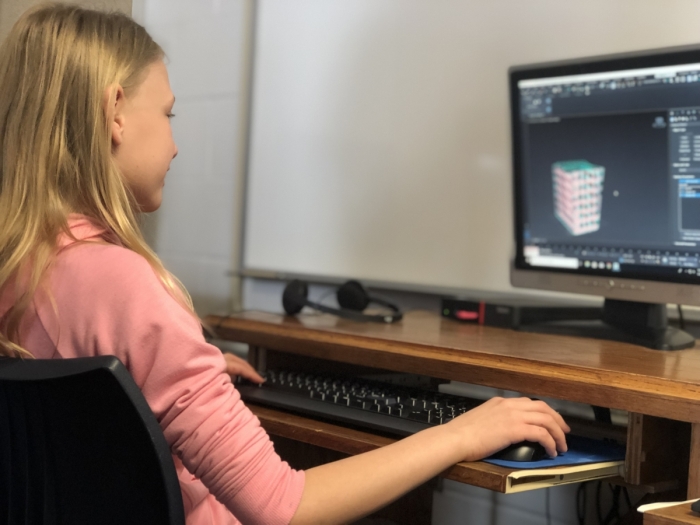 "We recently started to replace our older Vocollect wired headsets with new wireless technology. With the older wired headsets, our operators would keep the computer part of the equipment on a belt or in their pocket. However, because the new technology is wireless, it doesn't have to be kept on an individual; it just has to be in close proximity," Jelinek explained. "So, we started looking for something to help store the new technology on the electric transporter. We also needed to find something that would protect the new equipment from getting damaged."
When Jelinek and his team were unable to find a solution in-store or online, Night Supervisor Mannie Flores stepped up to design a cardboard model that would meet their needs.
"Mannie's very creative. If he can't draw it, he'll build it," Jelinek says, describing how Flores accounted for all the variables. "He fashioned it to go up underneath the handlebar on the pallet jack so you can stand and drive. It would be out of the way and protected, and it would still make that Bluetooth connection to the headset. You wouldn't ever have to worry about putting it somewhere where it would fall off; you would just turn it on and go."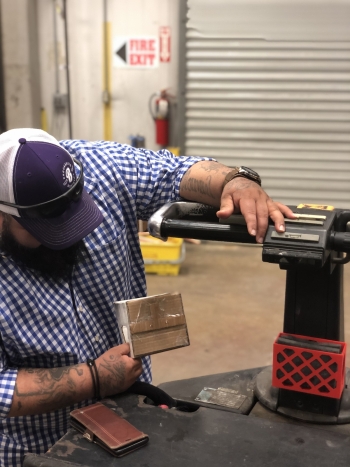 The only question was, how could Flores's design be manufactured?
"One day I was at church with Chris Smith, a good friend of mine. He pulled something out of his pocket to show me: a plastic nut and bolt. I asked him how he did that and he told me 3D printing—something I'd never seen before," Jelinek said. "That was on Sunday. On Monday, Flores's cardboard creation was on my desk and the connection dawned on me."
Smith introduced Jelinek to Stephan Matheny, a sixth-grade Math and 3D Design teacher at Hudson Middle School. Matheny turned the need into a class project for his students.
"The kids worked on the project for their nine-weeks major project," Matheny said. "Up until this project, I've been very hands-on with helping them every step of the way with their work. This is the first project that I've just let them go, and I've been very impressed. They've actually given me some cool ideas that I would've never thought about."
Using an animation software called Autodesk 3ds Max, the students added and subtracted shapes to produce a variety of designs similar to Flores's original model. Part of the challenge was to also incorporate honeycomb patterns to minimize the amount of material used and keep production costs down.
"It was cool knowing that what we were doing was going to be useful," said Jenna Ivey, one of the students. 
After working through multiple designs, the class produced a prototype that Jelinek took to his operators to test on one of the transporters. According to Jelinek, the feedback was very positive and the people liked it.
"I couldn't be more impressed by the way our young future took a design out of cardboard, put it onto a USB drive, and had a 3D printer sculpt it right before their eyes," Flores said after seeing his model come to life as a plastic prototype. "I never imagined that 6thgraders would come to be the heroes that completed this project."
With only one slight modification for added stability, the Distribution Center is moving forward to outfit all of the transporters with the final product. To show their appreciation, Brookshire Brothers is donating an extra $500 for the school to invest in programs like Matheny's 3D Design class.
"It's exciting to know that there are sixth-graders in Hudson who are knocking it out of the ballpark," Jelinek says. "We appreciate the effort they've put in to help us resolve a need on our part."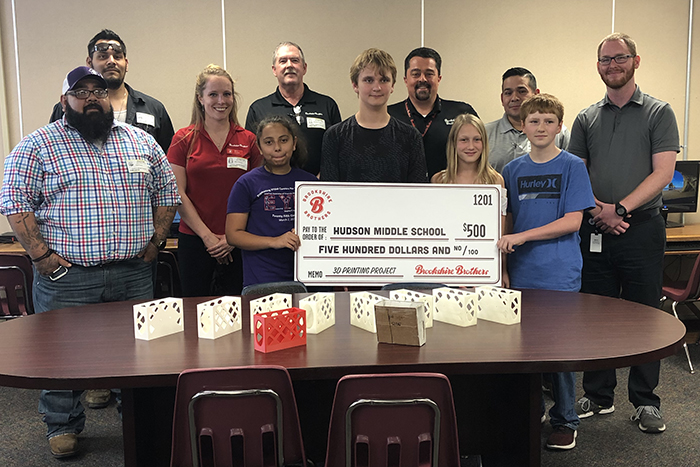 Tuesday March 19, 2019
Brookshire Brothers CELEBRATES Jarrell!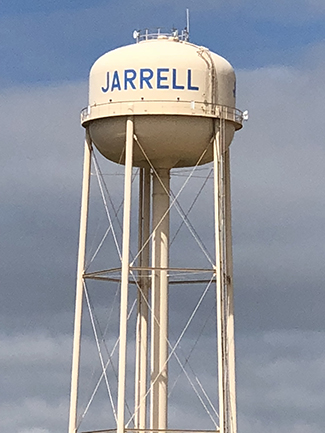 Lufkin, TX (March 15, 2019) – Brookshire Brothers is throwing a party April 10th to officially open its Jarrell location. The community has embraced the Lufkin-based grocer since it purchased the former SunFresh Market in November 2018.   The store team invites the public to sample its new offerings and classic favorites while celebrating community at its Grand Opening April 10th.  Shoppers can sample their way through the store and register for prizes all afternoon (1PM-7PM). Spin the prize wheel and have some fun from 4PM until 6PM.  At 5:15 the Chamber and City will cut the ribbon, officially welcoming Brookshire Brothers to Jarrell and Williamson County.      
Brookshire Brothers purchased the existing SunFresh Market in the fall of 2018.  In making the announcement, company CEO John Alston said, "We are continually looking for opportunities that make sense strategically for our company. The phenomenal growth in the Williamson County area and the visionary leadership in the region made acquiring a Jarrell location a great fit."  Brookshire Brothers has locations along the I-35 corridor in Salado, Lorena, and Moody. 
Jarrell's Mayor Larry Bush joins in the company's excitement because having a grocery store is pivotal to the area's long term vision.  "We have plans for nearly 7000 homes and apartments on file, have recently begun an expansion on our Wastewater Treatment Facility to quadruple its capacity and are working on bringing another 10.5 million gallons of water/day to the city to support the growth.  We know Brookshire Brothers can provide the citizens of the area with choices and options that support the growth and diversity of our population. We're delighted this employee-owned company wants to grow with us."  
Brookshire Brothers brings its signature hot deli and easy eats to the community as well as certified meat cutters who make specialty cuts for their customers.  Brookshire Brothers is a company of employee owners who are good people, providing good food, and doing good deeds in the communities it serves.
Tuesday March 5, 2019
Vehicle Registrations Now Offered At Canyon Lake Store
Brookshire Brothers Brings Convenience to Vehicle Registrations  
Instead of driving out to the Comal County Tax Office, motorists will now have the chance to conveniently renew their vehicle registration while shopping for groceries. All motorists need is proof of auto insurance and verification that the car safety inspection is current prior to renewing the registration.
Tax Assessor-Collector Cathy C. Talcott says, "Because Comal County covers such a large territory, I was delighted when Brookshire Brothers eagerly accepted our offer to bring this service to fruition.  The only location in the Canyon Lake area has been the Tax Office branch in Sattler, so the FM 306 location in the western part of the county is a great benefit to our tax payers."
Brookshire Brothers, located at 18275 FM 306, has been working with the Tax Office for several months to provide this service at the Canyon Lake store. Brookshire Brothers will process the renewals at the Customer Service desk from 8:00 AM to 8:00 PM, seven days a week.  This gives customers more flexibility since the County's vehicle registration hours are Monday through Friday from 8:00 AM to 4:30 PM.
Those wishing to renew their vehicle registrations must do so within the five grace days of expiration.  If expired five days after the deadline, they will need to visit their County Tax Office.  Customers must bring with them the renewal notice they received in the mail, as well as proof of insurance, and must be sure their vehicle has been inspected within 90 days of the expiration date.    
Wednesday January 30, 2019
Charitable Foundation 2019 Recipients
Organizations that lay the foundation for stronger communities will have more resources to help them help others thanks to Brookshire Brothers. On Wednesday, January 30th the Brookshire Brothers Charitable Foundation awarded $130,000 in grants to 26 nonprofit organizations and 5 education foundations across its market area. The grants give organizations the resources they need to continue living out their mission of serving those in need. Trustees and company executives presented funds to the recipients at the Brookshire Brothers' Distribution Center in Lufkin, Texas.    
In making the presentations, Brookshire Brothers President, CEO and Charitable Foundation Board Member John Alston said, "You make things happen in your communities. You change lives. We are grateful to have the opportunity to help you live out your mission. We thank you for what you do everyday."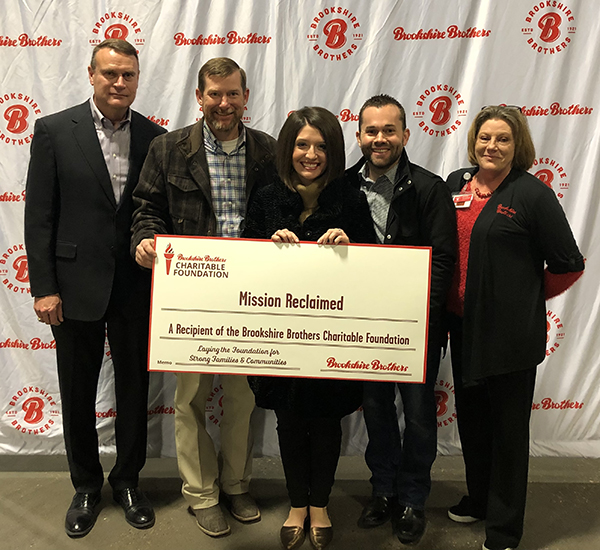 During the last decade, the Brookshire Brothers Charitable Foundation has given more than a million dollars to a variety of non-profits. For nearly twenty years, Brookshire Brothers has invited its vendors to play in two Charitable Foundation golf tournaments each year. Vendor partners appreciate the opportunity to network with their colleagues while raising money for nonprofits – all which support children and families and align with Brookshire Brothers' core value of being a community grocer.  Each year, the funds are granted based on the organizations' needs and application requests.
The 2019 recipients are:
Alcohol and Drug Abuse Council of Deep East Texas (ADAC)
American Cancer Society
Angelina Alliance for Children (Harold's House)
Angelina Arts Alliance
Boys & Girls Clubs of Deep East Texas
Buckner Children and Family Services
Christian Information and Service Center, Inc.
Dublin Goodfellows
Food Share Bank of Newton County
Friends of the Ellen Trout Zoo
Habitat for Humanity of Angelina County
Junior Achievement of East Texas
Junior League of Lufkin 
Lake Whitney Ministerial Alliance
Legacy Institute for Financial Education
Lufkin Neighborhood Strong
Mission Reclaimed 
Texas Forestry Museum
The Joseph House, Inc.
The Mosaic Center, Inc.
The Salvation Army
Twin City Mission
Volunteer Services Council
Women's Shelter of East Texas
Women's Sober House
Zavalla Food Pantry
Education Foundations:
Angelina College Center for Non-Profit Leadership
Hemphill ISD Education Foundation
Lufkin ISD Education Foundation
McGregor ISD Education Foundation
Vidor ISD
In addition to these contributions, Brookshire Brothers has a separate employee-run Donations Committee which meets monthly to consider hundreds of donation requests from throughout the company's footprint.
Thursday October 25, 2018
Growing With Jarrell, Texas
Lufkin… Brookshire Brothers is purchasing a store along the busy I-35 corridor just north of Georgetown.  In making the announcement, company CEO John Alston said, "We are continually looking for opportunities that make sense strategically for our company. The phenomenal growth in the Williamson County area and the visionary leadership in the region made acquiring a Jarrell location a great fit."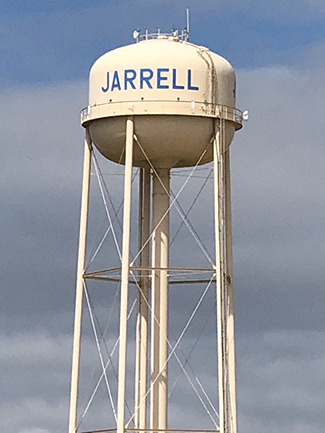 Brookshire Brothers is purchasing an existing SunFresh Market from a pair of real estate developers who knew having a grocery store and an ample water supply would be integral to the success of their long range plans for Jarrell. After they got SunFresh up and running, they began looking for a buyer with grocery experience. Brookshire Brothers was interested. The company already operates several stores along I-35 including one in nearby Salado and further north in Lorena.
Jarrell's Mayor Larry Bush is equally excited about Brookshire Brothers coming to town, "The City is experiencing explosive growth. We have plans for nearly 7000 homes/apartments on file, have recently begun an expansion on our Wastewater Treatment Facility to quadruple its capacity and are working on bringing another 10.5 million gallons of water/day to the city to support the growth. We know Brookshire Brothers can provide the citizens of the area with choices and options that support the growth and diversity of our population. We're delighted this employee-owned company wants to grow with us." 
Brookshire Brothers has plans to take over ownership of the SunFresh Market located on Town Center Boulevard in Jarrell in early November. Residents throughout the area will receive the store's
weekly ad
making them aware of the new in store offerings which will include a full service
deli
,
bakery
and meat
market
.
Thursday September 27, 2018
Dear Salado...
We're thrilled to announce that our Salado Pharmacist Brady Shimek has accepted a promotion to Pharmacy District Director. True to our #ShopWithSomeoneYouKnow spirit though, Shimek's promotion is also a bittersweet parting from his beloved patients over the past six years. To that, Brady would like to leave his customers with this farewell note.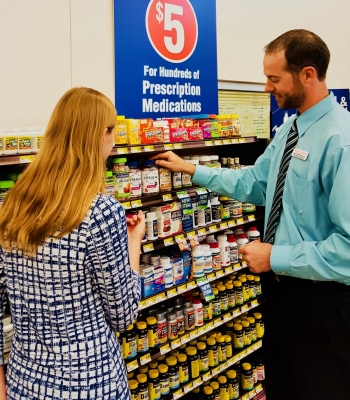 To My Valued Brookshire Brothers Pharmacy Customers,
It has been an honor to serve you the past 6 years. Upon taking over as the pharmacy manager in Salado, I could not have imagined how much of an impact this beautiful community would have on my life. Salado, in all of its uniqueness, soon became home to me. Sometimes we fall in love with an area because of the physical terrain and views it has to offer, sometimes the character and charisma it possess, and yet other times, the people that reside there. In Salado, you get blessed with all of these. 
I came to Salado looking to develop patient relationships, build trust within the pharmacy profession, and set a standard of care that pharmacy customers not only need but also deserve. All of you made these ambitions possible. Together, we have experienced illnesses, hardships, treatments, cures, highs and lows, but most importantly, we have experienced compassion and respect for one another. While I thank you all for your business and loyalty to Brookshire Brothers Pharmacy, I would be remorseful to not also thank you for your friendly smiles, your constant positivity, your continued encouragement, your faithful gratitude, and most importantly, your friendships.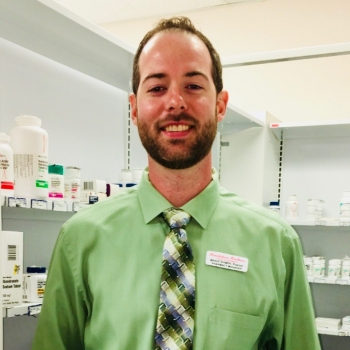 As I move on to my new position of Pharmacy District Director, I want to reassure you that the high level of care and customer service that Brookshire Brothers offers will not change. Our pharmacy team is strong and reliable. I have complete trust that they will continue to go above and beyond to exceed your expectations. I will continue to have confidence in our local Brookshire Brothers Pharmacy, and you should too.
Your pharmacist,
Brady Shimek, PharmD.
Tuesday September 11, 2018
Celebrate Family Meals Month
Brookshire Brothers Commits to Helping Families Eat at Home Together More Often During National Family Meals Month
The proven health and societal benefits of family meals inspire a month-long event aimed at helping families get back to the table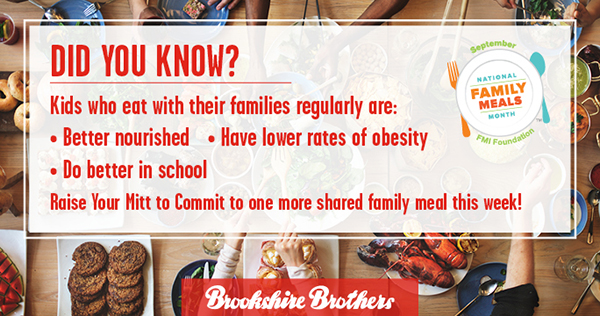 Lufkin, TX (August 31, 2018) - 
September is National Family Meals Month,™ an industry-wide movement to raise awareness about the benefits of frequent family meals. Brookshire Brothers has joined
the initiative to encourage families to spend more time this month enjoying a meal together
. In support, customers will enjoy special savings on ready-to-cook options and grab-n-go solutions all month long, as well as special deals and recipes every week. We're bringing value and ease to family meal times because we believe FAMILY MEALS MATTER.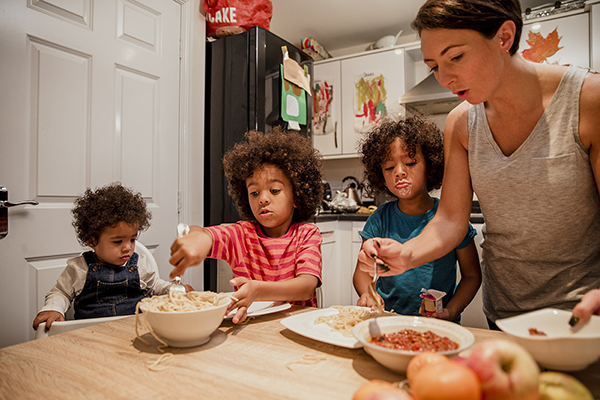 Did you know?
Kids and teens who share meals with their family three or more times per week are significantly less likely to be overweight, more likely to eat healthy foods and less likely to have eating disorders. 
With each additional family meal shared each week, adolescents are less likely to show symptoms of depression, less likely to use/abuse drugs and less likely to engage in delinquent acts.
People who eat most the most home-cooked meals eat healthier and consume about 130 fewer calories daily, on average, compared to people who cook less or not at all.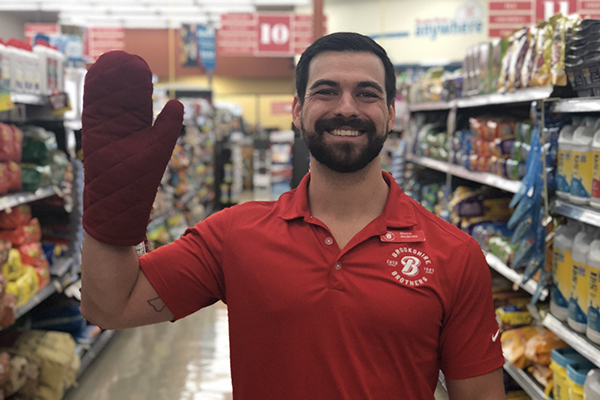 To get the month started,
Brookshire Brothers
and its employee-owners across Texas and Louisiana raised their mitts to commit to one more family meal at home. You, too, can raise your oven mitt to commit to making more memories around the kitchen table with those you love. Make it official, and shareable, by posting a selfie wearing your favorite oven mitt with the hashtag #familymealsmonth #brookshirebrothers. Follow Brookshire Brothers on Facebook, Instagram and Twitter to join the conversation this September. 
---
Gather 'Round The Table
September 5 through September 11
Week 1: Bring the family together for PIZZA NIGHT
FREE:
Fresh Harvest Salad (6-11oz)
Food Club Salad Dressing (16oz)
Fresh Harvest Tea (128oz)
WHEN YOU BUY:
3 Digiorno Pizzas (13.6-34.2oz)
---
Meal In Minutes
September 12 through September 18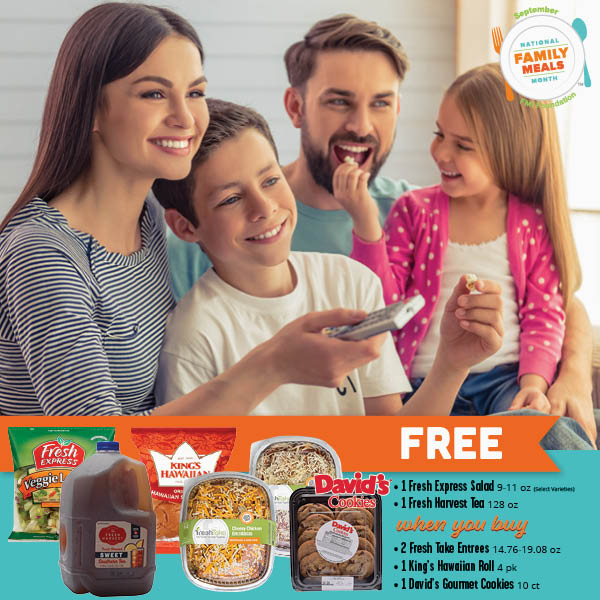 Week 2: Mom's Night Off
FREE:
Fresh Harvest Salad (6-11oz)
Fresh Harvest Tea (128oz)
WHEN YOU BUY:
King's Hawaiian Roll (4pk)
David's Gourmet Cookies (10ct)
---
Let's Taco 'Bout Family
September 19 through September 25
---
Slow Cooker Shortcuts
September 26 through October 2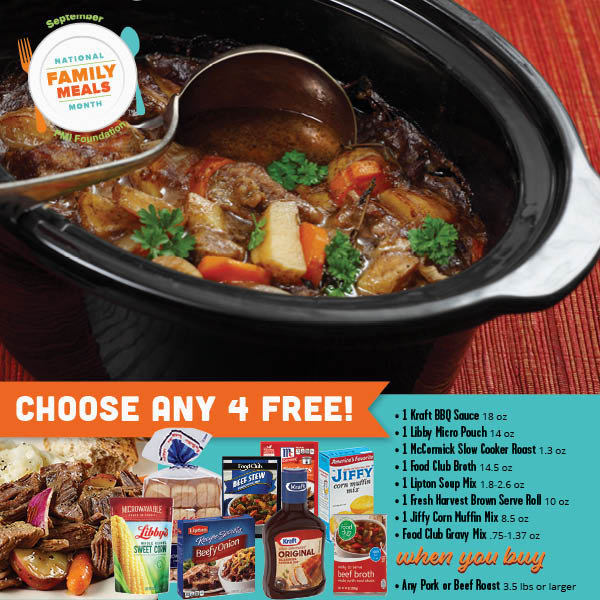 Week 4: Slow Down For Dinner
CHOOSE ANY 4 FREE:
1 Kraft BBQ Sauce (18 oz)
1 Libby Micro Pouch (14 oz)
1 McCormick Slow Cooker Roast (1.3 oz)
1 Food Club Broth (14.5 oz)
1 Lipton Soup Mix (1.8-2.6 oz)
1 Fresh Harvest Brown 'N Serve Rolls (10 oz)
1 Jiffy Corn Muffin Mix (8.5 oz)
1 Food Club Gravy Mix (.75 - 1.37 oz)
WHEN YOU BUY:
Any Pork or Beef Roast (3.5 lbs or larger)
Wednesday August 22, 2018
Change is Good! Brookshire Brothers is Better.
Grocery delivery, smokehouse foods, handmade pizza and more in a recently renovated store! 
Lufkin, TX (August 20, 2018) – Brookshire Brothers rolls out the red carpet, inviting folks in Huntsville and Walker County to see its new look and experience its expanded fresh offerings! The Lufkin-based company, that's had a presence in Huntsville for decades, has invested several million dollars in the upgrade of its 11th Street location.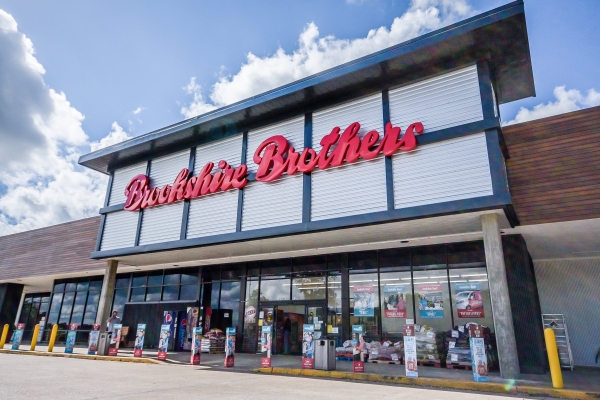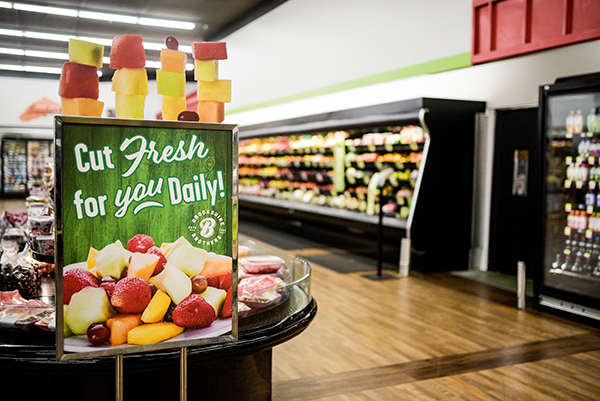 On Saturday August 25th from 10AM-3PM Brookshire Brothers will host
a community wide, family-friendly event
that will reach from the parking lot all through the store. Children are invited to 'touch a truck' – and meet first responders from the Huntsville Fire and Police Departments as well as check out a big eighteen wheeler. Everyone's invited to take part in the "Explore our Store" Scavenger Hunt, spin the prize wheel, sign up for CELEBRATE and enjoy the samplings throughout the store.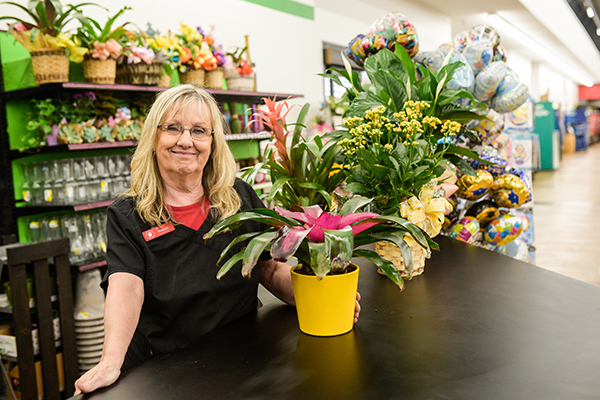 The friendly faces that currently serve you will be doing so in an upgraded store with new features like online shopping and home delivery through
Brookshire Brothers Anywhere
. Customers can order groceries online then pick them up curbside or have their groceries delivered to their door. The platform also enables customers to interact with their personal shoppers. In addition to making notes about how green they want their bananas or how thick they like their steaks, customers can also make note of substitutions. It becomes a two-way conversation resulting in an even more interactive customer-personal shopper relationship. To start shopping go to
https://www.brookshirebrothers.com/anywhere
. Use the code 3FREE to waive your service fees.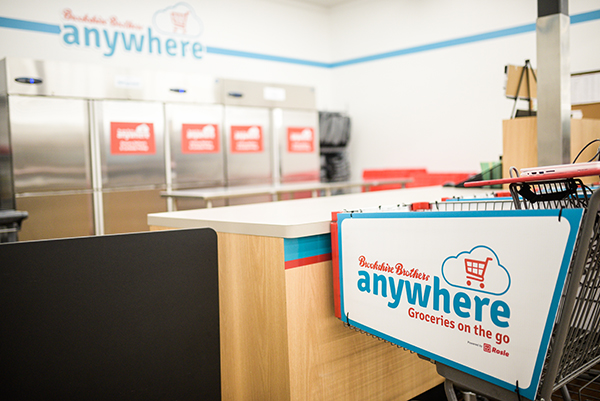 In addition to online shopping, the store's been completely refreshed – with an updated storefront, new flooring, roofing, restrooms, coolers, checkstands, and shelving. The entire store has energy efficient equipment like LED lighting and new refrigeration cases that reduce costs and lessens environmental impact.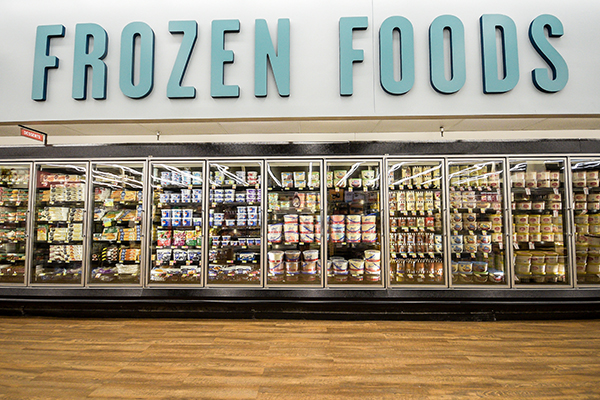 For foodies, there's a number of new additions including a handmade pizza station, hand-crafted deli sandwiches and paninis, and a fresh line up of Easy Eats meal solutions for busy people. Brookshire Brothers' new Smoked In House BBQ lineup offers customers freshly smoked brisket, ribs, sausage and more.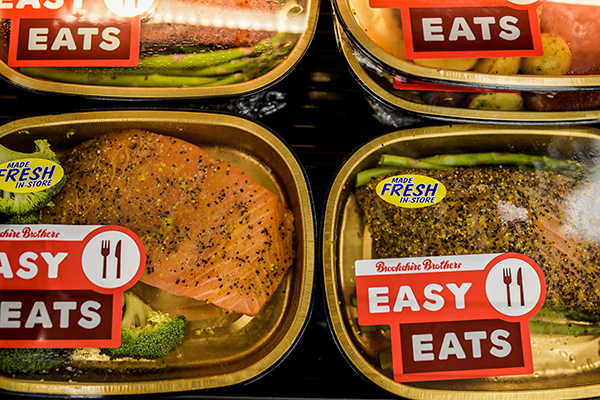 Tuesday June 26, 2018
Your One-Stop Shop: Vehicle Registrations
Brookshire Brothers Brings Convenience to Vehicle Registrations 
Lufkin, TX 
(June 26, 2018) – 
Brookshire Brothers
 announces a new way to save time and long lines! Starting July 2, its
Salado, Texas, grocery store
will start offering State Vehicle Registration Renewals—a service provided by few other grocers in Texas.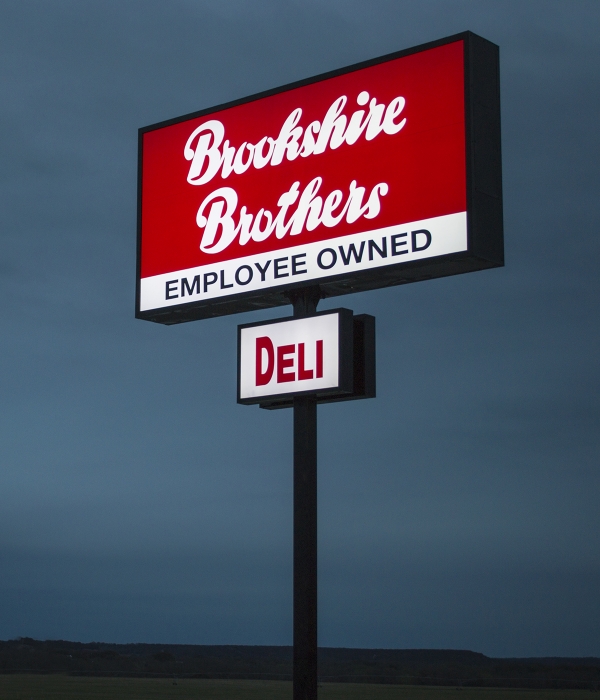 Motorists in Bell County now have options when it comes to vehicle registration renewals. Brookshire Brothers at 215 Mill Creek Drive in Salado will now offer the service. They will be able to process registration renewals for vehicles and trailers for folks in Salado and parts of south and southeast Bell County. All motorists' need is proof of auto insurance and verification that the safety inspection is current, if required, prior to renewing the registration. Motorists will also need to bring their registration renewal notice. 
Bell County's Tax Assessor-Collector Shay Luedeke gives Brookshire Brothers this thumbs up. She adds, "When we visited Brookshire Brothers for training they processed a registration for a personal trailer of mine. They did a great job so they are good to go." Word is getting out around the county and Luedeke says, "The store manager and our office have already heard great feedback since we announced the agreement. Though it doesn't start until July 2nd, folks in the Salado area are delighted to have such a convenient service right in their community's grocery store." 
Brookshire Brothers will process the renewals at the Customer Service Desk from 8:00 am to 8:00 pm, 7 days a week. This gives customers more flexibility. The County's Vehicle Registration hours are Monday through Friday from 8:00 AM to 4:45 PM.
Thursday June 7, 2018
Introducing Scheid Family Wines
A perfect pair! Brookshire Brothers wants to raise a glass to one of its newest partners—Scheid Family wines. Brookshire Brothers will debut the California luxury wines at
Lufkin's Farm Feast
on Tuesday, June 12
th
 and then make a collection of their wines
available to their Lufkin customers
. According to the Brookshire Brothers' Vice President of Specialty Beverage Phil Metzinger, "the Scheid Family's values and mindset align with ours—their commitment to the surrounding community, land, and people who work with them is unparalleled. It's not unusual for them to have a 25- or 30-year employees. That's very much like Brookshire Brothers."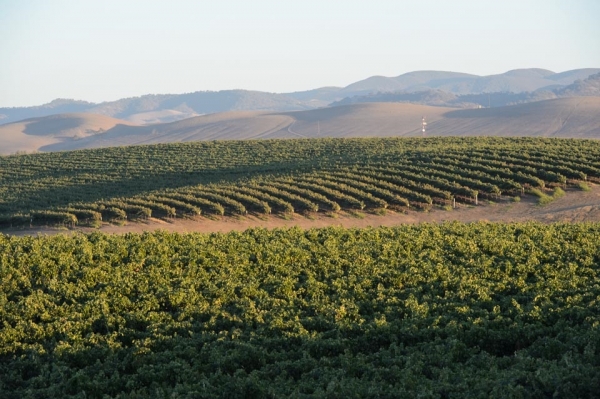 Al Scheid started this grapes-to-glass family business in 1972. Today, their portfolio of sustainably certified wines is all estate bottled. Farm Feast guests will get to sample a number of varietals from Ryder Estates, Fivewise, and Ranch 32.  Brookshire Brothers will carry an assortment of those brands and their varietals as well as offerings labeled under Fog and Light, Rocklin Ranch, James Bryant Hill, and Long Valley Ranch.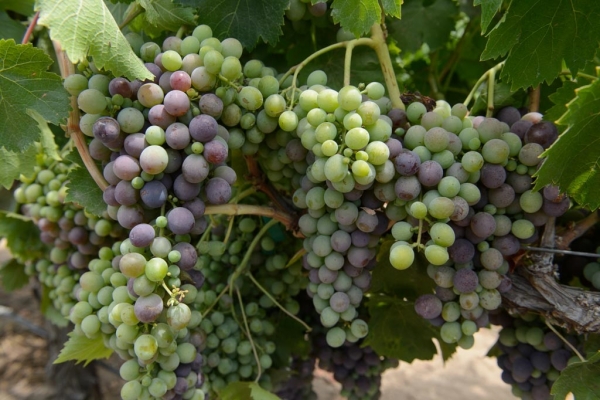 The Scheids say, "Though our 11 vineyards and 4,000 acres in Salinas Valley are exceptional, it is our employees who are at the heart of everything we do." That's one reason Brookshire Brothers has agreed to be Scheid's sole retailer in East Texas.  You're invited to meet the winemaker Dave Nagengast at Farm Feast on June 12th and the Southwest Manager Henry Politiz. Politz adds,  "Our motto at Scheid is bringing people together to enjoy and savor life. That sounds exactly like what we are going to do at Farm Feast. We are delighted to be part of it and look forward to introducing our wines to Brookshire Brothers customers."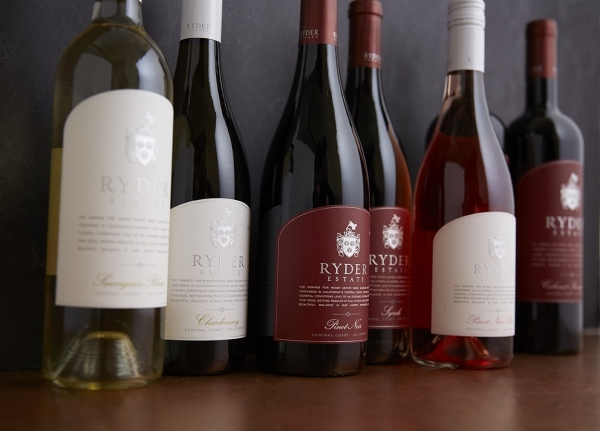 If you miss the event, come taste the wines at either Brookshire Brothers Gaslight or Chestnut locations on Friday, June 15th from 4:00 PM – 7:00 PM.  All Scheid Family wines will be 15% off Friday, Saturday, and Sunday to celebrate Farm Feast and the Scheid's entry into the East Texas market and Brookshire Brothers.
To reserve your spot for Farm Feast, conctact the Lufkin's CVB at 936-633-0359. 
Tables of eight are $500 and individual tickets are $50 per person. 
Pages