Monday September 14, 2020
The Similarities of the Flu & COVID-19
 Flu season is fast upon us and during the COVID-19 pandemic, the influenza vaccine will be integral to reduce the impact of respiratory illness in our communities. It is highly recommended that everyone get a flu vaccine this year, because we don't currently have a way to prevent COVID-19, outside of social distancing, practicing good hygiene, disinfecting commonly used surfaces and, of course, wearing a facial covering while out in public.
Common Symptoms of COVID-19 and the Flu:
Fever or feeling feverish/chills
Cough
Shortness of breath or difficulty breathing
Fatigue (tiredness)
Sore throat
Runny or stuffy nose
Muscle pain or body aches
Headache
Some people may have vomiting and diarrhea, though this is more common in children than adults.
Similarities and Differences between COVID-19 and Flu
Similarities
Both COVID-19 and the flu have the following symptoms and are spread in similar ways.
Transmitted through person to person contact or droplets from coughing, sneezing or talking.
Transmitted by someone who isn't showing signs of being sick or experiencing any symptoms.
Can live on surfaces
Differences
COVID-19 and Influenza are different types of viruses that can cause similar symptoms in humans.
The Influenza virus does not live in the air for a certain amount of time.
The flu spreads faster than COVID-19 and symptoms appear sooner. Flu symptoms become visible within 1-4 days while COVID-19 can take up to 14 days.
COVID-19 is more deadly than the flu.  The mortality rate for the flu is less than 1% of people infected while COVID-19 has a mortality rate of 4%-6% of people infected.
The most important difference is – there is a vaccine to prevent the flu!
Visit any pharmacy for a flu shot today, no appointment necessary. To keep everyone safe, we have implemented new safety measures this year:
All patients getting a flu shot are required to wear a mask.
Visit here to complete our Patient Profile Form and Vaccine Consent Forms.
Monday March 9, 2020
Immunity Boosting Foods
We are all concerned about keeping ourselves and our loved ones safe from sickness. Did you know that what you eat can have a profound impact on your susceptibility to catching things that are going around? Many foods influence the workings of the immune system, but some foods have special immune enhancing effects. Certain foods can increase the number of natural killer cells in the body, which help to destroy viruses. Others help enhance the part of the immune system that forms antibodies. Antibodies are like the immune system's memory helping us not to catch the same viral sickness twice. Let's explore some delicious and powerful foods that can help ward off all kinds of germy invaders and keep our bodies well.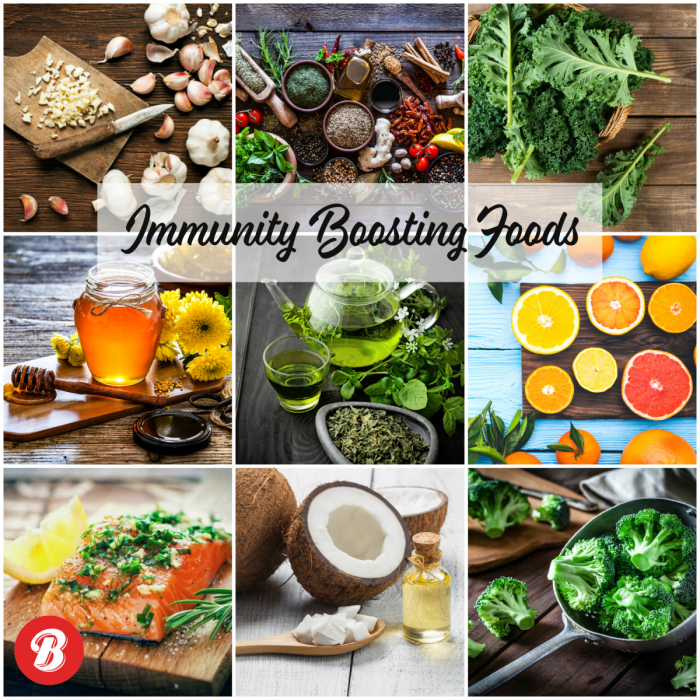 Coconut Oil – Coconut oil is rich in a special substance called monolaurin which is a germ fighting powerhouse. Refined coconut oil is clean and flavorless, making a perfect stand-in for vegetable oil in dishes or for cooking. Virgin coconut oil has a pronounced coconut flavor which adds flair to many dishes. 
Garlic – Garlic doesn't just ward off vampires -- it's also great for preventing sickness. Garlic is most effective when it's consumed raw within an hour of being cut or crushed. Try raw garlic in a delicious homemade yogurt-based tzatziki sauce, which is great for dipping veggies or in wraps. 
Herbs and spices – Many herbs and spices have medicinal qualities that have made them valuable for centuries. Notably, turmeric, common in Indian cuisine, and oregano, both have potent antimicrobial properties. Try a delicious Indian Tikka Masala or make golden tea with turmeric. Oregano tastes great in a wide variety of dishes, especially Italian and Mexican cuisines.
Citrus – Citrus fruits have long been heralded the kings of the vitamin C kingdom. Vitamin C is a well-known friend to the immune system. While vitamin C supplements are popular, nothing can beat the real thing in its natural form found only in foods. In food, vitamin C contains special components called "co-factors" which helps it do its many important jobs in the body. Fresh citrus is crucial because vitamin C is prone to breakdown, so eat or juice oranges promptly after cutting, or squeeze a lemon or lime into your water daily. Other great non-citrus sources of vitamin C are sweet raw bell peppers, tropical fruits, and broccoli. 
Seafood – Zinc plays a crucial role in immune function, and some of us may not be eating enough. Seafood is one of the best sourcirtces of zinc, especially oysters, crab, and lobster. Omega-3 fatty acids, found abundantly in salmon and even sardines are also important for dampening inflammation and supporting immunity. Check out the seafood selection at your local Brookshire Brothers – fresh, frozen, and packaged seafood options all work well. 
Cruciferous Veggies – Broccoli, cauliflower, Brussels sprouts, kale, most greens (except spinach), and cabbages are part of the family of cruciferous veggies. These veggies are extra special because they have high levels of all kinds of immune-enhancing goodies. Of particular importance are sulforaphanes, which are sulfur-containing compounds that help boost natural killer cell function to stop viruses in their tracks. Cruciferous veggies are also jam-packed with vitamin C and other awesome immune-enhancing vitamins, minerals, and antioxidants, so make them part of your daily routine. 
Bone Broth – Why do we eat chicken noodle soup when we're sick? This wise practice stems from the healing properties of rich, gelatinous bone broth. Chicken and beef stocks that are traditionally prepared are rich in gelatin and an important amino acid called glycine. Glycine is needed to help fight off infection and keep the body in tip-top shape. Gelatin-rich foods are also soothing to the stomach and help promote gut health. So buy chicken with bones and skin (cooked rotisserie chicken scraps work too), simmer gently for 12 to 24 hours in the crockpot, and you've got yourself nourishing homemade bone broth. Ready-made varieties of high protein bone broth are available in many Brookshire Brothers locations as well. Don't see them at your store? Make a product request! 
Green Tea and Honey – Catechins aren't a derogatory nickname for your neighbor's crazy cat. Instead, catechins are compounds found in green tea which fight off viruses and increase overall immune function. And what goes better with green tea than honey? Honey has its own set of super powers, including antimicrobial properties and great effectiveness as a natural cough suppressant. (Just remember not to give honey to children under the age of one.)
Whole Milk, Butter, Cheese, Egg Yolks, and Liver – What do these foods have in common? They are all great sources of the active-form of vitamin A. Active-form vitamin A is found in animal-based foods containing fat, such as dairy products and liver. Vitamin A is crucial for the immune system to function at full capacity, and deficiency can make you prone to infections. Eating red, orange, and green leafy veggies can also help boost vitamin A status because they contain beta-carotene, but beta-carotene must be converted to active vitamin A within the body. Some people have difficulty making this conversion. So aim to include both animal sources of vitamin A as well as leafy vegetables to help keep your vitamin A levels optimum and ward off sickness.  
Extra-Virgin Olive Oil – Olive oil contains many wonderful substances that support health. Two compounds in the polyphenol class of antioxidants are known to be potent inhibitors of viruses. Try using fresh extra-virgin olive oil in homemade salad dressing, or add a drizzle to your favorite savory dishes. Toss veggies in olive oil before roasting and pan sautéing.
Visit your local Brookshire Brothers for all of your real fresh, real delicious immunity boosting ingredients!
---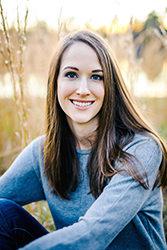 Angela Larson is a registered dietitian nutritionist (RDN) who works with Brookshire Brothers promoting 
real fresh, real delicious
 foods. Delicious food is her passion, so she loves trying new recipes and exploring the more holistic side of health and nutrition. When Angela isn't working with Brookshire Brothers, she's a mostly stay-at-home mom who loves to cook, garden, and spend time outdoors with her husband, Austin, and their two daughters.
Monday February 24, 2020
Real Fresh, Real Delicious Pot Roast with Tomatoes and Rosemary
Everyone should have an easy pot roast recipe up their sleeve. Okay, not literally up their sleeve, because that would just be weird. Or perhaps, it would be genius. But back to the topic at hand, a yummy pot roast recipe is seriously one of the easiest, yet most satisfying savory crowd-pleasers that exist. This is my absolute favorite pot roast recipe that I've made many times for my family over the years.  The tomatoes add a wonderful sweet acidity to the dish that brings all the flavors together. The mushrooms are like juicy little flavor bombs and add a wonderful texture to the dish. Turnips or parsnips can easily be swapped out for the potatoes for a lower carb version. The slow cooker can be used as well to make this an easy weeknight dinner.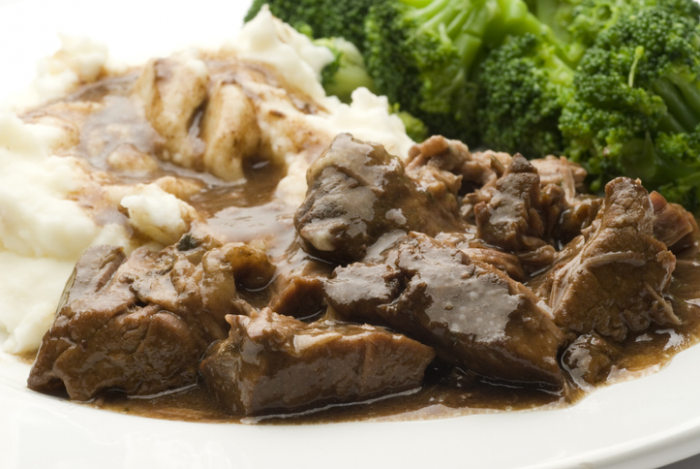 My Favorite Pot Roast with Tomatoes and Rosemary
Ingredients
1 boneless chuck roast, about 3 ½ pounds
Salt and pepper
2 tablespoons extra-virgin olive oil
1 medium onion, chopped medium
12 ounces petite baby carrots
1 rib celery, chopped
10 ounces white mushrooms, cleaned and quartered
4 medium garlic cloves, minced
½ cup low sodium chicken stock
½ cup low sodium beef stock
½ cup dry red wine (or additional beef/chicken stock if wine isn't your thing)
1 teaspoon dried thyme
1 28-ounce can diced tomatoes
1 ¾ cups water or additional chicken stock
1 sprig fresh rosemary
1 pounds small red potatoes, scrubbed and chopped into ¾" dice
Directions
Adjust oven rack to middle position and heat oven to 300 degrees. Thoroughly pat roast dry with paper towels; sprinkle generously with salt and pepper.
Heat oil in large heavy-bottomed Dutch oven over medium-high heat until shimmering but not smoking. Brown roast thoroughly on all sides, reducing heat if fat begins to smoke, 8 to 10 minutes. Transfer roast to large plate; set aside. Reduce heat to medium; add onion, carrot, celery, and mushrooms to pot and cook, stirring occasionally, until beginning to brown, 6 to 8 minutes. Add garlic and cook until fragrant, about 30 seconds. Add chicken and beef broths, dry red wine, dried thyme, and diced tomatoes, with juice, scraping bottom of pan with wooden spoon to loosen browned bits. Return roast and any accumulated juices to pot; add enough water or chicken stock to come halfway up sides of roast. Bring liquid to simmer over medium heat, then place large piece of foil over pot and cover tightly with lid; transfer pot to oven. Cook, turning roast every 30 minutes, until fully tender and meat fork or sharp knife easily slips in and out of meat, 3 1/2 to 4 hours.  (Alternately, place in the slow cooker on low heat for 4-6 hours.)  About 1 hour before roast is finished, add diced red potatoes to the cooking liquid.  
Transfer roast to carving board; tent with foil to keep warm. Allow liquid in pot to settle about 5 minutes, then use wide spoon to skim fat off surface. Add sprig of fresh rosemary and boil liquid over high heat until reduced to 1 1/2 cups; discard rosemary and thyme sprigs. Season to taste with salt and pepper.
Using chef's or carving knife, cut meat into 1/2-inch-thick slices, or pull apart into large pieces; transfer meat to warmed serving platter or bowl, pour sauce and vegetables over meat, and serve.
*My family likes this dish served alongside steamed brown rice.
---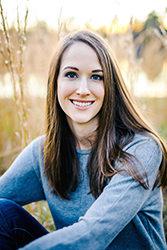 Angela Larson is a registered dietitian nutritionist (RDN) who works with Brookshire Brothers promoting 
real fresh, real delicious
 foods.  Delicious food is her passion, so she loves trying new recipes and exploring the more holistic side of health and nutrition.  When Angela isn't working with Brookshire Brothers, she's a mostly stay-at-home mom who loves to cook, garden, and spend time outdoors with her husband, Austin, and their two daughters.
Tuesday February 18, 2020
Real Fresh, Real Delicious Chicken Pot Pie
Pot pie - the humblest of titles, but it is so much more than it sounds.  Creamy filling studded with vegetables and chicken topped with savory crust – it is the ultimate one-pot dinner.  I have always enjoyed pot pie, but shied away from making it because I thought it would be complicated to prepare at home.  I'm so glad I gave it a go because I was wrong.  It was so easy and delicious that this recipe will definitely be part of my regular dinner rotation.  This recipe is a little "fancier" than your typical pot pie, but this only means it has more amazing flavor but without any extra fuss.  The vegetables can easily be swapped out for your favorites to use whatever you have on hand.  I also love it with roasted cherry tomatoes or cauliflower, or you could go with the traditional favorites, peas and carrots.  Give homemade pot pie a try, and I promise you won't be disappointed.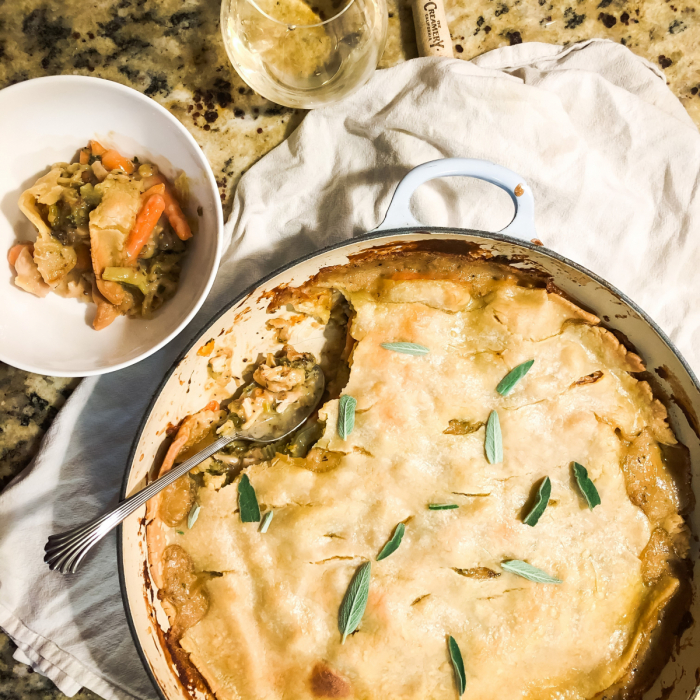 Chicken Pot Pie with Roasted Vegetables and Sage
Adapted from Half-Baked Harvest – Super Simple by Tieghan Gerard
Ingredients
3 tablespoons extra-virgin olive oil
12 ounces petite baby carrots
2 cups of broccoli florets, washed and chopped in bite-sized pieces
2 stalks of celery, diced (optional)
1 ¼ pounds boneless, skinless chicken tenders (or 1 ½ cups cooked rotisserie chicken shredded)
3 tablespoons butter
2 shallots, chopped fine
2 tablespoons fresh sage leaves, chopped, plus whole leaves for serving
1 ½ teaspoons dried thyme leaves
1/3 cup all-purpose flour
3 cups low-sodium chicken stock (I prefer high protein type)
1 cup whole milk
¼ cup fresh parsley, chopped
1 frozen or refrigerated prepared roll-out style pie crust, thawed
Directions
Move oven rack to middle position and preheat oven to 425 degrees. 
Cover a large rimmed baking sheet with a piece of aluminum foil and toss carrots, broccoli, and celery with 3 tablespoons of olive oil and sprinkle with salt and pepper.  Spread in an even layer on baking sheet.
Roast vegetables in the oven until they are lightly browned and beginning to get tender, about 20 to 25 minutes.  When finished, remove from oven, reduce oven temperature to 375 degrees, and set vegetables aside while preparing filling. 
(If using shredded rotisserie chicken, skip to step 5.)  While vegetables roast, heat a large 12-inch oven-safe skillet over medium high heat.  After pan is hot, add chicken tenders to dry pan and cook without moving for 3-4 minutes.  When they are well browned, they will release easily from the pan and then flipped to cook for an additional 3-4 minutes.  Remove chicken from the pan and set aside to cool slightly before chopping into bite sized pieces.
Reduce heat to medium and add butter to skillet.  After butter has melted add shallots, chopped sage, and thyme.  Cook, stirring often, until shallot is fragrant and butter is lightly browned with a nutty aroma, about 3-5 minutes. 
Add flour to pan, and cook for about 1 minute, stirring constantly.  Gradually whisk in broth and milk.  Bring to a simmer then reduce heat to medium-low.  Season with salt and pepper to taste.  Simmer until slightly thickened, about 10 minutes. 
Remove skillet from the heat and add chopped chicken, roasted vegetables, and chopped parsley.  Stir to combine.
Roll out prepared pie crust until it is large enough to cover filling in pan, and lay over the top of the filling in the skillet.  Cut a few slits in the top of the crust.  Brush with a little bit of melted butter or whole milk, if desired. 
Bake until pastry is golden brown, 40-45 minutes.  Let cool for 10 minutes, sprinkle with remaining fresh sage leaves, and serve. 
---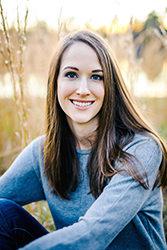 Angela Larson is a registered dietitian nutritionist (RDN) who works with Brookshire Brothers promoting 
real fresh, real delicious
 foods.  Delicious food is her passion, so she loves trying new recipes and exploring the more holistic side of health and nutrition.  When Angela isn't working with Brookshire Brothers, she's a mostly stay-at-home mom who loves to cook, garden, and spend time outdoors with her husband, Austin, and their two daughters.
Thursday January 2, 2020
Reset for Better Living: 7 Healthy Habits to Start in the New Year
We want to help you achieve your resolutions for the New Year! Check out this list of 7 Healthy Habits to Start in the New Year from Angela Larson, RD.
Go outside. I don't need to quote studies to tell you that going outside is good for your well-being.  There are so many things that make it great – plenty of opportunities to move, sunshine to help set your circadian rhythm and make vitamin D, and even just being around plants and trees has been shown to improve mood and increase longevity.  So find an excuse and go outside every chance you get. 
Makeover your beverage choices. Beverages are an easy place to make changes that will have a lasting impact on your health.  Most people assume there's nothing healthy to drink if you'd like anything other than plain ol' water, but there are plenty of options to wet your whistle while boosting your health.  Awesome beverage options are green tea, herbal teas, kombucha, cold-pressed juices and smoothies, coconut water, aloe vera juice, nut milks, and good old fashioned cow's milk.  Check out your neighborhood Brookshire Brothers for plenty of beverage inspiration for the coming year.  
Share meals. Eating together with loved ones and friends is a wonderful habit to work toward for the good of everyone involved.  Sharing family meals teaches children to eat well and provides a place of connection where the day pauses and everyone is engaged with one another.  Work toward sharing more meals with loved ones this year, and take the time to really enjoy the food and the company.  
Revamp your breakfast routine. One of the most frequently missed opportunities to bolster a healthier diet is at breakfast.  Breakfast is a great time to get healthy proteins and nutrient-rich foods into your daily routine, but many people get stuck in a breakfast rut with the same old choices day after day.  Try some healthier options in the coming year like homemade oatmeal, plain Greek yogurt, cottage cheese, fresh fruit, homemade smoothies, or my favorite – eggs.  Don't miss the opportunity to nourish your body well at the start of the day.  In a hurry?  Check out some of the great new breakfast options available that are less carb-centric at your neighborhood Brookshire Brothers.  I've seen protein packed options like egg sandwiches sans the bread in my local refrigerated and freezer cases. 
Take walks. Walking is a great way to connect with nature, friends, and family.  It's also a foundational human movement that we often neglect as being essential to good health.  Strive to walk three to five miles a day like most of humankind has over the course of history – our bodies are made to walk.  Include a walk – short, long, or anywhere in-between -- as part of your daily routine as often as possible. 
Eat plants. Most of us aren't eating enough wholesome plant foods.  Including a wide variety of fruits and vegetables in your diet is a no-brainer, but don't neglect the other plant food superstars like nuts, seeds, lentils, beans, peas, and a variety of whole grains other than wheat.  Plant foods are always a great choice, so when you reach for a snack and plan a meal, remember to aim to include whole plant foods more often and skip the processed stuff as much as possible.  
 Get bored. I am a big believer in staring out the window, without a phone or any other distraction in hand.  Allow your mind to wander and drift without being beckoned by the many distractions and forms of entertainment we tend to gravitate toward.  Take a couple minutes each day to hit the pause button without any form of entertainment or distractions and just "be."
---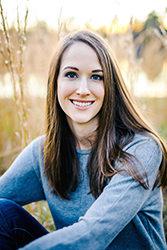 Angela Larson is a registered dietitian nutritionist (RDN) who works with Brookshire Brothers promoting 
real fresh, real delicious
 foods.  Delicious food is her passion, so she loves trying new recipes and exploring the more holistic side of health and nutrition.  When Angela isn't working with Brookshire Brothers, she's a mostly stay-at-home mom who loves to cook, garden, and spend time outdoors with her husband, Austin, and their two daughters.
Tuesday December 31, 2019
Reset Your Life with Meal Planning Tips for the New Year
It's the New Year and that means it's the season of resolutions and becoming more organized. One such way to be more organized is to meal plan. Meal planning has many benefits that are numerous such as saving money, not wasting food, less stress, saving time and with proper planning adding more variety to your meal rotation. Keep reading below for our favorite meal planning tips.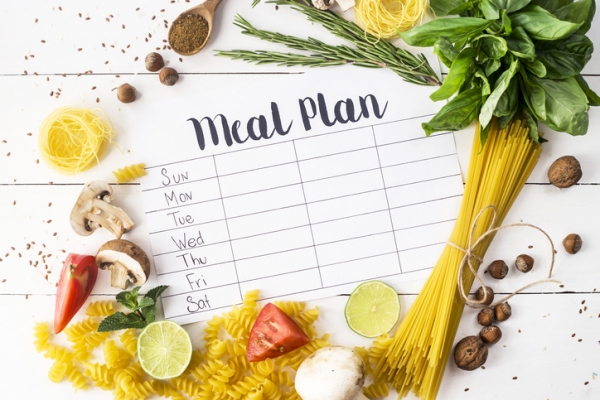 Focus on core recipes. When you find recipes that your family enjoys, make them core recipes that get re-used every few weeks. This way when you get about 20 recipes in your recipe arsenal, the family will not get bored with them and you can work in 1-2 new recipes a week.
Add variety by traveling the world in your kitchen. With research and some adjustments you can create recipes from around the world to add variety to your meal planning.
Eat leftovers for lunch. This saves money and time. Lunch can be made with dinner the night before and stored for the next day and then of course saving by not having to buy lunch.
Keep your recipes organized. Either keep a recipe planner, or for simplicity sake Pinterest is great for this.
Do your shopping all at once. Make that list and shop by it. This saves time and money, by not having to stop at the store on the way home from work every other day.
Make extra food to freeze. This tip is great in case something is going on and the meal plan is thrown to the wayside for a night.
Prep, prep, prep. Spend some time on the weekend prepping ingredients for your weekly recipes. This saves time during the busy week.
Check what's on sale. Check sale ads as you plan your meals, this will save time and money. The Brookshire Brothers weekly ad is a great place to start.
Get the whole family involved. Ask the family what they would like to eat and involved them in prepping and shopping.
Visit your local Brookshire Brothers for all of your meal planning needs.
Wednesday September 18, 2019
Fight Like A Girl: Breast Cancer Awareness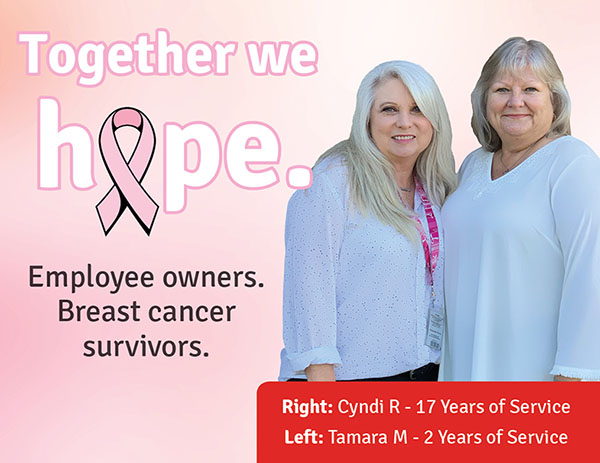 Is there a party somewhere? Everywhere we look, we can spot silky pink fabric twisted into elegant ribbons.
Although these ribbons are beautiful and festive, most people know that the disease they represent is anything but a party.
October is breast cancer awareness month, and the statistics may seem boring…but cancer is the second leading cause of death in the United States. And of that, breast cancer is the second most common kind of cancer.
Although 1 in 8 women will be diagnosed with breast cancer, men are at risk too. With all diseases, our best chance at surviving is early detection. Follow these early detection tips:
1)    Self-examination: Many physician visits originate from the discovery of a lump or oddity. Take the time to listen to your body and recognize any abnormalities by performing monthly self-examinations.
2)    Mammogram: For those women who have low or average risks, the mammogram is the most common procedure for early detection. The American Cancer Society recommends one every year starting at age 40 and continuing as long as the individual is in good health. 
3)    MRI: In certain cases, the self-exam and the mammogram may both miss the detection. If you are at a higher risk, ask your doctor for an MRI which will more accurately show the involved area.
4)    History: One of the most important considerations is family history. In those families who have a history of breast cancer, testing for mutated genes may be appropriate. Talk closely with your physician and make him/her aware of your risks.
Unfortunately, this disease does not discriminate or only affect patients with a higher risk. As October unfolds, encourage your grandmother, mom, sister, friend, daughter and any other woman in your life to schedule a mammogram.
Annual mammograms are our first line of defense against this life-robbing cancer. Let's make a commitment to follow the suggestions of the experts and get ourselves healthy, and when we prevent this disaster from affecting even one life, we can consider those pretty pink ribbons a reason for a party after all.  
Kelly Kinney, RPh
Brookshire Brothers Pharmacy – Rusk, TX
Monday July 15, 2019
No Brainer: Back To School Immunizations
Parents, grandparents, guardians and babysitters, we've made it: the start of the school year is officially just around the corner!  Pardon my jubilation but as my daughters recently paraded around the house in new back-to-school clothes, I couldn't help but click my heels in anticipation (of course I waited until they left the room like any good parent).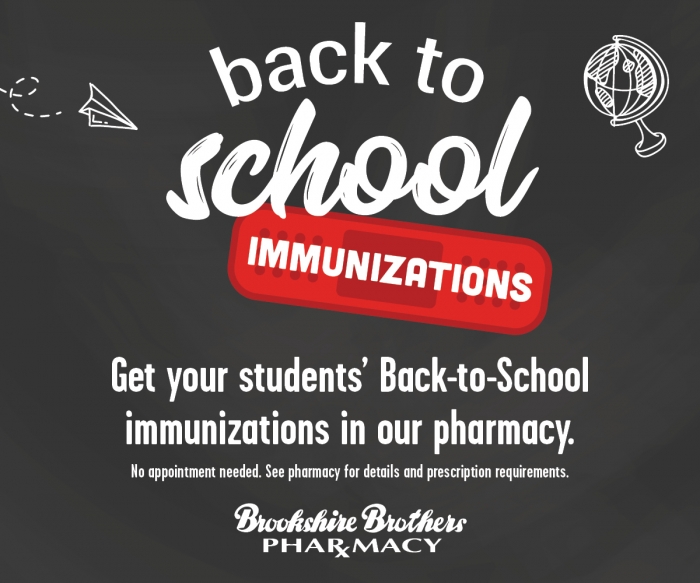 Look, we are at the approximate point in summer when the nuance of the season has long faded.  It's hot, the kids are restless, parents are exhausted and most importantly, parents are exhausted.  Our kids need to go back to school—whether they'll admit it or not—and it's our job as parents to get them ready.
So yes, get the new clothes, shoes and haircuts.  Download the school supply list and stock their backpacks.  But sending our young pupils into the world of academe amply supplied with loose leaf paper is only part of our job as parents.  Making sure our children are up to date on all required and recommended vaccines is a far greater responsibility to ensure the health of our kids and our communities.
Depending on the state and even the school district, different vaccines are required for children prior to entering Kindergarten.  By this age (4 to 6 years-old), kids should receive booster doses for diphtheria, pertussis, tetanus, polio, measles, mumps, rubella and varicella
according to the Centers Disease Control and Prevention (CDC)
.
At age 11, the CDC recommends vaccines for meningitis, human papillomavirus and again for tetanus, diphtheria and pertussis.  Additional vaccines against another type of meningitis (group B) are recommended in certain adolescents and teens who may be at higher risk of infection.
Many of these required immunizations are not one-time vaccines but require several vaccines in a series to achieve full immunity.  This can equate to multiple trips to the pediatrician's office or local health clinic which can be hard to schedule for busy or working parents.
Why not let your local
Brookshire Brothers pharmacist
help?  As an adult, you may have visited your pharmacists for vaccines against a myriad of ailments including influenza, pneumococcal disease, shingles, tetanus, pertussis and hepatitis just to name a few.  Did you also know that your pharmacist can immunize your
child
against many of the required or recommended vaccines he or she needs?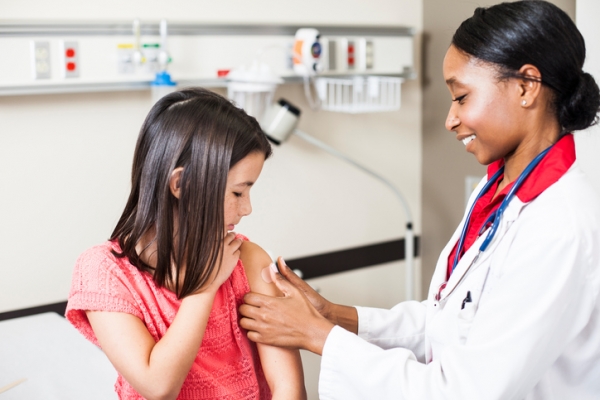 In Texas, pharmacists can administer vaccines to teens over 14 years of age without a prescription (over 7 years old without a prescription for the annual flu shot) and adolescents age 7 to 13 with a prescription.  Simply have your child's physician issue a prescription (to be given to you or sent directly to the pharmacy electronically) for any needed vaccines.
Your pharmacist will report what vaccines were given and when to your child's doctor and your state immunization registry.  Many insurance plans pay for vaccines given at the pharmacy, but a quick phone call to your plan can clear up any questions you may have about coverage.
Letting your
Brookshire Brothers pharmacist
help in keeping your child or teen up to date on immunizations is a win for both your child and you!  Talk to your pharmacist today about how we can be a part of getting your kiddo ready for school and keeping them healthy all year long.
---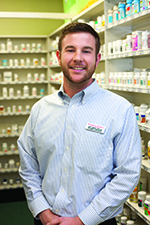 Matt Baker is a pharmacist with Brookshire Brothers Pharmacy in Lufkin.  He received his undergraduate degree from Texas A&M University in 2005 and his Doctor of Pharmacy from the University of Houston in 2010.  He writes a monthly pharmacy and wellness article for the Lufkin Daily News and is active in the community.  Matt's passion is serving his patients while ensuring that they are equipped to understand and take their medications properly. 
Friday March 22, 2019
Spring Flowers Bring Spring..... Allergies
Spring is a gloriously idyllic season with chirping birds, beautiful blooms, cool mornings and warm afternoons.  Its geniality distracts us from the barrage of allergens released by flowers, grasses and trees that seek to wreak havoc on perfectly content individuals like you and me.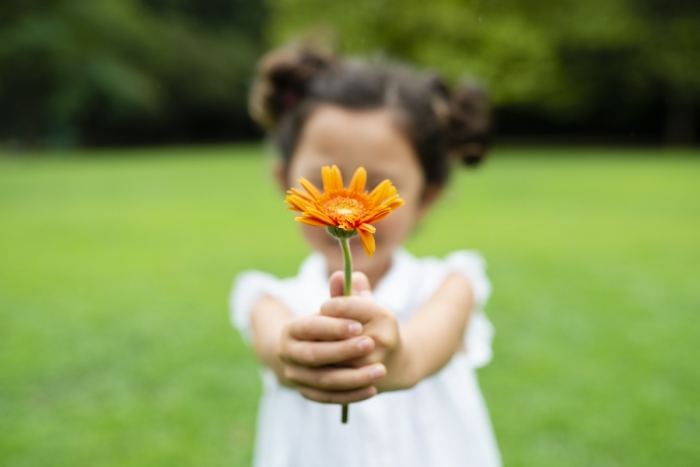 Seasonal allergies affect millions across the U.S. resulting in lower productivity or even missed time at work or school, increased healthcare costs and just sheer misery for those affected.  Symptoms include sneezing, itchy and watery eyes, itchy nose and/or throat and nasal congestion.  Fortunately, seasonal allergy symptoms are fairly easy to self-diagnose and control—most of the time.
If you're looking to avoid the throng of red-nosed, watery-eyed victims sneezing their way through spring, follow these simple tips for a truly enjoyable (and allergy-free) season.
1. 
Allergies or a Cold? 
If you have fever, sore throat, a productive cough and/or body aches or chills you may be dealing with a cold, flu or other infection rather than allergies.  Consult your pharmacist on when to seek medical attention for symptoms of a cold. If cold or flu like symptoms are present, you can get a
Physician 360
Rapid Flu Test at your
Brookshire Brothers pharmacy
.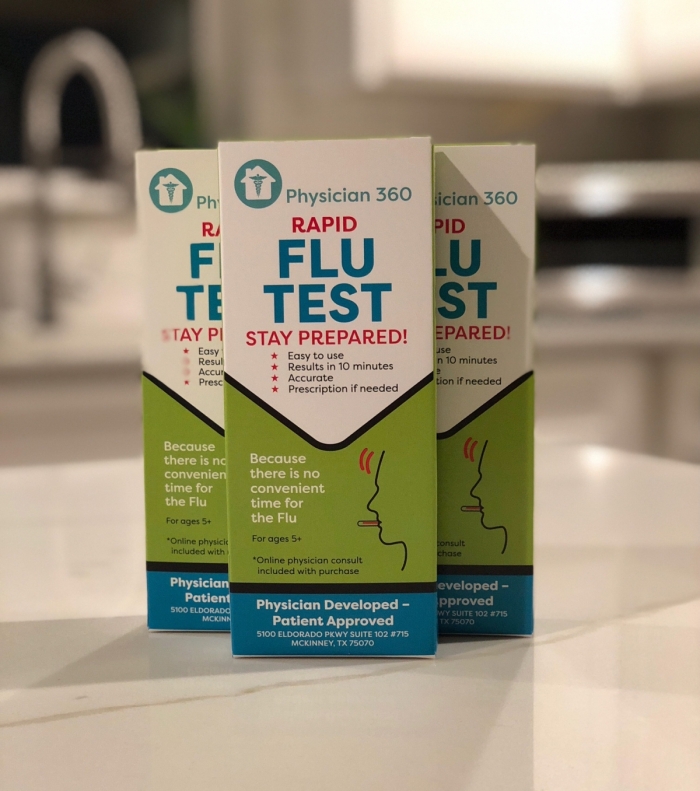 2. Antihistamines are Key.  If there is a medicinal silver bullet for preventing allergy symptoms, antihistamines are it.  Cetirizine (Zyrtec), loratadine (Claritin) and fexofenadine (Allegra) are first-line over the counter treatments for many allergy symptoms.  They work by blocking histamine, the chemical that makes your body sneeze and itch in response to an allergen.  They are each taken once-daily, work rapidly and are labeled as non-drowsy.  Diphenhydramine or Benadryl, a first-generation antihistamine, works well for allergy sufferers but is not appropriate for everyone and causes a fair amount of drowsiness.
3. Use Nasal Steroids if Needed.  Once only available by prescription, steroid nasal sprays like Flonase and Nasacort are now available for purchase over the counter.  These products work by blocking a number of cells involved in the inflammatory process and can prevent or limit allergy symptoms quite effectively.  You can use them alone or in combination with the antihistamines listed above.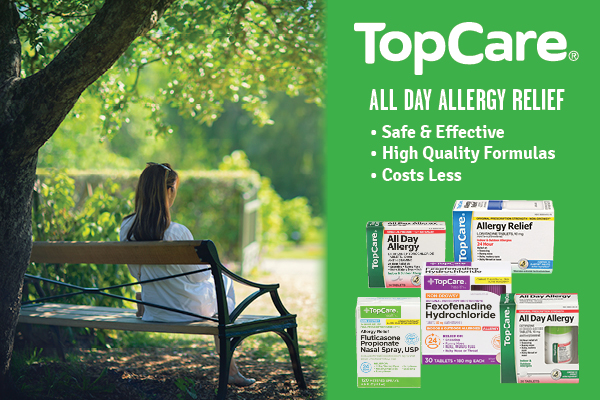 4. Stock Up Before You're Stuck.  We've all been there; runny nose and nary a tissue in site.  Before seasonal allergies attack, get ready!  Stock up on tissues, Aquaphor ointment (great for irritated skin on your nose and lips), cough drops for an irritated throat, hand sanitizer, and artificial tears for dry eyes.
Don't let seasonal allergies ruin your spring.  Get outside and enjoy nature—birds, flowers and all!
---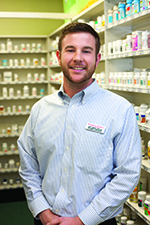 Matt Baker is a pharmacist with Brookshire Brothers Pharmacy in Lufkin.  He received his undergraduate degree from Texas A&M University in 2005 and his Doctor of Pharmacy from the University of Houston in 2010.  He writes a monthly pharmacy and wellness article for the Lufkin Daily News and is active in the community.  Matt's passion is serving his patients while ensuring that they are equipped to understand and take their medications properly. 
Monday December 24, 2018
2019 Resolution: Keep Your Home Healthy
Preparing for the New Year: Physician 360 Rapid Test Kits (Strep, Flu, UTI)
2019 is here and with a new year comes the opportunity for a fresh start! No matter if you're an annual 'resolutor' or not, if you desire to make a change for the better in 2019 then I applaud that! Yes, reading more books, cooking more meals at home and giving more to charity are noble aspirations—do those things—but getting healthy and staying healthy should be a priority for everyone in 2019.
This is precisely why Brookshire Brothers has partnered with
Physician 360
to offer convenient, easy-to-use, rapid test kits for strep throat, flu, and urinary tract infections. These quick, simple tests yield results in minutes and match the accuracy of longer lab tests performed at doctor's offices.
Better yet, included in the purchase of the test kit is an online, face-to-face consultation with a physician who will evaluate your test results and issue a prescription if necessary. These tests are approved for ages 5 and older and they're available for purchase at the
pharmacy
counter.
The doctors at Physician 360 are thoughtful, caring and compassionate. Their top priority is to provide fast and appropriate care when sickness strikes. Prescriptions, when necessary, are issued in minutes and can be filled by
your friendly Brookshire Brothers Pharmacy
while you wait. Even if your test results are negative, your Physician 360 doctor can issue a prescription for symptoms like urinary burning, nasal congestion, cough, etc.
Using a Physician 360 test kit is about as close to a doctor's house call as you're going to get in 2019. And while little black doctor bags are long extinct, video-chatting on your smartphone with a qualified physician who's ready to treat what ails you is a major perk of being alive during this technological age. 
Brookshire Brothers
and Physician 360 understand that there is never a convenient time to be sick. We hope you will let us save you time and money this year by offering these little test kits that will keep you well when illness strikes. Here's to your healthiest year yet!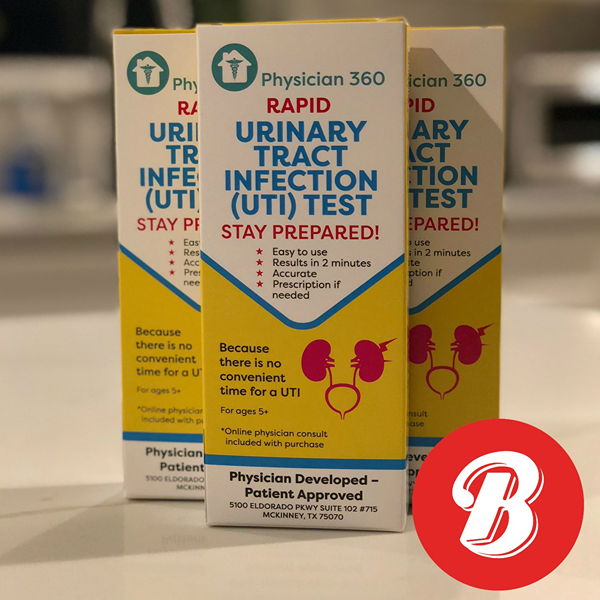 ---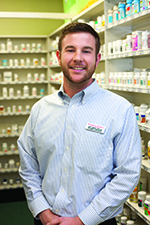 Matt Baker is a pharmacist with Brookshire Brothers Pharmacy in Lufkin.  He received his undergraduate degree from Texas A&M University in 2005 and his Doctor of Pharmacy from the University of Houston in 2010.  He writes a monthly pharmacy and wellness article for the Lufkin Daily News and is active in the community.  Matt's passion is serving his patients while ensuring that they are equipped to understand and take their medications properly. 
Pages