Wednesday July 30, 2014
If You Build It… They Will Come to Brookshire Brothers Express
Lufkin… Residents from Zavalla and throughout Angelina County packed the new Brookshire Brothers Express at Wednesday's Ribbon Cutting and Grand Opening Celebration.  It's the Lufkin-based company's 149th retail location.  The store, located at 198 East Main Street is a blend of grocery and convenience.  Company spokesperson Sally Alvis says, "Our new store is tai-lored to meet the needs of the people of Southern Angelina County and the hundreds of thousands of outdoor enthusiasts who visit the area. Shoppers were thrilled today with the selection.  From the drive-thru window where they can get grab and go meals and our famous fried chicken, to a pallet of deer corn out front, to fresh fruit and veggies, baked goods, fishing tackle and ammo inside, customers say the company 'got it right' when merchan-dising the store for their town.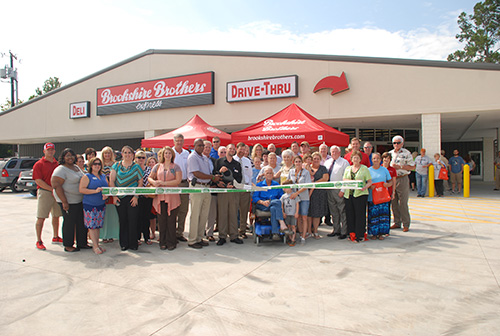 Chief Operations Officer John Alston welcomed the crowd of 250 and introduced Store Director Josh Higgins.  Higgins' team includes Sam Dillon of Colmesneil as Assistant Store Director and Jacob Casey of Huntington as Market Manager. Higgins says by carrying such a wide array of merchandise inside the 13,222 square foot store, he hopes to keep folks from having to travel far for what they need.  As part of the Grand Opening, Higgins pre-sented the Volunteer Fire Department with a $500 donation from Brook-shire Brothers for the squad's dedicated service to the community. 
Veterans Barry Burch and Lynn Bryan presented the colors and did the Pledge of Allegiance and James King led the crowd in singing the Nation-al Anthem.  Dignitaries included State Representative Trent Ashby, Angelina County Judge Wes Suiter, Mayor Jimmy Davis of Zavalla and a host of busi-nessmen and women representing the Lufkin/Angelina County Chamber of Commerce.  Alvis adds, "It truly was a celebration of family and community."
Founded in 1921, Brookshire Brothers is 100% employee-owned. Its assets include 149 retail outlets incorporating grocery stores, convenience stores, as well as free standing pharmacy, tobacco and petro locations with another location opening in Apple Springs in early fall.  Its market stretches east to Lake Charles, Louisiana, west to Canyon Lake, Texas, north to Whitesboro, Texas, and south to Ganado, Texas.  For more information about Brookshire Brothers and its family of brands go to
www.brookshirebrothers.com
.
Sunday April 6, 2014
Lufkin-Based Grocer Expands its Footprint
With the stroke of a pen, Brookshire Brothers Friday acquired the assets of a family-owned company with similar core values.  David's Supermarkets, a grocery chain based in Grandview, Texas, was formerly owned by the Waldrip family. The Waldrips operated stores in dozens of small towns throughout north central Texas for 50 years.
Following the closing in Cleburne, Brookshire Brothers President and CEO Jerry Johnson said, "The Waldrip family serves communities similar to those we serve.  Their values align with ours. We understand their customers." Johnson went on to say that the former David's employees, numbering approximately 550, have the opportunity to become not just employees but owners of Brookshire Brothers.
The David's acquisition gives Brookshire Brothers a presence adjacent to its existing market area. John Alston, Chief Operations Officer for Brookshire Brothers, adds, "We feel these communities in north central Texas are the heart of America.  Serving them and serving with them in their communities will be our privilege.  We are pleased to offer all existing store level employees of David's a position with our company.  Some of the corporate staff has also chosen to come on board including several third generation Waldrip family members." 
Of the 25 stores, 9 will fly the David's Supermarkets or David's Express banners, one will remain Pecan Foods and 15, including one recently opened in Meridian, Texas, will be Brookshire Brothers.  All will share the Brookshire Brothers core value of celebrating family and community.
Tuesday April 1, 2014
Format Agility Helps Brookshire Brothers Meet Community Needs
Report profiled Brookshire Brothers and its CEO and President in its April edition.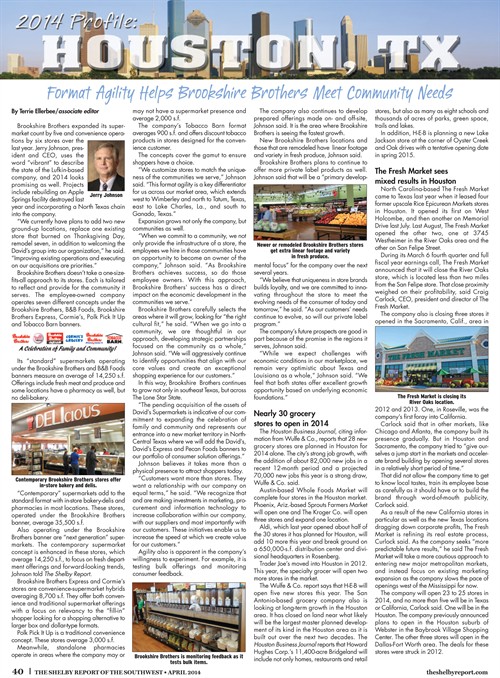 Wednesday February 12, 2014
Math Counts and Science Matters!
Polk Oil Company and ExxonMobil grant 17 schools funds to enhance their math and science programs.  On February 5th Brookshire Brothers Vice President of Petroleum and Convenience Stores presented checks for $500 to the school principals and superintendents from throughout the region served by Polk Pick It Up stores.
Joining Williams was ExxonMobil's Territory Manager Jack Sears.  Sears talked about the company's Educational Alliance Math and Science School Grant program and commended the recipients for their efforts in the classroom.
The honorees gathered at the Ellen Trout Zoo's Educational complex. Education Curator Charlotte Henley also briefed the educators about the Zoo's programming that aligns with and enhances curriculum.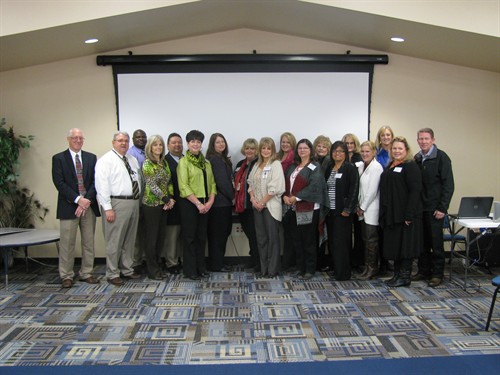 Congratulations to the following recipients. We look forward to seeing how the grants impact students in the classroom.
Dorinda Wade - Principal, Dunbar Primary School
Sarah Hottman - Superintendent, Etoile Elementary School
Karen Vinson - Principal, Kurth Elementary School
Deborah Revels - Principal, Crockett High School
Jana Lowe  - Principal, Leggett ISD
Lenora Foy - Principal, Kennard High School
Dale Morton - Superintendent, Wells High School
Robin Stowe - Principal, Slack Elementary School
Jana Muckleroy - Principal, Central Heights Elementary School
Robin Herbst -  Assist. Principal, Hudson Middle School
Jesus Gomez - Principal, Lufkin Middle School
Melanie Stubblefield - Principal, Huntington Elementary School
Diana Moore - Principal, Diboll Primary School
Anita Byrd -Assist. Principal, Central Elementary/ISD
Derrick James - Principal, Garrett Primary School
Judy Leediker - Principal, Crockett Junior High School
Mark Smith - Principal, Lufkin High School
Thursday January 30, 2014
Foundation Furthers Work of a Dozen Non-Profits
Brookshire Brothers warmed the hearts of twelve non-profits Thursday, January 30th by recognizing the amazing work they do in the communities they serve.  The Lufkin-based company's Charitable Foundation distributed checks totaling $110,000 to organizations whose core mission aligns with Brookshire Brothers' A Celebration of Family and Community.
Company spokesperson Sally Alvis says, "It was fitting we distributed checks to these deserving organizations from our Distribution Center. It truly is the heart of this employee-owned company.  Our guests saw how the merchandise they see in the store gets from the warehouse, to the eighteen-wheelers and off to our 123 retail locations.  They also got to meet a cross section of our employee-owners, many of whom volunteer and serve beside them in the non-profit arena or are served by their organization. "
It is the vendors who sell their lines of groceries and goods to Brookshire Brothers that make these grants possible. They play in the Foundation's spring and fall golf tournaments. Their entry fees go directly to the Charitable Foundation.  An invite to the Brookshire Brothers tourneys is among the most sought after in the industry because the golfers know their participation fuels Brookshire Brothers passion for giving.
Brookshire Brothers Charitable Foundation Recipients:
Boys and Girls Clubs of Deep East Texas
Volunteer Services Council - Lufkin State Supported Living Center
The Mosaic Center
Friends of the Ellen Trout Zoo
Sarah's Hope
East Texas Alliance for Children - Harold's House
Junior Achievement of East Texas
American Cancer Society/Pineywoods Cattle Barons Gala
Friends of Blue Hole
Alzheimer's Association - Capital of Texas Chapter
Alzheimer's Association - Southeast Texas/Houston Chapter
Angelina Arts Alliance
Brookshire Brothers also has an employee-run Donations Committee that meets monthly to consider hundreds of funding requests.  Alvis explained, "That committee represents every single Brookshire Brothers employee. The money they earmark for donations comes directly from our employee-owners.  Committee members discern how  best to allocate our giving in every market we serve.  From education to wellness, community celebrations to fundraising efforts, we give back in extraordinary levels - financially and with our gifts of time, re   sources and volunteer service."
Friday January 24, 2014
Brookshire Brothers to Acquire David's Supermarkets
Brookshire Brothers has entered into an agreement to acquire the assets of David's Supermarkets. David's is a 25-store chain located in north central Texas owned by the Waldrip family.
Jerry Johnson, President and Chief Executive Officer of Brookshire Brothers says, "We feel like these family-owned stores align with our core value that we are a celebration of family and community.  As a 100% employee-owned company, this transaction also presents opportunities for the employees of David's."
The due diligence phase is underway.  During this process Brookshire Brothers is working closely with the Waldrips to ensure that this transition is as seamless as possible for the communities they serve.
Founded in 1921, Brookshire Brothers has 123 active and operating retail outlets including grocery stores, convenience stores, and  free standing pharmacy, tobacco and petro locations with two new stores planned for 2014.   For more information about Brookshire Brothers go to
www.brookshirebrothers.com
.
Thursday January 2, 2014
Brookshire Brothers Match Makes Blue Hole Merry
With the help of its loyal customers, Brookshire Brothers is gifting one of Wimberley's natural treasures.  During the month of December, Brookshire Brothers gave its shoppers a chance to donate $1, $5, or $10 to Friends of Blue Hole when they checked out at the store.  When the promotion ended, shoppers had donated $2706 to Friends of Blue Hole.  The Wimberley store, under the leadership of Store Director Jason Noske, upped the ante by donating another $3000 to match what their customers gave.  Brookshire Brothers' Charitable Foundation contributed an additional $7,000. The total gift to Friends of Blue Hole is $12,706.00.
In making the presentation Monday, December 30th to Blue Hole Board members, Brookshire Brothers Chief Operating Officer John Alston said,  "Brookshire Brothers celebrates family and community and Blue Hole is where those core values come together."  Alston, a Wimberley homeowner who formerly served as a Director for the District that includes the Wimberley Brookshire Brothers, is passionate about partnerships. He adds, "Giving our customers an opportunity to participate and invest in this project unites us in support of Blue Hole and helps ensure that all will have the chance to enjoy this great natural resource for years to come."
Noske's team at the Wimberley store threw a "blue" post Christmas party to go along with Monday's check presentation. The bakery crew created blue cupcakes, a cake with the Blue Hole logo  and blue punch to go along with the Blue Hole theme. Executive Director Laura Linhart-Listner and Board members were on hand to accept the check.
Wednesday December 11, 2013
Come Celebrate With Us
It's time to cut the ribbon in Ganado following Brookshire Brothers 1.5 million dollar renovation of several existing stores.  Store Director Donald Janik says customers will see big changes including an expanded fresh department, new dairy, market and produce cases displaying a wider variety of offerings.  Janik invites folks in Ganado and surrounding communities to join in the ribbon cutting and grand re-opening festivities.  The Jackson County Chamber will kick off the celebration with aRibbon Cutting on Thursday, December 12th at 10:00 AM.  There will be cake, door prizes and giveaways.
Pharmacist Lauren Kainer urges folks to come back on Saturday for a Grand Opening Health Fair and other festivities in the store. From 10AM to 2PM the full service pharmacy will be offering blood pressure checks, glucose screenings and consulting on prescriptions.   In addition to filling prescriptions, Kainer and her Brookshire Brothers' staff provide immunizations, compounding and medication therapy management for people with chronic illnesses like diabetes and hypertension.  The convenient drive thru allows customers to drop off and pick up medications while never having to leave the car.  The over the counter section has been enlarged and the store now offers more medical equipment supplies and a private room for immunizations.
Ganado Brookshire Brothers Ribbon Cutting - Thursday, December 12th 10AM
Store and Pharmacy Grand Re-Opening - Saturday, December 14th 10AM-2PM
Wednesday October 2, 2013
Advice from our Experts!
Brookshire Brothers Pharmacist Laura Edmundson, PharmD, knows how important it is to stay healthy. The busy mother of two takes precautions year around to keep her family well, and is ever so vigilant when the flu bug tries to bring folks down!
Here are Laura's ten tips to staying well:
Just do it!  Get your flu shot at your neighborhood Brookshire Brothers! The Centers for Disease Control recommends EVERYONE six months and older receive an annual flu vaccine.  Our team makes it easy.  Flu shots and other immunizations are available in our PHARMACY!
Keep it Clean!  Wash hands thoroughly with soap and water or use hand sanitizer often, especially if you are around others who are sick.  Our store brand, Quality Choice, is our choice when it comes to value.
Contain it!   Our pharmacists say, cover your cough or sneeze with tissue or the sleeve of your shirt. 
Don't Share!  Encourage children and teens to keep their drinks and utensils to themselves.  Sharing means giving those germs away!
Keep Clean!  Disinfect everything.  Brookshire Brothers has a great variety of  sanitizing wipes and sprays to disinfect toys, computers, phones, remote controls, anything that gets a lot of hand time!
Steer Clear!  Avoid sick people if possible. Don't put yourself or your family in harm's way.
Stay Home!  If you or your child has a fever or flu-like symptons, (body aches, sore throat, headache, cough) stay at home!
Catch some Zzzzs.  Get plenty of sleep!  Our experts recommend 8 hours of sleep per night.
Eat right!  Fruits, vegetables, and 100% juices are always your best bet for Vitamin C.  Or check out our line of Quality Choice vitamins for an extra boost. 
Drink Up!  Drink plenty of fluids.  For extra savings, try Brookshire Brothers water. Look for products that contain vitamins, minerals and electrolytes to boost your well being. 
Monday September 16, 2013
Another Round for Our Non-­Profits
Brookshire Brothers' category buyers, executives and store directors took their "A" game out of the store and out of the corporate headquarters Monday and onto the golf course for its semi-annual golf tournament. In September and May each year, the Lufkin-based grocery chain invites its vendors to tee-it-up for a good cause.  Teams pay up to $3500 in entry fees for the privilege of playing in the tournament that benefits theBrookshire Brothers Charitable Foundation.  Since its inception, that Foundation has given nearly $1,450,000 in contributions to non-profit organizations in its market area.
Representatives from Kraft, Budweiser, General Mills and Value Merchandisers hit the links at Crown Colony Country Club Monday, September 16th with their Brookshire Brothers colleagues.  Crown runs two tournaments on the same day, optimizing the course and the fundraising opportunities for the Foundation.  The demand for a spot to play frequently exceeds the availability, which in CEO Jerry Johnson's words, "Is a good problem to have."  Brookshire Brothers' Johnson adds, "We are overwhelmed at the generosity of our vendor community.  By playing in our tournament, they enable us to support non-profits like the American Cancer Society, the Boys and Girls Club of Deep East Texas, the Alzheimer's Association,  the Angelian Arts Alliance and the Volunteer Services Council of the Lufkin State Supported Living Center.  Those non-profits are the true foot soldiers and champions in our market area."
During this year's awards ceremonies, golfers got a big thank you from two of the recipients.  Laura Squiers with the East Texas Alliance for Children and Gorden Henley with Friends of the Ellen Trout Zoo both shared stories of how the Foundation's funds allow them to further their mission.
Brookshire Brothers is an employee-owned grocery chain operating 78 stores and 14 convenience stores stretching west from Wimberley, Texas to Lake Charles, Louisiana in the east, north from Tatum, Texas and south to Ganado, Texas.
Pages