Friday July 3, 2015
A Flood of Love for Wimberley
Musicians with a heart for Wimberley will come together August 9th for a concert to benefit residents of the flood ravaged community.  Lufkin-based Brookshire Brothers reached out to Wimberley-based singer-songwriter Robyn Ludwick about sponsoring a concert to raise funds for the victims of the Memorial Day floods. Ludwick marshalled the forces and with Judy Hubbard, fellow Wimberley resident and manager/wife of Texas music legend Ray Wylie Hubbard,  have put together a stunning line-up sure to strum up significant support. Austin's Nutty Brown Café is the venue and owner Mike Farr is offering his amphitheater for the event.  The name, Texas Flood of Love, was inspired by a pencil sketch by Wimberley-based artist David Richardson.
Confirmed performing artists include Ray Wylie Hubbard, Hayes Carll, William Clark Green, Bob Schneider, John Fullbright, Jimmie Vaughan, Wade Bowen, Jason Boland, and Robyn Ludwick.  The musical line up (with more to come) will be a huge draw as will an auction that will feature guitars signed by The Eagles, Willie Nelson, Dixie Chicks, Robert Earl Keen as well as house concerts by Sarah Jarosz and Alejandro Escovedo.  For those unable to attend the benefit concert, there will be on-line bidding opportunities. Tickets for the August 9th event can be purchased on line at http://www.nuttybrown.com or on the day of the event at Nutty Brown Café in Austin.
Brookshire Brothers  and its Wimberley-based store team began delivering food, water, baby formula and flashlights as soon as the water began to recede. Their vendors have enhanced the ongoing effort by donating tons of food and other products for those impacted by the disaster.  More vendors have stepped up to support The Texas Flood of Love including Louisiana Fish Fry, Brown Distributing, DiLusso Meats, Angus Pride, Swift Premium, Hormel and a host of others. 
Brookshire Brothers encourages folks to give to the relief effort.  Funds from the concert will go to Barnabas Connection Flood Relief – http://www.barnabasconnects.org/wimberley-flood-2015.  We also encourage our fellow music-lovers to participate in the online bidding by texting "love" to 71760.  Items from signed guitars to sports memorabilia will be up for grabs.  Visit the Texas Flood of Love 2015 Facebook page here, https://www.facebook.com/texasfloodoflove2015 for up-to-date information on the music line-up and more.
Founded in 1921, Brookshire Brothers is 100% employee-owned. Its assets include 150 retail outlets incorporating grocery stores, convenience stores, as well as free standing pharmacy, tobacco and petro locations. A new store is set to open in late fall in Canyon Lake, Texas.  For more information on Brookshire Brothers and its family of brands please visit www.brookshirebrothers.com.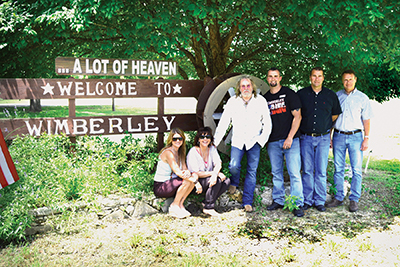 Photo Credit: The Wimberley View
Wednesday June 17, 2015
Brookshire Brothers Doubles its Presence in Hamilton
June 24th is the day! Brookshire Brothers is moving down the street, doubling its size and ushering in a new menu of items and services to the Hamilton area. The doors open at 7AM at the new Brookshire Brothers at 1004 E. Main says Store Director Joe Baker. The Chamber of Commerce Ribbon Cutting is at NOON followed by a celebration filled with prizes, samplings, games and more! In making the announcement, Brookshire Brothers spokesperson Sally Alvis said, "We like to involve the entire community in our grand openings. From the American Legion, Boy Scouts, cheerleaders, food bank to the City Council and Fire Department, these folks are the backbone of the community. We build strong ties with them and support them throughout the year."
Chief Operations Officer John Alston said, "The people of Hamilton have given us tremendous support and encouragement. Because of that, it made the decision easy to double our space by acquiring the lease on the former Alco location on East Main Street. The 25,300 square foot store emphasizes FRESH – with a Deli, expanded Produce and Meat Departments and Bakery. Customers will be introduced to Brookshire Brothers signature fried chicken and other home cooked weekly specials as well as grab and go items for folks on the run. Later this summer, a full service pharmacy featuring a drive thru will open, completing the Grand Opening!  
Founded in 1921, Brookshire Brothers is 100% employee-owned. Its assets include 150 retail outlets incorporating grocery stores, convenience stores, as well as free standing pharmacy, tobacco and petro locations with another location opening July 1st in Pilot Point, Texas and Canyon Lake in the fall. Its market stretches east to Lake Charles, Louisiana, west to Canyon Lake, Texas, north to Whitesboro, Texas, and south to Ganado, Texas. For more information about Brookshire Brothers and its family of brands go to www.brookshirebrothers.com.
Tuesday June 2, 2015
2015 Texas Blueberry Festival
We are happy to once again sponsor the 26th annual Texas Blueberry Festival happening June 13, 2015! The most delicious festival in the Lone-Star State attracts thousands of blueberry-lovers to the downtown square of Nacogdoches, Texas. Guests of all ages will be entertained starting at 8AM and lasting through the day to 4PM. Live music, shows and activities can be expected, but here is a list of the tastiest attractions.

Blueberry Pie Shoppe
Join us at the corner of N. Mound & Main St. to purchase your fresh, hand-made blueberry pie. Beginning at 8AM, Brookshire Brothers' pie experts will be selling a limited amount of delicious pies for $10/piece. Keep it for yourself or give as a gift! The pies will be plated in a nice glass dish perfect for a special presentation. But be sure to stop by first thing, because when the pies are gone, they're gone!

Blueberries for Sale
2015 is a historic year for blueberry sales as we will have a record-breaking number of flats of blueberries available. At $25/flat or $2.50/pint, these Texas-Grown blueberries are sure to sell quick! And no need to worry about transportation of blueberries to your car - we will have a golf cart available to escort you and your berries safely. Don't want to wait until the day of the festival to get your favorite blueberries? Stop by your local store to get the same Texas-Grown quality blueberries. 

Blueberry Pie Baking Contest
"It's easy as PIE!" The highly anticipated bluebery pie baking contest is back and bringing multiple prizes with it! You could win up to a $100 Brookshire Brothers gift card by entering your family recipe. Participate in the contest by downloading the form below and returning to a Nacogdoches Brookshire Brothers stores or the Nacogdoches Chamber of Commerce. Entries will also be accepted the day of until 10AM at the Visitors Center, 200 E. Main St. We hope to see you there!
Click here for more information on the 2015 Texas Blueberry Festival.
Thursday May 28, 2015
Feeding the Relief Effort
Relief efforts continue in Hays County, as Wimberley begins to emerge from the deadly flooding along the Blanco River.  Brookshire Brothers and its store team are mobilizing additional resources to respond to the ever changing needs of their community. From feeding hundreds of people on the day after the flooding, to ramping up deliveries of water, batteries, baby formula and other essentials, the company is now calling on its vendor community to join in the efforts. When Brookshire Brothers found out hot meals were in need for relief workers and residents, they reached out to Opelousas, Louisiana based Tony Chachere's.  On Friday, Tony's will pull its cook trailer to the Texas Hill Country to feed hundreds from the Brookshire Brothers parking lot.
Sally Alvis, Brookshire Brothers spokesperson says, "That's what you're seeing in all of our markets where flooding and tornadoes have wreaked havoc.  Our employee-owners and vendors are jumping in to do whatever it takes to be part of the recovery." In addition to Friday's free jambalaya meal, the Brookshire Brothers team will serve chipped beef bbq on Saturday from the same location where they've had a store since 1996.  Any donations will go to help three of the store's employees whose homes were washed away over Memorial Day weekend.
Earlier this week,  the Brookshire Brothers Wimberley store team saw and felt the tragedy through the lives of their neighbors. They went door to door in the Paradise Valley area delivering cases of water and non perishable foods and supplies.  One resident told Store Director Jason Noske, "You are the first person I've seen since the water rose. I can't thank you enough." Another was in tears as the Brookshire Brothers team provided dry toilet paper – a luxury following the deadly drenching.
 "The needs are enormous," Alvis notes, "but so are the hearts of those who are helping.  Everyone is committed to seeing this community heal and thrive again."  Wimberley musician Robyn Ludwick shared a facebook message that speaks to the feeling in this picturesque place, "I'm so humbled right now by the generosity and love that I have seen. Let's use it to rebuild and restore this town and our broken hearts."
Brookshire Brothers encourages folks to give to the relief effort.  Financial donations can be made to Barnabas Connection Flood Relief – http://www.barnabasconnects.org/wimberley-flood-2015
Founded in 1921, Brookshire Brothers is 100% employee-owned. Its assets include 150 retail outlets incorporating grocery stores, convenience stores, as well as free standing pharmacy, tobacco and petro locations. New stores will open this year in Pilot Point, Hamilton and Canyon Lake.  For more information on Brookshire Brothers and its family of brands please visit www.brookshirebrothers.com.
Tuesday May 26, 2015
2015 Charitable Foundation Golf Tournament
The Brookshire Brothers Charitable Foundation has given back over $650,000 to various non-profits in our local communities. Our annual vendor golf tournament helps fund these amazing organizations.
To download pictures, visit our Facebook page here.
Monday April 6, 2015
Simply Sushi
A popular request is now a popular demand. Lufkin and the surrounding Angelina County sushi-lovers are raving over the sushi that is made fresh daily in our Brookshire Brothers, Gaslight Plaza location. Qualified chefs from SW Sushihouse are in store preparing and cooking sushi and other Asian favorites to delight your taste buds.
For years, Brookshire Brothers customers have been asking for Sushi in-store. We listened and sushi debuted in our Lufkin Gaslight location in mid-March 2015. Customer feedback has exceeded our expectations and sped up our plan to offer sushi in additional stores.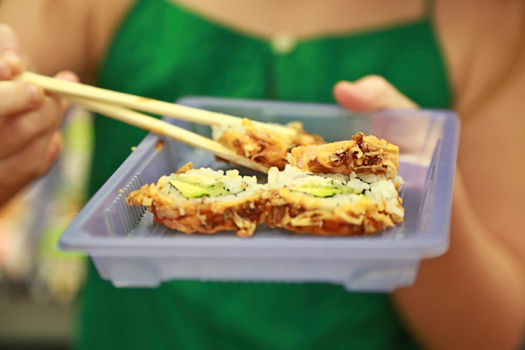 Nervous about trying sushi? For the amateur, it can be intimidating. However, sushi chefs, Hanah and Andy, make trying and buying sushi an experience! They offer free samples daily and are happy to talk you through your taste test. There are countless rolls and combinations available for the creative customer, as well as the staple and more traditional Asian offerings like egg rolls, dumplings, and spring rolls.
If you are trying to lose weight and stay healthy, opt for sushi for your next meal. It is low in calories and full of other health benefits. The rice used in every roll is an excellent source of protein and is also gluten-free for those with wheat allergies. The ginger can help aid digestion as well as boost your immune system to help fight common colds and the flu. The nori, or seaweed wrap, is the most nutritious. It is rich in Vitamins A, B1, B2, B6, C, and niacin.
From the nutritional content to the wide range of varieties, sushi is sure to please everyone. Our chefs even take special requests. Many vegetarian customers have requested specific rolls for their needs and those are made while the customer shops.
Friday March 27, 2015
April Allergy Season Tips
Allergy season is here. Stay clear with these allergy medication tips.
Take over-the-counter non-drowsy antihistamines. If you are suffering from sneezing, runny nose, itching and watery eyes, antihistamines will prevent these inconvenient symptoms.
Be sure to blow your nose before using nasal sprays. Allergies can cause nasal obstruction and inflammation. Clear your nose as much as possible for the nasal spray to reach and liquefy the thicker mucus.
Use saline nasal irrigations and sprays as alternative drug treatments. If you find yourself taking medicine without any relief, following this simple tip may help you get over your allergy spell quicker.
Ask our pharmacists for help choosing a product that will provide relief from allergy symptoms. Answering a few simple questions will help a pharmacist direct you to the best drug for your needs.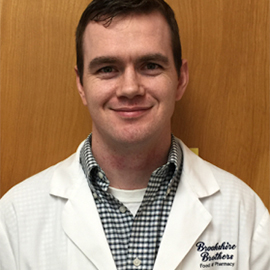 Pharmacist:  
Andrew Haeggquist, PharmD
Store #18 - Woodville, TX
Monday December 8, 2014
Brookshire Brothers & Polk Pick It Up Fuel Education in East Texas
Polk Pick it Up and its partner ExxonMobil are working together to fuel education. This year the pair presented 24 East Texas schools with Educational Alliance Math & Science Grants.  Those grants were issued on Thursday, December 4th at a special reception and presentation at the Ellen Trout Zoo in Lufkin.  In making the presentation, Sally Alvis of Brookshire Brothers/Polk Pick It Up said, "At the core of our company is the desire to support those initiatives that lay the foundation for stronger communities.  Enhancing education through a grant program like ExxonMobil's ties in beautifully with what we strive to do."
ExxonMobil Representative Jack Spears adds, "Our goal is to help students reach their goals. If we can do that by providing funding that enables a teacher to introduce a new concept or provide a hands on experience we have achieved our goal. We know math and science skills are critical in the highly technical world we live in and we hope these grants help equip young people for the future.  We distribute about $2 million each year and Polk and Brookshire Brothers execute the program at its highest level."
24 principals and superintendents from 12 school districts attended Thursday's event.  Sears and Keith Williams, Vice President of Petroleum and Convenience Stores for Brookshire Brothers presented the principals with the checks.  Recipients also shared what they had done with the funds they had received in previous years.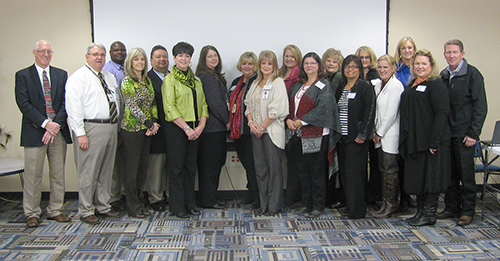 Honorees include:
Apple Springs Elementary: Cody Moree-Superintendent
Bonner Elementary: Scott Mackey- Principal
Central Elementary School: Karen Shumaker-Principal
Central Heights Elementary: Jana Muckleroy-Principal
Central Junior High: Kris Whisenant-Principal
Corrigan-Camden Elementary: Paula Martin-Principal
Coston Elementary: Kathy Jost-Principal
Crockett High School: Debra Revels-Principal
Crockett Junior High School: Judy Leediker-Principal
Diboll Primary School: Diana Moore-Principal
Dunbar Primary School: Dorinda Wade-Principal & Andrea Walker-Coun.
Garrett Primary School: Derrick James- Principal
Herty Primary: Jennifer Scott-Principal & Bridgett Grubb-Coach
Hudson High School: John Courtney-Principal
Hudson Middle School: Richard Crenshaw-Principal
Huntington Elementary: Melanie Stubblefield-Principal
Huntington Intermediate: Sandy Flowers- Principal
Kurth Elementary School: Karen Vinson-Principal
Lufkin High School: Mark Smith-Principal
Lufkin Middle School: Jesus Gomez-Principal
Mike Moses Intermediate: Tammy Pankratz-Principal
Slack Elementary School: Danny Whisenant-Principal & Yaneth Clifton
Wells High School: Gary Applewhite-Principal
Zavalla Elementary School: Kathy Caton-Principal & Michael Woodard-Supt.
Thursday October 2, 2014
Something new to celebrate!
Welcome to the new brookshirebrothers.com, it delivers savings and solutions for the entire family.  Finding your way around it just got easier.  You can shop and learn about our entire company without ever leaving brookshirebrothers.com
Love a product that we don't carry? Fill out a request form online and we're on it!
Want to request a donation? It's digital and makes the 'ask' so much easier.
Need to pass on a compliment or concern?  Automatic delivery through the web.
Low on meds? Refilling online is stress-free!
Enjoy the perks of shopping with us?  Join "celebrate!" our exciting new loyalty program. 
LOYALTY – celebrate
When you shop with us, we want to reward you. It's our way of saying thank you.
We call it celebrate!  This loyalty program takes the place of bbrosconnects. If you have enjoyed bbrosconnects or beverage blast – make the switch and celebrate the savings! 

When you sign up to celebrate!, here's what's in store for you:
Weekly e-mail blasts offering special contests, promotions, recipes and more!
Weekly Beverage blasts promoting special events, new drinks to sample, unique savings and more (must be 21 to participate)
Coupons delivered to your inbox on WEDNESDAY!
Recipes, special promotions, and deals that will make you smile!
Sign up and CELEBRATE!  Join our online community and SAVE!
Thursday August 14, 2014
Catch the Hatch!
The season comes but once a year - it's the very brief but very important harvest of the Hatch Chile. They are a prized New Mexican chile grown in the Mesilla Valley just north of Los Cruces. That's where sunlight is intense and the nights are cool. This combo creates a chile that has a wonderful earthy flavor, with a hint of sweetness and kick to it.
Though the Hatch chile season is only six weeks long, at the roasting you can get a box of chiles and let the experts roast them for you on the spot.  Then you can freeze the roasted peppers and eat them all year long.  We carry a full line of Hatch chile products, from the brand Melissa's, guaranteed to heat up your cooking 365 days a year - instead of just during the six week season!  From salsa, to Dried Hatch Chiles…and from Hatch  Chile Powder to  a Ristra or string of chiles Brookshire Brothers brings Hatch home!
Hatch Chili Happenings:
Lufkin (Gaslight location):  August 15, 3-6pm and August 16, 10-5pm
Caldwell: August 16, 10-2pm
Wimberley: August 22, 3-6pm and August 23, 10-5pm
Magnolia: August 29, 3-6pm and August 30, 10-5pm
Montgomery: September 5, 3-6pm and September 6, 10-5pm

Pages