Tuesday March 29, 2016
Continuing the Celebration
Grocer makes plans for future growth
By STEVE KNIGHT
The Lufkin News
Lufkin's home-grown grocery store, Brookshire Brothers, keeps expanding, even while celebrating its 95th birthday this year. 
Officials from the 100 percent employee- owned store with 112 retail locations stretching from Lake Charles, Louisiana, and Canyon Lake to Whitesboro and Ganado recently announced plans for future growth in Deep East Texas. 
Brookshire Brothers will break ground for a new Express format store in Grapeland in mid to late May. Plans call for the store to contain a pharmacy in addition to fresh meat, produce, baked goods and deli. It will be the first Express format store to contain a pharmacy. 
According to spokeswoman Sally Alvis, plans are also in store for Wells. 
"We've purchased property and plan to build an Express store with a greater variety of fresh and core grocery items to meet the needs of our shoppers in that area," Alvis said. "Our plans are that the store will complement, not replace, our current Polk convenience store." Long-term plans, according to Alvis, call for the replacement of the Central store, across from the Lufkin State Supported Living Center, with an expanded Express format and continued operation of the Central Heights store, north of Nacogdoches, under its current format for the foreseeable future. 
"We identify markets and communities that are basically in food deserts," Alvis said. "A lot of them might not warrant a full-size grocery store, but they do need fresh produce, fresh meat and a wider variety of fresh baked foods. That's ideal for an Express format." 
Alvis also said officials are evaluating options to expand the company's presence in Hudson. 
She said there was no time line as of yet for the Wells and Central locations. 
As far as the company's headquarters, Chief Operating Officer John Alston said Lufkin remains an ideal location from both a geographic and cultural standpoint. 
"We consider Lufkin to be a good strategic location from which to coordinate our existing and future operations from a supply and distribution standpoint," Alston said. 
"We have our core infrastructure in place here and look forward to our longterm presence. Lufkin is fortunate to have had a history of innovative leaders with a passion for making this a great place to live and do business and we're proud to have been a part of that for the past 95 years." 
Employees in Angelina and Nacogdoches counties number about 1,291 people, about 20 percent of the company's workforce. 
Officials with Brookshire Brothers got a Hill Country welcome as the company opened a location in Canyon Lake, an unincorporated retirement community near New Braunfels, in February. 
In addition to the usual options, the 34,000-square-foot location also brings extensive wine and beer offerings to the region. 
The store is "green and clean," featuring dark sky-compliant lighting, reclaimed wood fixtures and daylight harvesting. The store's Canyon Lake Cafe has a piece of the Canyon Lake High School gym's sideline hanging on the wall as well as a rotating exhibit of student and community art. 
A bar on site will serve Texas craft beer on tap. Wine by the glass will also be available with happy hour specials and featured wine and beer samplings. 
The first Brookshire Brothers store, established by brothers Austin and Tom Brookshire, opened on Sept. 21, 1921.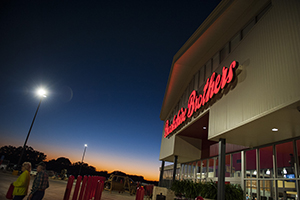 The recently opened 34,000-square-foot Brookshire Brothers location in Canyon Lake, near New Braunfels. The new store is "green and clean," featuring dark sky compliant lighting, reclaimed wood fixtures and daylight harvesting. 
Steve Knight's email address is sknight@lufkindailynews.com.
Friday December 11, 2015
12 Days of Brookshire Brothers and Blue Bell
As you all know, Blue Bell is continuing its rollout with the biggest amount of our stores receiving their product on Monday, December 14. To celebrate and welcome Blue Bell back, we are having 12 days of Brookshire Brothers and Blue Bell deals! To participate in these daily deals, simply enter your Celebrate ID (10-digit phone number) at checkout. If you are not a Celebrate member, sign up today! Follow the link here and create your account to begin immediately saving ->> CREATE ACCOUNT
DAY 1 - Monday, December 14
On the first day of Blue Bell, Brookshire Brothers gave to me... Refrigerated Cookie Dough
($1 off Any Refrigerated Cookie Dough - valid Monday, December 14 for Celebrate Members only)
DAY 2 - Tuesday, December 15
On the second day of Blue Bell, Brookshire Brothers gave to me...A 2 Liter Coke for Blue Bell Coke Floats
($0.79 2 Liter Coke and Diet Coke - valid Tuesday, December 15 for Celebrate Members only)
DAY 3 - Wednesday, December 16
On the third day of Blue Bell, Brookshire Brothers gave to me...Toppings for Blue Bell Ice Cream Sundaes
(10% off Cherries, Sprinkles, Nuts, and Whipped Cream - valid Wednesday, December 16 for Celebrate Members only)
DAY 4 - Thursday, December 17
On the fourth day of Blue Bell, Brookshire Brothers gave to me...Discounted Frozen Pies
($2 off Frozen Pies - valid Thursday, December 17 for Celebrate Members only)
DAY 5 - Friday, December 18
On the fifth day of Blue Bell, Brookshire Brothers gave to me...Yummy Frozen Cobblers
(10% off Frozen Cobblers - valid Friday, December 18 for Celebrate Members only)
DAY 6 - Saturday, December 19
On the sixth day of Blue Bell, Brookshire Brothers gave to me...Brownies Served Hot and a Scoop of Blue Bell Ice Cream
($1.50 off Any Brownie Mix - valid Saturday, December 19 for Celebrate Members only)
DAY 7 - Sunday, December 20
On the seventh day of Blue Bell, Brookshire Brothers gave to me...Ice Cream Syrups
(10% off Ice Cream Syrups - valid Sunday, December 20 for Celebrate Members only)
DAY 8 - Monday, December 21
On the eighth day of Blue Bell, Brookshire Brothers gave to me...Milk for my Blue Bell Milkshake
($0.75 off Hy-Top Gallon Milk - valid Monday, December 21 for Celebrate Members only)
DAY 9 - Tuesday, December 22
On the ninth day of Blue Bell, Brookshire Brothers gave to me...Regular and Jumbo Ice Cream Cones
($1 off Ice Cream Cones - valid Tuesday, December 22 for Celebrate Members only)
DAY 10 - Wednesday, December 23
On the tenth day of Blue Bell, Brookshire Brothers gave to me...Brookshire Brothers Gourmet Pecan Pies
($1 off Gourmet Pecan Pies - valid Wednesday, December 23 for Celebrate Members only)
DAY 11 - Thursday, December 24
On the eleventh day of Blue Bell, Brookshire Brothers gave to me...A 2 Liter Root Beer
($0.69 2 Liter Root Beer - valid Thursday, December 24 for Celebrate Members only)
DAY 12 - Friday, December 25
On the twelfth day of Blue Bell, Brookshire Brothers gave to me...Santa enjoying his Blue Bell Ice Cream!
Monday November 30, 2015
Celebrate Coupons - Changes in Store!
Exciting changes to your Celebrate coupons are here! No need to worry when you don't have a printer, or when you're out of ink...you can now use your Celebrate coupons by entering your 10-digit phone number at checkout! That's right, you don't have to print your Celebrate coupons any longer! Just check your Celebrate email weekly to see the coupons for that week, purchase the qualifying items, enter your phone number, and redeem your coupon. It's really that simple.
Be sure to spread the word and check your receipt for your savings. At Brookshire Brothers, we're working to continue to Bring Home the Savings.
Monday October 26, 2015
Shop & Save for FREE with Hefty
Starting October 28, you can collect and save certificates to redeem for Hefty Clip Fresh containers!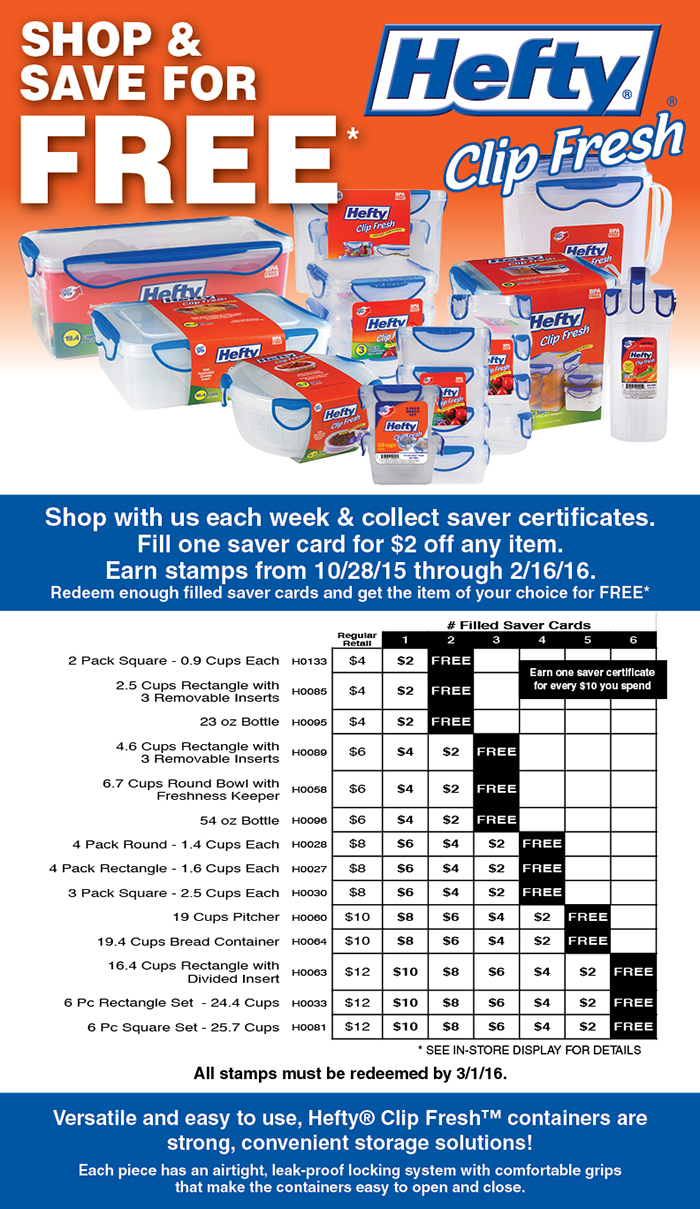 To download the PDF, click here
Friday October 2, 2015
Member Monday
We're giving our Celebrate loyalty members more reasons to literally celebrate! Starting this October, Celebrate members can take advantage of special "Member Monday" discounts. Here's the scoop:
Check your weekly ad each week for the exclusive Monday special.
If you missed our ad, "Like" our Facebook page for the same offer.
Offer valid Monday only - Limit 1 per Celebrate account.
Must be a Celebrate member to participate.
When purchasing item(s), simply input your Celebrate ID (10 digit phone number associated with your account) on the pin pad.
Look for a new offer each Monday!
Not signed up yet, click here!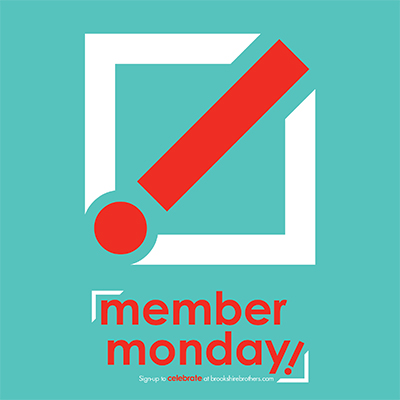 Tuesday September 8, 2015
Brown Bags of Hope - Our Community Cares
Hope. Such a powerful word that when spoken can bring such happiness, but when lost can bring such despair. Hopeless. A feeling many neighbors in your community are feeling, but don't know where to turn for help. Brookshire Brothers is looking to keep your neighborhood hopeful by answering the question, "What can I do to help?"
When originally faced with that question, Brookshire Brothers turned to Lufkin Independent School District counselors to find some of the needs of those in the community that weren't being met. It also gave Brookshire Brothers the opportunity to expand upon the brown bag program already in stores. Together, LISD and Brookshire Brothers came up with their new company wide initiative, Brown Bags of Hope. 
Our customers will have the chance to literally give hope to those in need by purchasing a Brown Bag of Hope. For just $10, you're providing food, school supplies, or toiletries to the members of your community. Our stores give the bags to non-profits, schools, and veterans groups in your area to distribute. By giving our customers a way to be the helping hands of their city, we are hoping to offer support to those in need.
As easy as it is for us all to get lost in the whirlwind that is life, it is important to remember that there are those among us who are struggling day to day to make ends meet. It's in that moment that you stop moving and start doing that hope is given a chance. Stop by your local store today and give yourself a chance to feel the magical gift of delivering hope to the hopeless.
Friday September 4, 2015
Cook Hushpuppies Like A Champ!
You can cook like the Cajun Divas and all other hushpuppy cookoff teams who participate in the annual Texas State Forest Festival Southern Hushpuppy Championship!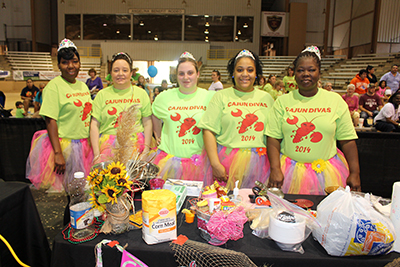 Take a look at these great recipes and compare yours to the teams who will compete this year.
Basic Hushpuppy Recipe
Ingredients:
Crisco® Pure Vegetable Oil, for frying
3/4 cup Martha White® Plain Enriched White Corn Meal
1/3 cup Pillsbury BEST™ All Purpose Flour
1 1/2 teaspoons baking powder
1/2 teaspoon salt
1/2 cup buttermilk
1 large egg
1/4 cup finely chopped onion
Directions:
HEAT 2 or 3 inches oil to 365ºF in deep fryer or deep saucepan.
COMBINE cornmeal, flour, baking powder and salt in medium bowl
ADD buttermilk, egg and onion. Mix untill well blended. Drop batter by tablespoonfuls into hot oil. Fry a few at a time 3 or 4 minutes or until golden brown. Turn as needed for even browning. Drain on paper towels. Serve immediately.
Want to get more adventurous like the teams you'll see at the Southern Hushpuppy Championship? Follow the basic recipe above and make small revisions.
Buffalo Chicken
Reduce milk by 1/2
Add 1 can shredded chicken
1 package of dry ranch mix
Baked Potato
Reduce milk by 1/2
2 shredded potatoes
1 cup of finely shredded sharp cheddar cheese
1 package dry ranch mix
Italian
1 lb. cooked ground Italian sausage
1 package spaghetti seasonings
1 cup of grated parmesan cheese
Mexican
1 package taco seasonings
1 package cooked and drained chorizo
Make sure to stop by the Southern Hushpuppy Championship while you are at the Texas State Forest Festival, presented by Brookshire Brothers. The championship is Saturday, September 19 at 2PM. The Texas State Forest Festival comes to East Texas Wednesday, September 16 and leaves Sunday, September 20. We hope to see you there!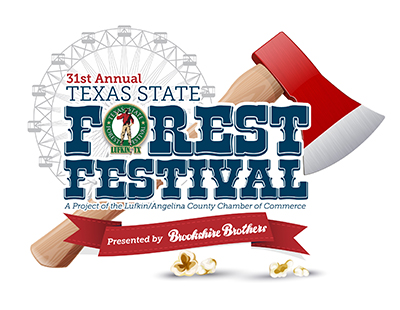 Monday August 31, 2015
The Texas Flood of Love 2015
The lesson learned during the 2015 Memorial Day flood that impacted Texas was a simple, yet heartbreaking one. When water wants to be in control, it can and will be. In May, the Blanco River overpowered the landscape and forever changed parts of the Hill Country. But when the rain clouds parted, residents emerged to rebuild and recover from what has been called the 100-year- flood that submerged the Wimberley Valley. But they are not doing it alone – people and companies from around the world, including Brookshire Brothers, are giving generously to the effort.
On August 9th, Brookshire Brothers, Nutty Brown Café, and a host of Texas musicians, vendors, residents, and visitors came together under the blue skies for the Texas Flood of Love concert benefitting residents of the flood-ravaged community.
The lineup was a star-studded showcase of talent and generosity. It included artists Ray Wylie Hubbard, Hayes Carll, William Clark Green, Bob Schneider, John Fullbright, Jimmie Ray Vaughan, Wade Bowen, Jason Boland, and Robyn Ludwick.
More than 1,800 fans enjoyed the music, atmosphere, and refreshments at Nutty Brown Café. Brookshire Brothers vendors provided food and non-alcoholic drinks to help keep hunger and thirst at bay during the day-long music marathon. Vendors included:
DiLusso Meats
Boots Beverages
Louisiana Fish Fry
Goldenbrook Ice Cream
Brown Distributing
Angus Pride
Swift Premium
Hormel
After the last song was sung, the Texas Flood of Love was a wildly successful fundraising event that raised funds that will go directly to the non-profit organization directing the flood relief efforts. On Friday, August 28th, at the Nutty Brown, Brookshire Brothers, its vendor partners, Ludwick and Judy and Ray Wylie Hubbard presented The Barnabas Connection with a check for $120,000. The 501 c 3's Executive Director, VIckie McCuistion described tearfully how those funds will help the hundreds of families impacted by the flood. While the scars from the flood will remain with Wimberley for years to come, the devastation doesn't have to. Brookshire Brothers is proud to have been part of the healing process for these families and communities.
Click here to see a moving video of Wimberley and its story.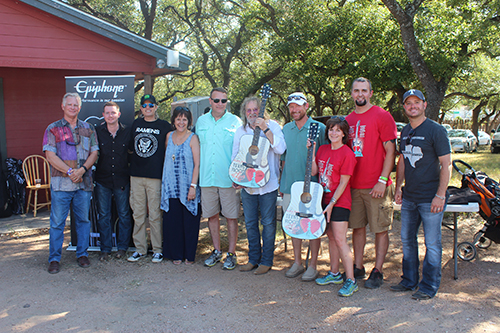 Wednesday August 19, 2015
Brookshire Brothers Finalizes Sale of Polk Stores
Brookshire Brothers signed papers Monday officially selling twenty-six of its Polk Pick-It-Up stores to Partners Investors C-stores, Ltd. The Lufkin-based grocer will keep its Polk Pick-It-Up locations in Hudson, Central Heights, Central and Wells.  Brookshire Brothers acquired Polk Oil Company in 2007.
In making the announcement, President and CEO Jerry Johnson said, "The sale of these locations enables us to focus on our core business – providing an exceptional shopping experience for our customers in all of our formats, including the recently launched Brookshire Brothers Express banner."
Brookshire Brothers utilized Corner Capital Advisors, LLC for valuation and structured sale advisory. "Corner Capital's knowledge of the industry and attention to our assets were critical to the success of the sale," Johnson adds. "We relied on their services and expertise throughout the process." Corner Capital, provides M&A and specialty advising in the downstream energy industry which includes convenience store chains.
The Brookshire Brothers footprint continues to expand. The employee-owned company opened new locations in Hamilton and Pilot Point, Texas this summer and is on track to open its Canyon Lake store in December.  Future plans include a Grapeland store the following year.
Founded in 1921, Brookshire Brothers is 100% employee-owned. Its assets include retail outlets incorporating grocery stores, convenience stores, as well as free standing pharmacy, tobacco and petro locations.  Its market stretches east to Lake Charles, Louisiana, west to Canyon Lake, north to Whitesboro, Texas, and south to Ganado, Texas.  For more information about Brookshire Brothers and its family of brands please visit www.brookshirebrothers.com.
Tuesday August 11, 2015
Online Shopping Made Easy
Make your list and check it twice! Enjoy online ad browsing in the comfort of your home with our newly added features. You can now make your shopping list, browse categories, email or print lists, and share the great deals on social media all from your computer! No need to drive to the store or pick up a newspaper to see what is for sale, simply click here. 
Before beginning, please check your browser settings and "Enable Cookies". Then by searching your city and state and/or zip code, you can click to see what is on sale for your store.
You will have several options and views for browsing the weekly ad:
Shopping List
To add a product to your shopping list, simply hover with your mouse over the item and click the "Add to List +" button to begin your list. You can also add non-ad items to your list by clicking "Shopping List" in the left-hand menu on your screen and typing your additional items in. From the Shopping List page, you can email and print your list by clicking the "Print List" and "Email List" buttons above your list on the right-hand side of the page.
Browse by Category
Just wanting to see what meat items are on sale this week? You can search whatever category you'd like by using our "Browse by Category" menu on the left-hand side of your screen. You can also search the ad by using keywords to easily find your items. The search box is in the top right-hand corner of the page.
Sign up to Celebrate
You can also sign up to our free loyalty program by clicking the red box with an envelope that says "Sign Up". In signing up, you will receive weekly emails containing exclusive coupons, wellness information, and more!
Other Features
You can hover your mouse over the many icons on the page to make the weekly ad most tailored to your needs, but here are some frequently used icons that you may enjoy.
Arrows - Turn the page to view the rest of the ad by clicking the left and right arrows above the pages.
Magnifying Glass - Zoom Feature
Red Circle - Circle Feature (used for circling items in the ad)
Adobe "A" - PDF View
Browse Mode - Select which mode you would like to view the ad in - Flash, HTML, Text Only, Full Screen
We hope you enjoy our new weekly ad feature and encourage you to customize your shopping experience with us!
Pages