Tuesday January 24, 2017
CForce Premium Artesian Water Announces Availability in Brookshire Brothers
Gena and Chuck Norris' premium artesian water to be sold in new stores across Texas and Louisiana.
CForce Bottling Company, owned by Gena and Chuck Norris, announced that its premium artesian water, "CForce" is now available for purchase at over 110 Brookshire Brothers locations throughout Texas and Louisiana. CForce premium artesian water is already available in 300 Maverik Convenient Stores in the west, and a number of other C-Stores in Texas. With the addition of these new grocery stores, CForce will now be available in over 12 states throughout the country.
CForce premium artesian water is bottled at the source, on the Norris family ranch in Navasota, TX. Dated back more than 23,000 years, the water emerges naturally through ancient volcanic rock and is then deposited into a deep, sustainable aquifer, making it pure, smooth and naturally high in pH. Through an engineered delivery system, the water flows directly to the bottling facility, so that it remains untouched by man until opened.
"We are thrilled that CForce premium artesian water will be available in Brookshire Brothers, to more customers throughout Texas and Louisiana," says Gena Norris, owner and CEO of CForce Bottling Company. "We are proud of our product and excited to offer a premium water at an affordable price point."
In addition to brick and mortar availability throughout grocery and convenience stores, CForce is also available for purchase on Amazon.com.
About CFORCE Artesian Water
CForce Bottling Company, a certified woman-owned business, was founded in 2015 by Gena and Chuck Norris. While looking for a new well site, the Norris family discovered the pristine water source on their Lone Wolf Ranch in Navasota, TX. CForce Bottling Company prides itself on being a different kind of company, and appreciates all of its partners.  For more information, visit www.cforce.com.
About Brookshire Brothers
Brookshire Brothers is employee-owned and community driven. Its assets include 115 retail outlets incorporating grocery stores, convenience stores, as well as free standing tobacco, pharmacy and petro locations.  The Lufkin, Texas based company's footprint stretches east to Lake Charles, Louisiana, west to Dublin, Texas, north to Whitesboro and south to Ganado.  For more information about Brookshire Brothers and its family of brands please visit www.brookshirebrothers.com
Thursday January 19, 2017
The Concession Stand
The best way to keep crowds happy is to buy big and save big! Our Concession Stand offers your booster clubs, school carnivals, and sporting events with the best quality from your local Brookshire Brothers. Our competitive prices and convenient order process helps you stay focused on your event. We're here to bring you convenience when it's needed most!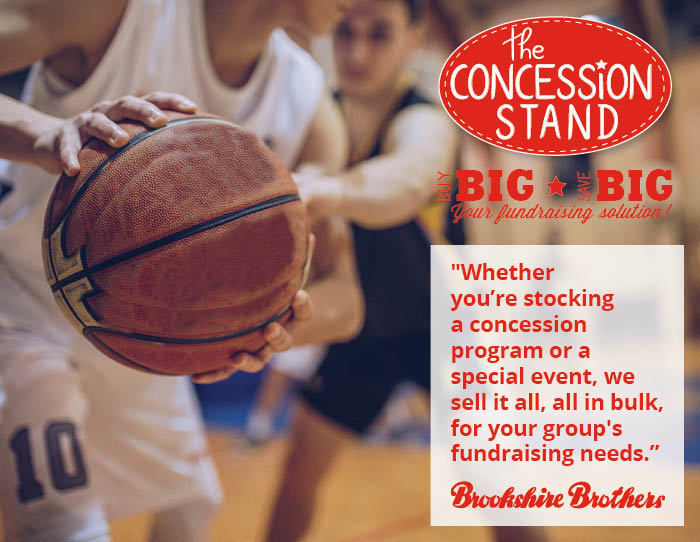 Ordering is as easy as 1 - 2 - 3!
2. Return the Concession Stand order form to your local store
3. Pick up your order when it's ready!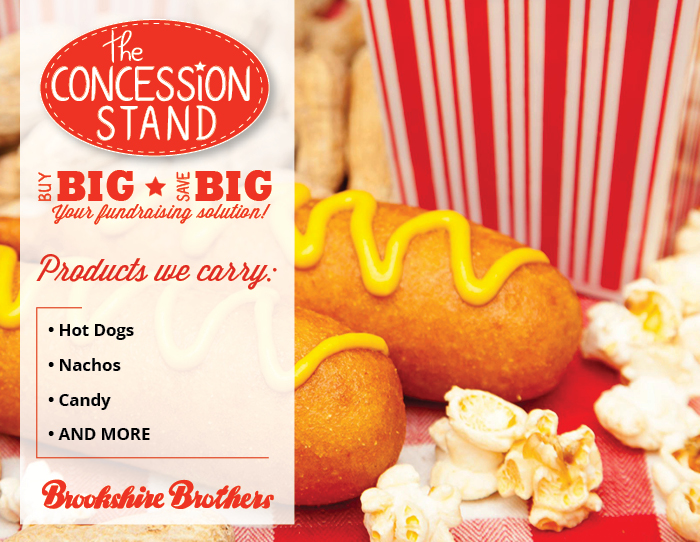 Read how our employees have helped these customers' events run smoothly with The Concession Stand:
"Phyllis Newby from our store in Smithville helped us so much! A lot of my friends told me about how great everything turned out and she was the main person we talked to. I'm so glad we chose to order from Brookshire Brothers."
"The Dublin, TX Broookshire Brothers and Kathleen made our event go from good to great! I was able to focus on other details and know that the concession items would be taken care of."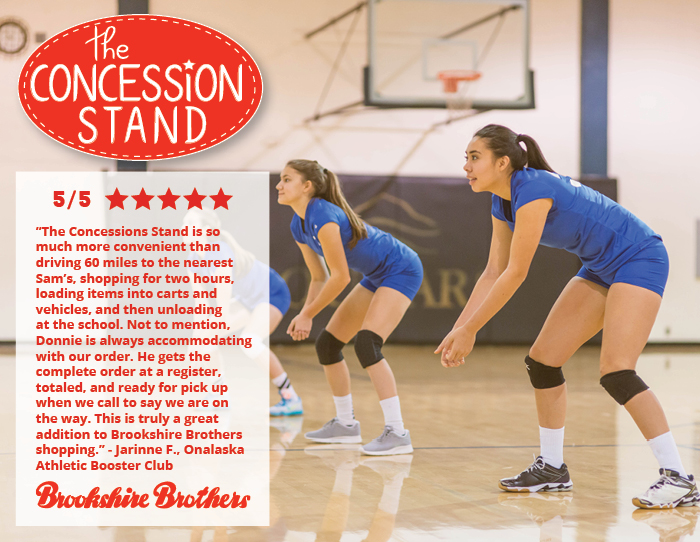 "Mr. Baker made everything easy for us. I know everyone here in Hamilton was pleased to hear I ordered everything from The Concession Stand at Brookshire Brothers. It's so nice to have someone here in town to take care of our needs!"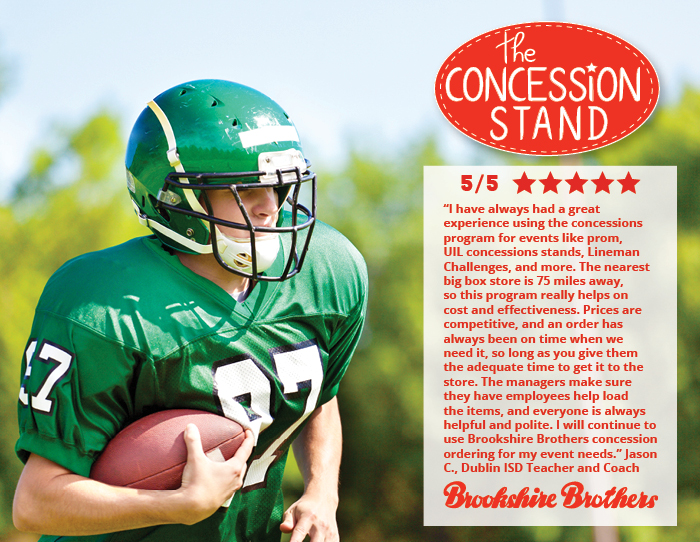 "I couldn't have been more excited when I ran across the Concessions program at Brookshire Brothers. From the first moment we discussed our event with David Hailey, he was there to help with every item."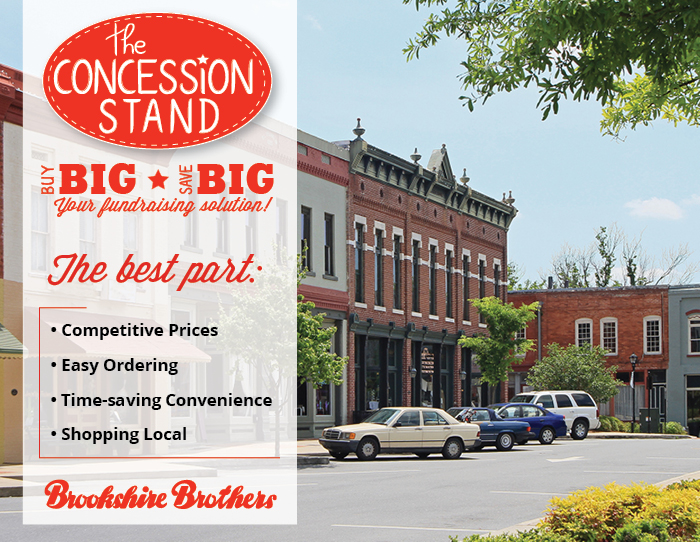 Read more about how to order here.
Wednesday November 16, 2016
Save More. Go Digital.
Your Digital Coupons are finally here! Experience even more savings with Brookshire Brothers and our family of brands when you log in to your Celebrate account and start clipping and redeeming Digital Coupons. It's as easy as 1, 2, 3...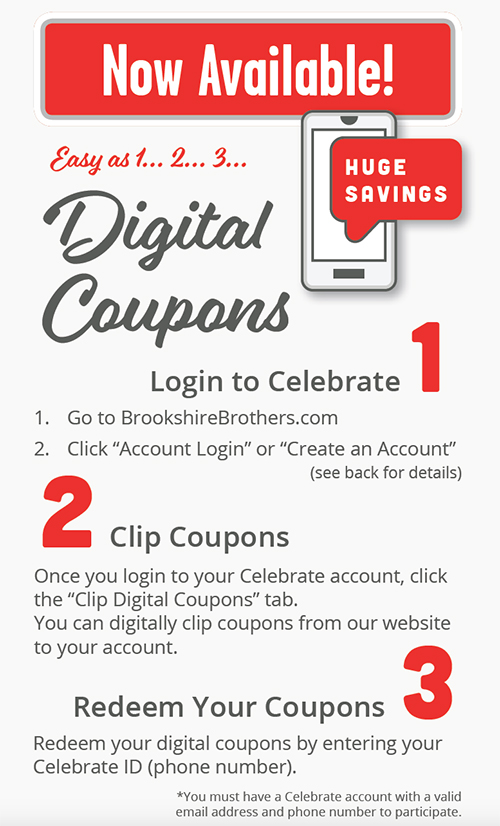 Want to check out our FAQ page? Click here!
Monday November 7, 2016
Celebrating Our Legacy Farmers and Ranchers
Brookshire Brothers proudly salutes this year's Texas Family Land Heritage honorees. Each year the Texas Department of Agriculture honors farmers and ranchers who have worked their family land continuously for more than 100 years.  Brookshire Brothers is a Gold sponsor of the program that celebrates agriculture and the farm to table culture and legacy of Texas.  The event culminates with a ceremony in the Senate Chambers of the Texas State Capitol.
On November 3rd, Brookshire Brothers hosted a tour of the Capitol for the honorees from counties in the Brookshire Brothers market area.  Family members on the tour included the Kolodczak, Holt, LeStrange, Nelson and Scogin families representing The Flying Bar K Ranch in Grimes County, Salem Ridge Ranch in McClennan County represented by Clint and Robert Detlefsen and Worley Farm from Panola County represented by Bud Worley, his brother and their wives.
In recognizing its customers prior to the statewide recognition ceremony in Austin, Brookshire Brothers Spokesperson Sally Alvis said, "The stories of the Lone Star State's farmers and ranchers are the stories of Texas. Year in and year out they do what it takes to produce the best food and fiber in the world. As a Texas-based, home grown grocer, that's important to us. We celebrate these amazing families and their century old commitment to their land." Brookshire Brothers store directors Debbie Campbell of Navasota, Michael Hooks of Carthage and Van Smith of McGregor were on hand to honor the families from their communities.
These families join an elite group of hard working Texans as Family Land Heritage recipients. Commissioner of Agriculture Sid Miller presented each with a plaque and certificate at the event in the Senate Chamber. An historic and current picture of the family will hang in the Brookshire Brothers' store closest to the ranch or farm.
Founded in 1921, Brookshire Brothers is 100% employee-owned. Its assets include 120 retail outlets incorporating grocery stores, convenience stores, as well as free standing pharmacy, tobacco and petro locations. Its market stretches east to Lake Charles, Louisiana, west to Dublin, Texas, north to Whitesboro, Texas, and south to Ganado, Texas.  For more information about Brookshire Brothers and its family of brands go to www.brookshirebrothers.com.
Tuesday September 27, 2016
Brookshire Brothers and Its Customers Fight Hunger...One Gallon at a Time!
The Great American Milk Drive provides milk and its high-quality protein to families in need during September's Hunger Action MonthTM.
That gallon of milk you consider a staple in your refrigerator is missing across Texas and Louisiana, but Brookshire Brothers and its partners want to change that.
During National Dairy Month in June, Brookshire Brothers and David's customers donated thousands of dollars at the registers to 'help fill the glasses' of children throughout our market area. During the next week, vouchers for nearly 8500 gallons of milk will be distributed to nine food banks to give to their clients.
According to Feeding America®, the nation's largest domestic hunger-relief organization, milk is one of the items most requested by food bank clients, yet there is a nationwide shortage because it is rarely donated. That's because Americans are generous with canned and dry goods, but milk is much harder to donate because it's perishable. Feeding America clients receive the equivalent of less than one gallon of milk per person per year. The Great American Milk Drive, the first-ever national program to help deliver highly desired and nutrient-rich gallons of milk to hungry families who need it most, is working to change that in Texas and Louisiana and across the country.
Hunger impacts 1 in 6 Americans, including nearly 16 million children, who may be missing out on milk's nine essential nutrients. Hunger has no boundaries and is a problem that exists in urban, suburban and rural communities.   
September is Hunger Action Month. It's an ideal time for our company and its partners to help fill nine food banks with milk.  8,307 vouchers have been sent to the following food banks:  East Texas Food Bank, Houston Food Bank, Capital Area Food Bank of Texas, Southeast Texas Food Bank, Second Harvest Food Bank of Greater New Orleans and Acadiana, Food Bank of the Golden Crescent, Food Bank of Central Louisiana, Tarrant Area Food Bank and the North Texas Food Bank.  Those food banks will give the vouchers to their clients who will exchange them at their local Brookshire Brothers or David's store for a gallon of milk.
Since the Great American Milk Drive launched two years ago, more than 400,000 gallons of milk have been donated to people who rely on the nation's food banks to help supply their families with not only food but also the good protein found in milk that helps power their potential.  Karolyn Davis with the East Texas Food Bank adds, "Milk is among our most requested items. We are grateful to The Great American Milk Drive and Brookshire Brothers and its customers for making these donations possible."
Feeding America is the nationwide network of 200 food banks that leads the fight against hunger in the United States. It provides food through 60,000 food pantries and meal programs in communities across America. Individuals, charities, businesses and government all have a role in ending hunger. Donate. Volunteer. Advocate. Educate.  Together we can solve hunger. Visit www.feedingamerica.org, find us on Facebook or follow us on Twitter.
Tuesday September 20, 2016
Thank You for 95 Great Years!
In 1921, brothers Austin and Tom Brookshire opened the first Brookshire Brothers in Lufkin, Texas on September 21st. Little did they know, 95 years later, their company would grow to employ over 7,000 employee-owners with 113 retail locations. Over the years, our company has seen a number changes. There have been many expansions, acquisitions, and new business ventures that we've experienced. All of these have made us stronger. On behalf of all our employee-owners, we say thank you! 
1921 - Brothers Tom and Austin Brookshire founded Brookshire Brothers in Lufkin, Texas.
1928 - The first expansion of Brookshire Brothers began as the Brookshire family rallied to build a strong regional company.
1929 - Wood and W.A. Brookshire withdrew from the company to form a separate company in Tyler, Texas. This was the birth of Brookshire Grocery Company.
1952 - Brookshire Brothers acquired Moore Grocery and Lufkin Produce Company.
1966 - Three sons of Austin Brookshire, R.A., Eugene, and Oscar, assumed leadership of the company, which grew to 69 stores in East Texas and Western Louisiana.
1991 - Brookshire Brothers began offering gasoline on its supermarket parking lots.
1997 - Brookshire Brothers opened its first Tobacco Barn and expanded its offerings to include discount tobacco.
1999 - Brookshire Brothers embarked on a employee-owner stock buyout.
2006 - Brookshire Brothers achieved 100% employee ownership.
2007 - Brookshire Brothers merged with Polk Oil Company, which added fuel distribution and the convenience store format.
2013 - Five new supermarkets and six new convenience stores were added to Brookshire Brothers' operations.
2014 - Brookshire Brothers acquires the assets of David's Supermarkets. 
2016 – Brookshire Brothers expands west to Canyon Lake and begins construction on four new Brookshire Brothers Express locations. 
Thursday September 15, 2016
32nd Annual Texas State Forest Festival
This East Texas premiere event is back again and Brookshire Brothers is happy to continue to sponsor such a crowd pleasing festival. With competitions from The East Texas Pom Pon/Dance Team Championship to our personal favorite, The Southern Hushpuppy Championship, there are many attractions to come and see. The festival arrives on Wednesday, September 21 and wraps up on Saturday, September 25, 2016.
Get your tickets for Friday night and see your friends from your local Brookshire Brothers! Friday is Brookshire Brothers Volunteer Night, so we'll be visiting with our customers and festival-goers. We'll also have Goldenbrook Ice Cream under our tent serving and sharing ice cream happiness. We hope to see you this year at the 32nd annual Texas State Forest Festival!
Learn more about the Texas State Forest Festival here.
For ticket information, contact the Lufkin/Angelina County Chamber of Commerce at 936-634-6644.
Join the social conversation by using #TxForestFest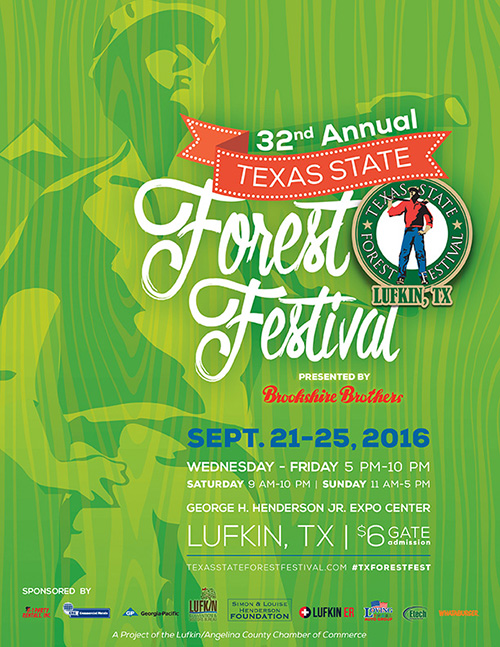 Friday July 1, 2016
Brookshire Brothers Announces Four New Stores
Lufkin-based Brookshire Brothers is turning up its growth pattern in the coming year.  The 100% employee-owned regional grocer announces plans to open stores in four rural markets starting this fall in Grapeland, Texas.  The announcement coincides with the company's 95th birthday and its legacy of serving communities throughout Texas and western Louisiana. In making the announcement, COO John Alston says, "Each store will be tailored to meet the specific needs of the communities in which they are located. As a result of an outpouring of requests from the people of Grapeland, their store will be our first Express location to include a pharmacy. 'Wellness Delivered' is what our pharmacies are known for and we are excited to be able to provide solutions for health and wellness in northern Houston County."  Alston anticipates a late October grand opening in Grapeland.
Coming in quick succession will be a store in Wells, Texas, a new location in Valley Mills, Texas and another in Hudson, Texas.  All Express formats feature convenient, easy to shop layouts, fresh meat and produce departments and delis that include full breakfast, hot lunch and dinner plates, rotisserie and Brookshire Brothers famous fried chicken. The Express stores will also include a wide selection of grocery, dairy, frozen, general merchandise and health and beauty products.  The stores will provide employment to more than 130 people throughout the region and offer services in-store that include check cashing, Western Union money transfers, ATMs and money orders. Alston adds, "Each of these stores and its employee-owners will become an integral part of these communities by providing the exceptional customer experience Brookshire Brothers has been known for since its founding in 1921."
As to the future of this regional grocer, Alston says, "We believe that our core competency of operating diverse formats ranging from traditional supermarket, convenience, and pharmacy to hybrids such as our Express banner and next generation supermarkets ideally positions us to fully capitalize on future growth opportunities in a variety of markets."
Brookshire Brothers is employee-owned and community driven. Its assets include 110 retail outlets incorporating grocery stores, convenience stores, as well as free standing tobacco, pharmacy and petro locations. Its footprint stretches east to Lake Charles, Louisiana, west to Dublin, Texas, north to Whitesboro, Texas and south to Ganado, Texas. For more information about Brookshire Brothers and its family of brands please visit www.brookshirebrothers.com.
Monday May 16, 2016
Hurricane and Disaster Preparedness
Be Aware. Be Prepared. As hurricane season begins, we encourage you to gather supplies and create a Disaster and Emergency Preparedness Kit. When a disaster hits, having the right emergency supplies can mean the difference between life and death. Be ready for whatever storm lies ahead by packing these supplies in a ready-to-go fashion.
Checklist:
Water (When in doubt, have more than enough water. A general tip is 1 gallon per person per day)
Medications
Flashlights
Batteries (Gather enough batteries for a three-day supply)
Matches
Multi-purpose tool
Non-perishable food (Family members will each need enough food for three days)
Personal toiletry items
First aid kit
Battery-powered or hand-cranked radio
Sleeping bags/blankets
Essentials for your pets
Whistle
Tips:
Select a waterproof container/bag for all supplies.
Gather important documents and store a stash of cash.
Make an emergency plan.
Store your emergency kit in a safe place.
Adjust your kit and plan as your family structure changes.
Keep a local map in your kit to follow evacuation routes.
Stay informed with social media and/or local news media.
Keep an extra cell phone and charger on-hand.
Look in your weekly ad for the Hurricane Preparedness Icon placed with suggested supplies.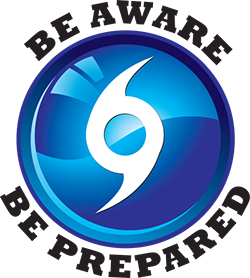 Tuesday March 29, 2016
Brookshire Brothers enrolls 16 stores in Grocery Stewardship Certification program
Brookshire Brothers, an employee-owned retailer headquartered in East Texas, is the latest grocer to enroll stores in Manomet's Grocery Stewardship Certification (GSC) program.  The GSC works with grocery retailers to engage staff on operational sustainability concepts and to review store-level practices and equipment with an eye to increasing energy efficiency, boosting revenue and lowering costs.
Eric Johnson, Director of Store Planning for Brookshire Brothers noted that "sustainability goes hand in hand with our commitment to the communities that we serve. We are able to reduce our waste and energy consumption and lower our operating costs, allowing us to pass along savings to our customers and make the planet a better place for them.  We're proud to be working with the Grocery Stewardship Certification."
"Brookshire Brothers' employees really seemed to get a lot out of the experience and were really excited to go through their stores and look for ways to boost sustainability," added Peter Cooke, GSC Program Manager. "I'm excited to see another retailer who understands the many ways that sustainability can boost their bottom line."
Launched in 2012, Manomet's GSC program is the nation's first and only grocery sustainability certification program. The purpose of the GSC is to substantially reduce the environmental impacts (waste, water use, energy use, and greenhouse gas emissions) of grocery stores, consumers, and entire supply chains. For more information, visit www.grocerycert.org.
Founded in 1921, Brookshire Brothers is 100% employee-owned. Its assets include 111 retail outlets incorporating grocery stores, convenience stores, as well as free standing pharmacy, tobacco and petro locations with another location opening in Grapeland, Texas this summer. Its market stretches east to Lake Charles, Louisiana, west to Canyon Lake, north to Whitesboro, Texas, and south to Ganado, Texas. For more information about Brookshire Brothers and its family of brands please visit www.brookshirebrothers.com.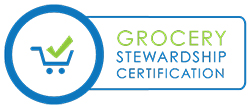 Pages