Tuesday June 30, 2020
July 4th Picnic Fun
The fourth of July may be a little different this year, but we got savings and delicious recipes to make your fourth spectacular.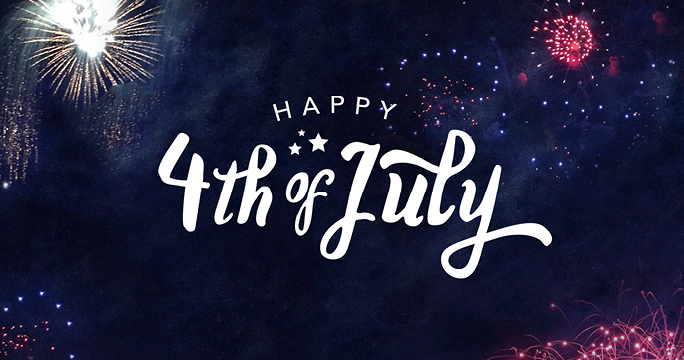 Check out your weekly ad for cookout and picnic-ready savings for your patriotic celebration.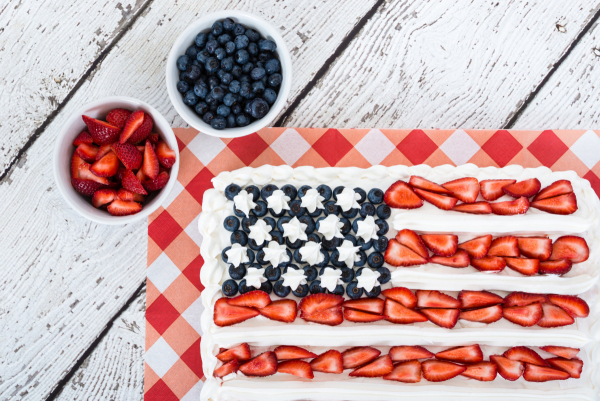 We've got this patriotic Cut Fruit and Berry American Flag Cake on our blog to add some red, white, and blue to your Fourth of July meal.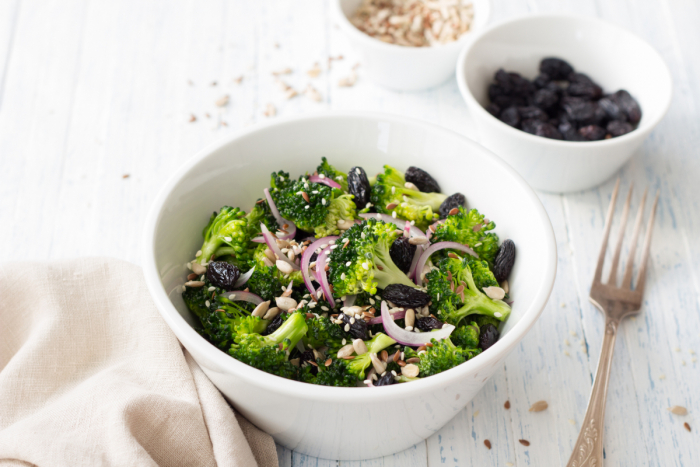 We also have this wonderful Broccoli Salad recipe that is perfect for your Independence Day Celebration from Angela Larson, RD.
Visit your local Brookshire Brothers for all of your 4th of July picnic needs!
Tuesday May 19, 2020
DeQuincy, Louisiana Honors the Fallen with Iwo Jima Memorial Replica
As Memorial Day approaches, we remember the sacrifice of those who have lost their lives serving our country. Brookshire Brothers recently leased land adjacent to its store in DeQuincy to the City of DeQuincy Louisiana for $1 for 99 years to build a replica of the Marine Corps Memorial (Iwo Jima Memorial) near Arlington, Virginia. This monument was the lifelong dream of DeQuincy resident Dr. Howard L. Snider, who was among the marines that cheered on the raising of the American Flag in Iwo Jima. Dr. Snider wanted a symbol of the sacrifice that American Soldiers made in WWII to be built in the center of his hometown. Sadly, he passed away in 2017 before it was complete.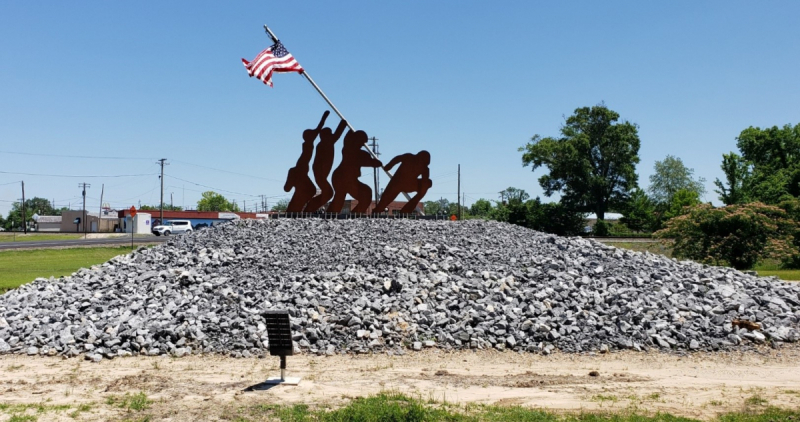 DeQuincy Brookshire Brothers Assistant Store Director, Randy Phillips, told us: 
"Our team is extremely proud to come to work and see the Iwo Jima Monument every day when we exit our vehicles. The residents of DeQuincy share in our excitement, and tell our crew when they visit the store."
The Mayor of DeQuincy, Riley Smith, shares in the excitement too:
"On behalf of the City of DeQuincy, I would like to express my sincere appreciation to Brookshire Brothers for allowing the placement of the Iwo Jima Memorial on its property. I feel like it enhances the beauty of DeQuincy."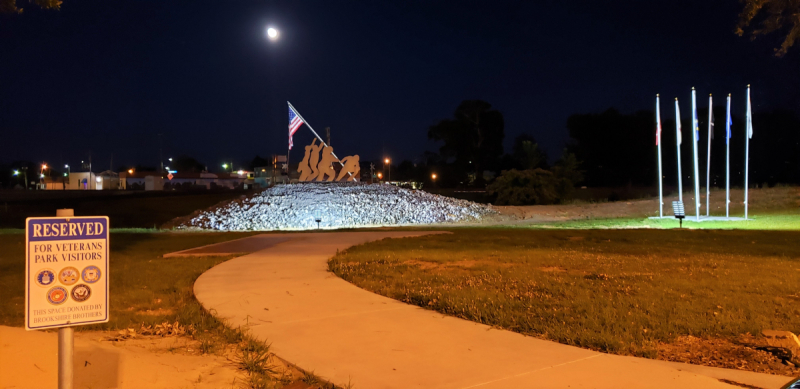 Brookshire Brothers is proud to help honor the fallen and wish everyone a Happy Memorial Day. Dedication ceremonies at this site will be taking place at a future date; please stay tuned for details.
Thursday May 14, 2020
Summer Cooking With Our Brands
Bacon-Ranch Cauliflower Steaks
Grilled Jalapeno Popper Bacon-Wrapped Hot Dogs
No-Bake Strawberry-Lime Bars
Cheeseburger-Stuffed Portobello Mushrooms
Grilled Salmon & Asparagus Pasta Salad
S'mores Truffle Pops
Chipotle-Rubbed Skirt Steak
Wednesday April 29, 2020
Grilled Jalapeño Popper Bacon-Wrapped Hot Dogs
 Try this mix of two cookout favorites this Memorial Day! 
Grilled Jalapeño Popper Bacon-Wrapped Hot Dogs
Ingredients
16 wooden toothpicks
½ (8-ounce) Food Club® Original Cream Cheese, softened
2 jalapeño peppers, 1 finely chopped and 1 thinly sliced crosswise
⅓ cup Food Club® Finely Shredded Medium Cheddar Cheese
½ teaspoon Food Club® Garlic Powder
8 beef hot dogs
8 slices bacon (not thick-cut)
Food Club® Non-Stick Vegetable Oil Cooking Spray  8 Brookshire Brothers Fresh Harvest™ Enriched Hot Dog Buns
1 Roma tomato, chopped
Thinly sliced green onions for garnish (optional)
Directions
Prepare outdoor grill for direct grilling over low heat; soak toothpicks in water 20 minutes.
In medium bowl, stir cream cheese, chopped jalapeño, Cheddar cheese and garlic powder. Makes about 1 cup.
Wrap each hot dog with 1 slice bacon, securing ends with toothpicks; spray with cooking spray.
Transfer cream cheese mixture to small zip-top plastic bag; snip bottom corner with kitchen scissors and pipe into buns.
Place hot dogs on hot grill rack; cover and cook 12 minutes or until bacon is crisp, turning ¼ turn every 3 minutes.
About 3 minutes before hot dogs are done, place buns, cut side up, on hot grill rack; cover and cook 3 minutes or until grill marks appear.
Remove toothpicks from hot dogs; serve
You can also download a printable version of the recipe
here
.
For all of your Memorial Day cookout needs visit your
local
Brookshire Brothers.
Tuesday April 21, 2020
Earth Day Activities For Kids
Earth Day is for demonstrating environmental protection and a good way to show kids how to reuse and recycle items around the home! 
Repurposing Old Plastic Containers as Mini Greenhouses for Sprouting Seeds
Use old cupcakes, salad, and rotisserie chicken containers to make mini-greenhouse used to sprout seeds. Since many of these containers are not biodegradable this is a perfect way to reuse them.
Reused Cans Painted for Mini-Planters
Use cleaned tin cans to make mini-planters, can lanterns, pencil holders, and many more items. Just clean, paint, and decorate!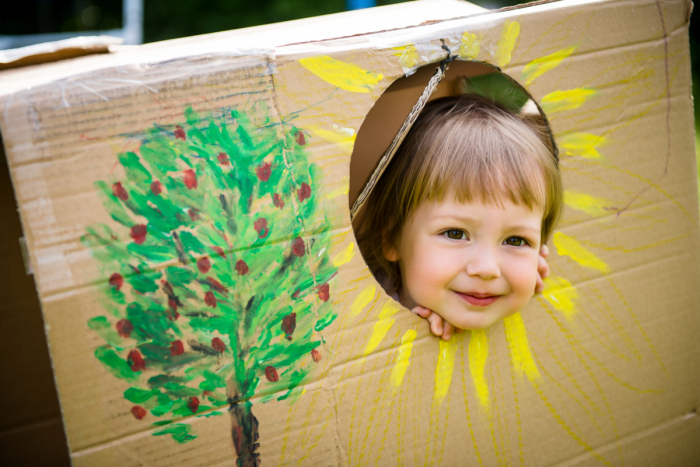 Cardboard Projects
Use a cardboard box from a recent purchase to have all kinds of fun. Kids will have fun making a cardboard playhouse/fort just decorate it with poster paint, making ramps for their cars, creating a cardboard kitchen to play in, and other fun things.
Enjoy these fun Earth Day activities for kids, and be sure to pick-up cupcakes or a rotisserie chicken to enjoy at your
local
Brookshire Brothers, and don't forget to reuse the container.
Thursday April 9, 2020
Brookshire Brothers at Home Comforts
Simple pantry recipes are the kick you need to add a little boost to your weeknight dinner routine. Luckily, we've got four for you to try.
Pantry Sheet-Pan Nachos
Ingredients
1 can (15- to 16-ounces) refried black or pinto beans
1 package (1 ounce) taco seasoning
1 bag (11- to 13-ounces) corn tortilla chips
1 can or jar (15 ounces) queso blanco or salsa con queso dip
⅓ cup drained pickled jalapeño pepper slices
1 cup salsa
⅓ cup drained canned or thawed frozen corn
¼ cup drained canned sliced black or green olives
¼ cup chopped green, red or white onion
Directions
Preheat oven to 325°. In small saucepan, heat beans as label directs; stir in taco seasoning.
On large rimmed baking pan, spread chips; top with bean mixture, cheese sauce and jalapeños.
Bake 5 minutes or until heated through; top with remaining ingredients and serve immediately.
5-Ingredient British Breakfast-Style Mashed Potato Bowls
Ingredients
1 package (4 ounces) mashed potato mix
1 can (16 ounces) baked beans
2 tablespoons bacon bits
1 cup croutons
1 can (15- to 16-ounces) canned diced tomatoes
Directions
Prepare mashed potatoes as label directs; divide into 4 bowls and top with remaining ingredients.
5-Ingredient Italian Tomato-Pasta Soup
Ingredients
2 cans (23.2 ounces each) family size condensed tomato soup
½ (10-ounce) package frozen chopped spinach
2 teaspoons Italian seasoning
½ (16-ounce) package small-shaped pasta
2 teaspoons grated Parmesan cheese
Directions
In large saucepot, heat soup, 2 cans water, spinach and seasoning to a simmer over medium heat; stir in pasta and cook 15 minutes or until pasta is tender.
Serve soup sprinkled with cheese.
5-Ingredient Pantry Chili
Ingredients
1 pound ground beef, turkey or chicken
1 tablespoon chili powder
1 can (15.5 ounces) black, kidney or pinto beans, drained and rinsed
1 can (10 ounces) Mexican-style diced tomatoes
1 cup beef, chicken or vegetable broth
Toppings: sour cream or plain Greek yogurt, shredded Cheddar cheese and/or pickled jalapeño slices (optional)
Directions
In large saucepot, add beef and chili powder; cook over medium-high heat 8 minutes or until browned, stirring occasionally.
Stir in beans, tomatoes and broth; heat to a simmer.
Reduce heat to medium-low; cook 10 minutes.
Stir in salt and pepper to taste; serve topped with toppings, if desired.
Visit your local Brookshire Brothers for your pantry staples.
Monday April 6, 2020
Eggcellent Recipes for Easter!
It is time for the joy of Easter! We've got a wonderful treat that you can make with the kids and a ham that everyone will have everyone asking for seconds.
Easter Chocolate Nests
Ingredients
4½ cups mini marshmallows
4 tablespoons unsalted butter (½ stick)
1 cup semisweet chocolate chips
4 cups old-fashioned rolled oats
Candy for decorating nests (optional)
Directions
In large saucepot, heat marshmallows and butter over medium heat 5 minutes or until melted and smooth, stirring occasionally. Add chocolate chips and stir with wooden spoon until chocolate melts and mixture is well combined. Remove saucepot from heat; stir in oats.
Line baking sheet with waxed paper. Using gloves or moist hands, form chocolate-oat mixture into 1½-inch balls and place on prepared baking sheet. To form each ball into a nest, place ball in palm of hand; press down on center of ball with fingers to flatten ball and form indentation in the center. Place nests back on baking sheet and cool completely.
Transfer nests to airtight container and store at room temperature up to 3 days. Fill nests with candy, if desired, just before serving. 
Be sure to grab the printable version of this recipe 

here

!
---
Apricot-Mustard & Herbed Panko Ham
Ingredients
1 spiral sliced ham (7 to 8 pounds)
1½ cups apricot preserves
1 cup brown sugar
¼ cup Asian-style hot mustard
1 tablespoon Worcestershire sauce
¾ cup panko breadcrumbs
2 tablespoons chopped fresh chives
2 tablespoons chopped fresh Italian parsley
2 tablespoons unsalted butter, melted
2 teaspoons grated lemon zest
½ cup hot water
Directions
Place roasting rack in large roasting pan. Place ham, cut side down, on rack in pan; add ½-inch water to pan. Cover ham loosely with aluminum foil; let stand 30 minutes. Preheat oven to 325°. Bake ham 1 hour.
In small saucepan, heat preserves, brown sugar, mustard and Worcestershire to a simmer over medium heat; simmer 2 minutes. In small bowl, stir breadcrumbs, chives, parsley, butter and zest.
Brush ham with some glaze; bake, uncovered, 20 minutes, brushing with glaze after 10 minutes. Remove ham from oven; increase temperature to 400°. Brush ham with glaze; sprinkle with breadcrumb mixture. Bake 10 minutes longer or until internal temperature reaches 135° and breadcrumbs are browned.
Transfer ham to serving platter; cover loosely with aluminum foil. Let stand 15 minutes before serving (internal temperature will rise to 140° upon standing). Stir water into remaining glaze; serve with ham.
Be sure to grab the printable version of this recipe 
here
!
For all of your at home Easter needs, visit your local Brookshire Brothers.
Thursday January 30, 2020
Classic Chili Con Queso Recipe
Be the MVP of the Big Game when you serve this Classic Chili Con Queso recipe at your watchparty this weekend!
Classic Chili Con Queso
Ingredients
1 tablespoon Food Club® Vegetable Oil
2 poblano peppers, chopped
½ small white onion, chopped
1 garlic clove, minced
1 pound ground chuck
1 teaspoon Food Club® Texas Style Chili Powder
1 teaspoon Food Club® Ground Cumin
2 cups Fresh Harvest™ Vitamin D Whole Milk
½ cup heavy cream
2 tablespoons cornstarch
2 cups Food Club® Shredded Mild Cheddar Cheese
2 cups Food Club® Finely Shredded Monterey Jack Cheese
1 teaspoon kosher salt
1 can (14.5 ounces) Food Club® Diced Tomatoes in Juice, drained
2 teaspoons chopped fresh chives
1 bag (11.5 ounces) Food Club® Yellow Corn Tortilla Chips
Directions
In large skillet, heat oil over medium-high heat. Add peppers and onion; cook 5 minutes or until tender, stirring occasionally.
Add garlic; cook 1 minute, stirring frequently.
Add ground chuck, chili powder and cumin; cook 8 minutes or until browned, breaking up meat with side of spoon.
In medium saucepot, heat milk and cream to a simmer over medium-high heat.
In small bowl, whisk cornstarch and ¼ cup cold water; whisk into milk mixture and cook 4 minutes or until thickened, whisking frequently. Remove saucepot from heat; gradually whisk in cheeses and salt, whisking until smooth.
Stir in tomatoes.
Makes about 9 cups.
Serve queso topped with ground chuck mixture and chives along with chips.
Thursday October 24, 2019
National Employee Ownership Month
October is Employee Ownership Month, a time to reflect on the tremendous importance and benefits of employee ownership for both individuals and their companies. At Brookshire Brothers, we celebrate the spirit of employee ownership with our ESOP themed spirit days. See below for pictures of proud Employee Owners throughout our company! 
Week 1 - Sports Day!
Procurement Department - Corporate Office - Lufkin, Texas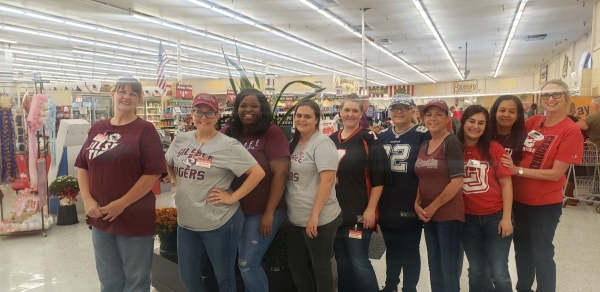 #29 Silsbee, Texas
#92 Whitesboro, TX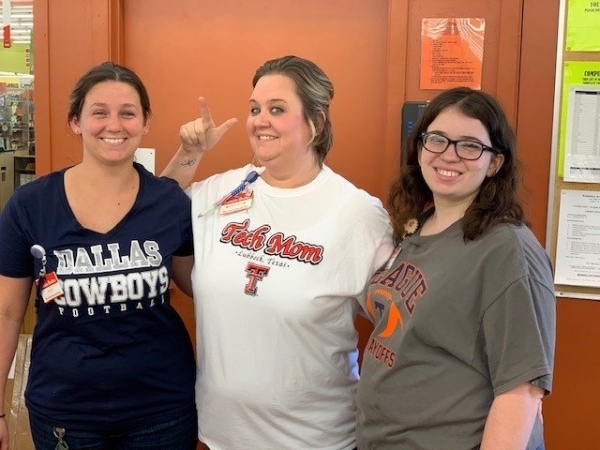 #10 Fairfield, TX
Week 2 - Spirit Animal Day
#52 Huntington, TX

#45 Jasper, TX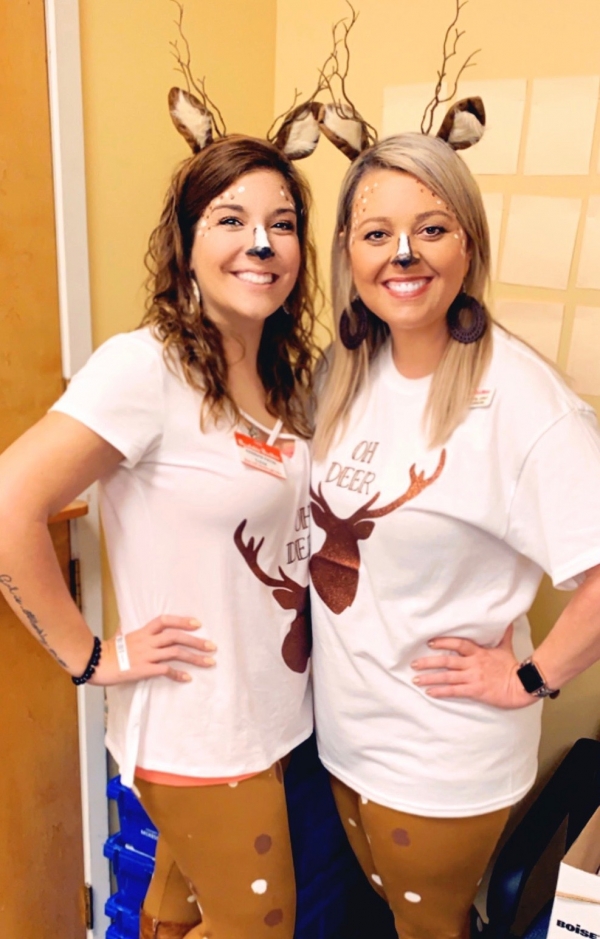 #36 Kountze, TX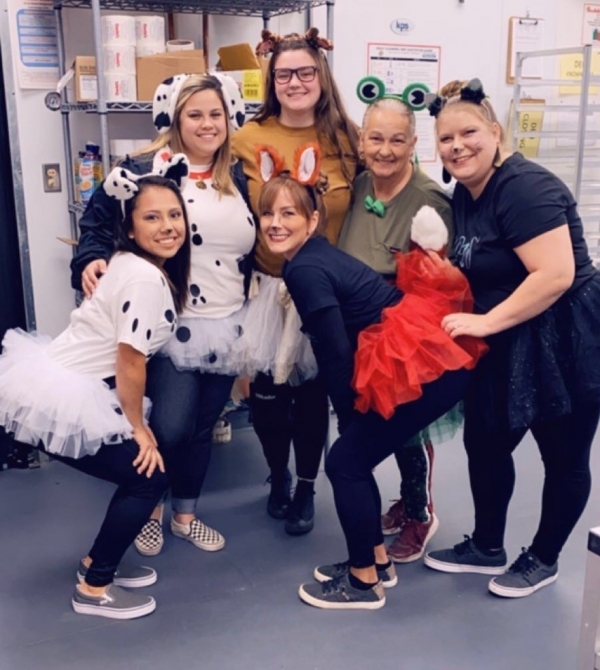 #112 Grapeland, TX
Week 3 - Neon Day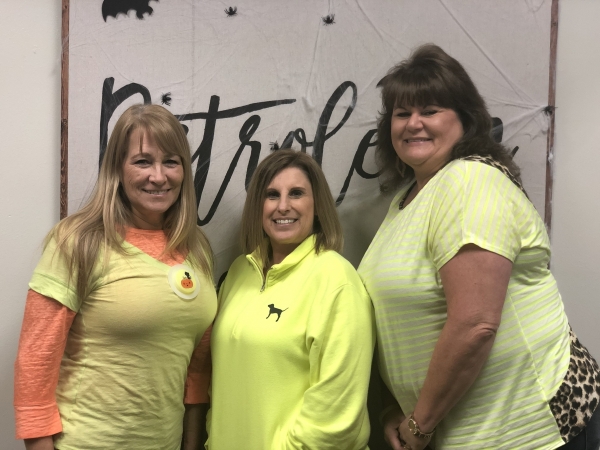 Petroleum, Corporate Office Lufkin, TX
#14 Newton, TX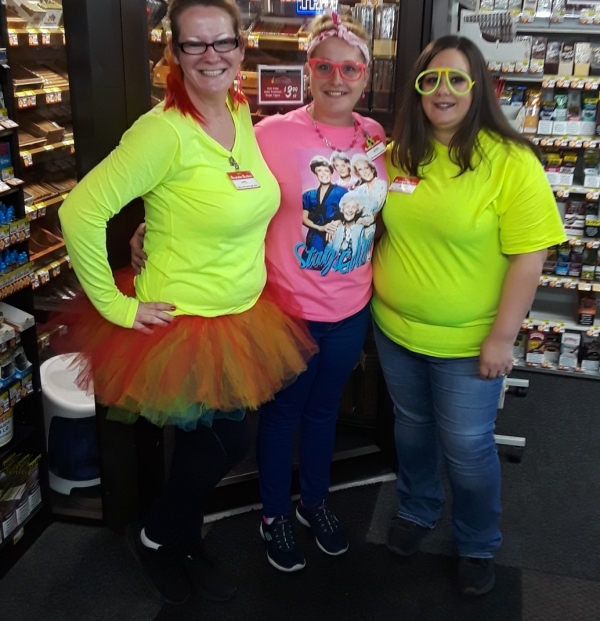 #25 Lufkin, TX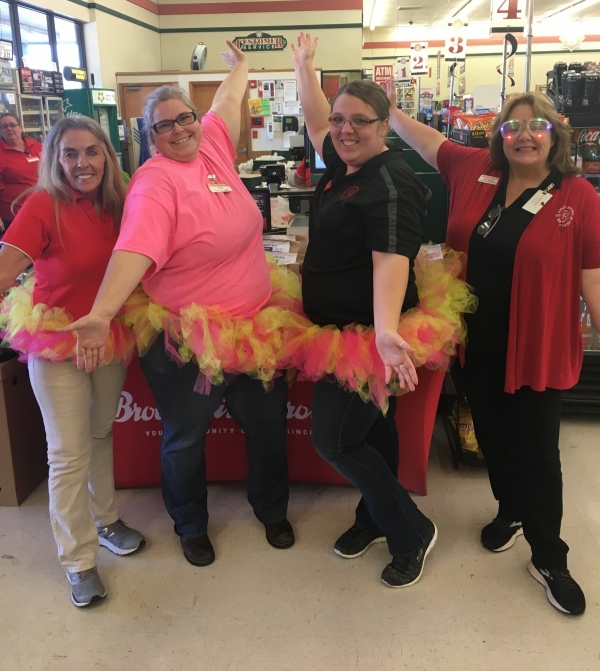 #72 Coldspring, TX
Week 4 - Disney Day
#59 Sour Lake, TX
#61 Hempstead, TX
#2 Nacogdoches, TX
#14 Newton, TX