Tuesday August 25, 2020
Hurricane Laura
Brookshire Brothers is here to see you through life's storms. For nearly 100 years, our employee-owned company has served our neighbors best when their needs are the greatest. Whether it's a hurricane or a global pandemic, we support our communities by providing the essentials in the safest manner possible. Hurricane Laura is no exception.
Our emergency management team is closely monitoring the situation. If your community's Brookshire Brothers Pharmacy is closed, patients can get their prescriptions refilled at any of our pharmacies in Texas and Louisiana.  In the midst of this crisis, we are not losing sight of the strict COVID guidelines in place to protect all of us and prevent the spread of the virus.
We are here to keep you informed and provide important updates about our store operations. Stay safe and be well as we walk through this and rebuild together.
Store Hours and Operations:
The following stores and pharmacies are still closed or are open with limited hours due to Hurricane Laura:
Louisiana
Lake Charles, LA - Open 10am - 5pm.
Many, LA (S. Elizabeth St) - Open 7am - 7pm. 
We're striving to get all locations back up to serve our communities. We're updating this page frequently, please check back for the latest location info.
Last updated: September 2nd, 2020, 11:41am CST
Thursday April 23, 2020
Brookshire Brothers Is Now Checking Temperatures
Keeping our customers fed in the safest manner possible remains key as we walk through COVID-19.   As an additional safeguard for everyone, Brookshire Brothers is now checking the temperatures of all of its employees at the start of each shift. An employee owner with a temperature of 100 degrees or more will be sent home and asked to seek medical advice or contact their doctor if needed.   The company is following CDC guidelines regarding when an employee may return to work.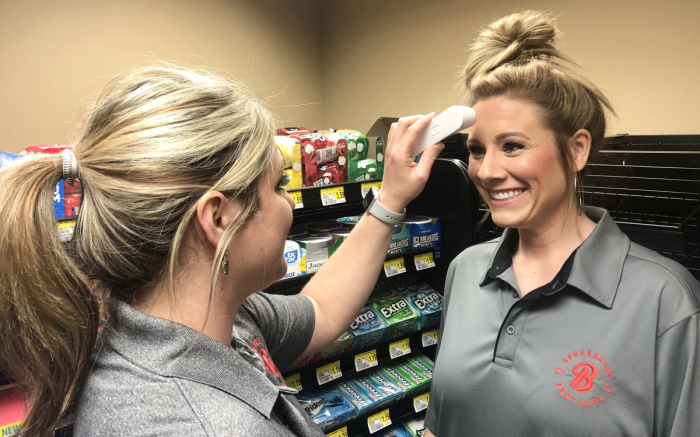 This process follows ongoing safety practices that include the installation of plexiglass sneezeguards at all check stands, social distancing messaging throughout the store,  the option of wearing facial coverings while at work and enhanced, ongoing sanitization.
 Customers and employee owners together can remember to leave six feet of space between others, wash their hands frequently with soap and water and stay home if they have a temperature of 100 degrees or more.