Monday October 19, 2015
Cooking with Kate: Finally Fall
The temperatures are finally dropping. Time for scarves and boots, crunchy leaves, fire pits, and all things pumpkin! Not only is pumpkin a staple ingredient for pumpkin pies and muffins, it is a good source of fiber, Vitamin A, Vitamin C, and beta carotene. Pumpkin seeds are also high in protein. Here are a couple of my favorite savory pumpkin recipes to start out the fall pumpkin season.
Spiced Pumpkin Seeds
2 cups raw pumpkin seeds
4 tablespoons butter, melted
½ teaspoon seasoned salt
½ teaspoon garlic salt
1 tablespoon Worcestershire sauce
Preheat oven to 275°F. Spray a rimmed cookie sheet with non-stick spray. In a medium bowl, combine all ingredients except the pumpkin seeds. Mix well. Add the seeds and toss to coat. Spread seasoned seeds on the prepared pan and roast at 275°F for 1 hour, stirring every 15 minutes, until toasted and crisp. Store in an airtight container.
Roasted Pumpkin Soup
2 medium sugar or pie pumpkins, fresh
Sugar or pie pumpkins differ from carving pumpkins. They are smaller, more dense, and have more flavor than carving pumpkins.
3 (15 oz) cans packed pumpkin puree may be substituted for the roasted pumpkin
1 medium sweet onion, diced
½ stick butter
1 quart chicken stock or broth
1 teaspoon salt
½ teaspoon ground black pepper
¼ teaspoon ground cinnamon
¼ teaspoon ground ginger
1 pinch ground nutmeg
1 cup heavy cream + extra for garnish
¼ - ½ cup toasted pumpkin seeds, for garnish
Preheat oven to 300°F. Cut and remove a small circle at the top of each pumpkin. Remove pulp and seeds; discard. Place pumpkins on a baking sheet and roast at 300°F for 30-45 minutes or until pumpkins are tender. Let cool slightly before removing pumpkin flesh from skin. Set aside.
In a large pot, melt butter and sauté diced onion until soft (about 5 minutes). Add chicken stock, pumpkin flesh (or canned pumpkin), and spices. Mash pumpkin slightly and mix well. Bring to a simmer over medium heat and cook until heated through (10-15 minutes), stirring occasionally. Working in batches, transfer the soup mixture into a blender and puree until completely smooth and creamy. A hand or immersion blender may also be used. Return the soup to the pot and add the heavy cream. Keep warm over medium-low heat until ready to serve.
Ladle soup into soup bowls or small hollowed out pumpkins. Garnish with a drizzle of heavy cream and a sprinkle of toasted pumpkin seeds. Serve immediately. Makes 6-8 servings.
Monday September 14, 2015
Cooking with Kate: Mexican Independence Day
Although often confused with Cinco de Mayo, Mexican Independence Day, commemorated on September 16th, is the most important national holiday in Mexico. To commemorate the Mexican War of Independence in 1810, celebrations in Mexico and across the world will include parades, carnivals and more. Many locals choose to celebrate by spending time with family, eating great food, and watching a fireworks display - a celebration very similar to the Brookshire Brothers company message.
Several popular items are served in family gatherings such as "antojitos", "tortas ahogada", and "horchata". However, one of the most popular is a pan dulce that can be found throughout Central Mexico and the Yucatan Peninsula called "campechanas" - a crispy, puffy, carmelized treat. Here's an easy recipe to try this delicious treat at home in honor of Mexican Independence Day.
Campechanas
1 pound puff pastry dough
½ cup granulated sugar
unsalted butter
all-purpose flour 
If using frozen puff pastry, thaw for 20 to 30 minutes before rolling. When ready to roll out, preheat oven to 400°F. Generously butter two baking sheets. Dust your counter and rolling pin lightly with flour. Roll out both puff pastry sheets gently to about 9- or 10-inches by 11-inches. Sprinkle them with the sugar, as evenly as you can. Then lightly roll again with the rolling pin, just enough to press the sugar into the puff pastry. Cut the sheets into rectangles of about 3- by 5-inches with a knife. You should have 12 rectangles. Place the campechanas on the baking sheets. Position rack in the upper third of the oven. One batch at a time, bake for 7 to 8 minutes at 400°F. Raise the oven temperature to 500°F and bake for an additional 4 to 5 minutes, just until all the sugar has melted and caramelized. Be very careful not to burn the sugar caramel or it will turn bitter. Repeat with the other batch. Once cooled completely, store in an airtight container so they stay crisp.
Monday August 31, 2015
Cooking with Kate: Cooking Away the Labor Day Blues
Labor Day, the official mark of the end of summer, is here...but there's no reason to cry away those summer blues. How about cook them away? Keep the Labor Day spirit in your house by whipping up these classic Kate Rudasill approved recipes!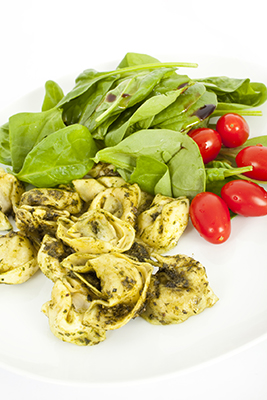 Chilled Pesto Tortellini Salad
2 (9 oz) packages refrigerated three-cheese tortellini
1 container grape tomatoes
1 can large black olives
½ cup pesto, jarred or homemade
Bring a large pot of lightly salted water to a boil. Add tortellini to the boiling water, and cook, stirring occasionally, until pasta floats to the surface, about 4-5 minutes. Drain and rinse under cold water to stop pasta from cooking further. Slice tomatoes and olives in half and add to a large bowl. Add the cooled tortellini and the pesto. Gently toss to coat everything with the pesto. Refrigerate pasta salad for at least 1 hour before serving.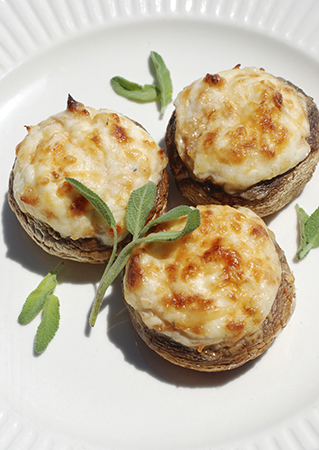 Barbeque Stuffed Mushrooms with Mozzarella
3 (16 oz) packages whole white mushrooms
1 container barbecued shredded pork (Lloyd's or Curly's)
1 (8 oz) package shredded mozzarella cheese
Remove stems from mushrooms and lay upside down on a lightly greased baking sheet. Spoon a small amount of pork into each mushroom. Bake at 375°F for 10 minutes. Remove from oven and sprinkle with mozzarella cheese. Serve immediately.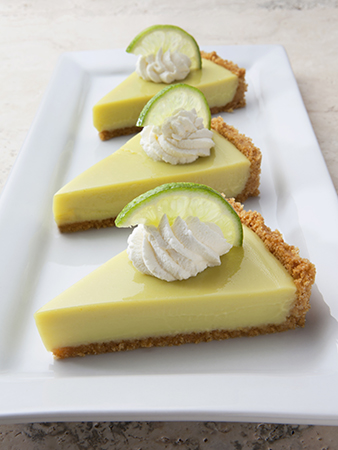 No-Bake Creamy Key Lime Pie
1 can sweetened condensed milk
8 oz. sour cream
zest of 2 limes
½ cup fresh lime juice
8 oz. Cool Whip, thawed
Graham cracker crust (1 - 9" or 2 packages of tart shells)
In a large bowl with an electric mixer, mix condensed milk, sour cream, lime juice and zest until creamy. Turn mixer to high and whip until fluffy. Fold in cool whip. Spoon filling into large crust. Cover and chill at least 2 hours before serving. Serve with additional Cool Whip.
Tuesday June 16, 2015
Cooking with Kate: Gear Up for Grilling
With June quickly slipping away and the 4th of July right around the corner, the summer grilling season is already well underway. Nothing quite beats a warm summer night with a perfectly juicy steak or burger straight off the grill.  But meat doesn't have to be the only thing on your grill. Be adventurous and try fruits, yes fruits, and vegetables. Worried about grilling fruits and veggies? Follow these tips and happy grilling!
Use aluminum loaf pans to grill baked potatoes. 

Add an inch of kosher or rock salt for added flavor!
Make your own foil pack.

Cut 8x12" square pieces of heavy-duty foil, spray with cooking spray, and add your favorite veggies!
Splurge for a grill basket or grill wok.

Throw in your favorite fruit/vegetable slices and grill all summer long!
Add a cedar plank to your collection of grilling accessories.

Plank grilling is the time-honored technique of grilling food on wood planks. Fish, poultry and meats stay moist and tender!

Be adventurous with grilled corn.

Mix melted butter and taco seasonings and spread on each ear of corn. Pull husks back over ears and enjoy a spicy sensation!
Monday June 1, 2015
Cooking with Kate: Bursting with Blueberries
Summertime growing up in Nacogdoches meant one thing – the Texas Blueberry Festival. From enjoying the Kiwanis Club's blueberry pancakes first thing in the morning, to cooking chicken and fish for the Rotary Club's chicken and fish fry, to sunny afternoons sitting on the brick streets, sipping blueberry lemonade, and listening to live music – the Blueberry Festival has always been one of my favorite weekends of the year. In honor of the 2015 Texas Blueberry Festival on June 13th, we're highlighting some quick and easy beginner recipes as well as recipes for our more seasonsed chefs. Each recipe features the little berry that grows so well here in Deep East Texas.
Beginner Recipes
Your family and friends won't believe how easy these recipes are. Beginner or not, everyone will enjoy these dishes!
Fresh Green Salad with Blueberries and Candied Honey Pecans
Toss fresh assorted spring greens, baby spinach, fresh blueberries, chopped candied honey pecans, and shredded mozzarella or crumbled feta cheese. Drizzle with a slightly sweet vinaigrette (champagne or blush wine vinaigrettes work well) for a quick summer salad!
Blueberry Ricotta Crostini
Brush thin slices of baguette with olive oil and bake at 350°F for 5-8 minutes until crisp. Lightly spread each slice with 1 teaspoon ricotta cheese and top with fresh blueberries and a drizzle of good quality honey or spiced blueberry jam and a sprinkle of cinnamon sugar.
Expert Recipes
Channel your inner cooking goddess and try your hand at recipes that chef-worthy!
Spiced Blueberry Jam
10 cups fresh blueberries, stems removed
1 lemon
¼ teaspoon cinnamon
½ teaspoon apple pie spice
5 cups sugar
1 package fruit pectin
1 dozen (4 oz.) canning jars with lids and rings
Add blueberries, spices, lemon juice, and pectin to a large pot over medium-high heat. Crush blueberries with a potato masher or stick blender. Add pectin, mix well, and bring to a boil. Cook for 1 minute. Immediately add all the sugar and mix well. Bring to a full, rolling boil and cook for 1 minute, stirring constantly. Remove from heat and skim foam with a metal spoon. Fill clean, hot jars with the hot jam to within 1/8. Cover with sterilized lids and rings, and process in boiling water bath for 5 minutes.
Blueberry Balsamic Glazed Chicken
2 tablespoons extra virgin olive oil
2 tablespoons butter
4 to 6 skinless, boneless chicken breasts (or 2 pounds chicken legs and thighs)
salt and pepper
2 shallots, thinly sliced (about ¼ cup)
2 cups fresh blueberries
½ cup balsamic vinegar
1/3 cup maple syrup
1 tablespoon coarsely chopped fresh rosemary
Preheat oven to 350°F. Heat 1 tablespoon each oil and butter in a large, heavy skillet. Season chicken with salt and pepper. Sear chicken breasts over medium-high heat until golden brown, about 1 minute per side or until a light crust forms. Remove to a baking dish and set aside. Add remaining olive oil and butter to the skillet and, when hot, stir in shallots and cook until soft and lightly caramelized, about 4 minutes. Add blueberries and cook 1 minute. Stir in balsamic vinegar, maple syrup, and rosemary and simmer about 10 minutes, or until the blueberries have collapsed. Pour the blueberry balsamic mixture over chicken and put baking dish in the top half of the oven for about 10 minutes, until the chicken has cooked through to a temperature of 165°F.
Lemon Blueberry Bars
1 cup white granulated sugar
1 teaspoon baking powder
3 cups all-purpose flour
1 cup unsalted butter
1 egg
1 teaspoon pure vanilla extract
½ teaspoon kosher salt
zest of two lemons
4 cups fresh or frozen blueberries
½ cup white sugar
3 teaspoons cornstarch
Preheat oven to 375°F. Line a 9×13 inch pan with parchment paper and spray with nonstick cooking spray. In a medium bowl, mix sugar, flour, salt, lemon zest and baking powder. In a small bowl, whisk the egg and vanilla together until combined. Use a pastry cutter or your food processor to blend the flour mixture with the butter and egg/vanilla mixture. Dough will be crumbly. Pat half of dough into the prepared pan. In another bowl, stir together sugar and cornstarch. Gently mix in the blueberries. Sprinkle the blueberry mixture evenly over the crust. Crumble remaining dough over the berry layer. Bake in preheated oven for 45 minutes, or until top is slightly brown. Cool completely before cutting into squares.
Friday May 15, 2015
Cooking with Kate: Do's and Don'ts of Wedding Catering
Although we have seen more rainy days than sunshine lately, wedding season is in full swing! Brookshire Brothers Catering is here to help with the following dos and don'ts of wedding catering planning.
DO: Book a caterer early
Caterers' calendars quickly fill up during the busy seasons (especially May, June, November, and December), so be sure to contact them early once you have your wedding date chosen!
DO: Have a realistic budget and work within your budget
Serving great food at your wedding does not have to break your budget. About 40 percent of your budget should be allocated for catering. Talk to different caterers and get bids for the type of menu you would like to serve. Be realistic about the cost and availability for special requests or out-of-season items. Most caterers will be able to give tips to keep costs down or suggest other options that work within your budget.
DO: Choose what you like
Talk to your caterer about specific items you would like to have at your reception and build the menu from there. Don't be pressured to choose something you really don't want (or to omit something you do want).
DON'T: Stress about pleasing everyone but DO: Know your guests
If you and your fiancé have a favorite cuisine, consider serving a few dishes as an appetizer or pass hors d'oeuvres. For the majority of the menu, stick to tried-and-true dishes for your reception. Your caterer can help you make choices that will satisfy a large number of people without being boring. If you know of specific food allergies or preferences, let your caterer know early and they can include items that will work for all of your guests. 
DO: Have a plan for bad weather
If you have lived in Texas for more than 10 minutes, you know that Texas weather is extremely unpredictable. If you are planning an outdoor reception, make sure to have a plan for inclement weather – including a plan for your caterer for set-up and serving.
DO: Double-check the Catering Proposal / Contract
Make sure to read and understand the fine print before you sign – especially regarding cut-off dates for final head counts, serving details, and payment dates.
DON'T: Get bogged down in the details
Congratulations and best wishes as you plan not only for your special day, but for your marriage!
Friday May 1, 2015
Cooking with Kate: Pedernales Brewery Recipes
Cheddar Cheese Beer Dip
featuring Pedernales Brewery's Lobo Texas Lager
8-10 servings:
2 (8 oz) packages Hytop cream cheese, softened
½ cup beer
1 packet ranch dressing mix
2 cups Hytop fancy shredded mild cheddar cheese
Pretzels, crackers, or chips
Place cream cheese, beer, and ranch dressing mix in a bowl. Beat with an electric mixer until smooth and creamy. Add the cheddar cheese and mix on low until blended. If the dip is too thick, add a little more beer and mix well.
Keep refrigerated until ready to serve.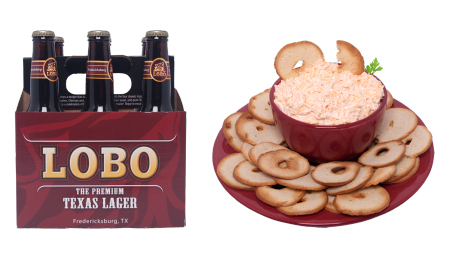 ---
Sweet and Spicy Beer Braised Sausage 
featuring Pedernales Brewery's Lobo Negro Black Lager
12 servings:
2 links (14 oz packages) smoked sausage or smoked jalapeño sausage
1 cup brown sugar, divided
12 oz. Lobo Negro Black Lager beer
Preheat the oven to 325F. Slice each link of sausage into ½" pieces. Spray a large baking dish with non-stick spray. Add the sliced sausage and half the brown sugar. Pour the beer over the sausage. Stir the mixture a bit, cover with foil, and bake in preheated oven for 1 ½ - 2 hours. Remove from oven, sprinkle with remaining brown sugar and stir. Reduce oven to 250F and bake sausage another 2 hours, stirring occasionally to baste the sausage in the sauce. Serve warm.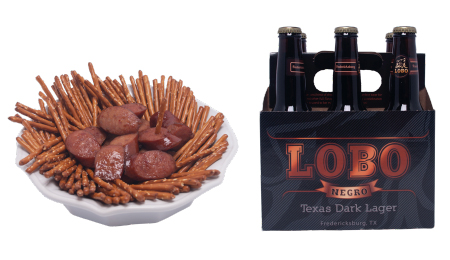 Monday April 13, 2015
Cooking with Kate: Fresh Fruit Tarts
Warmer temperatures and bright sunshine means spring is here and summer is just around the corner! What better way to celebrate the beautiful weather then with fresh fruit tarts? This simple dessert is delicious, quick to put together, and the perfect dessert, or afternoon snack with coffee, for the spring and summer months when fresh fruit is readily available and more flavorful than during the winter.
Fresh Fruit Tarts/Pizza
Shortbread Crust:
1 cup butter, softened
½ cup powdered sugar
2 cups all-purpose flour
¼ tsp baking powder
Fruit:
strawberries, washed, stems removed, and sliced
blueberries, washed and dried
kiwis, peeled and sliced
grapes, washed and cut in half
other options – diced mango, thinly sliced pineapple, sliced peaches, fresh blackberries, mandarin oranges, or any other fruit you like
---
The crust is made with just four simple ingredients: all-purpose flour, powdered sugar, baking soda, and softened butter. Handy to have along – an electric mixer with a paddle attachment.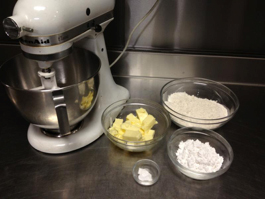 We are going to be baking the crust in a 9-inch fluted tart pan with a removable bottom. If you do not have a tart pan, any spring-form pan, pie pan, cookie sheet, or baking dish will work for the crust.
Start by adding the butter to the mixing bowl and cream it on high until it is light and fluffy. Add the powdered sugar and continue mixing on high until smooth and creamy. Use a rubber spatula to scrape down the mixing bowl after the butter and sugar are creamed together.
In a separate bowl, mix the flour and baking soda. Slowly add half the flour and baking soda to the creamed mixture and blend for about 30 seconds. Add the remaining flour and mix just until crumbly.
The dough is going to look like it needs to mix longer so that it will come together. Do not overmix! You want the dough to be crumbly and tender. Over-mixing makes the dough tough and chewy (not what we are wanting in this crust).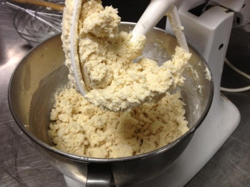 After the dough is mixed, lay out a piece of plastic wrap. It does not have to be perfectly flat or straight. Place the dough crumbles in the center of the plastic wrap.
Gather the corners of the plastic and bring them together in the center. Once it's surrounded in plastic, gently press the dough together. You'll end up with a pretty disk of dough. Place the dough in the refrigerator and chill for at least an hour.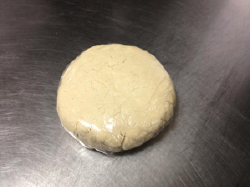 Make sure to spray your pan with non-stick spray. It will make the process much easier later on. Grab the dough from the fridge and place it in the center of the sprayed pan. Gently begin to press it out to towards the outer edges of the pan. It's going to get crumbly again…don't worry.

Using the palm of your hand and your fingers, work the dough into the flutes (if you're using a fluted pan) or up the edges of your pan. You want to create an edge around the outside that will hold your filling and the fruit.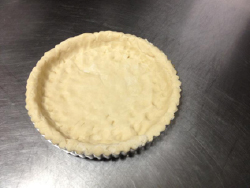 If you are making fruit pizza and using a cookie sheet, you do not have to form an edge on your crust. You do want to make sure that the center of the crust is slightly thinner than the outer edge so that your crust bakes evenly and the outer edge does not break once the crust is baked and cooled.
Chill the crust for another hour. It needs to be very cold when placing it in the oven so that the butter in the crust does not melt quickly. When the crust is chilled, use a fork to prick the bottom and the sides of the crust. Chilling the dough and pricking it with a fork before baking will help prevent it from shrinking in the oven.

If you are using a pan with a removable bottom, it is helpful to place it on a baking sheet to make it easier to get it in and out of the oven. Bake the crust in a pre-heated 350 degree oven until golden brown and set (usually about 10-15 minutes depending on the size of your pan and how thin you formed your crust). Remove from the oven and let cool completely.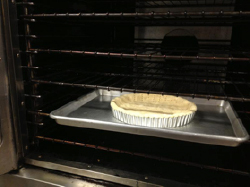 If you're using a pan with a removable bottom, go ahead and remove the outer ring. See all the pretty, golden brown flutes!
Wash, dry, and slice the fruit you have chosen for your tart. Once the crust is completely cool, spread with whipped cream, sweetened whipped cream cheese, lemon or lime curd, or pastry cream. Arrange fruit over the filling in whatever design you would like.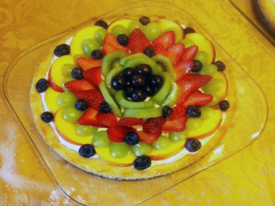 Monday February 23, 2015
Cooking with Kate: A Brief History of Gumbo
The word "gumbo" usually brings to mind spicy stew with rice and humid Louisiana nights. Gumbo has certainly gained notoriety as a Cajun food staple; but before making its way to the South, variations of the thick, okra-based stew originated in West Africa and the West Indies, where okra was commonly grown. The cooking methods for this okra stew were brought to southern Louisiana and other coastal regions by enslaved Africans in the 1700s, and slowly began to transform into the dish we know today – a fusion of ingredients and cooking methods from the different cultures that settled in Louisiana. Africans brought knowledge on how to cultivate rice and okra, which grows well in southern regions; German settlers were known for making sausage; African and French cooking often incorporated onions and bell peppers; local Native American tribes contributed an alternate thickener for the stew – ground sassafras root, called "filé powder;" and fishermen from the Canary Islands who supplied seafood from the Gulf of Mexico and used ground cayenne pepper to season their food. 
Given that so many cultures contributed to the development of the dish, many variations of gumbo have been passed down through the years and recipes vary greatly. Some gumbos contain seafood, chicken, sausage or a combination of all three; some are thickened with okra, some with filé powder, and others with dark roux (a cooked flour and fat mixture that thickens and adds flavor). Determining the "best" recipe is a hot debate even today.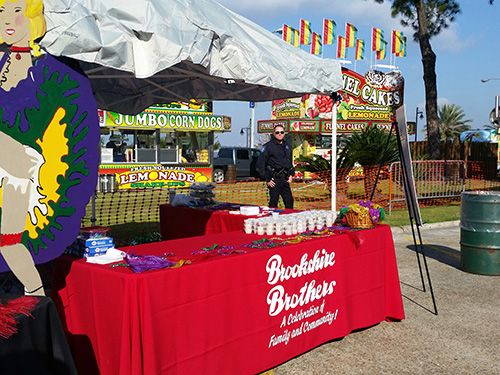 Brookshire Brothers C.E.O., Jerry Johnson, and his team, Roux La La, recently competed in a gumbo cook-off in Lake Charles, Louisiana, serving up Gumbo With a Kick!  The team dazzled the event put on by the Southwest Louisiana Mardi Gras Association, not only with their unique twist on gumbo, but also by their ability to "Laissez les bon temps rouler!"  Johnson and fellow chefs BJ and Jan Viet and Doug Spurlock chose chicken and sausage – cut and prepared at the Brookshire Brothers meat market in Sulphur. They also threw in some boudin.  Though they didn't sweep the competition, their gumbo had a KICK!  In addition to the savory, they served something sweet – Brookshire Brothers King Cake – another South Louisiana favorite Brookshire Brothers bakes fresh daily during Carnival season in its Central Bakery.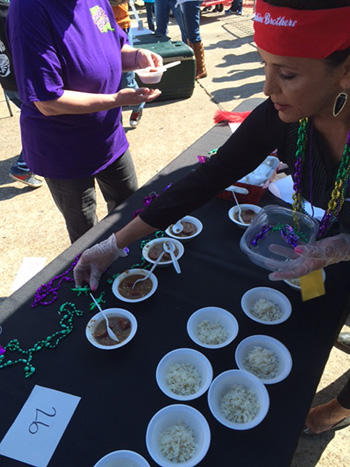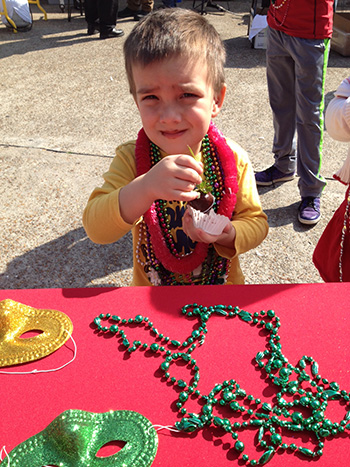 Regardless of the endless debates over the right and wrong ways to make gumbo and the numerous recipes claiming to be the "best," one thing is for certain – the beloved and iconic Cajun dish that we know today as gumbo has a history as rich as the stew itself.
Pages