Friday April 7, 2017
Celebrating the Best of Craft Beer
From Belgians to Bocks, the Beverage Depot at Brookshire Brothers is crafted to perfection. Take a stroll with us down the craft beer aisle as we pick and choose some of our favorites!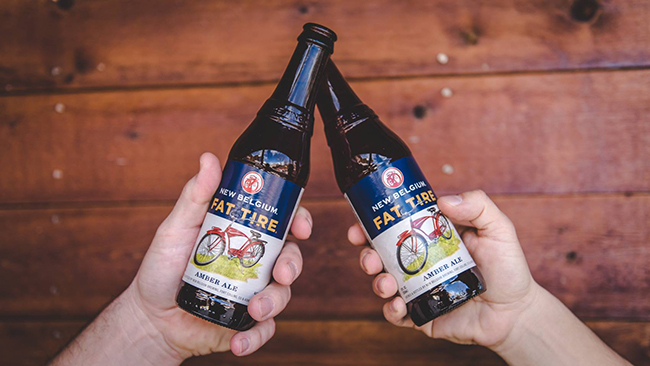 New Belgium Fat Tire
Belgian beers use a far broader palette of ingredients, such as different fruits, spices, and esoteric yeast strains, than German or English styles. The flavors are balanced with toasty, biscuit-like malt flavors coasting in equilibrium with hoppy freshness.
---

Samuel Adams Boston Lager
This lager helped lead the American beer revolution, reviving a passion for full-bodied brews that are robust and rich with character. Using only the finest hops and other hand-selected ingredients, it is a perfectly balanced, complex and full-bodied original brew.
---

Shiner Bock
Tip back a bock. Brewed with rich roasted barley malt and German specialty hops, this lightly hopped American-style dark lager always goes down easy. Originally a seasonal beer, fans have demanded it year-round since 1973.
---

ZiegenBock
This American-style amber lager offers notes of roasted grains in the aroma and a sweet, smooth taste with a hop finish. The select imported hops and specialty malts create a taste worthy of a 2006 Great American Beer Festival Bronze Medal.
Monday April 3, 2017
Easter Egg-cellent Chocolate Covered Strawberries
Take an untraditional spin on Easter this year! When you hide those decorative and colorfully-dyed Easter eggs, save the cartons and hurry down to your local Brookshire Brothers for fresh strawberries. These chocolate covered strawberries can be the perfect sweet treat to complement your Easter celebration!
Easter Chocolate Covered Strawberries
Ingredients
16 large strawberries
1 1/2 cups milk, dark or white chocolate chips
Candied sprinkles, colored sugars, etc.
Parchment paper
Directions
1. Wash strawberries thoroughly. Dry carefully by patting gently with paper towels.
2. Place chocolate chips into small, microwaveable towl with tall sides.
3. Heat bowl in the microwave on high for 30 seconds. Remove bowl; stir chips with spoon. Return bowl to microwave and continue to microwave on high for an additional 30 seconds. Stir and repeat until chocolate is melted.
4. Dipping on strawberry at a time, submerge into melted chocolate by holding the steam between your fingers.
5. Slowly remove the strawberry from the chocolate (allowing excess chocolate to run off) and place on a piece of parchment paper to dry.
6. Immediately decorate the chocolate-covered strawberry with your favorite sprinkles.
7. Allow the chocolate to cool and harden at room temperature. Serve immediately or store in a tightly covered container in the refrigerator for up to 24 hours.
Monday April 3, 2017
How to Brunch 101
Dinner parties may be in your wheelhouse, but can you transition into a 10am brunch? With the Easter season around the corner, we're here to teach you how to make your next brunch extra delightful!
Brunch Buffet
We love a good brunch because it's easy on the host, and who doesn't love good coffee cake? Most of the menu items can be prepared ahead, giving you ample opportunity to mingle and enjoy the party along with your guests.
A staple brunch recipe is some kind of egg bake, along with a breakfast meat and lots of cheese. Many casserole recipes can be interchanged for your preference of bacon or sausage. 
*Expert tip: A vegetarian dish is always a good backup idea!
Fresh Flowers
Nothing says "brunch" like a bouquet of Spring's best flowers. Pick up whatever blossoms look the prettiest at your local Brookshire Brothers and scatter informal bouquets throughout your home. 
*Expert tip: White ceramic pitches make charming vases!
Ribbons & Bows
Traditionally, brunches are a "women only" kind of gathering. The men usually stick to the football game on prime time TV, sitting on the sofa with a rack of ribs. With this in mind, don't skimp on the feminine touches. Wrapping your forks and spoons with a simple ribbon can give a bit of cheer and elegance to your brunch. 
*Expert tip: Your floral department can assist in making large bows!
Final Touches
We love seeing a host go the extra mile in creating the perfect scene for any occasion. To really set the stage for a perfect spring-theme brunch, try your hand at creating the perfect adornment for your guests' glasses below.
Easy Candied Mandarins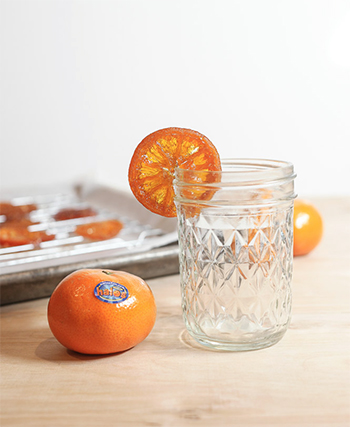 Recipe courtesy of Halos Mandarins
Ingredients
1/3 cup honey
1 cup water
5 Halos mandarins
Directions
1. In a wide-base pan, mix honey with water and heat over low until combined completely.
2. Slice mandarins as thin and uniform as possible, discarding the end pieces. Gently add them to the honey-water, and add a small amount of additional water if necessary to keep the mandarins completely submerged.
3. Cover and heat on low for 45 minutes to an hour, checking it occasionally to ensure that the mandarin slices don't burn.
4. Turn the heat up to a low-medium and keep covered for another half hour, checking frequently. Remove from the stovetop as soon as they start to bubble. The honey will have formed a caramel-colored syrup that hardens as it dries.
5. Remove the mandarin slices onto a slotted stainless steel baking rack or broiler rack placed on top of parchment paper on a baking sheet. Cook in a 250-degree preheated oven for thirty minutes. Turn them over and cook for another thirty minutes. Let cool completely.
Expert tip: If they're still slightly tacky, you can dust with coconut sugar to help make them easier to handle!
Monday March 27, 2017
Make Me Some Peanuts & Cracker Jacks
With local youth baseball and softball games starting and the big league's opening day right around the corner, we're having some fun with these baseball-inspired recipes (courtesy of Kraft).
Dill Pickle-Popcorn Mix
Pick a piece of dill pickle popcorn, grab your favorite seat on the couch or on the bleachers and root on your favorite team with a perfectly pleasant popcorn snack! This Dill Pickle-Popcorn Mix is ready to be enjoyed in just 5 minutes.
Ingredients
1 pkg. (3 oz.) microwave popcorn, popped
1 Tbsp. butter, melted
2 Tbsp. chopped fresh dill
1/2 cup Planters Sea Salt & Vinegar Peanuts
Directions
1. Place popcorn in large bowl.
2. Add butter and dill; toss until evenly coated.
3. Add nuts; mix lightly.
Peanut Grillers
Steaks on the grill...sure.
Shrimp on the barbie... ok.
But nuts? Oh, yes! This baseball treat
will have you holding onto your
helmet! Don't miss out on the 
next big thing! 
Ingredients
1 cup Planters Dry Roasted Peanuts
Directions
1. Heat grill to medium heat.
2. Fold 30-inch-long piece of heavy-duty foil crosswise in half; crimp edges to make rim around all sides. Spray with cooking spray.
3. Spread nuts in single layer in foil pan; place on grate of grill.
4. Grill 6 to 8 min. or until nuts are lightly toasted, stirring frequently. Cool 5 min.
Baseball Dessert
Finish off sweet and score one for the home team with our easy pudding-and-cookie dessert. Red licorice makes easy seams on this big-league-worthy ball. This crowd-pleaser will be going, going, gone soon!
Ingredients
1 pkg. (3.9 oz.) Jell-O Chocolate Flavor Instant Pudding
2 cups cold milk
35 Oreo Cookies, divided
1-1/2 cups thawed Cool Whip Whipped Topping
1 piece red string licorice (36 inch)
Directions
1. Beat pudding mix and milk with whisk 2 min. Let stand 5 min. or until thickened.
2. Line 8-inch round pan with plastic wrap. Arrange 14 cookies on bottom of pan, cutting to fit if necessary; cover with 1 cup pudding. Repeat layers. Cover with plastic wrap. Refrigerate 24 hours.
3. Uncover dessert. Invert onto serving plate; remove plastic wrap. Frost dessert with Cool Whip. Cut remaining cookies in half; arrange around edge of dessert. Cut licorice into 2 (8-inch) pieces and 20 (1-inch) pieces. Use licorice to decorate top of dessert to resemble a baseball.
Friday March 17, 2017
St. Patrick's Day Lucky Shake
Hiland Milk has gathered all of the leprechauns and four leaf clovers to bring you a tradition you'll be wanting to adopt! Try your luck at this Lucky Shake recipe and if you're really lucky, you won't want until next St. Patty's Day to try it again!
Lucky Shake
Ingredients
2 cups Vanilla Ice Cream
1/ 1/4 cups Hiland Dairy Milk (any variety)
1/4 teaspoon mint extract
8 drops green food coloring
Directions
Combine all ingredients in a blender. Blend until smooth - enjoy!
Monday March 13, 2017
A Madness-Inspired March
Grab your friends and turn on your favorite game – we've got a starting lineup that you're sure to enjoy!
When you think of March, you may think of spring, St. Patrick's Day, and spring break. But we know the sports-lovers around the world think of the buzzer-beaters, overtimes, and dramatic upsets. Whether you're keeping track of your bracket or enjoying the company of your family and friends, we're happy to bring you the best recipes, game plans and activities that will make your house the place to be this March! 
Warm-up
When sending invitations or calling your best friends to join your watching party, encourage them to wear a color of their team or a team shirt/jersey. Once everyone arrives, make sure you snap a picture of your guests. You can even hashtag #BrookshireBrothers or tag us on Facebook @BrookshireBros to share your party with us!
Decorations
Plan according to the game you're watching. Have fun theming your living room or man cave with streamers, pennants and sports posters. And don't fear color when it comes to party accessories – go for the coordinating plates, cups and napkins!
Activities
Everyone loves a little fun! When your guests arrive, ask them on whom they're rooting for and have an ongoing tally of who's going to win. You could make it even more interesting if there was a prize for the guests who pick the winning team! 
Recipes
Start off savory and serve a game-day favorite, pizza! Try out this recipe, courtesy of Betty Crocker – Moroccan Madness Pizza. Then top it off with a sweet treat! We love these Malted Madness Cookies from Betty Crocker.
Looking for more advice? Visit with one of our Employee Partners in-store! Find a store near you.
Tuesday February 21, 2017
The Season of Lent
Lent, marked by abstinence from earthly pleasures such as TV, alcohol, smoking, and caffeine, is a 40-day time period in which many Christians will focus on fasting and prayer. You may also notice your friends and family participating in Lent by their focus on a greater sense of charity toward others. During this season, we want to give you ideas on how to make the best of your 40 days!
Gather. Whether at the dinner table with your family at the end of a long work day, or at a dear friend's bedside, simply be with others this season. 
Donate. Yes, you'll have to give up your favorite soda, ice cream, chocolate, or fast food, but the money you'll save from skipping those sweet and salty snacks can be used to donate to a local charity. We'd be willing to bet that the joy brought by making someone's day will supercede any previous delight in your favorites.
Replace. Instead of spending your evenings watching TV or playing video games, replace those activities with satisfying volunteer work. Your local Brookshire Brothers employee partners are

active in your community and would love to volunteer

with you. Speak to your Store Director today about ideas.
Create. Step outside of the box and find a new meatless recipe that your family will enjoy. Review your

weekly ad

to find great Lenten Specials!
Enjoy. We want you hit the refresh button this Ash Wednesday and look forward to a bright 40 days spent with friends, family and prayer.
Tuesday February 14, 2017
Mardi Gras Celebration
The time is here to celebrate and we've got all things Mardi Gras! From the beads, to the recipes, and everywhere in between, get your Fat Tuesday fix!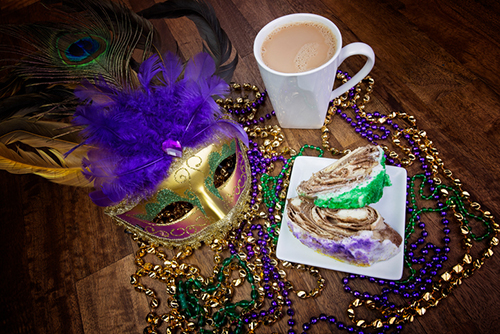 Where did it all start?
Louisiana and Alabama (originally settled by the French and Spanish) were the first to celebrate Mardi Gras. Now, many US cities participate!
Mardi Gras or Fat Tuesday?
It's actually both! In French, 'Mardi' translates to 'Tuesday' and 'Gras' translates to 'Fat' - giving Mardi Gras its origin. 
What do the colors symbolize?
However you celebrate, make sure you decorate in the appropriate colors! Purple symbolizes justice; green represents faith; and gold represents power.
How can you participate?
Contact your local Chamber of Commerce of Convention and Visitors Bureau to see if there is any Mardi Gras celebrations in your hometown. You can also throw your own party by inviting friends and family over, cooking these Cajun-inspired recipes, and planning some DIY activities with the kids such as a scavenger hunt with beads, doubloons and candy hidden throughout the house. Another way to keep the kiddos busy while the parents indulge on Fat Tuesday is by putting the kids to work fashioning paper plate masks. Cut eye holes and attach ribbon for tying on or tape on bamboo sticks for handheld masks before decorating starts. Supply mask makers with colored paper, stickers, beads and feathers along with scissors and glue. Give several prizes: Most Creative, Best Use of Supplies, Most Ferocious, etc. 
Can Brookshire Brothers help with my celebration?
We sure can! We've got your King Cakes, Recipe Tips, and everything you'll need to create the perfect party in store! Find a store near you today!
Thursday February 9, 2017
Pour & Explore Takes You on a Tour of California Wines
Brookshire Brothers and the Lufkin Convention and Visitors Bureau are teaming up for round three with another evening of elegance and education at Pour & Explore: Destination California. 
By TARA WATSON-WATKINS
Lufkin Convention and Visitors Bureau
Pour & Explore begins at 6:30 p.m., Thursday, February 23, at the Pitser Garrison Convention Center in Lufkin with a guided tasting tour through the famous wine-producing regions of California. Featured wines will be paired with a delicious five-course dinner by Brookshire Brothers' catering chef, Kate Rudasill. During the "tour" of the California wine regions, the renowned winemakers themselves will walk guests through the menu and the wines they've selected to accompany each course.  
"The Lufkin Convention and Visitors Bureau is proud to continue to partner with Brookshire Brothers and Pour and Explore," said Tara Watkins, Executive Director of the Lufkin Convention and Visitors Bureau. "We hope to establish Lufkin as a haven for foodies and fine-wine aficionados, and Brookshire Brothers has always been such a great supporter of the LCVB. It's wonderful to work with partners who not only understand that people will travel for an exceptional culinary experience, but also know how to provide that experience."
Pour & Explore: Destination California will spotlight the country's number one grape-producing state. Featured wines will include Korbel Sweet Rosé, KJ Pinot Gris, KJ Grand Reserve Pinot Noir, KJ Grand Reserve Chardonnay and Stonestreet Reserve Cabernet.
Pour & Explore: Destination California will begin with a cocktail hour. A specialty cheese board with assorted crackers and Hiland Dairy dips, including Southwest and Sour Cream Chive, will be available, and the Korbel Sweet Rosé will be served.
Following the cocktail hour, the five-course meal created by Chef Rudasill will begin with Mushroom Agnolotti with Browned Butter Sage and Pine Nuts, served family style and paired with the KJ Pinot Gris. The second course, Potato and Chanterelle Soup with Arugula Pesto and Shaved Parmesan will be served with Pesto and Parmesan Cheese Straws and will be paired with the KJ Grand Reserve Pinot Noir. The third course, a California Salad with Sesame Maple Orange Vinaigrette, features fresh greens, butter lettuce, endive, broccoli slaw, cilantro and green onion, along with seasoned cashews, steamed edamame and crispy wontons. It will be served family style and paired with the KJ Grand Reserve Chardonnay. The entrée will be Grilled Ribeyes with Cabernet Thyme Reduction, Butternut Squash Risotto, Steamed Haricot Verts  with Herbed Butter and Parker House Dinner Rolls with Herbed Butter, paired with the Stonestreet Cabernet. Dessert will be individual Praline Mille Feuille with Praline Pastry Cream, Praline Paste, and Ferrero Roche, and will be paired with the Korbel Sweet Rosé  .
Don't miss this elegant night out! Seating is limited, and tickets are available through the Lufkin CVB, (936) 633-0359, for $65 a person or $550 for a reserved table of eight.
For more information on Pour & Explore and other upcoming wining and dining events "Like" us on Facebook at Visit Lufkin and check out our event calendar on www.visitlufkin.com.
Friday February 3, 2017
Valentine Chocolate Covered Strawberries
You may have heard about, or even tasted, our famous Chocolate Covered Strawberries!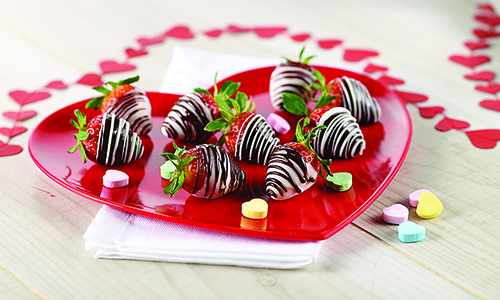 These delicious berries will be the highlight of your Valentine's Day. Take the worry out of gift ideas and treat your sweetheart! Pick from 6 or 12 ct, and choose your choice of chocolate, white chocolate or mixed chocolate. You can pre-order yours today by printing the form below and returning to your local Bakery Department or Store Management. 
Click here to download your order form!
*Some varieties may not be available in all locations. See store for exclusions.
Pages