Monday September 19, 2016
Fall Neighborhood Soup Supper
A fun, affordable way to bring the whole neighborhood gang together is to stir up a pot (or two). Soup makes the perfect hearty meal for a casual crowd on a crisp fall day—it requires little fuss, it can be made well in advance, and neighbors can ladle it up themselves. Start up the fire pit or indoor fireplace, pull out a football and a few Frisbees, open your door and welcome the neighbors inside.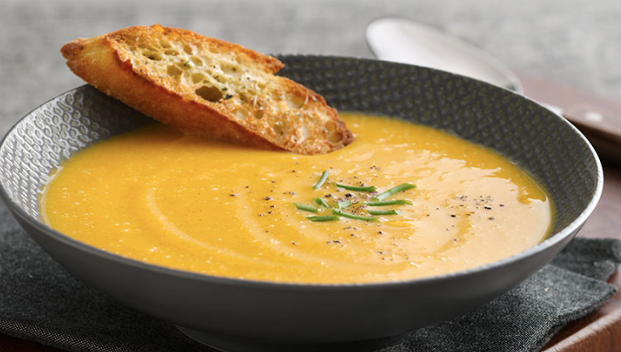 The Soups
Serve two or three soups for variety, making sure at least one is vegetarian. Offer a creamy soup and a broth-based soup to provide a good flavor balance. 
Prepare your soups a day or two in advance (soups taste better when the flavors have had time to meld) and borrow crock pots so you can warm the soups up in your kitchen the day of. 
For your third soup, consider starting a "stone soup" tradition—a potluck with a twist—where each neighbor contributes a little bit to the empty pot. Invite everyone to bring a basic pantry item or some good scraps from the fridge—cans of chicken broth, leftover veggies, potatoes, chunks of chicken, noodles, rice, herbs, Parmesan cheese. Stir it all together for a true taste of community. Have one of the eldest kids gather the younger ones around to read Marcia Brown's famous "Stone Soup" book to tie in with the theme. 
Simple Setup 
To make a simple centerpiece, collect fall leaves from the yard and scatter them around the table and mix them in with the flower arrangements. Fill glass bowls and baskets with apples, and pile up pretty pumpkins and squash. 
Fill a percolator with spiced cider and provide juice boxes for the kids, but ask guests to bring their own beer, wine and libations to contribute to your fridge and coolers. 
Label each soup and set out ladles; make sure everyone's kids know that serving the hot soup is an "adults only" task. 
Provide small bowls of soup toppings around the table for the garnish lovers. Options might include Parmesan cheese, cheddar cheese, toasted sunflower seeds, yogurt or sour cream, croutons and fresh herbs. For sides, choose an easy appetizer like a cheese platter and a couple of green salads. 
Block Party
The best part about the entertainment is that you have the run of the block—let the kids dash from yard to yard playing tag and Red Rover. Set out your lawn games and get a game of bocce or touch football going. Light up a fire pit and ask someone to bring a guitar for a sing-along. 
Take-Home Treats
Make a big batch of home-baked cookies in fall flavors and send the guests home with brown paper bags filled with the treats.
Thursday September 15, 2016
32nd Annual Texas State Forest Festival
This East Texas premiere event is back again and Brookshire Brothers is happy to continue to sponsor such a crowd pleasing festival. With competitions from The East Texas Pom Pon/Dance Team Championship to our personal favorite, The Southern Hushpuppy Championship, there are many attractions to come and see. The festival arrives on Wednesday, September 21 and wraps up on Saturday, September 25, 2016.
Get your tickets for Friday night and see your friends from your local Brookshire Brothers! Friday is Brookshire Brothers Volunteer Night, so we'll be visiting with our customers and festival-goers. We'll also have Goldenbrook Ice Cream under our tent serving and sharing ice cream happiness. We hope to see you this year at the 32nd annual Texas State Forest Festival!
Learn more about the Texas State Forest Festival here.
For ticket information, contact the Lufkin/Angelina County Chamber of Commerce at 936-634-6644.
Join the social conversation by using #TxForestFest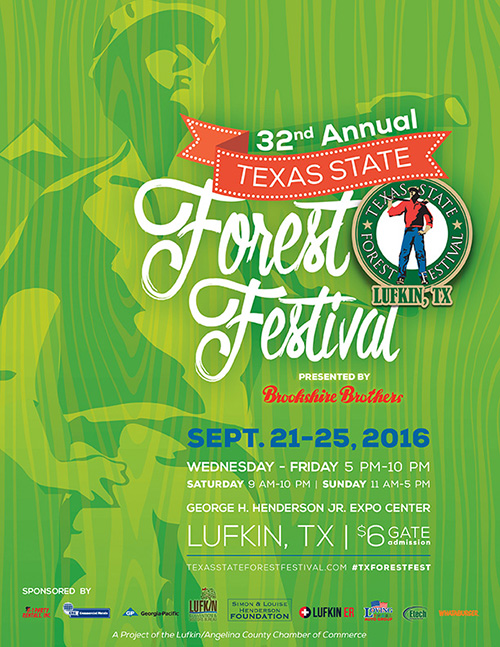 Tuesday September 13, 2016
Good Times Summer Giveaway Winners
Congratulations to our winners! Be sure to check back often for an updated list. Continue to enter your PINs & Good Points often to be entered into our weekly drawings!
Tammy Elam, Onalaska, TX - $1,000 Gift Card
Deborah Brooks, Newton, TX - $5,000 Shopping Spree
Tobin Iselt, Dime Box, TX - $1,000 Gift Card
Susan Starr, Crandall, TX - Polaris 570 Ranger Crew
Martha Crawford, Trinity, TX - $1,000 Gift Card
Lane Hartsock, Wimberley, TX - Ford F150 XLT Super Cab
Cristina Lovejoy, Huntsville, TX - $1,000 Gift Card
Brook Durham, Lufkin, TX - $5,000 Shopping Spree
Angela Dowden, DeRidder, LA - $1,000 Gift Card
Amy Jezek, Tioga, TX - Polaris 570 Ranger Crew
Brandi Hinton, Timpson, TX - Ford F150 XLT Super Cab
Tammy Driskell, Madisonville, TX - $5,000 Shopping Spree
Karla Feggestad, Cameron, TX - Ford F150 XLT Super Cab
Odia Rose, Cleveland, TX - $1,000 Gift Card
Cindy Johnson, Bronson, TX - Polaris 570 Ranger Crew
Friday September 9, 2016
Something Special Happening in Newton
Laughter and joy are spreading in the Newton, Tx Brookshire Brothers. Store Director, Gina Adams, has tear-filled eyes as she explains the opportunity that she and her store has each week. "During the summer, Brad Marshall (teacher) came by and asked what I thought about students from CBI visiting," Adams said. Immediately excited, Adams started thinking of all the activities the students would enjoy. "They are so appreciative of the little things we do for them. They come with warm hearts and hugs... so eager to learn."
So, who are these young people who are visiting? They are students of Community-Based Instruction (CBI); an organization who provides students with real-life, functional experiences in a natural environment during on-site vocational training. Local businesses, such as Brookshire Brothers, serve as an extension of the classroom. 
A normal week gets brightened each Tuesday when eight students visit Adams and her staff for 30-45 minutes. They've been able to see the behind-the-scenes workings of our bakery, deli and Subway operations, as well as many other facets of our business. The employees from Store #14 are blessed to visit with the students and see each bright, smiling face. "Even our customers have commented on what it means to them to experience this learning adventure," Adams said.
Stories such as these are the backbone of our company. We appreciate our Store Directors and their committment to customer service, above and beyond.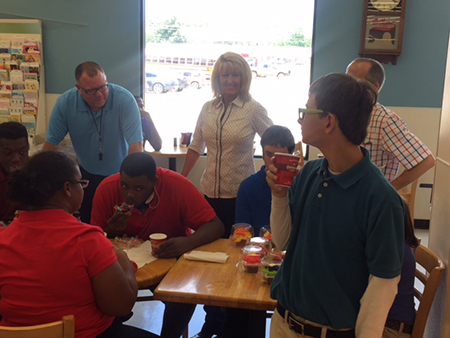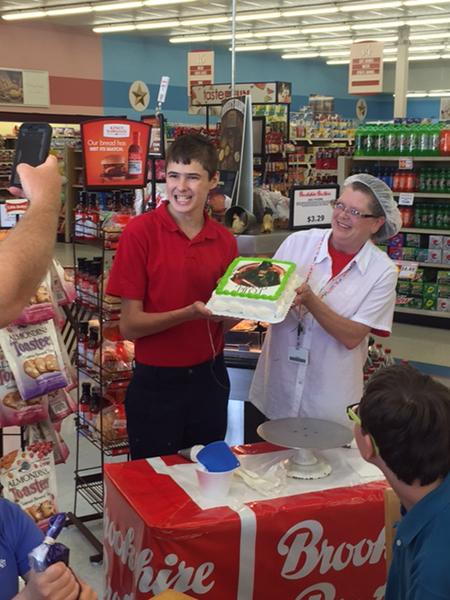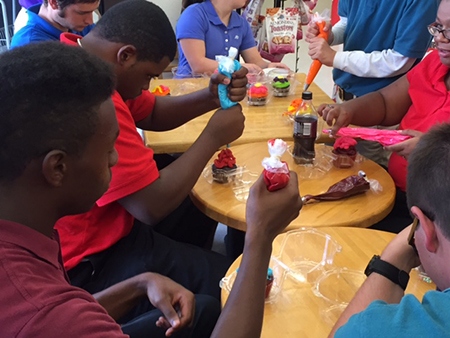 Wednesday September 7, 2016
Hope Springs Water
During the month of September, we're providing hope to the hopeless with your help. 1.2 billion people have no access to pure drinking water. Hope Springs Water from Athens, Texas was founded to provide safe water, sanitation, and public health education in developing countries.
Brookshire Brothers and our family of brands is partnering with Hope Springs Water to bring the opportunity to you, our customers. For every case of Hope Springs Water you purchase at our stores, we'll give 50¢ to help bring clean water to the thirsty in the developing world. You can help make a difference by drinking Hope Springs Water. Let's impact the lives around the globe today!
Learn more about Hope Springs Water at HopeSpringsWater.org.

Tuesday September 6, 2016
Family Meals Matter
 With an aim to inspire families to eat at home together more often, we are proud to celebrate National Family Meals Month™ in September! During September, we encourage families to share one more meal together per week and we will highlight simple, healthy meal solutions to help make that happen.
Did you know that numerous studies underscore the long-term health, academic and societal benefits of consistently eating together as a family? Home-cooked meals nourish the spirit, brain and health of all family members. Not to mention, people who frequently cook at home eat fewer, healthier calories.' Additionally, regular family meals are linked to the kinds of outcomes that we all want for our children: higher grades and self-esteem, healthier eating habits and less risky behavior. 
However, according to a 2013 Harris poll, only 30 percent of American families share dinner every night. Why is this? Yes, juggling jobs, kids and the demands of a busy, modern life often come at the expense of family mealtime at home. But, this doesn't need to be the case. Let us be your ally—the solution to your mealtime dilemma. We are committed to helping your family eat well together to be well together and have these recipes to bring to the table. 
So, as the new school year starts, we challenge you to renew your commitment to creating and serving meals at home that nourish your kids and help them flourish for life. Pledge to Raise Your Mitt to Commit™ to sharing one more family meal at home per week. Share your own family meal experiences, misadventures and solutions within your social channels. And, remember, use the hashtag #familymealsmonth to be part of the conversation! 
'Source Note: Cornell University College of Human Ecology Department of Policy Analysis and Management: Do Family Meals Really Make a Difference?, Eliza Cook, Rachel Dunifon. 2012; Accessed [date], http://www.human.cornell.edu/pam/outreach/upload/Family-Mealtimes-2.pdf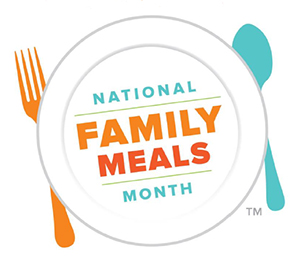 Friday June 24, 2016
4th of July Delights
These new super-easy patriotic ideas are perfect for a crowd and easy enough for those little firecrackers to make themselves.
1. Fresh Fruit Flag 
With fresh berries at their prime, July is the perfect time to keep things simple and let fruit shine in all its natural glory. Kitchen tip: If you're using bananas for the white stripes (peeled apples work great too!), wait until you're ready to serve to cut and skewer them so they don't start to brown.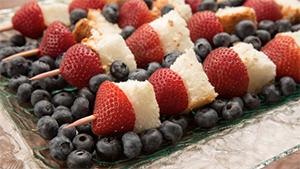 2. Angel Food Berry Kabobs 
Store-bought angel food cake makes these kabobs a breeze to assemble in just minutes, making these an ideal party treat you can make ahead or at the last minute. Kitchen tip: Adults can help by placing a tray of cubed angel food pieces in a 350-degree oven for 10 minutes to crisp up the pieces just enough to make them really easy to skewer and hold their shape.
3. White Chocolate-Dipped Strawberries
Always a crowd-pleaser, chocolate-covered strawberries get a patriotic twist thanks to white chocolate chips—simply slowly melt in the microwave in a clear bowl and let cool before dipping—and a variety of red, white and blue sprinkles and edible glitter. Kitchen tip: Make sure to wash and dry strawberries well before dipping, then place dipped strawberries on a tray lined with parchment or wax paper; keep in the fridge until you're ready to serve.
Monday June 13, 2016
6 Easy Ways to Mushroom with Monterey Mushrooms
Fresh mushrooms are truly a cook's best friend. Whether you need just a little something to dress things up or add a whole new dimension of flavor, your answer is mushrooms!
Basic Preparation: There is no need to peel mushrooms. The only trimming they may need is the stem end, if it's dry, or the tough stem portion of Shiitakes or the root of the Portabella. All other mushroom stems may be prepared along with the caps. Mushrooms can be sliced thick or thin, cut in quarters, coarsely or finely chopped using a sharp knife. For slicing or chopping large quantities, use a food processor with the slicing or wing blade attachment. If a recipe calls for just caps, twist stems loose or separate them from the caps with the tip of a knife.
Sautéing: The most popular way to cook mushrooms. For each eight ounces of mushrooms, melt one tablespoon butter or heat one tablespoon of oil in a large skillet. Add mushrooms. Cook and stir until golden and the released juices have evaporated, about five minutes. Don't overcrowd the skillet or the mushrooms will steam rather than brown.
Microwaving: Mushrooms cook extremely well in the microwave. Simply clean and cook as follows: Put eight ounces thickly sliced mushrooms in a microwavable bowl (no oil or butter needed); cover and cook on HIGH (100% power) for two to three minutes stirring once.
Roasting: Place mushrooms in a shallow baking pan, Toss with a little oil and roast in a 450 F oven, stirring occasionally until brown, about 20 minutes. Use about one tablespoon of oil for each eight ounces of mushrooms.
Grilling or Broiling: Preferred for larger capped mushrooms such as Portabellas and Shiitakes. Lightly brush caps and stems with oil to keep them moist, and season with salt and pepper. Grill or broil 4 to 6 inches from heat source for 4 to 6 minutes on each side, brushing again once or twice.
Seasoning: Mushrooms are very similar to meats and other vegetables. Virtually any and all seasonings go well with mushrooms. If serving as a side dish, use seasonings compatible with the main dish.
These are some easy methods for cooking mushrooms. Get to your local store and grab your favorite variety and fire up the grill...it's summer!
Tuesday May 31, 2016
Simply Lemonade Ice Pops
Chill out and beat the summer heat with this delicious mix of Simply Lemonade and fresh berries.
Ingredients:
Simply Lemonade
Fresh blueberries and raspberries
Ice pop molds and sticks
Instructions:
Pour Simply Lemonade into ice pop mold.
Add blueberries and raspberries.
Freeze & enjoy.
Also, you can use any of your favorite Simply Beverages. 
Tip: Soak ice pop mold in warm water to loosen and remove the ice pop.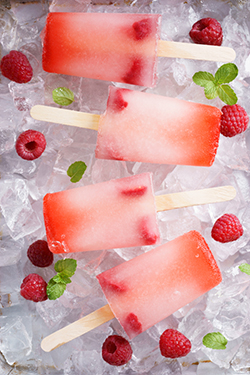 Monday May 16, 2016
Snackspiration!
Melon with Prosciutto: Sweet melon and salty prosciutto go together like peanut butter and jelly. Which is to say, you'll probably never want to eat one without the other ever again. 
Grape Sticks: There's something about eating off of a stick that makes everything more delicious—grapes included. If you have extra time on your hands, pop them in the freezer for a super-chill twist.
Melon Rings: Sure you could just eat slices of melon, but what's the fun in that? To make these show-stopping rings, we first cut slices of watermelon, muskmelon and cantaloupe in 1.5-inch slices, then we used circle cookie cutters to make the rings. Last step is to stack them and you're set!
Grilled Peach Salsa: If you thought salsa was just made from tomatoes, think again! Throw some grilled peaches in your next batch for a summertime spin that you can't get enough of.


Pages