Wednesday February 11, 2015
Lent Ideas
Chocolate. Caffeine. Alcohol. TV.  The usual things people give up for Lent. It's that 40 day period when Christians share in Jesus' suffering by denying themselves some of their earthly pleasures. But maybe this Lent, which starts on the day after Mardi Gras, we could 'take on' something that would draw us closer to God and closer to each other.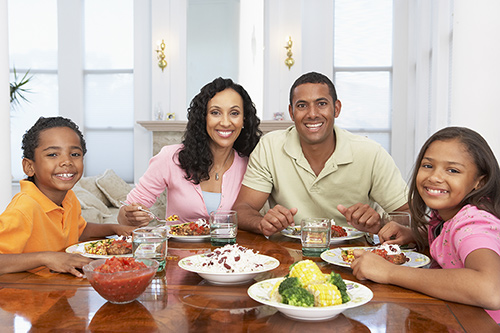 So here are some ideas of what we can add to our lives as we draw near to Easter.
Gather at the table.  Family time, discussion time, reflection time. Make a vow to sit down and share a meal together.
Get outdoors.  What a great way to feel God's presence! Pack a picnic lunch or supper when the days get brighter and warmer and dine as a family 'al fresco'. Combine it with a walk and celebrate creation.
Reach beyond yourself.  Spend time with others. Get to know your neighbors. Take some flowers to a sick friend. Volunteer at a food pantry. Pay it forward in the grocery line. Show a random act of kindness. Chances are it will be the brightest spot in someone's day.  
Be grateful.  Start a new habit of gratitude. Start each day by giving thanks to God for life itself. Thank your children for the things they do that make you smile. Give your co-workers a pat on the back and a thumbs up for putting up with you day in and day out. Make THANK YOU the two most frequently used words in your vocabulary.
Clean out.  Get rid of the stuff in your life. Sometimes the things that clutter our homes or apartments clutter our minds.  Take anything you haven't worn, used or looked at in the past 18 months and give it away.  
Remember what Jesus said in the book of Matthew – I was hungry and you fed me, I was thirsty and you gave me drink, I was a  stranger and you took me in…I was naked and you clothed me.
This Lent, you have the power to do all of that. When you do you will draw closer to God and to yourself.  Chances are these 40 days will not leave you feeling that you gave up anything. You will experience joy, peace and contentment with yourself and with others.
Tuesday February 10, 2015
Brookshire Brothers 2015 Charitable Foundation Recipients
Organizations that lay the foundation for stronger communities have more tools in their toolbox thanks to Brookshire Brothers.  The company's Charitable Foundation announces its 2015 recipients, including 13 non-profits and three East Texas Education Foundations.  Trustees and company executives presented more than $123,000 to the recipients on Wednesday, January 28th at the company's Distribution Center in Lufkin.
In making the presentations, Brookshire Brothers Chief Operations Officer John Alston said, "Together, we can do far more than any one of us could do by ourselves. These organizations, from throughout our market area, touch the lives of thousands of our customers and truly embody our message of  'a celebration of family and community.' We are honored to help further the impact the organizations have on the people they serve." 
Since 2008, Brookshire Brothers has partnered with its vendors and business associates twice a year for two fundraising golf tournaments. Proceeds since the Charitable Foundation tournament's inception have exceeded a million dollars.  Vendors appreciate the opportunity to network with their colleagues while raising money for more than a dozen worthy causes – all which support children and families and align with the grocer's core values.  The funds are divided based on the organizations' needs and application requests.
All names below are listed in order from Left to Right.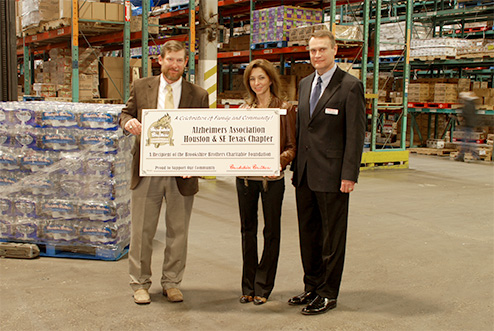 Alzheimers Association - Brookshire Brothers CFO Clay Oliver, Ana Guerrero, Brookshire Brother's COO John Alston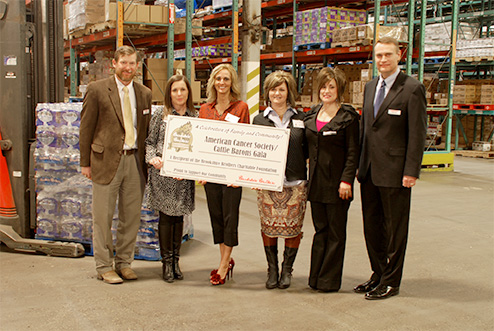 American Cancer Society - Brookshire Brothers CFO Clay Oliver, Judy Sheffield, Amy Ross, Jennifer Webster, Dana Smithhart, Brookshire Brother's COO John Alston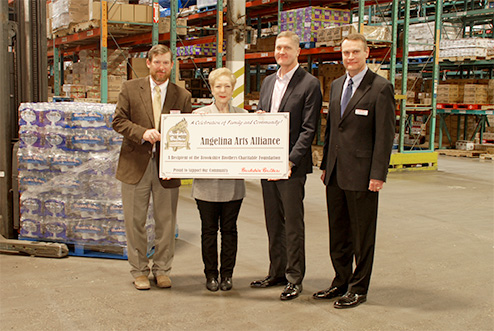 Angelina Arts Alliance - Brookshire Brothers CFO Clay Oliver, Tracy Pinkerton, Jeff Chance, Brookshire Brother's COO John Alston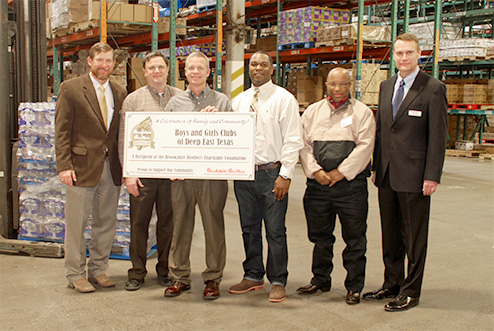 Boys and Girls Clubs of Deep East Texas - Brookshire Brothers CFO Clay Oliver, Chris Harkness, Jeff Woods, Tracy Mitchell, Arthur Bush, Brookshire Brother's COO John Alston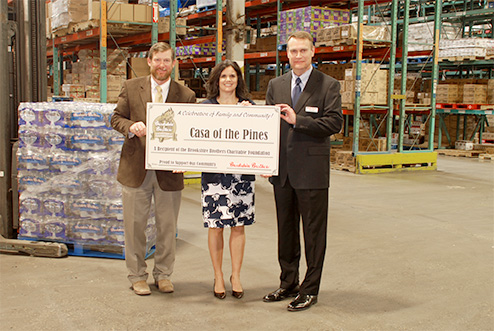 CASA of the Pines - Brookshire Brothers CFO Clay Oliver, Natalie Thornton, Brookshire Brother's COO John Alston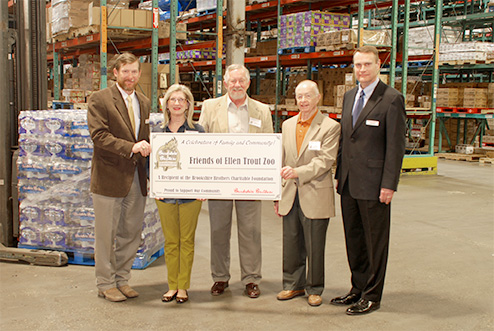 Friends of Ellen Trout Zoo - Brookshire Brothers CFO Clay Oliver, Jamie Zayler, Gordon Henley, Dennis Rankin, Brookshire Brother's COO John Alston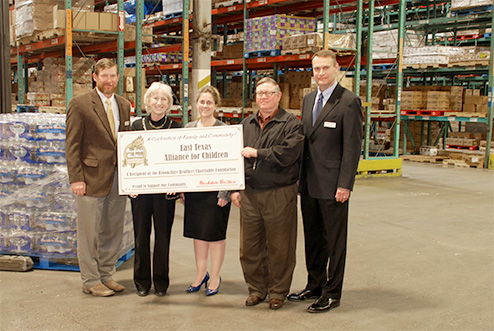 Angelina Alliance for Children/Harold's House - Brookshire Brothers CFO Clay Oliver, Debbie Brown, Deanna Wallace, Steve Hogue, Brookshire Brother's COO John Alston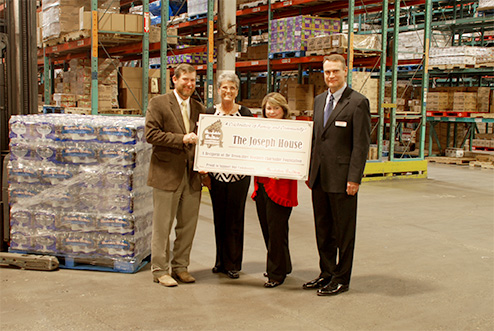 The Joseph House - Brookshire Brothers CFO Clay Oliver, Neva Brown, Dianne Theillig, Brookshire Brother's COO John Alston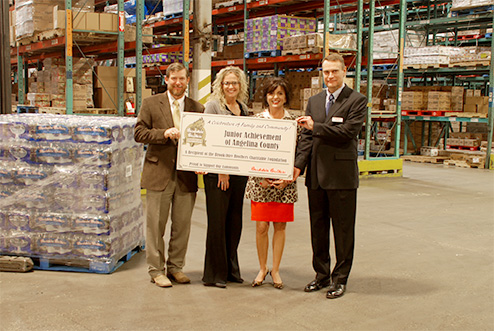 Junior Achievement - Brookshire Brothers CFO Clay Oliver, Jessica Brown, Michelle Green, Brookshire Brother's COO John Alston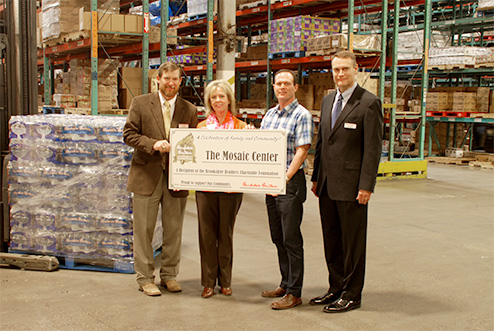 Mosaic Center - Brookshire Brothers CFO Clay Oliver, Donna Busler, Daren Hamaker, Brookshire Brother's COO John Alston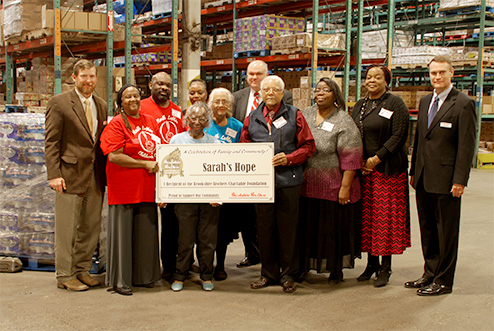 Sarah's Hope - Brookshire Brothers CFO Clay Oliver, Dr. Guessippina Bonner, Anthony Watts, Rev. Bettie Kennedy, Bettie Kennedy Watts, Carol Pierre, Bob Inselman(?), Dr. Pierre, Brenda Robinson, Sandra Houston, Brookshire Brother's COO John Alston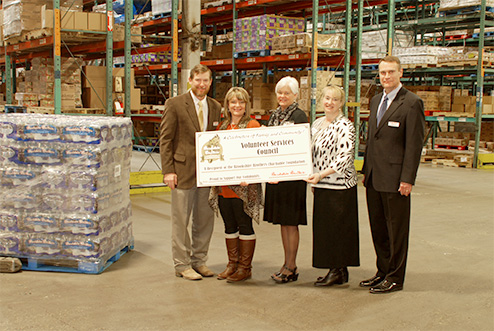 Volunteer Services Council - Brookshire Brothers CFO Clay Oliver, Lynn Hopper, Gale Wasson, Ellen Wood, Brookshire Brother's COO John Alston
Carthage ISD Education Foundation - Brookshire Brothers CFO Clay Oliver,Pam Goodson,Cynthia Harkrider, Mary Ella Sherman, Tate Barber, Brookshire Brother's COO John Alston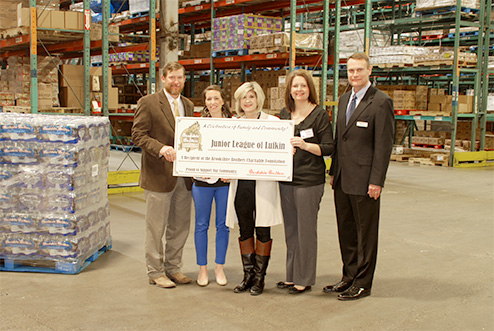 Junior League of Lufkin - Brookshire Brothers CFO Clay Oliver, Renee Robertson, Susan Belasco, Shannon Kruk, Brookshire Brother's COO John Alston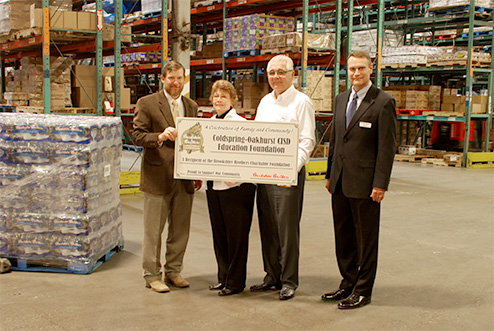 Coldspring-Oakhurst CISD Education Foundation - Brookshire Brothers CFO Clay Oliver, Pat Clark, J.R. Shuttlesworth, Brookshire Brother's COO John Alston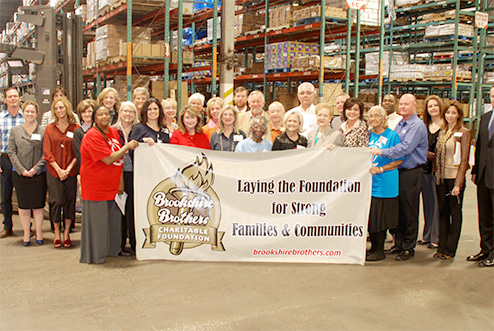 Lufkin ISD Education Foundation - Brookshire Brothers CFO Clay Oliver, Rebecca Chance,Kristi Gay, Brookshire Brother's COO John Alston 
Monday February 2, 2015
Wine Baskets

Sweet on Texas, Sweet on You!
$19.99
Includes:
Single Bottle Llano Texas Sweet Red
Light Up Rose
Russell Stover Pecan Delight Candy
Make it Moscato, Make You Mine!
$19.99
Includes:
Single Bottle Cupcake Moscato D' Asti
Russell Stover Pecan Delight Candy
Shine on Sweetheart!
$23.99
Includes:
Shiner 6pk Bottles
Cracker Jack Butter Toffee Popcorn
Jack Link's Peppered Beek Steak (2)
Jack Link's Teriyaki Beef Stick - Super Size
Russell Stover Assorted Chocolates (Small)
Corn Nuts Original
Smartfood Butter Popcorn
Red, White, & Sweet on You!
$29.99
Includes:
Llano Texas Sweet Red
Robert Mondavi Private Selection Chardonnay
Russell Stover Heart Shaped Candy (Small)
Smartfood Butter Popcorn
Nut Harvest Milk Chocolate Almonds
Rold Gold Classic Dipped Tiny Twists Pretzels
Butter Up My Sweetheart!
$34.99
Includes:
Clos du Bois Chardonnay
Cupcake Moscato
Russell Stover Assorted Chocolates (Small)
Smartfood Butter Popcorn
Pepperidge Farm Milano Dark Chocolate Cookies
A Toast and a Taste for My Valentine!
$39.99
Includes:
Kendall Jackson Vintner's Reserve Chardonnay
Korbel Brut
Russell Stover Assorted Chocolates (Small)
Brookside Dark Chocolate Pomegranate Candy
Stacy's Bagel Chips
Tuesday January 27, 2015
Lufkin-Angelina County Chamber of Commerce Banquet
What's brewing? 
Texas craft brewer to be featured presenter during annual banquet
By MELISSA HEARD MUNDS 
The Lufkin News 
This Thursday at the Pitser Garrison Convention Center, community members will enjoy a variety of delicious appetizers, a sit-down meal, wine and good ol' Texas brews during the 95th Annual Lufkin/Angelina County Chamber Banquet, presented by Mercer Nissan.
Lee Hereford, president/ CEO of Pedernales Brewing Company in Fredericksburg, will be a featured presenter at the banquet. He will showcase his Lobo Texas Lager, Robert Earl Keen and Lobo Negro beers, and also will be stationed in Brookshire Brothers stores for sampling this Thursday and Friday.

"Lobo Texas Lager is a pre-prohibition American lager," Hereford said. "Its original recipe dates back to 1910. It is crisp and dry, with a nice hoppy kick on the finish — won a Gold Medal at Cervezia Mexico last year.
(It's) Great with sausages, burgers, barbecue and pizza.
Lobo Negro is a German-style black lager. We won a bronze in Lewisville last June, a gold in Mexico City at Cervezia Mexico last September and a silver at the Great American Beer Festival in Denver — the biggest and highest-regarded beer competition in the world."
There were 5,507 beers entered in the competition, Hereford said, and only 88 received a silver medal. The beer is great with red meats, stews, chilis and other "big" style dishes, Hereford said, and it also pairs well with chocolate desserts.
"Robert Earl Keen Honey Pils is our newest beer," he said. "It is a collaboration with noted Texas singer/songwriter Robert Earl Keen. It is a smooth, delicious pilsner beer with a hint of honey from Fain's Honey in Llano, Texas — absolutely delicious!"
According to Hereford, Pedernales Brewing specializes in traditional, historic beers and hasn't branched into the "weird beer" arena yet.
"But instead, we have worked very hard to establish our brewery as one that makes 'benchmark' beers," he said. "If you want to know what a classic, traditional black lager — or Hefe-Weizen, or Session Pilsner — should taste like, try ours."
Texas craft beer is winning a lot of medals, Hereford said, and getting many strong accolades around the country.
The brewery shipped its first case of beer in 2012 on April 18. A small company, Pedernales has created 12 full-time jobs and 25 part-time jobs in the last 33 months, Hereford said.
"We added $1.2 million in sales to our local community last year, and a whole lot of those dollars stayed in Texas," he said. "We support USA, and especially Texas companies, when we are sourcing materials like pint glasses, bottles, labels, cans, etc. When you buy a bottle of PBC beer, you're keeping your money in Texas! Most people still don't know that Budweiser is owned by a Belgian company, Miller/Coors is owned by an English company, Shiner is owned by a Mexican National and Lone Star and Pabst were just bought by a Russian company. So if you want to drink American-owned, especially Texan-owned products, you'd better buy Texas craft beer."
Hereford said the brewery is very excited to bring its beers to East Texas.
"I grew up in Conroe, and although I live in Fredericksburg now, I love to come back and visit my extended family and friends in the Piney Woods," he said. "GG Distributing carries our brands, from Texarkana, Tyler, Longview, Lufkin, Huntsville and Nacogdoches, and all points in between.
Brookshire Brothers is our largest and strongest grocery store partner in this part of the state. ... If you truly like beer, and you want to see what traditional beers taste like — brewed by hand like they were a hundred years ago, but with all the modern technology available today — then come see why everyone is so excited about Texas craft beer."
Along with Pedernales' specialty-brewed craft beer, guests at the banquet will enjoy a plated, "sit down" meal served by Brookshire Brothers.
According to Brookshire Brothers spokeswoman Sally Alvis, the expected turnout is around 800. So how does one prepare to cook for such a large number of people? The company's catering coordinator, Kate Rudasill, said it takes a lot of planning, coordination and prepping.
"When you are preparing food for that many people, you use a great deal of kitchen math," she said. "'How many packages of this?' 'How many pounds of that?' It only takes one time of receiving an order with too much or too little of an item, before you learn to double-check all of your numbers.
In addition, you must have plenty of oven space. Brookshire Brothers Catering utilizes the large rack ovens at our Central Bakery that can cook 20 to 25 pans at a time. Thankfully, we have multiple ovens for 800 people; we will be using between 75 to 90 pans. We also would not be able to serve so many if not for a great catering staff.
Brookshire Brothers Catering is very fortunate to have a fantastic, hard-working team who are looking forward to serving the Lufkin community at the 2015 Chamber of Commerce Banquet." You can reserve tickets to the banquet by calling 634-6644, or emailing JRoberson@LufkinTexas.org. Individual tickets are $50, and corporate-reserved tables of eight are $600.
Many people may discount the idea of using beer in cooking, as using wine is more popular. But Rudasill has developed some great recipes for dips, sausage marinades and more using craft beer.
"The unique flavors and bold tastes of craft brews can dramatically change a recipe from ordinary to spectacular," Rudasill said. "There are many beer varieties that can be used in everything from savory dishes like Texas chili or beef stew, to sweet desserts like chocolate cake. If you have never cooked with beer, our Cheddar Cheese Beer Dip is a great recipe to try — especially for all those upcoming Super Bowl parties!"
The Brookshire Brothers family has shared two of its favorite recipes that Rudasill created — "Beer Braised Sausage" and "Cheddar Cheese Beer Dips." Try these out for yourself!
Cheddar Cheese Beer Dip 
Featuring Pedernales Brewery's Lobo Texas Lager For 8-10 servings: 2 (8-ounce) packages Hytop cream cheese, softened ­ cup beer 1 packet ranch dressing mix 2 cups Hytop fancy shredded mild cheddar cheese Pretzels, crackers or chips Place cream cheese, beer and ranch dressing mix in a bowl. Beat with an electric mixer until smooth and creamy. Add the cheddar cheese and mix on low until blended. If the dip is too thick, add a little more beer and mix well.
Keep refrigerated until ready to serve.
Sweet and Spicy Beer Braised Sausage 
Featuring Pedernales Brewery's Lobo Negro Black Lager 12 servings: 2 links (14-ounce packages) smoked sausage or smoked jalapeo sausage 1 cup brown sugar, divided 12 ounces Lobo Negro Black Lager beer Preheat the oven to 325 F. Slice each link of sausage into­-inch pieces. Spray a large baking dish with non-stick spray. Add the sliced sausage and half the brown sugar.
Pour the beer over the sausage. Stir the mixture a bit, cover with foil, and bake in preheated oven for 1-2 hours. Remove from oven, sprinkle with remaining brown sugar and stir. Reduce oven to 250 F and bake sausage another 2 hours, stirring occasionally to baste the sausage in the sauce. Serve warm. 
Kate Rudasill, Brookshire Brothers catering coordinator, shares some of her craft brew cooking recipes.
Lee Hereford, president/CEO of Pedernales Brewing Company in Fredericksburg, will present his Lobo Texas Lager, Robert Earl Keen and Lobo Negro beers during the 95th Annual Lufkin/Angelina County Chamber Banquet this Thursday. He also will offer samples at Brookshire Brothers stores Thursday and Friday.Lee Hereford, president/CEO of Pedernales Brewing Company in Fredericksburg, will present his Lobo Texas Lager, Robert Earl Keen and Lobo Negro beers during the 95th Annual Lufkin/Angelina County Chamber Banquet this Thursday. He also will offer samples at Brookshire Brothers stores Thursday and Friday.
Melissa Heard Munds' email address is mheard@lufkindailynews.com.
Wednesday January 14, 2015
For the LOVE of FOOD!
Spend the Night IN and Show Your Love
Simple. Sensational. Stress free. There's no better way to show your love than putting together a home-cooked meal at home. Like a lot of things in life, cooking that sweetheart special generally sounds better than it ends up being. That bottle of wine, steak, sides and dessert that looked so great in the cookbook don't always materialize in real life the way you imagined it.
So we've put together a no-fail, no-fuss menu guaranteed to deliver a meal you'll relish with plenty of time left over to gaze into your love's eyes, laugh without worry of the timer going off, and dream of the memories you've yet to make.
Enjoy this LOVE-LY menu that involves no sweat, no swearing, and no regrets!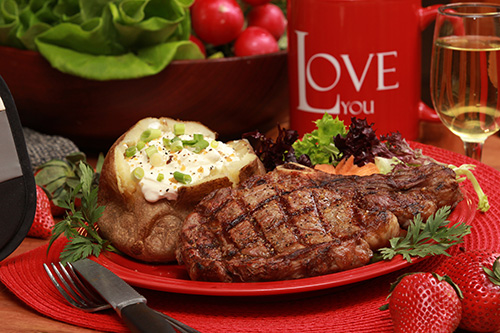 Love Me Tender Rib-Eyes
Ingredients
1 cup Vinegar (any brand will do)
1 cup cooking oil (any brand will do, including olive oils, if preferred)
1 generous tablespoon of Steak or Meat Seasoning (we prefer Tex Joy Steak seasoning or McCormick Montreal steak seasoning)
2 Angus Pride Rib-Eye Steaks (Your Brookshire Brothers butcher is happy to cut and trim them to your specifications!)
Instructions
Mix the vinegar, cooking oil and meat seasoning together.
Pour 1/4 of the marinade into a baking pan.
Place raw steaks on the pan then pour remaining marinade*
Place baking pan in the refrigerator for up to 24 hours.
Every time you open the refrigerator flip them in the pan to recoat the top.
We love this technique because it TENDER-izes the meat just right!
Cooking Instructions
Fire up charcoal or propane grill
Sear the steak on each side after temperature is hot
Grill to preferred doneness
*Do not use marinade as a sauce on cooked meat (use marinade only on raw meats).
Baked to PERFECTION Potato
Ingredients
2 large Russet Potatoes
1 tablespoon Olive Oil
Kosher Salt
Instructions
Run your potatoes under water then pat-dry clean.
Rub teaspoon of olive oil over your potatoes.
Sprinkle kosher salt to taste.
Cooking Instructions
Place potatoes in oven at 450 degrees and roast for 45 minutes or until the center of the potato offers no resistance when cut with a knife.
Dress the potato with toppings of your choice.
Healthy and FRESH EXPRESSions
Don't fret on washing greens or chopping veggies. Grab a FRESH EXPRESS SALAD KIT, toss it, serve it and call it done!
SWEET and SINsational ENDINGS
What dinner is complete without dessert? With Brookshire Brother's Homemade Fudge or our decadent Chocolate Dipped Strawberries, you'll have a sweet ending to your perfect night "in". Packaged by the dozen or half dozen, the berries are dipped and ready for you to GRAB and GO from our Bakery.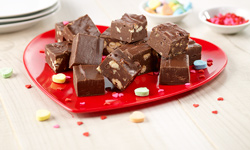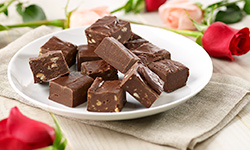 A PERFECT PAIRing
Champagne or sparkling wines are known to aid in digestion when sipped before a meal.  Let us suggest Cupcake Moscato and Korbel Champagne.
Wine experts suggest red wines like Bogle Noir to go with steak.  We know not everyone enjoys a hearty red, so sample our Kendall Jackson Vinthers Reserve Chardonnay, or KJ Chardonnay as it is often shortened to!


Tuesday January 13, 2015
Health Benefits of Fruits and Vegetables…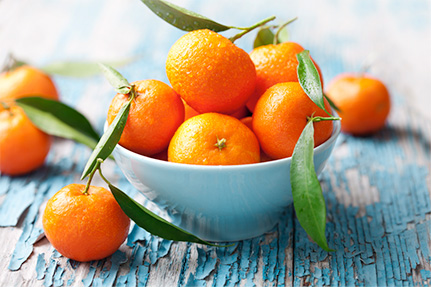 The natural antioxidants in fruits and vegetables will help keep your body working at its best, so consuming a diet that meets your daily recommended amount of fruits and vegetables is one of the best ways to give your body a strong defense against disease. Fruits and vegetables are protective to health as they're helpful at reducing the risk of coronary heart disease, stroke and some cancers. They're also low in calories, which helps prevent obesity … a significant risk factor for type 2 diabetes, cancer and cardiovascular disease.
"Mandarin oranges" is a term that applies to an entire group of citrus fruits. This group includes such varieties as Satsuma, Clementine, Dancy, Honey, Pixie, and tangerines in general.
How to Select Mandarin Oranges
Select fruits that are unblemished and heavy for their size. Avoid those with cuts, soft spots, or mold.
How to Store Mandarin Oranges
They may be stored in a cool, dark spot for a few days, but ideally should be refrigerated to extend shelf life up to 2 weeks.
Nutrition Benefits of Mandarin Oranges
Fat free, saturated fat free, cholesterol free, sodium free, an excellent source of vitamin C and a good source of vitamin A
Top 10 Reasons To Eat MORE Fruits & Vegetables
Why eat MORE fruits and veggies?
10: Color & Texture. Fruits and veggies add color, texture … and appeal …  to your plate.
9: Top 10 Reasons to Eat MORE Fruits and VeggiesConvenience. Fruits and veggies are nutritious in any form – fresh, frozen, canned, dried and 100% juice, so they're ready when you are!
8: Top 10 Reasons to Eat MORE Fruits and Veggies Fiber. Fruits and veggies provide fiber that helps fill you up and keeps your digestive system happy.
7: Top 10 Reasons to Eat MORE Fruits and VeggiesLow in Calories. Fruits and veggies are naturally low in calories. 
6: Top 10 Reasons to Eat MORE Fruits and VeggiesMay Reduce Disease Risk. Eating plenty of fruits and veggies may help reduce the risk of many diseases, including heart disease, high blood pressure, and some cancers. 
5: Top 10 Reasons to Eat MORE Fruits and VeggiesVitamins & Minerals. Fruits and veggies are rich in vitamins and minerals that help you feel healthy and energized. 
4: Top 10 Reasons to Eat MORE Fruits and VeggiesVariety. Fruits and veggies are available in an almost infinite variety…there's always something new to try!
3: Top 10 Reasons to Eat MORE Fruits and Veggies Quick, Natural Snack. Fruits and veggies are nature's treat and easy to grab for a snack.
2: Top 10 Reasons to Eat MORE Fruits and VeggiesFun to Eat! Some crunch, some squirt, some you peel … some you don't, and some grow right in your own backyard!
1: Top 10 Reasons to Eat MORE Fruits and VeggiesFruits & Veggies are Nutritious AND Delicious!
For more information on fruits and vegetables, visit http://www.fruitsandveggiesmorematters.org.
Monday January 12, 2015
New Year's Wine Resolutions for 2015
Drink Better – It's all about WHINE Down Time
Unlike most of the normal New Year's resolutions that we routinely fail to stick to—lose weight, work out or save money, this year you can actually keep some of your resolutions by making them wine-related.  In other words, relax and enjoy some wine after work and tune out the 'whining'!
Better Wine Storage
Stock up!  Most folks are getting rid of things during the first part of the new year. We suggest you add something to your inventory. Get a wine rack or even better, a wine refrigerator or cellar.  You'll always know what you have on hand and available and your wine collection won't waste away.
Drink More Broadly
Uncork or twist off the possibilities!  Broaden your horizons and try something different.  There are some really good wines coming from more parts of the world than ever before.  Have an open mind and dare to try something new and different. You never know what you might find, maybe even a new favorite!
What are your wine-drinking resolutions for 2015?  We'd like to sip and see them!
Friday January 2, 2015
Beer Me
Choose Your Own Adventure!
Spicy or bitter, hoppy or sweet, there's a beer style for everyone. Find yours with with our self-guided quiz.

Tuesday December 30, 2014
Freezer Meals
Making food to freeze can be a fun and rewarding weekend project. Whether you set aside individual portions for lunches or freeze whole casseroles, nothing beats having meals at the ready for when you're short on time or want to deliver a home-cooked meal to a friend in need.
Prepping
Stock up. Stock up on sale items when you see them. It's easy to rewrap large amounts of meat and store it in the freezer. Just remember to keep tabs on expiration dates.
Organize your recipes. Whether you use a mobile app, an online recipe box (start one on BettyCrocker.com for free) or keep a binder of recipes, you'll save time by having all your favorites in one place.
Slice and dice. When you get home from the store, clean and dry your fruits and veggies. Cut them up according to your recipes and divide into freezer bags or containers. Remember to date and label the packages.
Meat shortcut. Brown several pounds of ground beef ahead of time and freeze in one-cup portions. These packages are great to take out and sprinkle on pizza, add to spaghetti sauce or layer with mashed potatoes and corn for a quick shepherd's pie.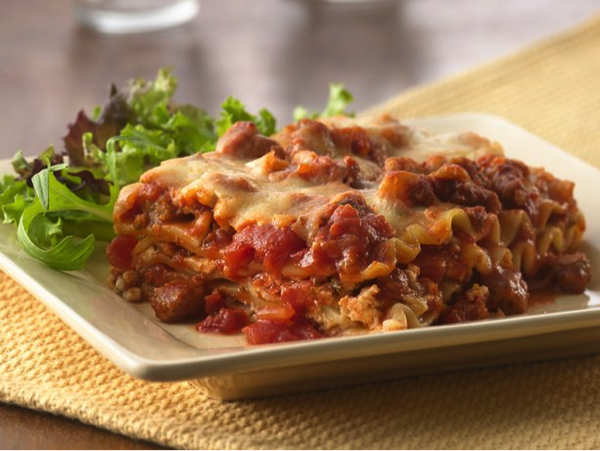 Making and Freezing
Cool quickly. Cool items quickly to about 100 °F before freezing to retain the best flavor. The slower food freezes, the larger the ice crystals are, which makes food mushy when thawed.
Safety first. Don't let perishable foods such as meats, eggs, dairy products, fruits and vegetables stand at room temperature to cool. Instead, place them in the refrigerator before freezing.
Make two, freeze one. Double the recipes of your favorite pasta bakes, casseroles, sauces and stews and freeze an extra batch for later.
Soup scoop. Most broth-based soups freeze well for up to 6 months. So if you're not freezing your leftover soup already, it's time to start. To do so, pour soup into freezer containers, leaving ¼- to ½-inch of room at the top (soups expand as they freeze). Soups made with cream may separate after freezing. To freeze this type of soup, skip the cream and add it after reheating thoroughly.
Freeze in portion sizes. For foods you'd like to use in small portions or keep from getting mushy, (think meatballs, rice and berries) spread evenly on a cookie sheet and place in the freezer for 15 to 30 minutes. This allows for individual freezing and easier-to-manage portion sizes.
Thawing and Enjoying
Second serving of soup. Thick soups become even thicker during storage, so while reheating soups, add a little broth, milk or half-and-half until the soup reaches your desired consistency. Thaw frozen soups overnight in the refrigerator before reheating.
Freeze it and don't forget it. Try to eat your freezer meals within three weeks—otherwise, you're likely to risk freezer burn or worse yet, forgetting all about it. Before baking, thaw in refrigerator overnight. Bake as directed, and add 5-10 minutes to the baking time.
Rules of the thaw. Meat and poultry can be safely frozen twice—once when fresh, and once after cooking. Refrigerate meats to cool quickly, then cut into meal-sized amounts or slices for freezing. Thawed fish and seafood on the other hand, should never be refrozen.
Monday December 22, 2014
Cottage Cheese Perfect Pairings
Perfect Pairings 
Whether sweet or savory, Daisy Cottage Cheese can be the perfect complement to your favorite foods.  When you combine it with veggies, nuts or fruit, you get a satisfying yet healthy twist to an old favorite.

Avocados with Cilantro & Tomatoes
Craving guacamole? This pairing provides the taste, texture of a traditional guacamole and adds extra protein to keep you feeling satisfied longer.

Bananas & Pecans
Behold –bananas, and pecans, make a delicious pairing that are truly satisfying and still incredibly healthy. A pairing that calms the sweet tooth yet provides decent nutrition – what a lovely thing.

Beets & Baby Romaine
This colorful pairing provides a harvest blend of nutrients.

Blackberries & Walnuts
This unique flavor combination offers a high nutritional content of fiber, vitamins and antioxidants with protein to boot.

Blueberries & Almonds
This pairing is sure to make your heart happy!
Figs with Pistachios & Cardamom
Feel like something exotic and nutritious? These classic flavors offer more than just good taste

Granny Smith Apples & Cinnamon
Give this staple snack of green apples and cinnamon a boost of protein by adding cottage cheese! It will be sure to leave you satisfied!

Grapefruit with Mint & Honey
This unique combination offers a refreshing, light, decadent snack.

Grapes & Spinach
Sweet juicy grapes combined with bitter-earthy spinach greens offers is bursting with essential nutrients.

Kale & Almonds with Rosemary
Kale is hotter than ever! This delicious pairing is a trend that will be sure to last.

Mandarin Oranges & Toasted Almonds
This pairing adds a sweet citrus taste to roasted almonds for a delicious crunch that also can help you stay well.

Mangoes & Mint
Colorful, tasty and antioxidant-rich.

Marinated Artichokes & Sun-Dried Tomatoes
This Mediterranean inspired pairing is bursting with flavor and health-boosting, nutrients.

Mushrooms & Spinach
This delicious pairing packs a powerful punch of nutrients and flavor.

Papayas & Macadamia Nuts
This sweet and crunchy pairing makes a snack you can feel good about!

Peaches & Cinnamon
A fiber-rich, protein-packed combo that may help promote stable blood glucose levels.

Pomegranate & Honey
Mix up pomegranates, honey and Daisy Brand Cottage Cheese for a powerful antioxidant-protein buzz.

Raspberries & Muesli
Hearty crunch of the muesli mixed with the sweetness of the raspberries provides a snack that satisfies you anytime of the day.


Red Pepper & Sunflower Seeds
Try this snack your heart, body and soul will love.
Roasted Brussels Sprouts & Hazelnuts
Forget all your notions of what Brussels sprouts used to taste like. This flavorful combination is festive enough for a special occasion and easy enough for every day.

Strawberries & Baby Spinach
Think smart: combine this trio to boost brain power.

Strawberries & Cinnamon
Combine these pairings for a sweet treat that packs a nutritious punch.

Tomatoes & Dill
This savory pairing is packed with antioxidants!
Pages