Tuesday November 11, 2014
Holiday Party Planning Guide
Plan on making the holidays merry with a little bubbly or brew?  Let your friends at Brookshire Brothers help you!
Here's a handy guide to help you determine how much and what type of wine you'll need for your event.
Cocktail Parties
How much is enough?
½ bottle of wine/person for each 2-hour period.
If your event begins before 5pm, or you are also serving liquor or beer: 
½ bottle of wine/person per 3-hour period.
What If It's Self Serve?
If guests will serve themselves, add 10% to your estimate.
Dinner Events
Plan on 1.5 glasses per course per person.
Each 750ml bottle will provide five 5-oz. servings.
Do the Math:
For each course multiply
[# of guests] x [1.5]  /  5 = # of bottles you will need per course.
How to Choose Wine
Events before 5pm (or for outdoor events in warm weather): 
70% white wine, 30% red wine
Events after 5pm:
 40% white wine, 60% red wine
White Wine Choices:
In general, Moscato and Chardonnay are popular, and also very versatile.
On a warm day, you may also choose to serve a crisp, refreshing Sauvignon Blanc.
If you are serving spicy foods, Riesling pairs perfectly.
Fruity desserts and sweet appetizers pair wonderfully with white dessert wines.
Red Wine Choices:
Pinot Noir is the most versatile and an excellent red wine choice for warmer weather.
Merlot is a popular crowd pleaser because of its chocolate flavors and soft finish.
Zinfandel offers jammy fruit flavors that pair well with grilled foods.
Full-bodied wines like Cabernet Sauvignon and Syrah are recommended for pairing with beef, lamb, other hearty main courses and dark chocolate desserts.
Craft Beer is king when it comes to entertaining!  Craft breweries are popping up across the country. This growing beverage favorite now makes up the majority of breweries in the U.S. Beer, like wine, comes in different styles and colors and is excellent for pairing with food. In addition to popular domestic and imported pale and light lagers there is a whole world of specialty beers on the market.  Variety is the spice of life and there are dozens of seasonal beers that celebrate any occasion.  The possibilities are endless, but here are a few varieties to consider.
Shiner
Shock Top
Goose Island
Sam Adams
Sierra Nevada
How to Serve?
Straight from the bottle or in a pilsner glass provide glassware when at all possible. Beer tastes best from a glass rather than from a can or bottle.  
How Much to Plan For?
A beer drinker may consumer 2-4 bottles/cans at an event. 
Thursday October 9, 2014
Pumpkin Party!
The Museum of East Texas, in collaboration with the Lufkin Fire Department, is proud to present Pumpkin Party. This event is scheduled for Saturday, October 25, from 1 to 3 p.m. 
Pumpkin Party will be held in the Plaza so that all participants can enjoy the beautiful fall weather while making their original creations. As always, a pumpkin patch featuring all sizes and shapes of pumpkins will be available. Once the perfect pumpkin has been selected, it is decorated with a variety of materials, including feathers, eyes, pipe cleaners, and more. Members of the Lufkin Fire Department will be available to answer fire safety questions and distribute fire safety bookmarks, provided by Lufkin Printing Company. A fire truck and an EMS vehicle will also be on site.
Additional activities include ghost bowling, jack-o-lantern bean bag toss, face painting, and a photo board. Cupcake decorating will also be offered. Costumes are encouraged, and don't forget to bring your camera! Parents are highly encouraged to attend this event with their children and share in the fun festivities. Children under age 12 must be accompanied by a parent or guardian.
Children throughout the region are invited to attend and participate in this annual event, one of four Super Saturdays. The Great Pumpkin Party is developed by the Museum with assistance from the I.D. and Marguerite Fairchild Foundation, Ernest L. Kurth, Jr. Charitable Foundation, the Simon and Louise Henderson Foundation, Brookshire Brothers, William George Co, Inc., Grandough Baking Company, Lufkin Printing Company, and Museum Volunteers. This event is open to the public and free of charge. All are welcome!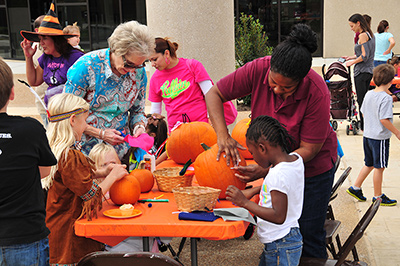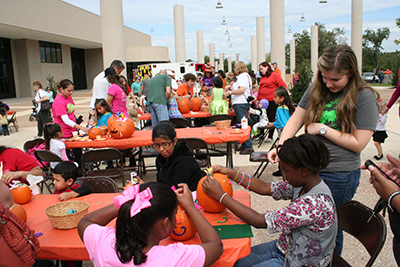 About the Museum
The Museum is a non-profit organization whose primary mission is education through exhibitions of art and history. The Museum is located at 503 N. Second Street in Lufkin, Texas. For general information, to become a Museum member, or for facility rental information, call 936.639.4434 or visit our website at www.metlufkin.org. We look forward to the beginning of the Annual Festival of Trees, the annual Members' Gala, Family Day, Extended Hours, and other holiday traditions in December.
Contact: J.P. McDonald, Executive Director, Museum of East Texas, 936.639.4434, jmcdonald@metlufkin.org; or Allyson Langston, PR/Marketing, Museum of East Texas, 936.639.4434, alangston@metlufkin.org
Thursday October 2, 2014
Something new to celebrate!
Welcome to the new brookshirebrothers.com, it delivers savings and solutions for the entire family.  Finding your way around it just got easier.  You can shop and learn about our entire company without ever leaving brookshirebrothers.com
Love a product that we don't carry? Fill out a request form online and we're on it!
Want to request a donation? It's digital and makes the 'ask' so much easier.
Need to pass on a compliment or concern?  Automatic delivery through the web.
Low on meds? Refilling online is stress-free!
Enjoy the perks of shopping with us?  Join "celebrate!" our exciting new loyalty program. 
LOYALTY – celebrate
When you shop with us, we want to reward you. It's our way of saying thank you.
We call it celebrate!  This loyalty program takes the place of bbrosconnects. If you have enjoyed bbrosconnects or beverage blast – make the switch and celebrate the savings! 

When you sign up to celebrate!, here's what's in store for you:
Weekly e-mail blasts offering special contests, promotions, recipes and more!
Weekly Beverage blasts promoting special events, new drinks to sample, unique savings and more (must be 21 to participate)
Coupons delivered to your inbox on WEDNESDAY!
Recipes, special promotions, and deals that will make you smile!
Sign up and CELEBRATE!  Join our online community and SAVE!
Monday September 15, 2014
Brookshire Brothers Hosts Food Drive
(Tyler, Texas) September 15, 2014 – Brookshire Brothers store locations throughout East Texas have partnered with the East Texas Food Bank for a food drive.  Starting today, Customers can purchase a pre-packaged $7 spaghetti bag or $12 tuna bag that contains many of the most requested items the East Texas Food Bank needs.
"Brookshire Brothers stores, their associates and customers are valued partners," said Dennis Cullinane, CEO of the East Texas Food Bank.  "These pre-packaged bags are an easy way for customers to get involved in the fight against hunger, and allow us the ability to get products that are not usually donated."
Items in the pre-packaged bags include staples such as canned vegetables, pasta, tuna, peanut butter and rice.  The bags will be available for purchase thru September 30th.
"This partnership speaks to our mission of supporting initiatives that help build strong foundations in our communities.  The East Texas Food Bank does that very well every day of the year," said Jerry Johnson, President and CEO of Brookshire Brothers.  "Engaging our customers in this outreach during Hunger Action Month is powerful.  Their purchases directly impact hurting families in their towns."
September is also Hunger Action Month, a month-long campaign to raise awareness and end hunger across the country.  For more about Hunger Action Month and other events planned, visit EastTexasFoodBank.org/HungerAction.
About Brookshire Brothers
Founded in 1921 and headquartered in Lufkin, Texas, Brookshire Brothers is 100% employee-owned. Its assets include 149 retail outlets incorporating grocery stores, convenience stores, as well as free standing pharmacy, tobacco and petro locations.  Its 6500 employee-owners are dedicated to providing solutions and exceptional service to their customers throughout the market area that stretches east to Lake Charles, Louisiana, west to Wimberley, Texas, north to Whitesboro, Texas, and south to Ganado, Texas.  For more information about Brookshire Brothers and its family of brands go to www.brookshirebrothers.com.
About East Texas Food Bank
The East Texas Food Bank provided more than 20 million meals each year to 200 partner agencies in 26 East Texas counties.  Our vision is for a hunger-free East Texas and our mission is to fight hunger and feed hope in East Texas.  The East Texas Food Bank is a member of Feeding America and the Texas Food Bank Network.  To learn more, please visit EastTexasFoodBank.org. Find us on Facebook at facebook.com/etfoodbank or follow our news on Twitter at twitter.com/etfoodbank. 
Wednesday July 30, 2014
If You Build It… They Will Come to Brookshire Brothers Express
Lufkin… Residents from Zavalla and throughout Angelina County packed the new Brookshire Brothers Express at Wednesday's Ribbon Cutting and Grand Opening Celebration.  It's the Lufkin-based company's 149th retail location.  The store, located at 198 East Main Street is a blend of grocery and convenience.  Company spokesperson Sally Alvis says, "Our new store is tai-lored to meet the needs of the people of Southern Angelina County and the hundreds of thousands of outdoor enthusiasts who visit the area. Shoppers were thrilled today with the selection.  From the drive-thru window where they can get grab and go meals and our famous fried chicken, to a pallet of deer corn out front, to fresh fruit and veggies, baked goods, fishing tackle and ammo inside, customers say the company 'got it right' when merchan-dising the store for their town.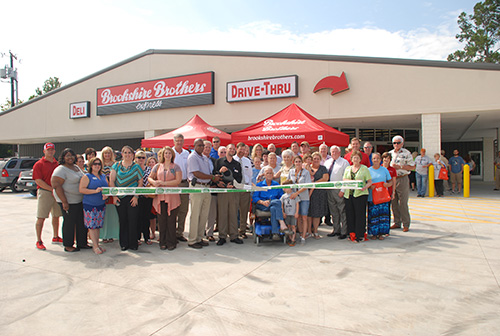 Chief Operations Officer John Alston welcomed the crowd of 250 and introduced Store Director Josh Higgins.  Higgins' team includes Sam Dillon of Colmesneil as Assistant Store Director and Jacob Casey of Huntington as Market Manager. Higgins says by carrying such a wide array of merchandise inside the 13,222 square foot store, he hopes to keep folks from having to travel far for what they need.  As part of the Grand Opening, Higgins pre-sented the Volunteer Fire Department with a $500 donation from Brook-shire Brothers for the squad's dedicated service to the community. 
Veterans Barry Burch and Lynn Bryan presented the colors and did the Pledge of Allegiance and James King led the crowd in singing the Nation-al Anthem.  Dignitaries included State Representative Trent Ashby, Angelina County Judge Wes Suiter, Mayor Jimmy Davis of Zavalla and a host of busi-nessmen and women representing the Lufkin/Angelina County Chamber of Commerce.  Alvis adds, "It truly was a celebration of family and community."
Founded in 1921, Brookshire Brothers is 100% employee-owned. Its assets include 149 retail outlets incorporating grocery stores, convenience stores, as well as free standing pharmacy, tobacco and petro locations with another location opening in Apple Springs in early fall.  Its market stretches east to Lake Charles, Louisiana, west to Canyon Lake, Texas, north to Whitesboro, Texas, and south to Ganado, Texas.  For more information about Brookshire Brothers and its family of brands go to
www.brookshirebrothers.com
.
Friday July 18, 2014
Fuel for the Mind and Body
By LeAnne Anderson, RDN, LD
Brookshire Brothers Health Living Advisor
Those lazy, crazy, hazy days of summer are coming to an end!  The demands of a new school year, fall activities, and sports require a sharp mind and a healthy body—from preschoolers to parents!   Nutritious foods provide the fuel we need to think, move, and learn as well as for growth and development.  Make sure you and your family get the nutrition they need by using our tips for quick and healthy breakfasts, lunches, and snacks.
BREAKFAST — THE most important meal of the day! Studies show that eating a breakfast that includes whole grains/ fruit, protein, and/or dairy, improves academic and sports performance. 
Whole-grain English Muffin with melted low-fat cheese, Fresh or canned fruit, low-fat milk or 100% fruit juice 
Low-sugar Cereal top with  frozen blueberries and low-fat milk 
Sugar-Free Instant Breakfast mixed with low-fat milk, whole grain bread or toast with peanut or almond butter. 
SNACKS — Replenish and maintain fuel levels before homework or sports/activities with snacks that provide carbohydrate and protein. 
String cheese or low-fat cheese cubes, whole grain crackers, apple slices or grapes
Fruit kabobs dipped in yogurt – thread fruit pieces (strawberries, melon, pineapple, kiwi) onto a thin straw or skewer.
Finger food veggies (baby carrots, cherry tomatoes, sugar snap peas, broccoli) dipped in hummus or ranch-style dressing.
Trail Mix: Toss dry lower-sugar cereal, nuts, dried fruit (craisins, apples, etc), pretzels and a few chocolate chips.  Portion into snack bags. 
LUNCH — Fuel up for those afternoon classes and tests!
Tortilla roll ups: whole-wheat tortilla + ham or turkey + shredded cheese, serve with cherry tomatoes, whole grain chips (ex: Sun Chips or MultiGrain Tostitos), 100% Fruit Juice.
Pasta salad (make day or two before) with cooked pasta, cut up chicken or turkey, shredded carrot, green peas and Italian dressing.  Serve with whole-grain crackers, and an apple or pear. 
Pita Pocket:  Fill pita with grilled chicken strips, thin sliced bell pepper and lettuce.  Add salad dressing of choice at lunch time.  Serve with yogurt or a sugar-free pudding cup.
GRAB AND GO! For days that are full of non-stop activity, have on-the-go breakfasts and snacks prepped ahead of time to grab on the way out the door. Not only more nutritious, this saves time AND money when you by-pass the drive thru!
Wash, cut up and bag fruit and vegetables into snack or sandwich-size snack bags.  Buy individually packaged Ranch Dip and Peanut Butter for dipping or spoon into mini "Zip Lock" cups with lids. 
Purchase string cheese or other individually packaged cheese.
Package bulk whole grain crackers (ex: Wheat Thins, Triscuit), pretzels, cereal, etc. in snack bags or buy individual packs.  
Have plastic spoons available for cups of fruit, yogurt, pudding, etc.  
Stock up on disposable cups for a bowl of cereal on the go or an Instant Breakfast Drink.
Designate an easy-to-reach shelf or drawer in both the refrigerator and pantry for beverages and the items listed above.
Keep a bowl of whole fruit such as apples, bananas, pears, oranges in a visible spot.
STAY FLUID (FILL UP ON FLUIDS) — Not drinking enough fluid can also affect performance.  We need fluid to control body temperature and to remove waste products. 
Beverages of choice are water, low-fat milk and 100% Fruit Juice. 
Water is the best option, especially between meals and during physical activity.  
Kids should drink 48 oz. of water each day (six cups) plus an additional cup for each hour of activity.
Diluted sports drinks are a good choice if activities last more than an hour or during hot temperatures.
SAFETY FIRST — Perishable foods should be kept cool until they are eaten.  Use an insulated lunch bag and pack food with reusable ice blocks.  Or, freeze a juice box or water bottle and add it to the lunch bag. It will keep foods cold but thawed enough to drink by lunch time.  Check out a kitchen/home store for new types of lunch bags that can be frozen before packing as well as the "bento box"- type lunch containers
Need more ideas and tips?  Check out the American Academy of Nutrition and Dietetics website 
Tuesday July 15, 2014
The berry best benefits of blueberries
by LeAnne Anderson, RDN, LD
Sweet, plump, and juicy blueberries often make the "super foods" lists, and for good reason!  Weighing in at just over 80 calories per cup, blueberries are fat-free, low in sodium and a good source of fiber.  Even more impressive are the additional nutrition benefits they provide:
ANTIOXIDANTS - A group of vitamins and minerals, including vitamin C, which help counteract the formation of free radicals in the body. Free radicals are a by-product of the body using oxygen for energy, and can also come from environmental factors such as pollution or cigarette smoke.  Antioxidants counteract these free radicals and help prevent or even reverse the damage they cause to our body's cells.  1 cup of blueberries provides 24% of the recommended daily value for vitamin C!    
PHYTOCHEMICALS - These compounds have recently sparked interest among the nutrition community.  Found in plant-based foods, these naturally-occurring chemicals may help slow the aging process, increase immunity, and prevent or reduce the risk for some cancers and chronic diseases such as diabetes.  Anthocyanin and elagic acid are two of the phytonutrients present in blueberries.   
VITAMIN K - Important factor for proper blood clotting, regulation of calcium metabolism, and body cell signaling.
VITAMIN B6 - One of eight B-complex vitamins, B-6 is needed for amino acid production and cell formation.  It also plays a role in regulating metabolism and in the production of insulin, hemoglobin and infection-fighting antibodies.
MANGANESE - This mineral is an essential partner in bone formation and energy metabolism.
When purchasing, look for berries that are blue to dark blue in color, plump and free of decay.  A silver-white frost (called "bloom") is normal.  This fruit requires little prep work—simply rinse and drain before enjoying a handful or using in a recipe.  Fresh blueberries can be frozen for later use.  Just place a single layer in a sheet pan, freeze until firm, then place in a air-tight container or plastic bag. 
As part of a balanced diet blueberries offer some of the "berry best" in nutrition!  And while blueberry muffins and pie are always a delicious way to enjoy blueberries, here are a couple of recipes using blueberries in a different and healthy way!
Tuesday April 1, 2014
Format Agility Helps Brookshire Brothers Meet Community Needs
Report profiled Brookshire Brothers and its CEO and President in its April edition.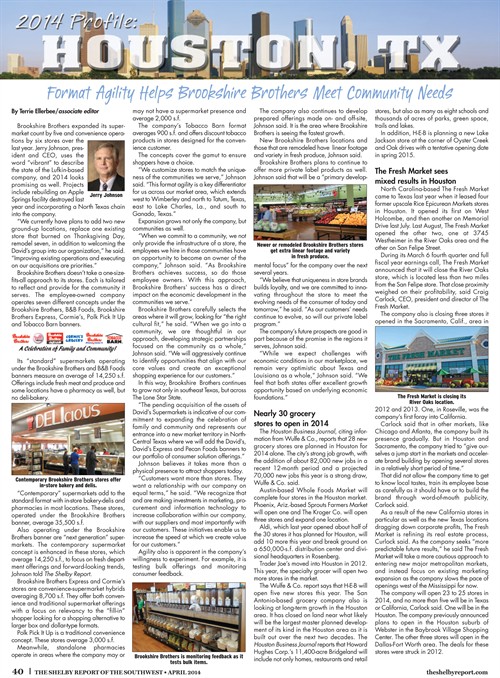 Thursday February 27, 2014
A Rainbow of Nutrition for Your Family
Getting kids to eat fruit and vegetables isn't always easy…Here are some easy tips to make sure everyone gets at least 5 servings a day the easy way! 
SHOPPING:
Let your children help pick out a new fruit or vegetable to try.
Fresh, frozen and canned fruit are all nutritious choices.
Fresh and frozen vegetables are good choices. 
Use "no added salt" canned vegetables and drain the liquid off before using.
AT HOME:
When you get home wash and cut up fruits and vegetables.  Then put them in the refrigerator in a clear container at eye level where everyone can see them when they go hunting for a snack.
Put whole fruits such as apples, oranges, bananas in a basket or bowl on the counter for an easy-to-grab snack.
Let your children help with some of the prep work such as washing the fruit and vegetables, tearing lettuce for a salad,  or measuring frozen or canned vegetables.  Older children can help peel, slice and chop as well.
Model good eating habits-if your children see you eating healthy, so will they!
SNACK & MEALTIME IDEAS:
Serve fruit and vegetables with a dip such as low-fat ranch, hummus, peanut butter, salsa, or yogurt.
Blend frozen fruit with milk or yogurt and a drizzle of honey to make a smoothie
Slowly introduce new fruits and vegetables by adding them in small amounts to salad, soup, casseroles, smoothies, etc.
Make vegetable kabobs and cook on the grill.
Add a rainbow of color to pizza by adding peppers, broccoli, pineapple, fresh tomato, or mushrooms before adding cheese.
A good guideline to remember is that half your plate should be filled with fruits and/or vegetables.
RAINBOW FRUIT MINI-PIZZA
Kids young and old will enjoy this quick and easy fruit mini-pizza for breakfast, snack or dessert!
Prep time:  12 minutes.  Makes 1 serving
Ingredients:
1 Whole-Wheat waffle such as NutriGrain or Kashi
1 Tablespoon Cream Cheese, plain or fruit-flavored
2-3 Strawberries, sliced
2-3 Kiwi Slices
2 Tablespoons Blueberries (fresh or frozen)
3-4 Pineapple Chunks (fresh or canned)
Directions:
Toast waffle in toaster according to package directions.
Spread cream cheese over toasted waffle.
Arrange fruit on top of cream cheese.
Cut in half or quarters, if desired and ENJOY!    
Other fruits can be substituted-mix and match your favorites!
Wednesday February 12, 2014
Math Counts and Science Matters!
Polk Oil Company and ExxonMobil grant 17 schools funds to enhance their math and science programs.  On February 5th Brookshire Brothers Vice President of Petroleum and Convenience Stores presented checks for $500 to the school principals and superintendents from throughout the region served by Polk Pick It Up stores.
Joining Williams was ExxonMobil's Territory Manager Jack Sears.  Sears talked about the company's Educational Alliance Math and Science School Grant program and commended the recipients for their efforts in the classroom.
The honorees gathered at the Ellen Trout Zoo's Educational complex. Education Curator Charlotte Henley also briefed the educators about the Zoo's programming that aligns with and enhances curriculum.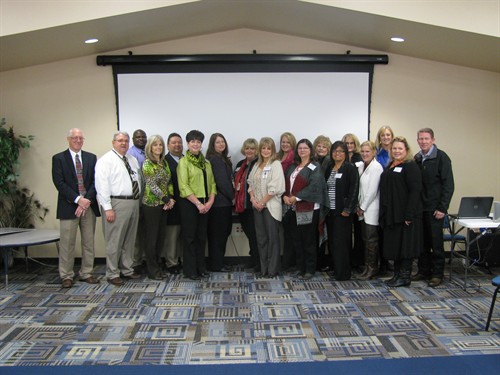 Congratulations to the following recipients. We look forward to seeing how the grants impact students in the classroom.
Dorinda Wade - Principal, Dunbar Primary School
Sarah Hottman - Superintendent, Etoile Elementary School
Karen Vinson - Principal, Kurth Elementary School
Deborah Revels - Principal, Crockett High School
Jana Lowe  - Principal, Leggett ISD
Lenora Foy - Principal, Kennard High School
Dale Morton - Superintendent, Wells High School
Robin Stowe - Principal, Slack Elementary School
Jana Muckleroy - Principal, Central Heights Elementary School
Robin Herbst -  Assist. Principal, Hudson Middle School
Jesus Gomez - Principal, Lufkin Middle School
Melanie Stubblefield - Principal, Huntington Elementary School
Diana Moore - Principal, Diboll Primary School
Anita Byrd -Assist. Principal, Central Elementary/ISD
Derrick James - Principal, Garrett Primary School
Judy Leediker - Principal, Crockett Junior High School
Mark Smith - Principal, Lufkin High School
Pages