Tuesday January 15, 2019
Cheezy Does It Chicken Spaghetti
With the weather turning chilly, Chicken Spaghetti is officially on the menu. This go-to comfort food is easy-peasy and great for all occasions, whether you're gearing up for championship football games, preparing for a friendly potluck, or just putting together a quick family dinner.
Cheezy Does It Chicken Spaghetti
Yield: 8 servings, 1 cup each
Ingredients
8 oz Food Club spaghetti, uncooked
8 oz Food Club Cheezy Does It Loaf, cut into 1/2-inch cubes
1 can (10oz) Food Club Diced Tomatoes with Green Chilies
2 tablespoons milk
1 lb. Tyson Boneless SKinless Chicken Breast or Tenderloins, cut into bite-sized pieces
1 can (10.5oz) Food Club Cream of Chicken Soup
1 can (4oz) mushroom pieces and stems, drained
Serve with Food Club Garlic Breadsticks or Toast and any other sides you enjoy! 
Directions 
Preheat your oven to 350*F.
Cook spaghetti as directed on package, omitting salt.
Meanwhile, cook and stir chicken in large skillet sprayed with cooking spray on medium-high heat 8 to 10 min. or until done. Add remaining ingredients; cook and stir 5 min. or until Cheezy Does It Loaf is completely melted and mixture is well blended.
Drain spaghetti. Add to chicken mixture; mix lightly. Spoon into 9-inch square pan sprayed with cooking spray.
Bake 30 to 35 min. or until heated through.
---
But wait, there's MORE!!  
We've prepared a feast of savings perfect for this delicious dish—don't miss out!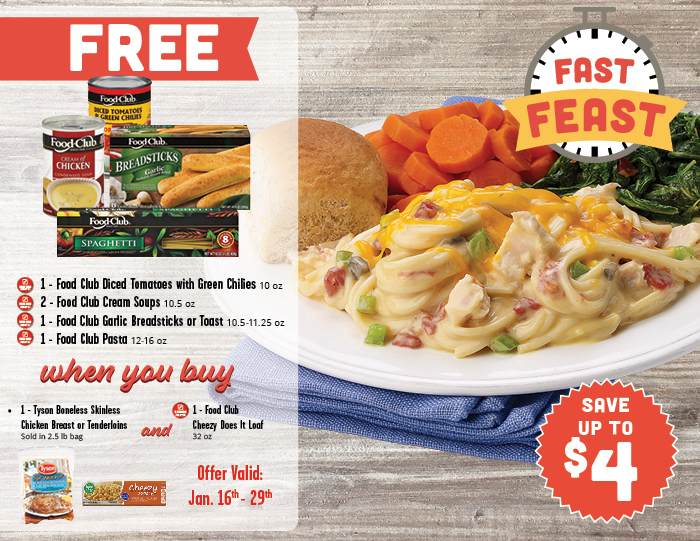 Fast Feast: Buy 2, GET 5 FREE
January 16 through January 29, 2019
When you buy one (1) Tyson Boneless Skinless Chicken Breast or Tenderloins (Sold in a 2.5lb bag) and one (1) Food Club Cheezy Does It Loaf (32 oz), you get these foods FREE:
1 - Food Club Diced Tomatoes with Green Chilies (10oz)
2 - Food Club Cream Soups (10.5 oz)
1 - Food Club Pasta (12-16 oz)
1 - Food Club Garlic Breadsticks or Toast (10.5-11.25oz)
Save fast and feast big TODAY—
find a store near you
. Can't find one of these items? Talk to your local store director!
Tuesday December 18, 2018
Mrs. Lynne's Famous Holiday Party Punch
This holiday, we are delighted to feature Mrs. Lynne Haney with Lufkin Coca-Cola and her famous Holiday Party Punch. Simple to make and spectacular to taste, this punch is everything you and your favorite folks needs for a holiday get-together. Trust us, you'll be thanking Mrs. Lynne later!
Lufkin Coca-Cola has always been one of our favorite companies to collaborate with because our stories and values have grown from the same rich Texas roots. We both began as family-owned companies in the early 1900's and care deeply about our local communities. What an honor it is to live and work alongside another local business always seeking better growth for our community!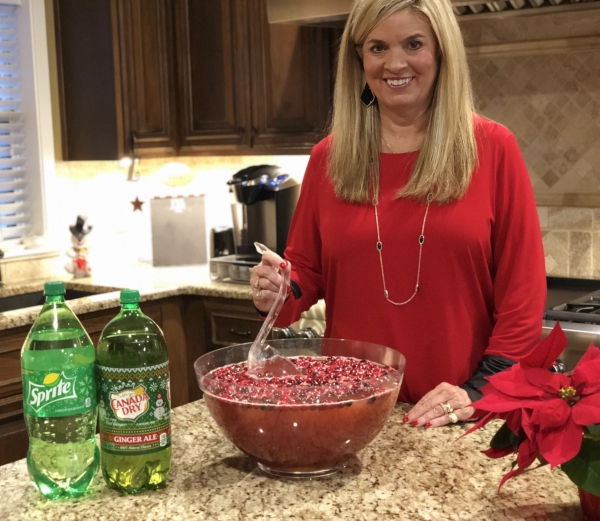 And oh by golly,
DON'T FORGET
: The deals are coming down like confetti this week, one of which is PERFECT for this recipe!
Coca-Cola and Dr Pepper products (2 liter bottles) are $0.88,* now through January 1.**
THAT'S RIGHT, you better check your RSVP list twice—you might need to double down on this great deal!! 
*When you buy 5
**Offer valid at these participating stores: Groveton, Trinity, Apple Springs, Corrigan, Diboll, Huntington, Pollok, Wells, Zavalla, Livingston, Onalaska, and all Lufkin locations.
Mrs. Lynne's Famous Holiday Party Punch
This recipe is wonderful for any occasion but we especially love it during the holidays! So easy, so yummy, such a great compliment to your holiday party!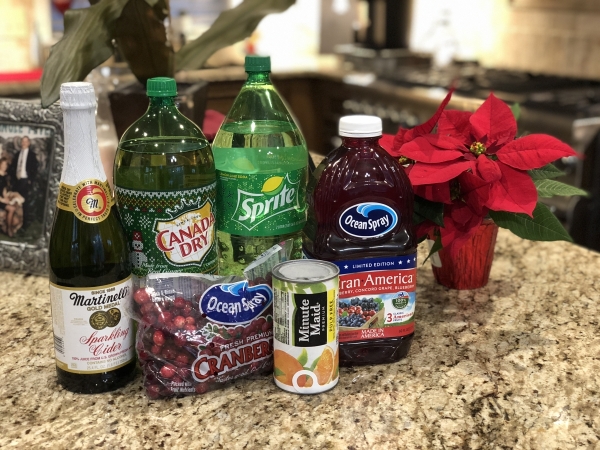 INGREDIENTS
One 2 liter bottle of Sprite, chilled
One 2 liter bottle of Ginger Ale, chilled
25 ounces (one bottle) Sparkling Cider, chilled
12 ounces Frozen Orange Juice Concentrate, slightly thawed
64 ounces (one bottle) Cranberry Juice, chilled
Fresh Cranberries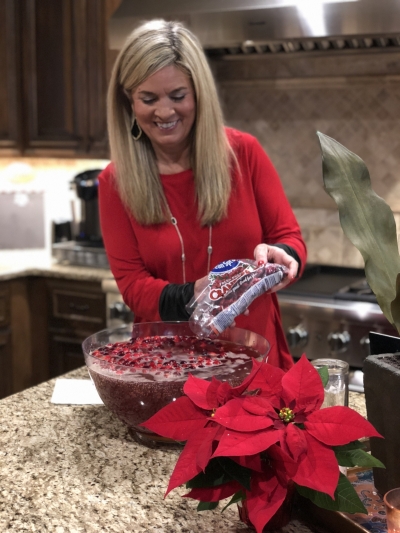 DIRECTIONS
Combine all ingredients together, stir… and serve! ENJOY!
PRO TIPS
Serves approximately 35 one-cup servings. Depending on party size, you may want to double or triple the recipe. When determining amount to make, take into consideration the size of your cups, and keep in mind that guests may want seconds (or even thirds).
If you would like your party punch to have a little more "punch", add champagne!
Tuesday November 27, 2018
Oven Baked Chili Cheese Dogs
Fast Feast: Buy 2, GET 5 FREE
 • November 28 through December 11, 2018 •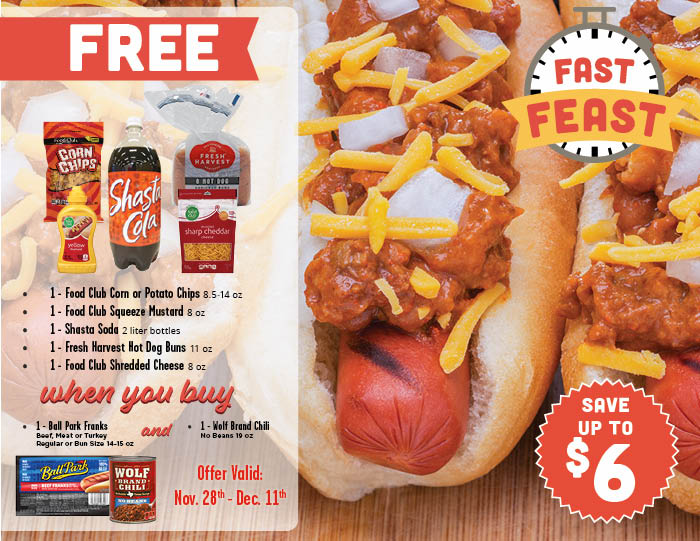 A classic crowdpleaser, chili dogs are an easy fix for almost any occasion—football watch parties, family dinners, friendly potlucks, and more. Go for the win-win with hot & ready savings on this delicious dish, now through December 11! 
FAST FEAST: When you buy one (1) Ball Park Franks (Beef, Meat or Turkey / Regular or Bun Size / 14-15 oz) and one (1) Wolf Brand Chili (No Beans / 19 oz), you get these foods FREE:
1 - Food Club Corn or Potato Chips (8.5-14 oz)
1 - Food Club Squeeze Mustard (8 oz)
1 - Shasta Soda (2 liter bottles)
1 - Fresh Harvest Hot Dog Buns (11 oz)
1 - Food Club Shredded Cheese (8 oz)
Can't find one of these items? Talk to your local store director!
---
Oven-Baked Chili Cheese Dogs
 Prep: 15 min | Total: 1 hr
Ingredients
7-8 Ball Park Franks (depending on how many you can fit into your pan)
7-8 Fresh Harvest Hot Dog Buns
1 cup Food Club mayonnaise
1/2 cup Food Club Relish
1 can Wolf Brand Chili (19 oz)
1 cup Food Club Shredded Cheese
1 onion, diced
Optional: Mustard, to taste
Serve with chips, soda, and any other sides you enjoy! 
Directions 
Preheat your oven to 350*F. 
Spread 2 tablespoons of mayonnaise and 1 tablespoon of relish into each hot dog bun (mustard optional)
Add a hot dog (uncooked) to each bun, then place in a 9×13 baking dish.
Evenly top each with chili, followed by shredded cheese and diced onion. 
Cover with foil, place in preheated oven, and bake for 45 minutes.
Enjoy!  
Tuesday October 30, 2018
Taste of the Holidays 2018
Don't miss this year's Taste of the Holidays! Our annual tasting event is an easy and convenient way to plan for any occasion—Thanksgiving desserts and side dishes for an office party, a traditional Christmas buffet for a crowd, or just a cozy holiday dinner for friends and family. Here's how it works: sample festive favorites from our deli and bakery, fill out an order form with your top choices, and we'll put together your holiday dinner for you. Time saved? Lots. Tasty fun? Definitely. When and where? Saturday, November 3 from 10:30am-2:30pm at your local Brookshire Brothers.
AND DON'T FORGET: Get $5 OFF when you book a holiday meal with us at Taste of the Holidays!
Thursday September 27, 2018
Dear Salado...
We're thrilled to announce that our Salado Pharmacist Brady Shimek has accepted a promotion to Pharmacy District Director. True to our #ShopWithSomeoneYouKnow spirit though, Shimek's promotion is also a bittersweet parting from his beloved patients over the past six years. To that, Brady would like to leave his customers with this farewell note.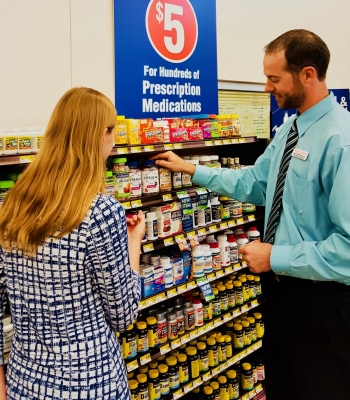 To My Valued Brookshire Brothers Pharmacy Customers,
It has been an honor to serve you the past 6 years. Upon taking over as the pharmacy manager in Salado, I could not have imagined how much of an impact this beautiful community would have on my life. Salado, in all of its uniqueness, soon became home to me. Sometimes we fall in love with an area because of the physical terrain and views it has to offer, sometimes the character and charisma it possess, and yet other times, the people that reside there. In Salado, you get blessed with all of these. 
I came to Salado looking to develop patient relationships, build trust within the pharmacy profession, and set a standard of care that pharmacy customers not only need but also deserve. All of you made these ambitions possible. Together, we have experienced illnesses, hardships, treatments, cures, highs and lows, but most importantly, we have experienced compassion and respect for one another. While I thank you all for your business and loyalty to Brookshire Brothers Pharmacy, I would be remorseful to not also thank you for your friendly smiles, your constant positivity, your continued encouragement, your faithful gratitude, and most importantly, your friendships.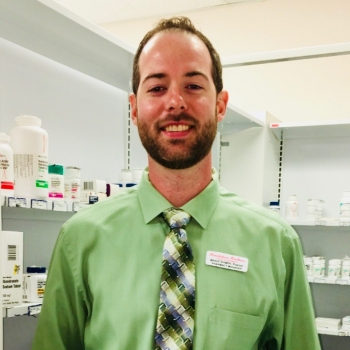 As I move on to my new position of Pharmacy District Director, I want to reassure you that the high level of care and customer service that Brookshire Brothers offers will not change. Our pharmacy team is strong and reliable. I have complete trust that they will continue to go above and beyond to exceed your expectations. I will continue to have confidence in our local Brookshire Brothers Pharmacy, and you should too.
Your pharmacist,
Brady Shimek, PharmD.
Tuesday September 11, 2018
Celebrate Family Meals Month
Brookshire Brothers Commits to Helping Families Eat at Home Together More Often During National Family Meals Month
The proven health and societal benefits of family meals inspire a month-long event aimed at helping families get back to the table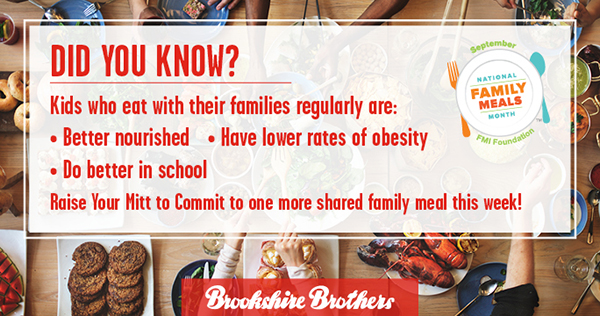 Lufkin, TX (August 31, 2018) - 
September is National Family Meals Month,™ an industry-wide movement to raise awareness about the benefits of frequent family meals. Brookshire Brothers has joined
the initiative to encourage families to spend more time this month enjoying a meal together
. In support, customers will enjoy special savings on ready-to-cook options and grab-n-go solutions all month long, as well as special deals and recipes every week. We're bringing value and ease to family meal times because we believe FAMILY MEALS MATTER.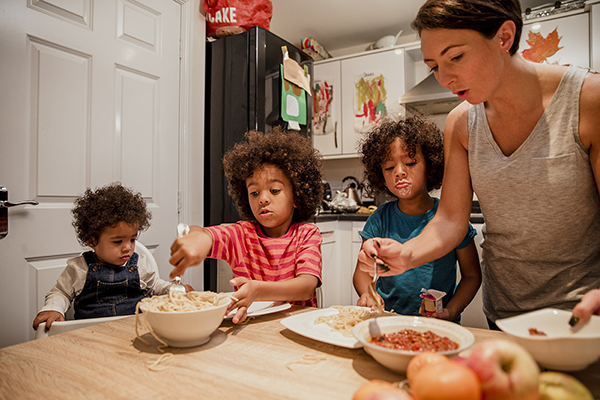 Did you know?
Kids and teens who share meals with their family three or more times per week are significantly less likely to be overweight, more likely to eat healthy foods and less likely to have eating disorders. 
With each additional family meal shared each week, adolescents are less likely to show symptoms of depression, less likely to use/abuse drugs and less likely to engage in delinquent acts.
People who eat most the most home-cooked meals eat healthier and consume about 130 fewer calories daily, on average, compared to people who cook less or not at all.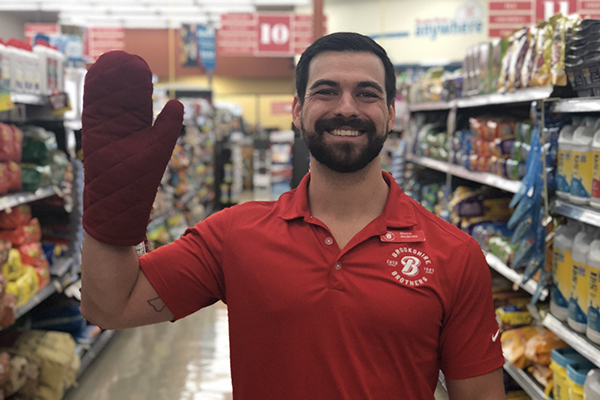 To get the month started,
Brookshire Brothers
and its employee-owners across Texas and Louisiana raised their mitts to commit to one more family meal at home. You, too, can raise your oven mitt to commit to making more memories around the kitchen table with those you love. Make it official, and shareable, by posting a selfie wearing your favorite oven mitt with the hashtag #familymealsmonth #brookshirebrothers. Follow Brookshire Brothers on Facebook, Instagram and Twitter to join the conversation this September. 
---
Gather 'Round The Table
September 5 through September 11
Week 1: Bring the family together for PIZZA NIGHT
FREE:
Fresh Harvest Salad (6-11oz)
Food Club Salad Dressing (16oz)
Fresh Harvest Tea (128oz)
WHEN YOU BUY:
3 Digiorno Pizzas (13.6-34.2oz)
---
Meal In Minutes
September 12 through September 18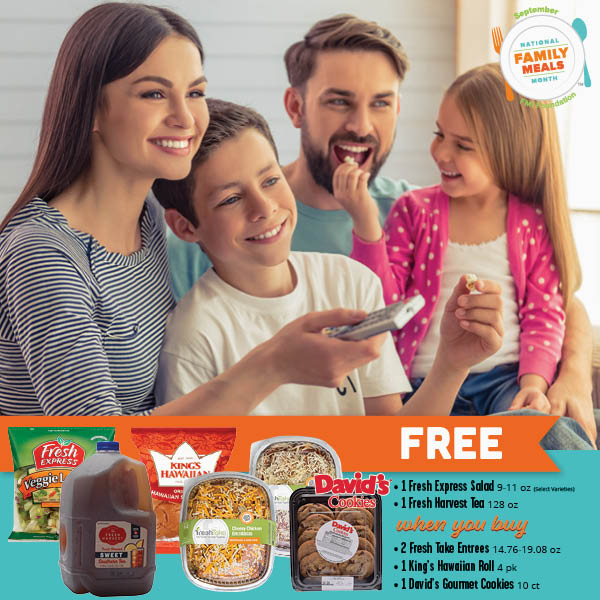 Week 2: Mom's Night Off
FREE:
Fresh Harvest Salad (6-11oz)
Fresh Harvest Tea (128oz)
WHEN YOU BUY:
King's Hawaiian Roll (4pk)
David's Gourmet Cookies (10ct)
---
Let's Taco 'Bout Family
September 19 through September 25
---
Slow Cooker Shortcuts
September 26 through October 2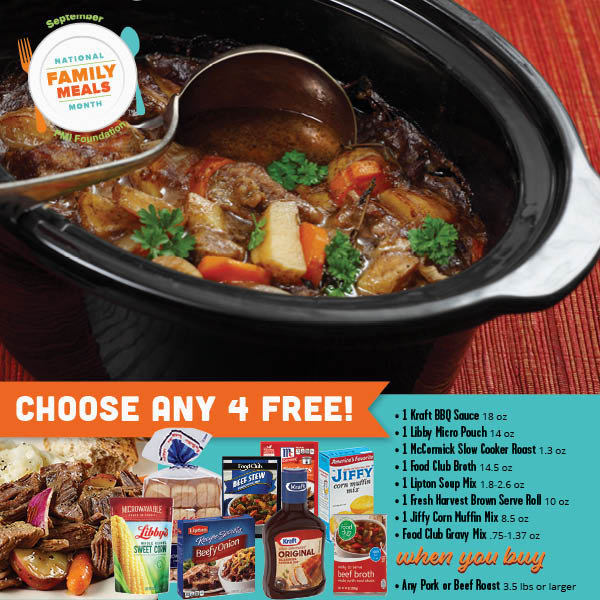 Week 4: Slow Down For Dinner
CHOOSE ANY 4 FREE:
1 Kraft BBQ Sauce (18 oz)
1 Libby Micro Pouch (14 oz)
1 McCormick Slow Cooker Roast (1.3 oz)
1 Food Club Broth (14.5 oz)
1 Lipton Soup Mix (1.8-2.6 oz)
1 Fresh Harvest Brown 'N Serve Rolls (10 oz)
1 Jiffy Corn Muffin Mix (8.5 oz)
1 Food Club Gravy Mix (.75 - 1.37 oz)
WHEN YOU BUY:
Any Pork or Beef Roast (3.5 lbs or larger)
Tuesday July 31, 2018
Back to the Hatch
New Season, New Recipes
It's that hot time of the year again! Hatch chile peppers have come into their summer season, and we have a few refreshers as well as a whole batch of new recipes to celebrate! Think: Roasted Hatch Chile Mac 'N' Cheese, Bleu Cheese Stuffed Hatch Chile Burgers, and Quick Hatch Chile Salsa Fresca—all courtesy of our vendor-friends at 
Melissa's Produce
.
Fun Hatch Facts: 
One fresh medium-sized green chile has as much Vitamin C as six oranges.
Green chiles are also a great source of Vitamin A, Vitamin B, and fiber.
Capsaicinoids—the chemical that make chile peppers spicy—are used in muscle patches for sore and aching muscles, as well as pepper spray!
You might think that green and red chiles are different types of peppers, but they are in fact fruit of the same plant picked at different times. The red chile is the fully ripened version of the green chile.
These spicy peppers are finding their way into everything—sauces, breads, cheeses, even ice cream! Check your local store for all the available Hatch chile products.
For a brief refresher on the nutritional merits of other summer produce, check out the blog post "Summer Fruit: A Delicious Problem" by our local registered dietitian, Angela Larson!
How To: Roasted Hatch Chiles
Roast green chiles using one of the methods below:
Broiler: Preheat broiler on high. Place chiles on a baking sheet and place under the broiler for 6-10 minutes, turning often, until chile skins blacken and blister.
Charcoal or Gas Grill: Preheat grill and place chiles 4-6 inches from heat. Cook, turning often, until chile skins blacken and blister.
Gas Stove: Turn stove to high. Using tongs, hold chiles over flames, turning often, until skins blacken and blister.
Once chiles are roasted, place in a plastic or paper bag for about 10 minutes to steam. Wearing gloves, take the chiles out of the bag and remove the skins by rubbing gently. Use a sharp knife to cut pepper open and remove the stems, membranes, and seeds. Use chiles immediately or let cool completely, package in airtight freezer bags and place in the freezer until ready to use.
And now, the spicy fun part: easy Hatch Chile recipes you can put together quickly to spice up your next dinner! Recipes courtesy of vendor partner
Melissa's Produce
.
---
Roasted Hatch Chile Mac 'N' Cheese
by Chef Tom Fraker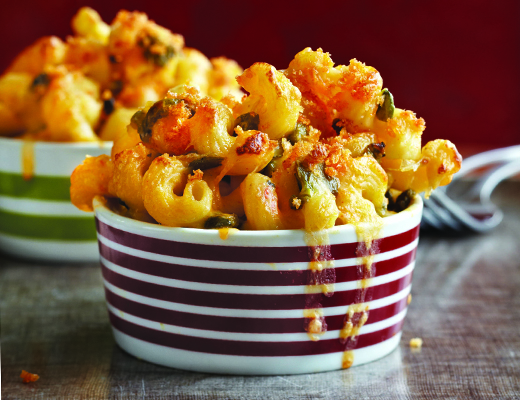 Prep Time: 25 min. / Total Time: 1 hr. 15 min. / Serves: 12 (1¼ cups) 
Ingredients
One 16-ounce box cavatappi or macaroni pasta
3 tablespoons olive oil, divided
8 tablespoons unsalted butter (½ cup)
½ cup all-purpose flour
2 cups milk
1 cup crema or crème fraîche
½ teaspoon freshly grated nutmeg
2 cups preshredded cheddar-Jack cheese (about 8 ounces) 
2 cups preshredded Gouda cheese (about 8 ounces)
1½ teaspoons smoked paprika, divided
Salt
Freshly ground white pepper
4 fresh Hatch Chile peppers, charred, peeled, stems and seeds removed, finely diced
¾ cup panko (Japanese breadcrumbs) 
Directions
Special note: If you don't have foil loaf pans, use other small baking dishes
Prepare pasta according to package directions; drain. Drizzle with about 1 tablespoon oil to keep pasta from sticking.
Preheat oven to 350°F. 
Coat insides of 6 (6x2-inch) foil loaf pans with cooking spray. 
Melt butter in a large saucepan over medium heat; whisk in flour until a smooth paste is formed, about 3 minutes. Whisk in milk, crema, and nutmeg until smooth; whisk in cheeses until completely melted. Whisk in 1 teaspoon paprika; whisk in salt and white pepper to taste. Remove from heat. 
Add pasta and Hatch Chile to cheese mixture; toss together. Pour evenly into prepared pans. 
In a bowl, combine remaining 2 tablespoons oil, remaining ½ teaspoon paprika, and breadcrumbs; stir in salt to taste. 
Sprinkle evenly over pasta mixture. 
Bake at 350°F until bubbly and lightly browned, about 25 minutes. Let rest 5 minutes. Serve.
---
Bleu Cheese Stuffed Hatch Chile Burgers
By Chef Tom Fraker
Makes 4 burgers
Ingredients 
1 pound Lean Ground Beef
1 cup Crumbled Bleu Cheese to taste
Salt and Freshly Ground Pepper
4 slices Cheddar Cheese
2 Hatch Chiles — roasted, peeled, seeded, halved 
4 Hamburger Buns
Directions
Special note: These burgers can also be done on the grill.
In a bowl, combine the beef, bleu cheese and salt and pepper until well mixed.
Form the mixture into 4 patties.
Place the patties onto a wire rack and place it onto a sheet pan.
Place 1 piece of cheddar cheese onto each burger and then top each with one half of a Hatch chile.
Place under the broiler and cook to your desired doneness.
Add your favorite condiments and enjoy.
---
Quick Hatch Chile Salsa Fresca
By Chef Tom Fraker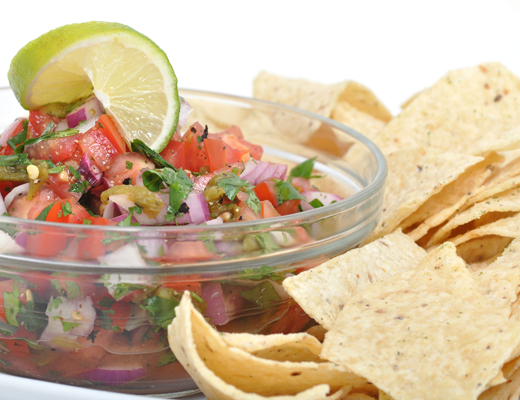 Ingredients
2 cups Organic Roma Tomatoes diced
½ Red Onion, diced
1½ Hatch Chiles — roasted, skinned, seeded, and diced
½ bunch Cilantro chopped
6 Key Limes, juice freshly squeezed
Freshly Ground Black Pepper to taste
Directions
Mix all the ingredients together in a small bowl. Season with salt and pepper according to your desired taste. Chill and serve with chips or as desired.
Keep in refrigerator up to 2 days.
Tuesday June 12, 2018
For Your Favorite Grill Master
• Make Dad's Day with this Signature Steak Marinade recipe • 
What does Dad
really
want for Father's Day? A full (and happy) stomach with a 
cold, refreshing drink
. And of course, the best dinner is a steak dinner. Here's an easy Steak Marinade recipe that he's sure to love.
Signature Steak Marinade
Yield: 3/4 cup, ideal for 1 1/2 to 2 pounds of meat.
Ingredients
1/2 cup Worcestershire Sauce
3 tablespoons balsamic vinegar
1 1/2 tablespoons Dijon mustard
1/2 teaspoon pepper
Directions
Combine all ingredients.
In large, shallow non-aluminum baking dish or plastic bag, pour marinade over steaks; turn to coat. Marinate in refrigerator for 30 minutes. Remove steaks; discard marinade. Grill or broil steak to preferred doneness.
P.S. - This weekend's text offer will be FREE Buckley Farms Hot Dogs (12oz) and Fresh Harvest buns (11oz) with a $20 purchase (excluding alcohol, tobacco, pharmacy, petro, and giftcards). 
Not signed up for our text offers? Text JOIN [insert your store #] to 59652. 
Friday June 1, 2018
Hawaiian Foods Week
Join us as we celebrate National Hawaiian Foods Week (June 10-16) with Hawaiian recipes, a live demonstration from renowned Chef Bert, a week-long Hawaiian themed deli menu, and the chance to win a trip to PARADISE!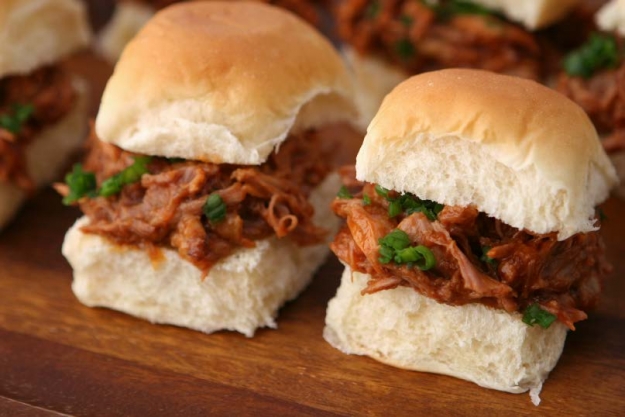 Pulled Pork Sliders
Recipes
Take your tastebuds on a Hawaiian vacation this week with any of these easy-to-fix, fun-filled
recipes
.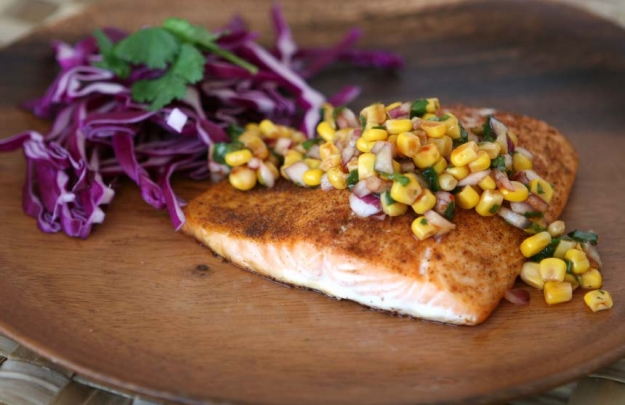 Blackened Salmon with Roasted Corn Salsa
Chef Bert
We will have special guest Chef Bert provide a live Taste of Aloha demonstration at two of our stores (time/date/locations below). He will be preparing Kona Coffee Braised Short Rib grilled cheese with sharp white cheddar and baby arugula on King's Hawaiian sliced bread. #yum
Can't be there? Tune in to our
Facebook
live video!
Deli Lunch Specials
Don't feel like fixing the recipes yourself? No worries—we'll be featuring these meals all week long at any of our
deli
locations! Here's the menu:
Monday: Teriyaki Chicken with Pineapple Salsa
Tuesday: Blackened Salmon
Wednesday: Teriyaki Hamburger Patties
Thursday: Macadamia Nut Crusted Tilapa with Mango Salsa
Friday: Teriyaki Chicken with Mango Salsa
Saturday: Pulled Pork Sliders
Sunday: Pulled Chicken Sliders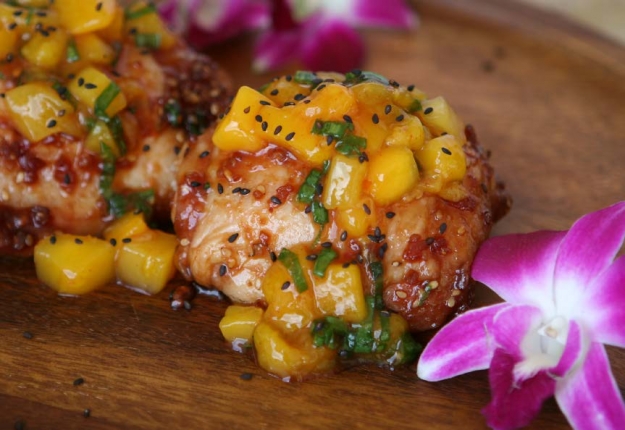 Teriyaki Chicken with Mango Salsa
Win a trip to PARADISE
You could be the LUCKY WINNER of  a trip to Kona, Hawaii! Our grand prize includes a round-trip flight to Kona for the winner and a guest, plus three nights in a hotel and $500 for spending money! For more information, see the complete list of 
official rules
.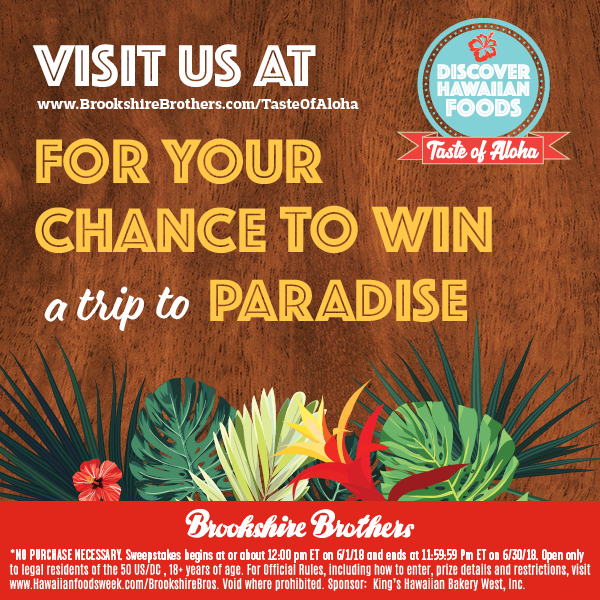 Tuesday May 22, 2018
Teeing Off For Charity: Spring 2018 BBCF Tournament
LUFKIN, TEXAS — Playing with generous, open hands remains the mission of the fundraiser golf tournament hosted twice a year in support of the Brookshire Brothers Charitable Foundation. Vendors and employee partners gathered together Monday to golf and raise money for the BBCF, which distributes grants to regional non-profits every January. As it has been so for over a decade, the tournament was held at the scenic Crown Country Club in Lufkin.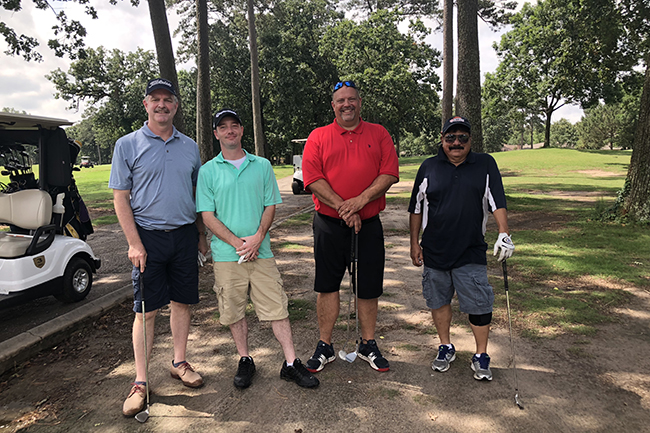 Due to weather delays, tournament play was partially shortened, however vendors continued to rally around the charitable cause. Representatives from some of the recipient organizations—Friends of Ellen Trout Zoo, Lufkin ISD Education Foundation, Junior Achievement of Angelina County, and more—volunteered their time to help work the tourney. It's their way of getting to know and thank the vendor donors from across the state and nation. They also served as official witnesses on Hole 17, where if a golfer hit a hole-in-one, they took home a 2018 Toyota RAV4 courtesy of Loving Auto Group.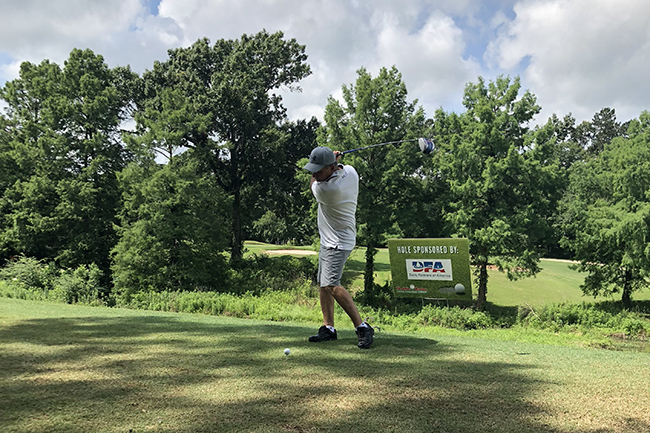 This past February, the Brookshire Brothers Charitable Foundation awarded more than $100,000 in grants to 22 non-profits and 6 education foundations across its market. The grants give organizations the resources they need to continue living out their mission of serving those in need. Trustees and company executives presented funds to the recipients at the Ellen Trout Zoo in Lufkin, Texas.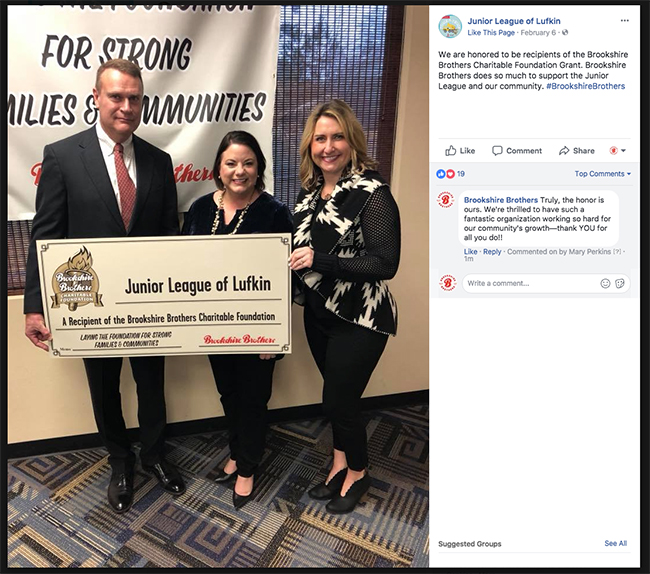 In making the presentations, Brookshire Brothers President, CEO and Charitable Foundation Board Member John Alston said, "Tens of thousands of lives are impacted by the good work these organizations do in their communities. They transform lives every day. It is our privilege, and that of our generous vendor partners, to help these non-profits live out their missions. It's at the heart of who we are – a community grocer."
Since 2007, the Brookshire Brothers Charitable Foundation has given more than $1 million to non-profits that focus on responding to the needs in education, health/wellness, hunger, and the arts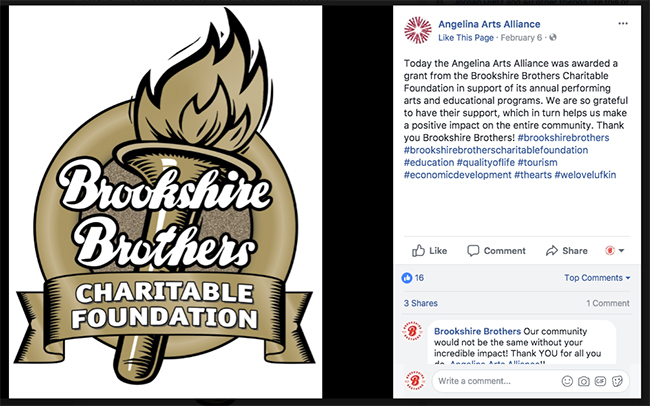 The 2018 recipients are:
Alcohol and Drug Abuse Council of Deep East Texas (ADAC)
American Cancer Society
Angelina Arts Alliance
Boys & Girls Clubs of Deep East Texas
CRRC of Canyon Lake
Dublin Goodfellows
Harold's House East Texas Alliance for Children
EmilyAnn Theatre & Gardens
Friends of the Ellen Trout Zoo
The Janelle Grum Family Crisis Center of East Texas (Women's Shelter of East Texas, Inc)
Junior Achievement of Angelina County
Junior League of Lufkin
Lake Whitney Ministerial Alliance
Lee County Youth Center
Pilot Point Community Opera House
Pregnancy Help Center of Lufkin
Texas Forestry Museum
The Joseph House
The Mosaic Center, Inc
Volunteer Services Council for the Lufkin State Supported Living Center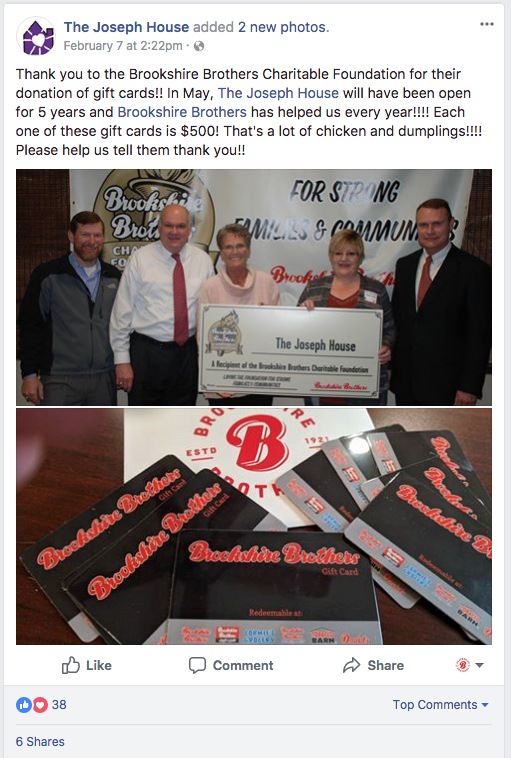 Education Foundations:
Cameron ISD
Friends of Hamilton ISD
Hemphill ISD Education Foundation
Lufkin ISD Education Foundation
McGregor ISD Education Foundation
Wells ISD Education Foundation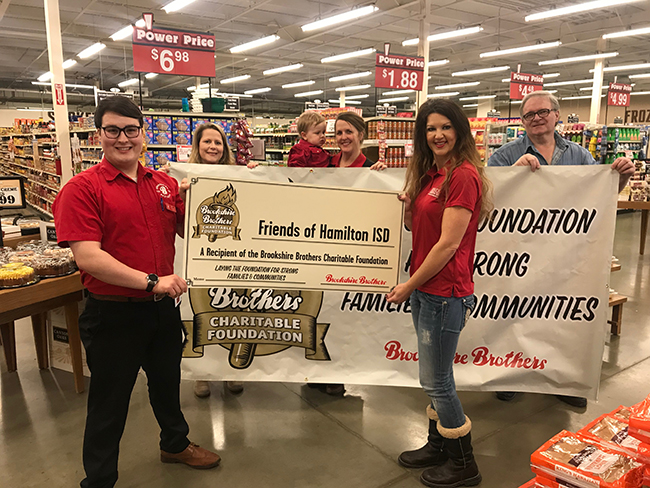 In addition to these contributions, Brookshire Brothers has a separate employee-run Donations Committee which meets monthly to consider hundreds of donation requests from throughout the company's footprint.
Pages