Thursday June 4, 2020
Wood Blueberry Farm
So we started a Blueberry Farm... What were we thinking?
After a trip to the California wine country in 2005, we decided we wanted to plant a vineyard. We had the available land, had the soil tested, and realized it was not suitable so much for wine grapes as it would be for blueberries. After some research, talking to other blueberry farmers, and the help of family and friends we started planting just one year later. We both had full-time careers away from the farm, Craig a Veterinarian, and Julie the Director of Food Service at a local school district. It was our plan that this venture would be our part-time retirement hobby to keep us active and outdoors. Luckily, we had 3 teenage boys that were able to help us run the farm during harvest in the summer. Without their help, we could not have managed it.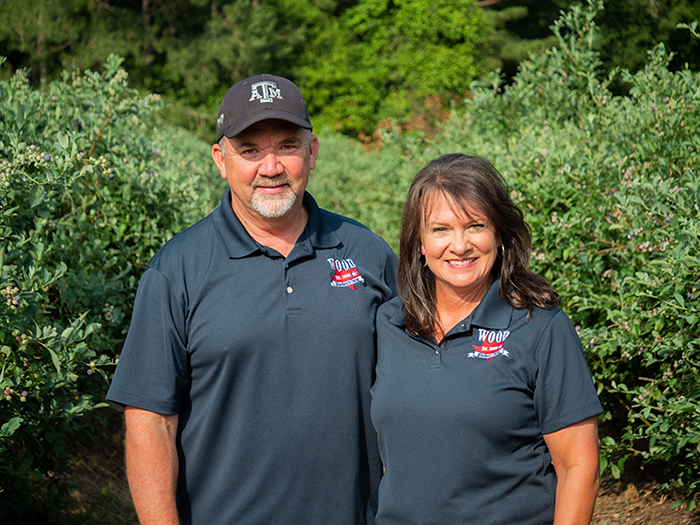 Craig and Julie Wood of Wood Blueberry Farm in Burke, TX. 
We were so excited when we harvested the first fruit in 2007, it was enough to make a really nice cobbler. Now our field totals nearly 8,000 plants and will produce 35,000 pounds of fruit in a good year.
Find fresh blueberries from Wood Blueberry Farm and more local products at your nearest Brookshire Brothers! 
The farmer's life is interesting and should be highly respected by those that enjoy the harvest. The weather all year long determines the quality and quantity of fruit produced. We spend many hours watching the weather forecasts and predicting how it will affect our crop. 
Harvest time is highly anticipated. We cannot wait for the first buds to pop and flower! Once we get into full-blown harvest it is long hard exhausting days of work - daylight till dark. This is the time of year we say, "What were we thinking?". But the harvest is short term and makes us appreciate the vacation we usually plan at the end of each season.
And by the way, we did plant that small vineyard that grows really pretty grapes; we just make really bad wine - So thankfully our blueberry crop is plentiful and delicious!
Wood Blueberry Farm is proud to be Aggie owned & operated and to be a hometown partner of Brookshire Brothers. 
Julie Wood '85, is now retired from Hudson ISD and manages the farm full time.
Dr. Craig Wood '85, is still a full-time Veterinarian at Lone Star Veterinary Clinic in Lufkin.
Their three boys all graduated from Texas A&M, '13, '15, '15, and now work in the Houston area.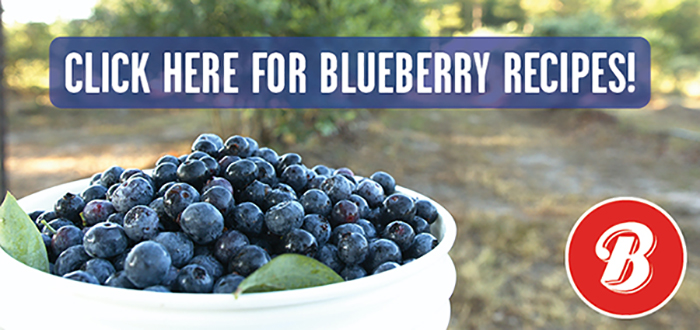 Thursday May 7, 2020
Aggieland Store Coming Along
The dirt work is  done, and Brookshire Brothers' new store on the campus of Texas A & M University will soon start to take shape.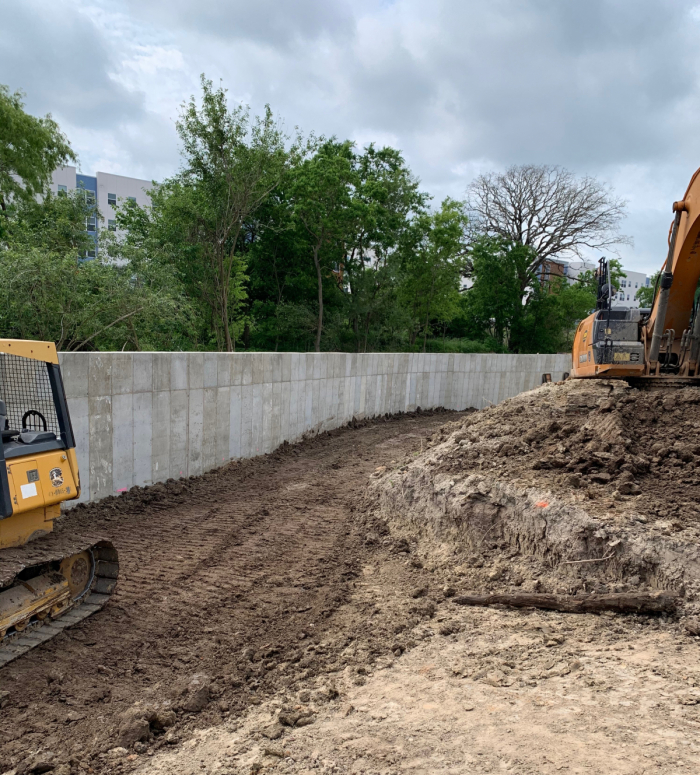 The retention wall is up, plumbing is in the ground and the concrete slab will be poured soon.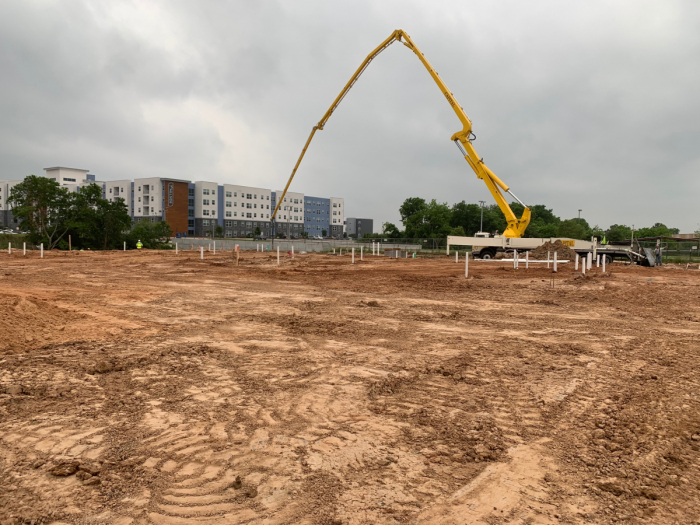 We can't wait for Aggies to shop our George Bush Drive location when it opens and of course catch live entertainment at our outdoor concert venue. Please read more about what our College Station store will have to offer
here
.
Wednesday April 8, 2020
Thank You For Trusting Us
We thank you for trusting us with your shopping needs.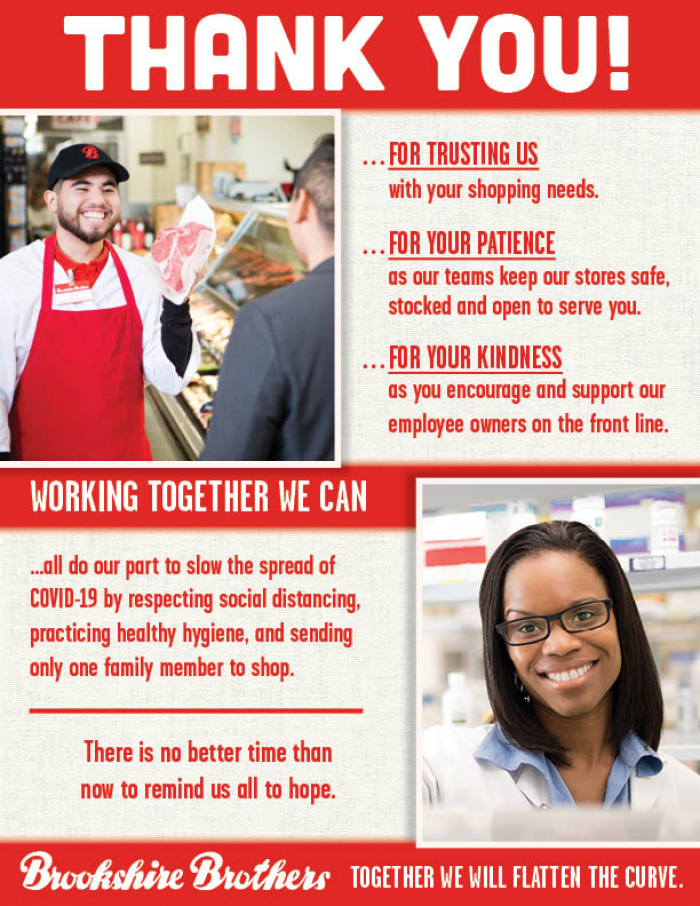 Monday April 6, 2020
Your Health Matters
Brookshire Brothers is here to help keep the communities we serve healthy.  Though the emerging coronavirus (COVID-19) has many unknowns, we want to assure you that we are doing our best to help you, your families and our employee owners remain well and prepared throughout.
Here are a few things we are doing to help:
Staying informed and keeping our store teams up to date on current health advisements and resources is critical to containing the spread of any illness.  Encouraging them to take good care of themselves and their families is key so they can continue to serve you.   If they do not feel well, we suggest they stay home and limit their exposure to others. Their safety and yours is our highest priority.

Our store teams are working with an increased sense of urgency to make your shopping experience as safe as possible. We are making sure our employee owners are equipped with the most current information and have a heightened sense of awareness on how best to limit the spread of the virus. Be assured that we have increased the frequency of disinfecting commonly shared areas and touchpoints throughout the store. Our regimen of best safety practices is even more enhanced for everyone's well being.  We are all in this together and share the common goal of containing the threat of illness.
Due to increased demand, our customers may notice certain items are out of stock. We are working diligently with our supplier community to replenish those items on our shelves as quickly as possible.  We may put limits on some products to ensure enough supply for everyone.  For convenience sake, shopping in certain locations can be done online. Brookshire Brothers Anywhere lets you order from your table, phone or desktop then pick it up curbside of have it delivered to your home.   Free curbside pickup is available at all of our online locations through April 10th.  Go to brookshirebrothers.com to find out if curbside pickup or delivery is available in your community.
We are a community grocer. You can trust Brookshire Brothers to have your community's wellbeing at heart.  Together, we can work to slow the spread of COVID-19.  Staying healthy is a team effort. Here are a few preventative practices we can all use to prevent the further spread of the virus.
Maintain a healthy lifestyle through sleep, diet, exercise, and relaxation
Wash your hands frequently with soap and water scrubbing thoroughly for 20 seconds
Dry hands with paper towels then discard and avoid using shared kitchen or hand towels
Avoid touching your nose, mouth, and eyes - keep hands at waist level where you work
Say "hi, hey, or hello" instead of shaking hands
Cover your coughs and sneeze into the bend of your elbow or use a tissue
Dispose of your used tissues immediately
Keep high touch surfaces clean like cell phones, computer keyboards, card swipe pads, buttons, doorknobs, handles, the inside of your vehicle, bottom/sides of purses and backpacks and countertops.
Maintain a healthy social distance of 6 feet to prevent the spread of illness
For nearly 100 years, Brookshire Brothers has served communities throughout Texas and Louisiana with the highest regard for shopper safety.  We are walking through this time together and will be updating our practices and our customers as the Center for Disease Control recommends. 
Friday April 3, 2020
Extend the Life of Your Produce
From pickled vegetables to homemade sauce we've got four ways to Extend the Life of Your Produce for you!
Pickled Vegetables
Ingredients
2½ cups sliced carrots (about ¼-inch thick)
2 cups sliced cucumbers (about ¼-inch thick)
2 bay leaves
2 garlic cloves, thinly sliced 
3 cups distilled white vinegar 
2 cups granulated sugar 
1 cup water
3 tablespoons salt
2 teaspoons dried dill 
1½ teaspoons whole black peppercorns 
1½ teaspoons yellow mustard seed
1 teaspoon coriander seed 
Directions
Fill 2 (1-quart) glass jars with carrots and cucumbers.
In medium saucepan, heat remaining ingredients to a boil over medium-high heat, stirring until sugar dissolves; cool. Pour vinegar mixture into jars over vegetables; seal jars with lids and refrigerate up to 1 week.
Chef Tip
Other vegetables to use in this recipe include asparagus, cauliflower, green beans and/or radishes.
---
Fruit Ice Cubes
Ingredients
2 cups raspberries, blueberries strawberries or blackberries
1½ teaspoons granulated sugar
1½ teaspoons fresh lemon juice
2 tablespoons water
Directions
In blender, purée all ingredients; pour into ice cube trays and freeze overnight. Makes 30 (1-inch) ice cubes.
---
Vegetable Soup
Ingredients
2 cans (19-ounces each) vegetable soup
3 cups greens such as baby arugula or chopped kale or spinach
¼ cup shaved or grated Parmesan cheese
Directions
In large saucepot, heat soup as label directs; stir in greens and cook. Serve soup topped with cheese.
---
Homemade Tomato Soup
Ingredients
5 garlic cloves, crushed with press
¼ cup extra virgin olive oil
½ teaspoon crushed red pepper flakes
1 medium yellow onion, chopped 
1½ teaspoons salt 
5½ cups chopped tomatoes (about 7 medium)
1 tablespoon Italian seasoning 
1 teaspoon ground black pepper 
1 tablespoon granulated sugar 
1 tablespoon red wine vinegar 
Directions
In large saucepot, cook garlic, oil and crushed red pepper flakes over medium-low heat 2 minutes, stirring occasionally. Add onion and 1 teaspoon salt; cook 7 minutes or until onion is tender, stirring occasionally. Add tomatoes, Italian seasoning, pepper and remaining ½ teaspoon salt; heat to a simmer over medium-high heat. Reduce heat to medium-low; simmer 2 hours or until thickened, stirring occasionally.
Stir in sugar and vinegar; transfer to blender and purée.
Visit your local Brookshire Brothers for all of your produce needs.
Thursday March 26, 2020
Easy Slow Cooker Pinto Beans
A lot of people are a bit apprehensive about making pinto beans in a pot on the stove, well we've got this easy alternative for you that you literally just let sit in your slow cooker.
Easy Slow Cooker Pinto Beans
Ingredients
1 pound dried pinto beans
1 teaspoon cumin
1 teaspoon garlic powder
1 teaspoon onion powder
1 teaspoon salt
Directions
Add pinto beans to slow cooker and cover with water to at least and inch above top of beans. Cover but do not turn on slow cooker.  

Soak for 8-12 hours
Drain water.
Add fresh water plus seasonings

Cover and cook on low for 8-10 hours until beans reach desired tenderness.

Drain and add additional seasonings to taste

Allow to cool completely before adding to containers or bags for storage 
Tuesday February 11, 2020
Our Recipes. Our Brands.
Our Brands = Your SAVINGS! The recipes below are filled with ingredients from our private label products. From paper goods to frozen grocery items, our brands offer quality and great prices for all customers. BONUS: Celebrate Members earn 1 reward point per every dollar spent on
our family of brands
!! Not a member yet? 
Learn more
 or 
sign up today
!
Nashville Hot Chicken Sliders
Grab a rotisserie chicken from your local Brookshire Brothers deli for an easy week night meal.  
One-Pot Smoky Shrimp Linguine 
This dish is perfect for a Lent season dinner.
Red Velvet Brownies with Cookies and Cream Frosting 
Here is a sweet to impress your sweetheart this Valentine's Day! 
Mushroom Leek Stuffed Pork Loin
This meal is sure to be a regular request around your Easter table.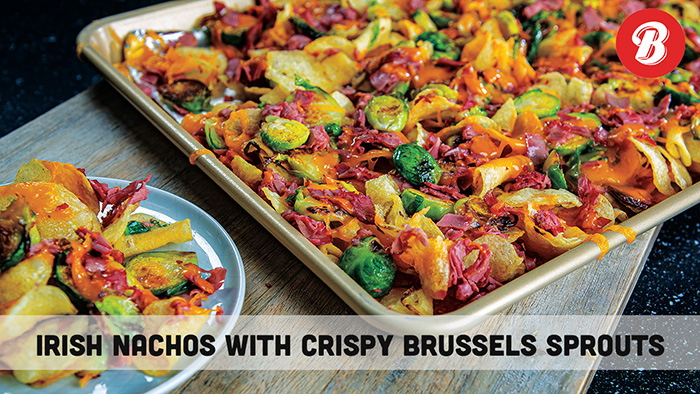 Irish Nachos with Crispy Brussels Sprouts
 Get in the St. Paddy's Day spirit by adding a 'wee bit' of green into your dinner.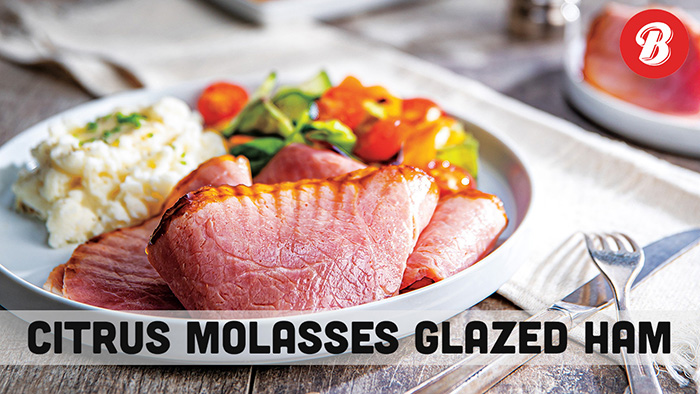 Citrus Molasses Glazed Ham  
This sweet and savory take on ham will have your guests begging for seconds.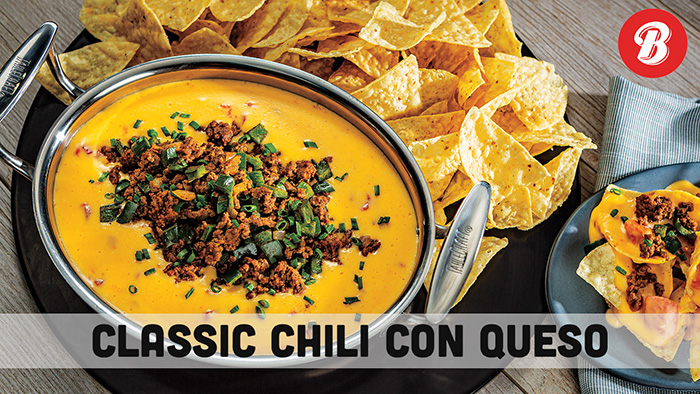 Classic Chili Con Queso
This recipe is sure to bring life to your potluck or game-day watch party.
Get ingredients for these yummy recipes and more at your local Brookshire Brothers!! 
Friday February 7, 2020
Chia Yogurt Cantaloupe Boats
These delicious CantaGold Chia Yogurt Cataloupe Boats are sure to make your weekend brunch plans perfect.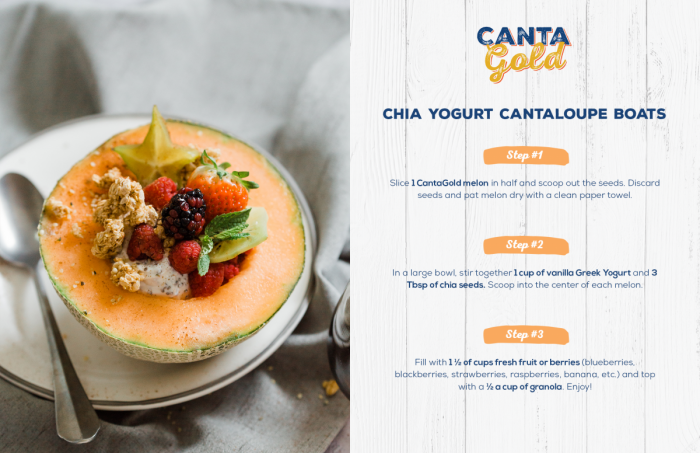 For all of your CantaGold Cantaloupe needs visit your
local
Brookshire Brothers!
Friday January 31, 2020
Oven-Baked Nashville Hot Chicken Sliders Recipe
Grabbing a rotisserie chicken from your local Brookshire Brothers deli for these Oven-Baked Nashville Hot Chicken Sliders will make you the winner of the big game this weekend!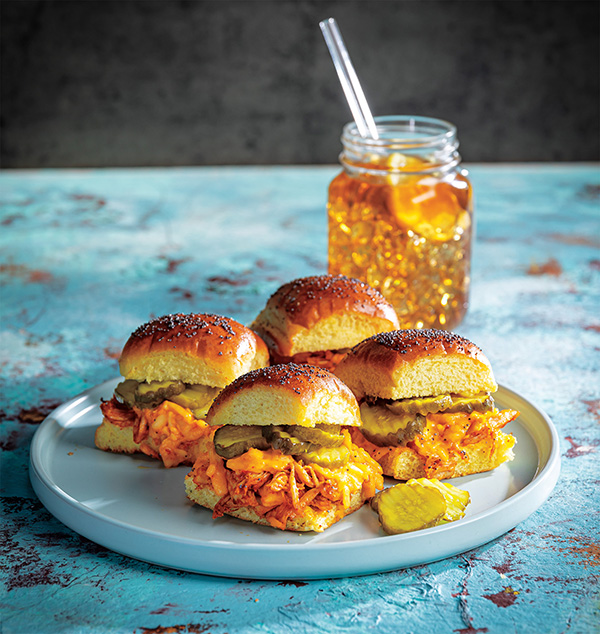 Nashville Hot Chicken Sliders
Ingredients
Food Club® Non-Stick Vegetable Oil Cooking Spray
2½ cups shredded skinless rotisserie chicken breast meat
½ cup Food Club® Ready To Serve Chicken Broth
2 tablespoons Food Club® Light Brown Sugar
1 tablespoon Food Club® Cayenne Pepper
1 teaspoon Food Club® Garlic Powder
1 teaspoon Food Club® Paprika
½ teaspoon Food Club® Texas Style Chili Powder
1 package (12 rolls) King's Hawaiian Sweet Rolls, split lengthwise
12 Food Club® Bread & Butter Chips plus additional for garnish (optional)
1 cup pimento cheese spread
1 tablespoon Food Club® Sweet Cream Unsalted Butter, melted
½ teaspoon poppy seeds
Directions 
Preheat oven to 350°. Spray 11 x 7-inch baking dish with cooking spray.
In large skillet, cook chicken, broth, sugar, cayenne pepper, garlic powder, paprika and chili powder over medium-high heat 4 minutes or until heated through, stirring occasionally.
Place bottom rolls, cut side up, in prepared dish; top with chicken mixture, pickles, cheese and top rolls, cut side down. Brush tops of rolls with butter and sprinkle with poppy seeds; cover dish with aluminum foil.
Bake sliders 15 minutes or until heated through; uncover and bake 5 minutes or until tops of sliders are lightly browned. Let stand 5 minutes; cut into sliders and serve with additional pickles, if desired. Makes 12 sliders.  
Visit your 
local
 Brookshire Brothers for you watch party needs!
Thursday January 30, 2020
Classic Chili Con Queso Recipe
Be the MVP of the Big Game when you serve this Classic Chili Con Queso recipe at your watchparty this weekend!
Classic Chili Con Queso
Ingredients
1 tablespoon Food Club® Vegetable Oil
2 poblano peppers, chopped
½ small white onion, chopped
1 garlic clove, minced
1 pound ground chuck
1 teaspoon Food Club® Texas Style Chili Powder
1 teaspoon Food Club® Ground Cumin
2 cups Fresh Harvest™ Vitamin D Whole Milk
½ cup heavy cream
2 tablespoons cornstarch
2 cups Food Club® Shredded Mild Cheddar Cheese
2 cups Food Club® Finely Shredded Monterey Jack Cheese
1 teaspoon kosher salt
1 can (14.5 ounces) Food Club® Diced Tomatoes in Juice, drained
2 teaspoons chopped fresh chives
1 bag (11.5 ounces) Food Club® Yellow Corn Tortilla Chips
Directions
In large skillet, heat oil over medium-high heat. Add peppers and onion; cook 5 minutes or until tender, stirring occasionally.
Add garlic; cook 1 minute, stirring frequently.
Add ground chuck, chili powder and cumin; cook 8 minutes or until browned, breaking up meat with side of spoon.
In medium saucepot, heat milk and cream to a simmer over medium-high heat.
In small bowl, whisk cornstarch and ¼ cup cold water; whisk into milk mixture and cook 4 minutes or until thickened, whisking frequently. Remove saucepot from heat; gradually whisk in cheeses and salt, whisking until smooth.
Stir in tomatoes.
Makes about 9 cups.
Serve queso topped with ground chuck mixture and chives along with chips.
Visit your local Brookshire Brothers for you watch party needs!
Pages