Submitted by
Angela Larson - Dietitian
on Tuesday, September 12, 2017
That first cool front of fall forever brings fresh inspiration to my kitchen. Visions of fall-flavored treats start dancing through my head—all things cinnamon-spiced and pumpkin-orange. One thing that always makes its way onto my table during the season is winter squash. What is winter squash exactly? While most people eat it as a vegetable, winter squash is a fruit (yes, it's a fruit!) of many different colorful types—all of which are great for you and easily found in the
produce section
of
your local Brookshire Brothers
. Butternut squash is one of my favorite winter squash varieties because of its delicious buttery undertones, plus it's easy to prepare and oh-so-nutritious! Specifically, this squash is a good source of hard-to-find nutrients such as folate, beta-carotene, several B vitamins, vitamin C, and minerals like potassium, iron, and magnesium. In honor of all this nutritional goodness—and the start of cooler weather—I'd like to share one of my favorite butternut squash recipes with you! Happy Fall!!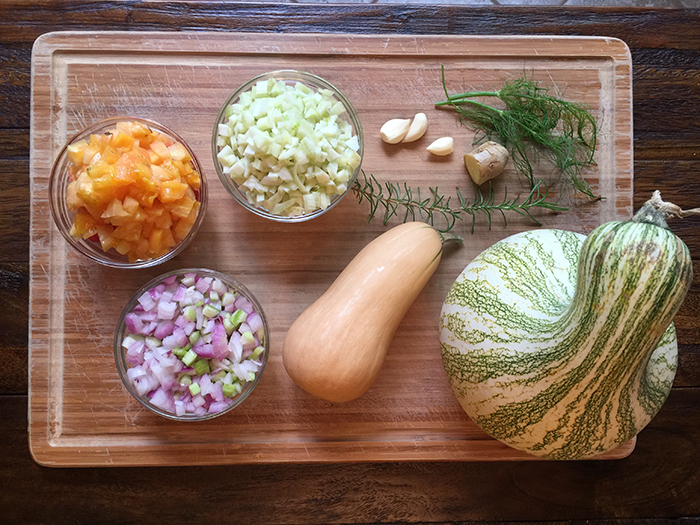 Gingered Winter Squash and Fennel Soup
Adapted from My French Family Table by Beatrice Peltre
Serves 6
Ingredients
2 tablespoons unsalted butter
1 tablespoon olive oil —
Read more: An
Ode to Olive Oil
2 celery stalks, diced
1 red onion or shallot, diced
1-inch piece of fresh ginger, chopped fine
2 garlic cloves, minced
1 sprig rosemary
¼ teaspoon dried oregano
1 tomato, peeled, seeded, and diced
1 winter squash such as butternut (about 3 lbs), peeled, seeded, and diced (to make about 1 ¾ pounds)
1 fennel bulb, diced, reserving fronds for garnish
1 pinch nutmeg
4 ½ cups chicken stock
Salt and pepper, to taste
For serving
Sour cream
Croutons
Parmesan cheese (grated)
Reserved fennel fronds
Instructions
In a large pot, melt the butter over medium heat; add the olive oil.
Add the celery, onion, and ginger and cook for 2 to 3 minutes, stirring occasionally, without browning. Add the garlic, rosemary, and oregano and continue to cook, stirring, for 1 minute until fragrant. Add the tomato and cook for 1 minute. Add the diced winter squash and cook for 5 minutes.
Add the nutmeg and chicken stock, increase heat to high, cover, and bring to a boil.
Reduce heat to medium and continue to simmer for 20 minutes. Remove from heat, discard the sprig of rosemary, and transfer to a blender and puree until smooth. Add salt and pepper, to taste.
Serve with a dollop of sour cream, croutons, grated cheese, and fennel fronds to garnish.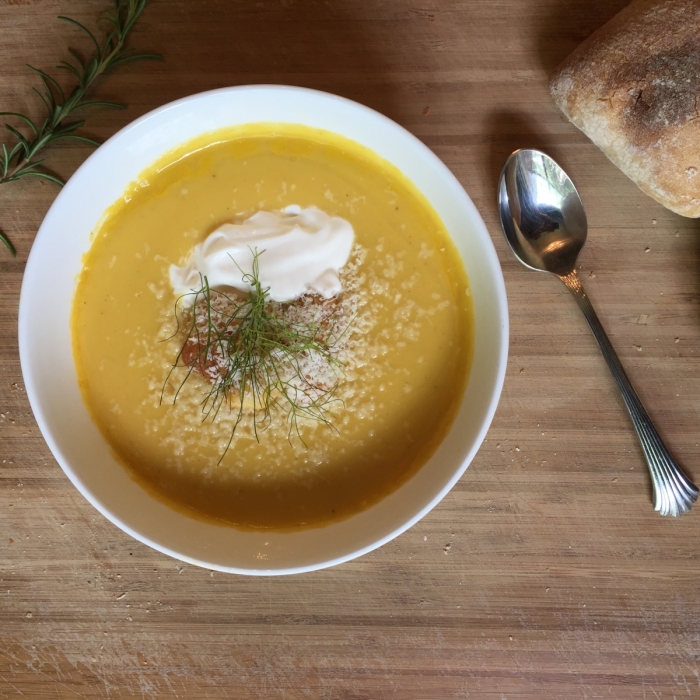 ---
Angela Larson is a registered dietitian (RD) who works with Brookshire Brothers promoting
real fresh, real delicious
foods and nutrition education to the community. She is also a clinical dietitian representing Woodland Heights Medical Center in Lufkin where she does outreach education on food and nutrition. Food is her passion, so Angela loves trying new recipes and exploring the more holistic side of nutrition. Angela loves to cook, garden, and spend time outdoors. In addition to the
Brookshire Brothers blog
, look for Angela's monthly articles in Charm East Texas.