Posted on Thursday, June 24, 2021
Brookshire Brothers is proud to partner with local producers Cooper Farms and Lightsey Farms to bring fresh, Texas-grown peaches to our customers this summer!
Cooper Farms is a second-generation family farm based in Fairfield, TX, and began with just a 5-acre plot and a dream between Tim and Kathy Cooper in 1983. It has since evolved into a well-known peach staple in northeast Texas, with a 300-acre farm and country store now operated by Tim and Kathy's daughter and son-in-law, Brady and Elizabeth Johnson.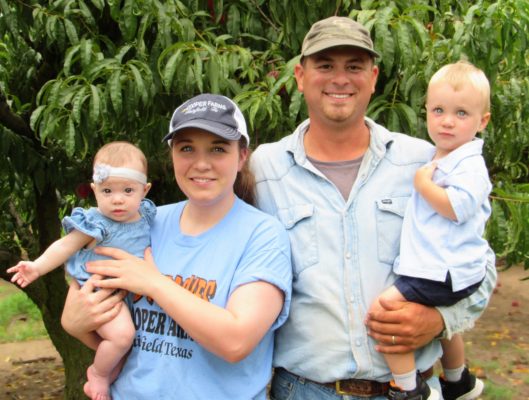 Cooper Farms grows about 70 different varieties of peaches along with nectarines, plums, blackberries, figs, vegetables and more. Peach farming isn't a walk in the park, as Elizabeth can tell you. "Weather and trying to work alongside Mother Nature's agenda is the biggest factor. Just this year, for example, we had the freeze in February. Our farm reached a record low temperature of -4 degrees. It hurt parts of our crop and actually killed a lot of mature trees."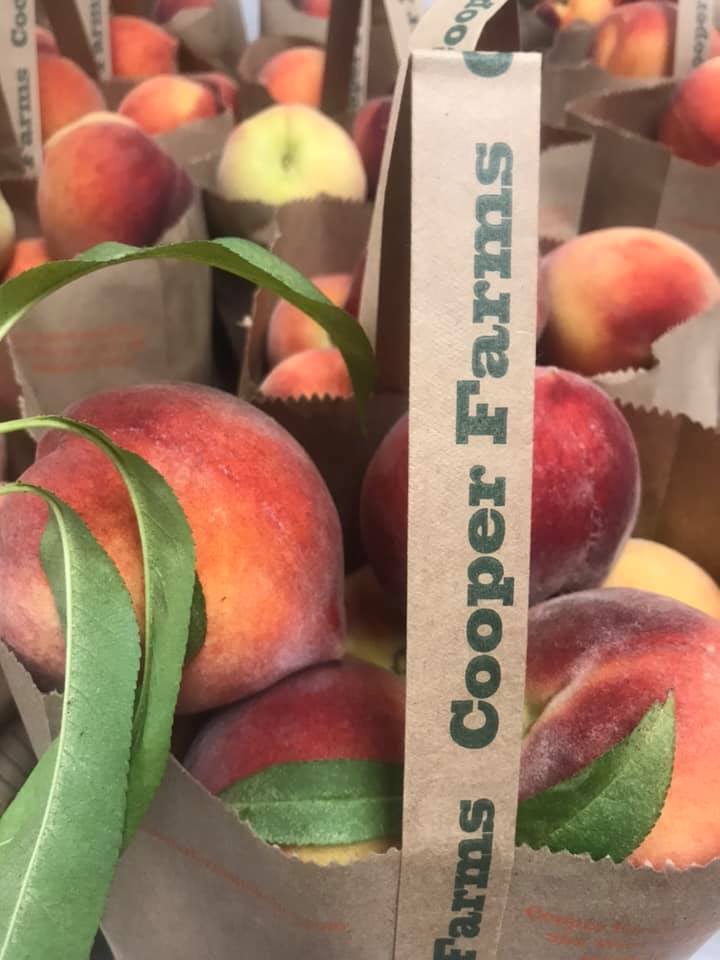 Over the years, Cooper Farms has battled conditions of excess rain, drought, high winds, hail storms, late freezes, early frost, bug invasions and more to keep the farm going strong. During the harvest season, Brady often works 100-plus hours a week. 
"This is part of farming, and we accept that responsibility," the Johnsons said. "We do what we do because we love it. It's not always easy or fun, but when we put a smile on customers' faces when they bite into a sweet Cooper Farms peach, it makes it all worth it."
Buying local products supports local jobs and local economies. Cooper Farms, for instance, has a lot of people counting on them. 
"We employ a lot of really awesome folks, many who have become like family," Elizabeth said. "Giving up because something is hard would be letting them down, and that's just not an option."
"It has been a blessing to be able to work our land and produce fresh, homegrown fruits and vegetables for people traveling through our Fairfield community for the past 30-plus years," the Johnsons said. "We hope to continue growing on our land for many years to come."
Lightsey Farms is a beloved peach producer in Mexia, TX, that began operating in 1918. The farm is currently run by sister-duo Mary Lightsey and Lisa Lightsey Hadden. The farm was started by their grandfather, Erie Elijah Lightsey, who initially produced cotton for the region.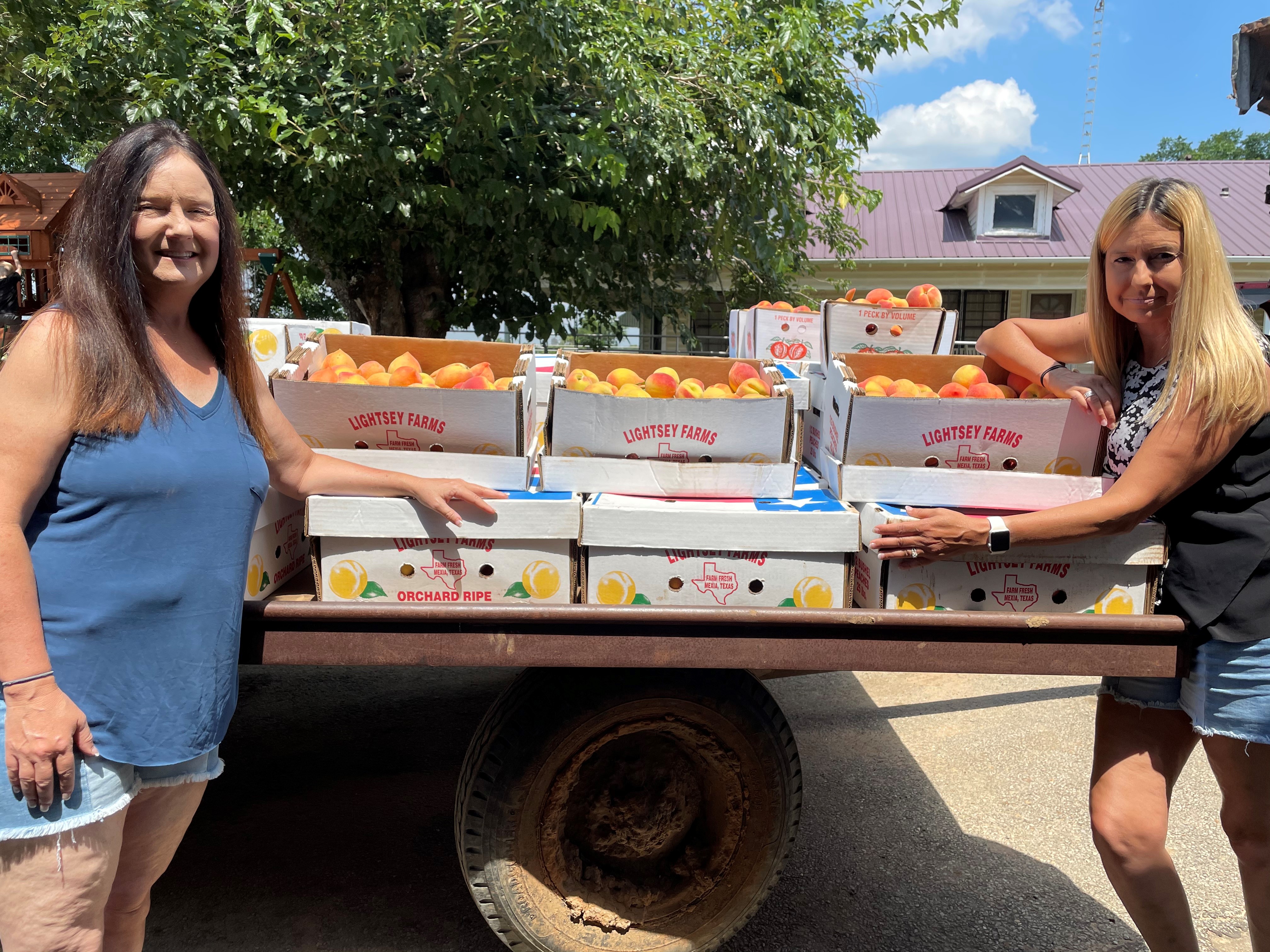 The sisters grew up in the farm lifestyle, and Mary can point out fruit trees that are older than she is. Though originally schoolteachers, the two sisters took up the reins of the family farm after their father passed away in 2009. For Mary and her sister, deciding to grow food and continue the family business was a no-brainer.
"I think handing down experience, of course, growing up in it as a family farm. You know the ins-and-outs that go along with it," Mary said. "And just being passed down from generation to generation, you treasure it a little bit more than if it wasn't."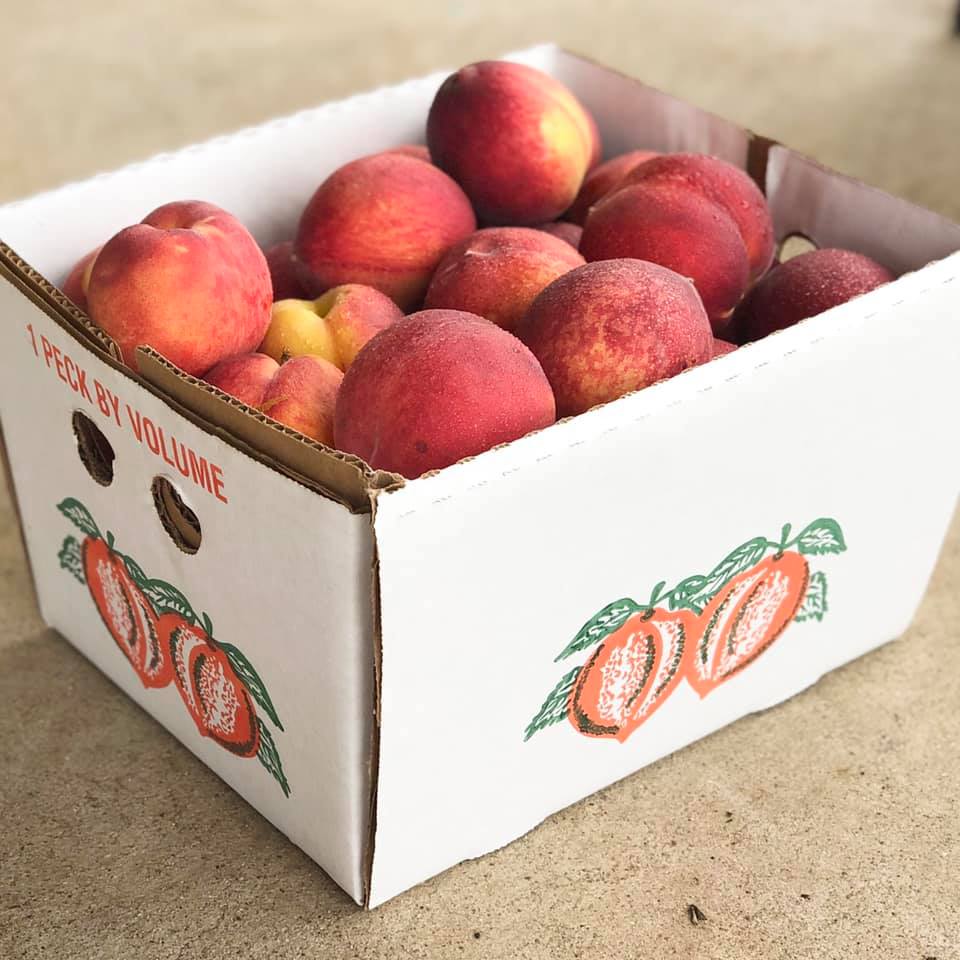 There are also many people in their local communities who count on them. Mary says,"Our workers, some of them, have been with us 40 years." 
While many other generational peach farms have closed, Lightsey Farms is going strong and hopes to someday pass down the farm to the next generation. 
"It's not about the money," Mary says. "It's about being in the family."
Lightsey Farms is committed to producing the sweetest peaches, berries, figs and persimmons found anywhere. The family has perfected the harvest of fruit in peak ripeness over three generations, and they have braved many struggles throughout the years. 
For example, many varieties of fruit trees need at least a few frosts during winter in order to produce fruit in the spring and summer. In years when the Texas winters do not produce these temperatures, crops suffer. Nevertheless, the sisters maintain a positive mindset when they encounter setbacks. 
Mary says simply planting a new crop or tree and watching it grow gets her through the tough times.
"When one dies, replant it, and then watch it grow," she says. "Just keep going."
When you buy local, you support farmers like the Lightseys and Johnsons who dedicate themselves to working the land, producing fresh, homegrown fruits and vegetables for their neighboring communities. Find mouthwatering peaches from Lightsey Farms and Cooper Farms and more local products at your nearest Brookshire Brothers today!