Submitted by
Angela Larson - Dietitian
on Monday, May 15, 2017
Eating outside is a great way to connect with nature and enjoy a meal alone or with loved ones. There are many reasons people want to or need to eat outside: a visit to the playground, a Saturday afternoon at the ball park, an afternoon hike, or a peaceful respite outside in the middle of a long day at work. The easiest part is getting outside, but sometimes it can be tricky coming up with delicious, healthy, and portable meal ideas for eating outdoors. That's where my advice and your local Brookshire Brothers comes in.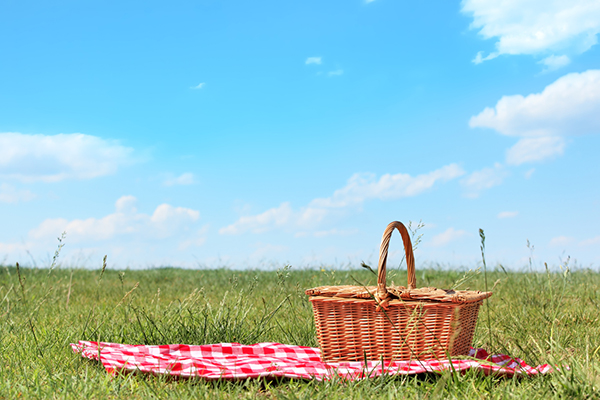 Pull out a picnic blanket, get comfortable, and have let's come up with some portable meals that will work for everyone.
If you have a little time to do some prep, chop up some fresh fruit and bag it up, or better yet, throw whole apples and easy-to-peel oranges in your picnic bag. If fresh fruit is too much trouble, remember there are more dried fruit options than just raisins – try cranberries, blueberries, cherries, dates, prunes, and apricots.
Sandwiches are always a go-to picnic option. If I'm short on time, I throw an entire loaf of whole wheat bread, a jar of peanut butter, and a jar of jelly in my bag with some plastic utensils and napkins. That way everyone can make their own sandwich when it's time to eat. If making sandwiches is too much trouble, try turkey and cheese roll-ups. My favorite method is to bring different flavors of cheese sticks and a package of sandwich meat. Wrap pieces of sandwich meat around the cheese stick for an easy to eat protein and healthy fat packed main course. Add a tortilla and veggies for a fancier version.
Try an even easier protein source - beef jerky! It makes a great snack or protein option when you don't have a way to keep foods cold.
For veggies, try baby carrots, pre-washed and cut broccoli or cauliflower florets, and cherry tomatoes as easy pack-and-go options.
Throw a container of your favorite kind of nuts or seeds into the mix for a filling addition of healthy fats and plenty of vitamins and minerals to boot.
Cheesy popcorn is another easy to pack snack that is a healthy fiber-rich substitute for chips. It travels well and tastes delicious.
Have a little more time for meal prep? Make ahead a pasta salad, chicken salad sandwiches, or my favorite - salmon and apple sandwiches. Mix up packaged salmon with mayonnaise as a binder, and toss in diced apple as desired. This goes great with crackers or makes a delicious sandwich.
And for beverages, remember to fill water bottles before you leave or pack some bottled water. Squeeze a little lemon in if you'd like to get fancy with it.
No time for any meal prep? Stop by your local Brookshire Brothers deli for plenty of delicious grab-and-go meal options. Just don't forget the farm-fresh veggies!
And last but not least, consider sitting on the ground on a picnic blanket. That way you get a little extra movement and mobility in with your picnic lunch by getting up and down off the ground. Now you're ready for healthy and portable outdoor summer meals!
Angela Larson is a registered dietitian (RD) who works with Brookshire Brothers promoting real fresh, real delicious healthy foods and providing nutrition education to the community. She is also a clinical dietitian representing Woodland Heights Medical Center in Lufkin where she does community education on food and nutrition. Food is her passion, so Angela loves trying new recipes and exploring the more holistic side of nutrition. Angela loves to cook, garden, and spend time outdoors. Look for Angela's monthly articles in Charm East Texas.