Posted on Tuesday, May 28, 2019
30+ Snack Ideas For A Real Fresh, Real Delicious Summer
Summer has a certain type of informality to it—lazy days, swimming pools, vacations, and more flexible schedules. However, all the fun and adventure can leave you feeling a bit hungry if you forget to plan ahead. Snacks are to summer like soup is to winter. You need snacks to keep you going through all those long summer days. Let's run through some of my favorite snack ideas that will keep you refreshed all summer long.
Feelin' Fruity?
Summer has its very own kind of special bounty for us all to enjoy. In summer, fresh seasonal fruit is some of the most varied and abundant of the entire year. A favorite local option is the Texas blueberry. They are fresh, plump, and out-of-this-world delicious. If I'm in need of a more filling snack, I throw some blueberries in a bowl of delicious plain Greek yogurt with a drizzle of honey. Don't let blueberries steal all of the berry spotlight though; blackberries, strawberries, and raspberries are awesome and nutritious treats too.
There's more to this season than just berries though! This is the time for cherries, peaches, and—the true summer classic—watermelon. Start searching through the watermelon display at
your neighborhood Brookshire Brothers
in search of the perfect selection! Whether you thump, spank, or sing to the watermelon to help you choose just the right one, one thing's for sure—you'll definitely enjoy that first bite of sweet and juicy watermelon on a hot day. Tropical fruits like sweet golden mangos, fresh pineapple, and kiwi are another fantastic option to shake up your fruit routine or to add into a colorful fruit salad.
Did you know strawberries are a good source for vitamin C and blackberries are full of folate? Read more about the nutrition in summer fruit here!
Something a Little More Savory
Need a quick and simple snack that's more filling than just fruit? Try adding nut butter to your fruit for some rib-sticking power in your snack. Bananas and apples are tried-and-true favorites that pair up beautifully with nut butters. The most popular nut butter is peanut butter, but almond and cashew butter products are a delicious—and nutritious—way to change things up.
Popcorn is another classic snacking choice for a crunchy and salty treat. There are plenty of ready-to-eat options available in a variety of flavors, or you can do it the old-fashioned way and make plain popcorn at home with a drizzle of melted butter and a sprinkle of salt.
Dips like hummus, guacamole, or salsa are also excellent snacking options, especially for summer gatherings. Just grab chips, crackers, pita or fresh veggies for dipping. Whether you choose homemade or pre-made, everything you need to make it happen is waiting for you at
your neighborhood Brookshire Brothers
.
For a less traditional snacking option, why not give homemade kale chips a shot? It's as easy as washing a bunch of kale, tossing them in olive oil, salt and pepper, and putting them in the oven on a sheet pan at 350 degrees for 15 to 18 minutes until crispy but not browned.
Lower-Carb & Protein Packed
Nuts and seeds are a quick and easy, low-carb option for snacking that also gives a shot of protein and healthy fat. The more variety, the better since all the different nuts and seeds have different special nutritional qualities. Try walnuts for omega-3, almonds for vitamin E, brazil nuts for selenium, and pumpkin seeds for iron and magnesium.
Looking for a high protein snack to stay full longer? Try cottage cheese! Did you know that cottage cheese is even higher in protein per serving than Greek yogurt? Try it plain, with fruit, or even savory-style with salt and pepper. Kefir smoothies are another favorite dairy-based snack option in my house. Similar to yogurt-based smoothies, kefire smoothies are packed with healthy live probiotic cultures. Lastly, don't forget beef jerky! This perfectly portable, high-proteins nack is available at
your neighborhood Brookshire Brothers
in plenty of flavors to keep you satisfied.
Need some snacking inspiration? Try this family favorite homemade salsa recipe, made with summer's freshest ripe tomatoes.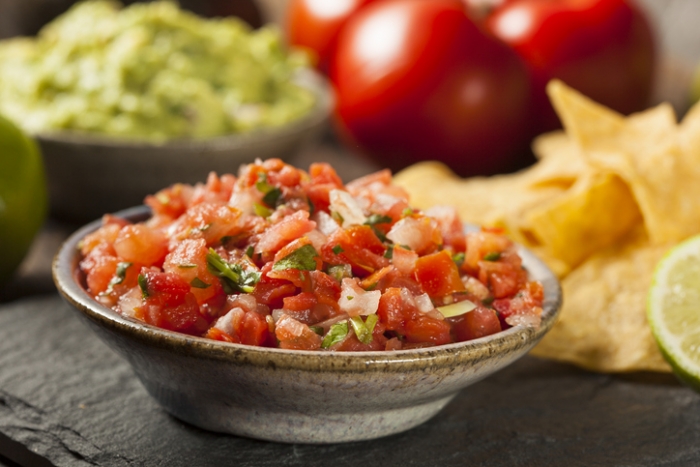 Fresh Homemade Salsa
*Adapted from Cook's Country
Ingredients:
2 pounds ripe tomatoes, cored, seeded, and chopped medium
2 teaspoons salt
½ small red onion, chopped fine
1 jalapeño chile, seeded and minced
¼ cup chopped fresh cilantro leaves
¾ teaspoon cumin powder
1 tablespoon lime juice
Instructions:
Combine tomatoes with salt.
Place tomatoes in strainer set over bowl and let drain 30 minutes.Discard liquid.
Meanwhile, combine remaining ingredients in medium bowl.
Combine drained tomatoes with remaining ingredients.
Allow to sit at room temperature for one hour for flavors to combine (if you can wait that long!)
Serve with chips for dipping.
---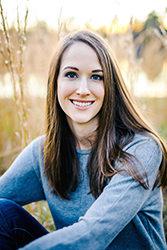 Angela Larson is a registered dietitian nutritionist (RDN) who works with Brookshire Brothers promoting
real fresh, real delicious
foods. Delicious food is her passion, so she loves trying new recipes and exploring the more holistic side of health and nutrition. When Angela isn't working with Brookshire Brothers, she's a mostly stay-at-home mom who loves to cook, garden, and spend time outdoors with her husband, Austin, and their two daughters.