Submitted by
Angela Larson - Dietitian
on Monday, September 9, 2019
September is Family Meals Month, which is a great time to pause and reflect on what family means to you. The term "family meals" often brings up images of special holiday occasions and nostalgia about simpler times. But for many, busy schedules have gotten in the way of making family meals a regular habit.
Making family meals a priority has more power than you could ever realize. Connecting as a family around a shared meal or snack creates a pause in the day where the rest of the world is suddenly less important than the connections within that family unit. Creating a family meal ritual that is predictable and free of distractions is a wonderful way to share delicious food and make memories. Researchers have found time and time again that families who regularly share meals enjoy many surprising benefits such as lower chance of risky or harmful behaviors in adolescents and better health outcomes for everyone in the family.
For every family, there are many unique ways that family meals can be made a greater priority. In my family, my girls love to come through the kitchen and grab a taste of things I'm working on prepping. My two and four year olds also love to help with any cooking tasks they can do safely, and they are getting more competent in the kitchen every time they do. Almost every day, we sit down together as a family for dinner. At times, meals with toddlers can be stressful, but because they know what to expect most family meals are pleasant and full of laughter and sweet conversation. My girls love visiting our neighborhood Brookshire Brothers store and helping shop for ingredients, how different foods taste, and discussing what we will be eating that week.
Try some of these simple ideas to help enrich your own special family meal traditions:
Choose one day a week to always cook and eat together as a family. Getting your kids involved in cooking is a great way to encourage adventurous and eager eaters. Give your special meal day a memorable such as "Tasty Tuesday" or "Family Dinner Thursday."
Involve kids in the process of meal planning and shopping at your neighborhood Brookshire Brothers.
Set goals that work with your schedule. Based on your schedule, aim to eat particular meals or snacks together for certain meals and days of the week.
Keep the family table distraction-free without technology or reading materials to keep the focus on conversation.
Use conversation starter tools or games to help make conversation more exciting and fun.
Plan a special baking project once a month to do with your kids, and enjoy a treat!
Start an after dinner routine of taking a walk or a bike ride after a family dinner to really enrich and make the most of family time.
If you're children are older, assign certain meals or dishes completely to them, and take the backseat to help them as their sous chef rather than always being in charge of every meal.
If evening schedules are busy, try to make breakfast, lunch, or snack time a family meal opportunity whenever possible.
Even if a meal isn't home-cooked, it can still be enjoyed together. Try the Brookshire Brothers Deli or some of the frozen or fresh-prepared options in your neighborhood store for easy family dinners.
Need a fun family dinner idea to help you get started? Try these tasty flatbread "pizzas" that are fun and easy to assemble with helpers of all ages.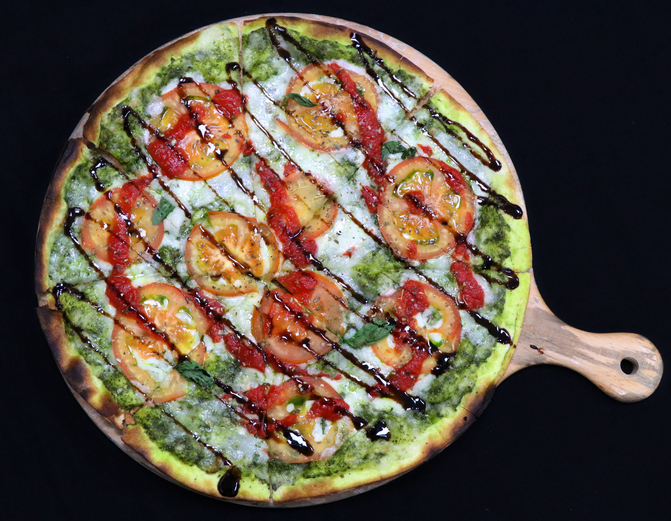 Italian Flatbread Pizzas with Pesto and Sun-Dried Tomatoes
Ingredients
4 Stonefire Naan Flatbreads of desired size, or another type of pita or flatbread
1/2 cup pre-made basil pesto
4 tablespoons sun-dried tomatoes, drained if packed in oil
1 cup shredded mozzarella cheese
Salt and pepper to taste
Optional additional toppings:
Fresh mozzarella cheese pearls
Cherry tomatoes, halved or quartered
Fresh parsley or basil, roughly chopped or torn
Balsamic vinegar, thicker varieties work best
Extra-virgin olive oil
Instructions:
Preheat oven to 425 degrees.
Position oven rack in middle of the oven.
To assemble flatbreads, spread basil pesto on each bread, sprinkle sun-dried tomatoes and mozzarella on top.
Season to taste with salt and pepper.
Add any optional ingredients of fresh mozzarella or cherry tomatoes as desired.
Bake flatbreads for 9-11 minutes, until cheese is melted and they are heated through and slightly brown on the edges.
After removing from oven, sprinkle optional fresh herbs over flatbreads, and drizzle with balsamic vinegar and olive oil.
Serve with a simple garden salad.
Bon appetit!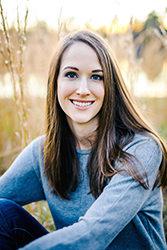 Angela Larson is a registered dietitian nutritionist (RDN) who works with Brookshire Brothers promoting
real fresh, real delicious
foods. Delicious food is her passion, so she loves trying new recipes and exploring the more holistic side of health and nutrition. When Angela isn't working with Brookshire Brothers, she's a mostly stay-at-home mom who loves to cook, garden, and spend time outdoors with her husband, Austin, and their two daughters.