Friday December 20, 2019
Lucky New Year's Soup
Smoked Sausage, Black-Eyed Pea & Cabbage Soup
Tired of the same old pork, black-eyed peas and cabbage on New Year's Day? With all of the traditional ingredients for luck and good fortune, this hearty soup will be your new favorite way to kick off the new year!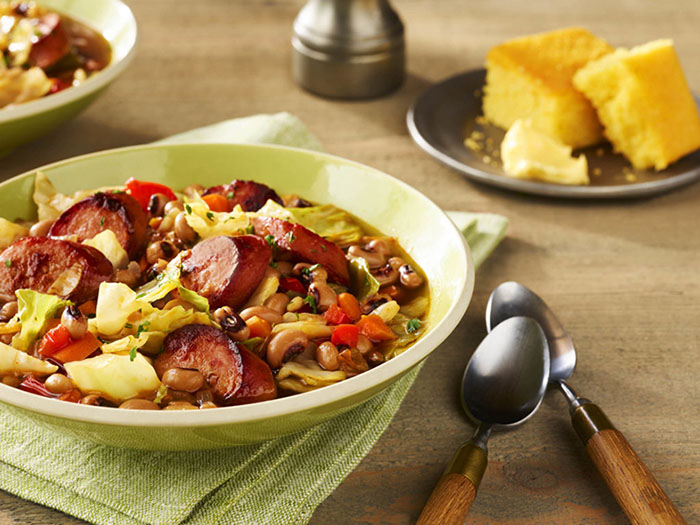 Ring in the New Year with savings on all of your celebration must-haves at your local store today! 
INGREDIENTS:
1 package Eckrich smoked sausage 
Two handfuls white onion, chopped
One carrot, chopped 
Handful red pepper, chopped 
Half small green cabbage, chopped
1 clove garlic, chopped
Parsley, chopped (optional) 
Olive oil 
15 oz. can black-eyed peas, drained and rinsed
2 cups chicken stock
1 tablespoon Cajun seasoning 
PREPARATION:
Heat the sausage (cut into ½-inch slices) in olive oil until lightly browned and set aside. In the same pan, sauté the onion, garlic, carrots and red pepper. Add the cabbage, and stir frequently for 3 minutes. Then toss in the black-eyed peas, chicken stock, Cajun seasoning, salt and pepper. Cook for 10 minutes on medium low heat. Add Browned smoked sausage and stir. We highly suggest pairing this soup with a side of cornbread! 
 *Recipe courtesy of our vendor partner
Eckrich
.