Posted on Tuesday, March 30, 2021

Ham-Stuffed Mushrooms: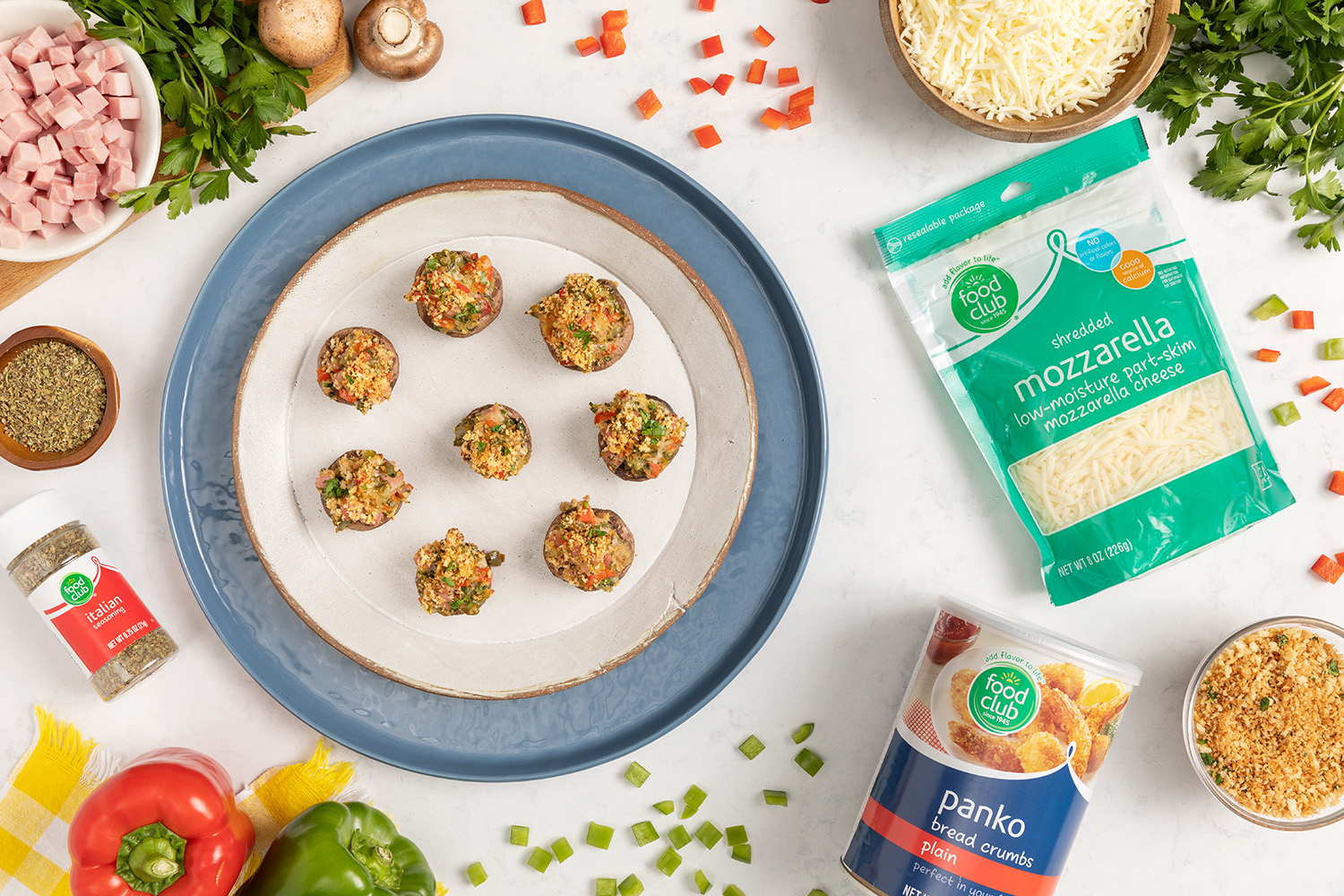 Ingredients:
16 large cremini mushrooms
1 cup Food Club Panko Bread Crumbs
2 tablespoons olive oil, divided
1 small yellow onion, minced
1 small red bell pepper, chopped
1 small green bell pepper, chopped
1/2 teaspoon kosher salt
1 teaspoon Food Club Italian Seasoning
1 cup Food Club Shredded Mozzarella Cheese
1 cup cooked ham, chopped
1/4 cup chopped parsley, plus more for garnish
Directions: 
Preheat oven to 350°F. Remove mushroom stems and use a spoon to scoop out dark mushroom gills, being careful not to break mushroom caps. Place mushrooms cup-side-up on a rimmed baking sheet and set aside
Heat 1 tablespoon olive oil in a large skillet over medium heat. Add bread crumbs and cook, stirring frequently until golden-brown, about 10 minutes. Transfer to a bowl to cool and wipe out skillet. Add remaining olive oil and onion, red pepper, green pepper, salt and Italian seasoning. Cook until vegetables have softened, about 7 minutes. Transfer mixture to a large bowl and let cool 5 minutes. Add mozzarella cheese, ham and parsley. Stir to combine.
Generously stuff each mushroom with filling mixture. Top with bread crumbs and bake for 25 minutes, or until mushrooms are tender. Garnish with fresh parsley.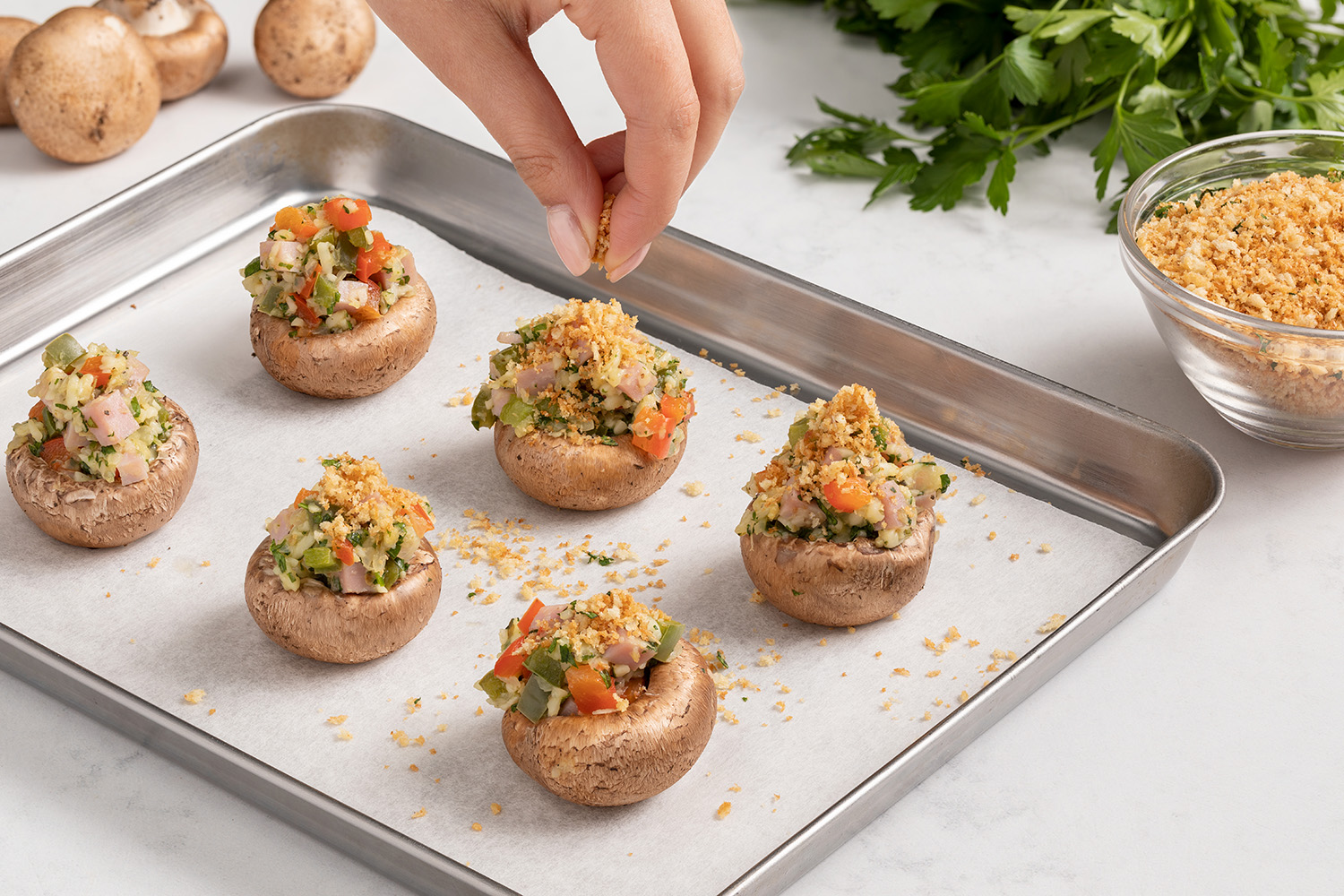 ---
Ham and Cheese Sliders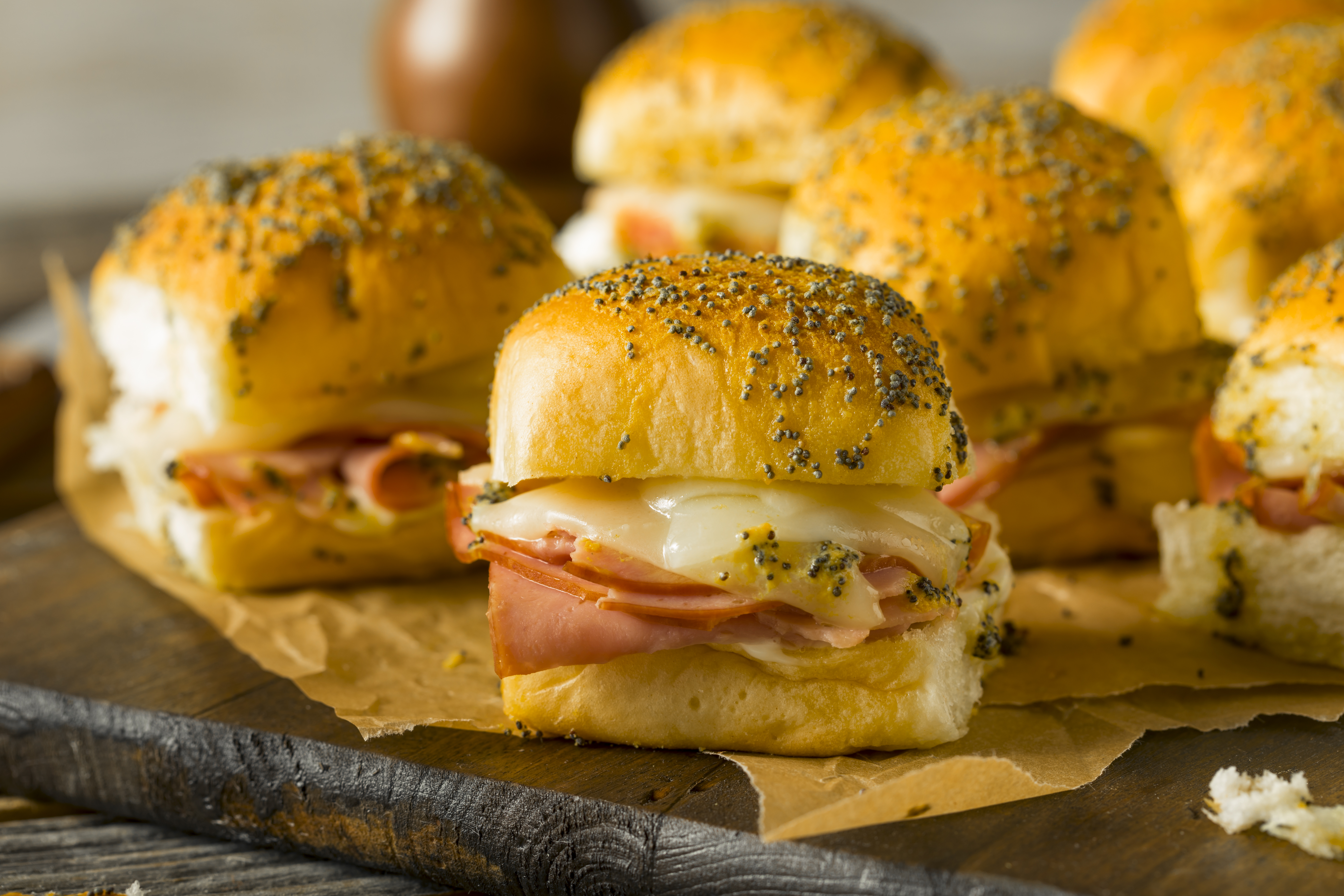 Ingredients:
12 dinner rolls
12 slices ham *see note
8 ounces swiss cheese or cheddar chese
6 tablespoons butter melted, divided
1 ½ teaspoons grainy mustard
1 teaspoon Worcestershire sauce
1 teaspoon poppy seeds
1 teaspoon dried minced onion
Directions:  
Preheat oven to 350°F.
In a bowl combine 4 tablespoons butter, mustard, Worcestershire sauce, poppy seeds, and dried onion.
Cut the rolls in half separating the top and bottom. (If they are attached you don't need to separate each roll). Brush with the inside of the rolls remaining 2 tablespoons butter.
Place the bottom in a baking pan. Layer about the ham onto and top the cheese.
Top with the other half of the roll and gently spoon the butter mixture overtop.
Bake uncovered about 20 minutes or until the cheese has melted and the tops are lightly browned. Serve warm.