Tuesday January 29, 2019
Buffalo Chicken & Blue Cheese BBQ Flatbread Pizza
Looking for the perfect crowd-pleaser that looks fancy, tastes delicious, and comes together in a snap? These flavorful little flatbreads are the answer to your watch party prayers! They're also a great, kid-friendly option for a quick dinner on busy nights, and they can be customized to your heart's delight.
For the flatbread, check out the bakery section of your neighborhood
Brookshire Brothers
. I use Stonefire Tandoori Naan flatbreads for the pizza crust, but any kind of pita flatbread would work. For little pizzas, look for the smaller-sized flatbread or just cut the regular-sized bread into bite-sized pieces. Kick up the nutritional value another notch by using naan that's whole wheat!
Read more: No time? No problem. Check out the party trays from our deli.
Buffalo Chicken & Blue Cheese BBQ Flatbread Pizza 

INGREDIENTS
Naan, Pita, or any other flatbread in desired size
Barbecue Sauce
Shredded cheese (I use cheddar)
Celery, chopped fine
Chicken, cooked and chopped into bite-sized pieces (rotisserie chicken works well or some chicken breasts that have been fully cooked)
Frank's Original Hot Sauce (or other favorite wing sauce)
Blue Cheese Crumbles
DIRECTIONS 
Preheat oven to 375 degrees.
Toss cooked chicken in Frank's hot sauce until coated.  
Assemble pizzas by spreading barbecue sauce on the flatbread, sprinkling evenly with shredded cheese and celery, and topping with chicken and blue cheese. 
Place pizzas on baking sheet and bake for 5-8 minutes until warmed through and cheese is melted.  Serve warm, drizzling with additional hot sauce as desired.
 More easy & epic crowd pleasers:
---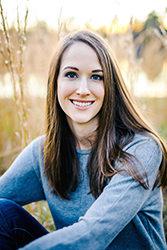 Angela Larson is a registered dietitian (RD) who works with Brookshire Brothers promoting 
real fresh, real delicious
 foods and nutrition education to the community. She is also a clinical dietitian representing Woodland Heights Medical Center in Lufkin where she does outreach education on food and nutrition. Food is her passion, so Angela loves trying new recipes and exploring the more holistic side of nutrition. Angela loves to cook, garden, and spend time outdoors. In addition to the 
Brookshire Brothers blog
, look for Angela's monthly articles in Charm East Texas.