Posted on Tuesday, January 28, 2020
The BIG game is coming up this Sunday, February 2nd. Whether you watch the game for the football, the halftime show, or mute the game and just watch the commercials – one thing that makes it a great Super Bowl party is the food! Super Bowl snacks are legendary…and these three recipes are just what you need to keep the food prep simple and quick. Check out your local Brookshire Brothers for other great deals on all of your Super Bowl snacks!
Bacon-Wrapped Crackers
Makes 12-15 servings.
Ingredients
1 sleeve Club crackers
¾ cup grated Parmesan cheese
1 lb thinly sliced bacon
Directions
Preheat oven to 250°F.
Lay the crackers face up on a large rack over a rimmed baking sheet.
Sprinkle evenly with grated Parmesan. Cut the bacon in half to make 3-4" pieces.
Wrap each cracker with a slice of bacon, being careful to not disturb the shredded cheese.
Place the bacon-wrapped crackers on the rack.
Bake at 250°F for 2 hours or until crackers are crisp and bacon is cooked through.
Serve warm or room temperature.
Mini Buffalo Chicken Cups
Makes 12-15 servings.
Ingredients
6 tablespoons butter, melted
½ cup hot sauce (Frank's or other)
¼ teaspoon seasoned salt
¼ teaspoon black pepper
2 cups shredded cooked chicken
1 cup shredded sharp Cheddar cheese
2 tablespoons ranch dressing or blue cheese dressing
½ cup Food Club biscuit / baking mix
½ cup milk
2 eggs
½ cup blue cheese crumbles
½ bunch fresh cilantro, chopped
additional sauce (for drizzle)
Directions
Preheat oven to 375°F.
Spray a muffin cup pan with non-stick cooking spray.
In a small bowl, mix melted butter, hot sauce, seasoned salt and pepper to make Buffalo sauce.
In a medium bowl, mix shredded chicken, cheddar cheese and ranch dressing.
Pour about half to three-fourths of the Buffalo sauce (reserve remaining for serving) into chicken mixture. Mix until combined.
In a medium bowl, mix together baking mix, milk, and eggs with whisk or fork until blended.
Spoon 1 tablespoon of batter into each muffin cup. Top with about 1/4 cup chicken mixture.
Spoon 1 tablespoon batter over chicken mixture in each muffin cup.
Bake at 375F for 30 minutes or until toothpick inserted in center comes out clean and tops are golden brown.
Cool 5-10 minutes. Remove from pan and transfer to a serving tray.
Top with blue cheese, chopped cilantro and a drizzle of reserved Buffalo sauce.
Serve warm.
Roasted Corn Dip
Makes 8-12 servings.
Ingredients
16 ozs. mayonnaise
8 ozs. sour cream
2 cups shredded sharp cheddar cheese
½ tsp Cajun seasoning
24 ozs. frozen corn and bell pepper blend
4 green onions, finely chopped
Directions
Mix mayo, sour cream, cheddar cheese, and Cajun seasoning in a medium bowl.
Add corn/pepper mix and sliced green onions.
Mix well.
Store covered in the refrigerator until ready to serve or up to 3 days.
Serve with assorted chips and crackers.
---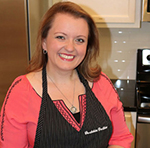 Kate knows food. She grew up with the Southern tradition of good food with the hospitality to match. A graduate of Texas A & M University, a student of The Texas Culinary Academy, and a Nacogdoches, Texas native, Kate's greatest joy is bringing people together over a scrumptious meal.