Monday July 1, 2019
All Things "Celebrate"
New to our Celebrate program? Here's a quick introduction to the variety of rewards our loyal shoppers can access. You only need ONE account for all the benefits below...
Celebrate Rewards 
SHOP • EARN • SAVE with Celebrate Rewards! Earn a point for every $1 you spend on our own brands; when your balance reaches 100 points, you get $2 off your purchase! Our brands include Buckley Farms, Brookshire Brothers, Cape Covelle, CharKing, Culinary Tours, Fresh Harvest, Food Club, Full Circle, Paws, Pure Harmony, Simply Done, Tippy Toes, Top Care, Valu Time, Wide Awake, and @Ease. Simply put in your 10-digit phone number (Celebrate ID) every time you check out and watch your points accumulate at the bottom of each receipt.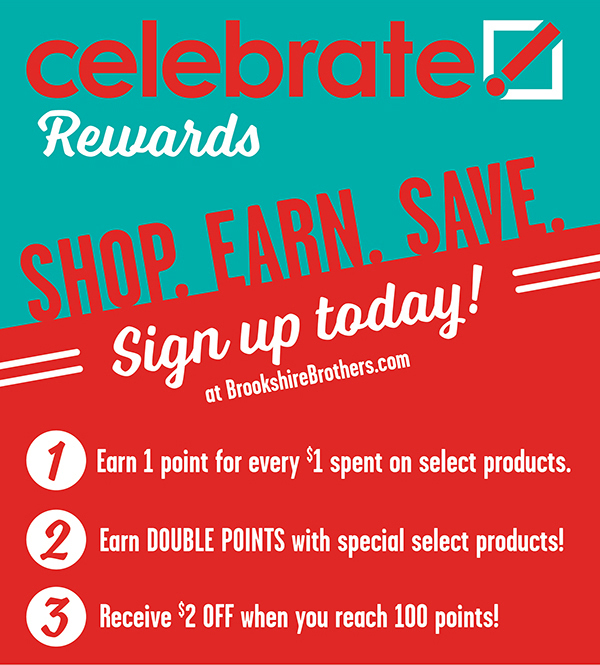 Visit the Celebrate Rewards page for our FAQ and more.
Digital Coupons 
Every Wednesday at 5 AM, check your email for your latest digital coupons! To load a coupon to your account, click on one of the featured coupons in the email, or log in to your Celebrate account from our website and navigate to the Digital Coupons portal. Once logged in, start clipping deals for you and your family! These offers are automatically loaded to your Celebrate account—no printing necessary! On your next visit to the store, pick up your qualifying items and enter your 10-digit phone number (Celebrate ID) at the register to redeem your Digital Coupons.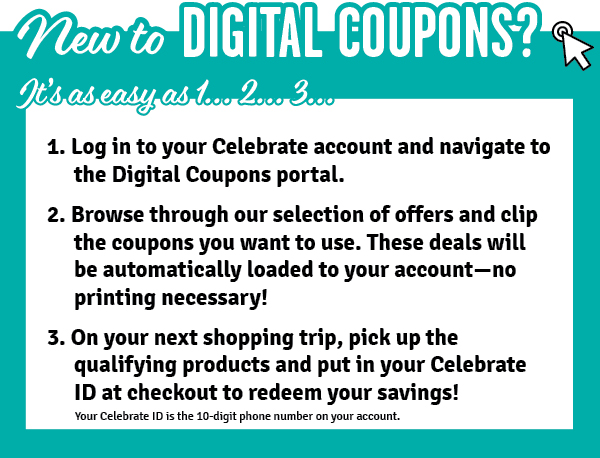 New coupons are added every day, so stay tuned on our website!
A Birthday Gift For YOU
Your big day deserves the best! To celebrate, we're sending you an email with a special $5 OFF coupon inside! To redeem, follow the instructions in the email.
Exclusive Contests, Events, Sales, and MORE
We offer a variety of uniqe contests, events, sales, and more as another way to bring value back to our Celebrate members. Flash Sales, Celebrate Rewards Events, Brookshire Brothers Anywhere, and Fuel Rewards are just a few example opportunities our loyal shoppers can participate in. Keep an eye out for these savings and more through the weekly ad or weekly emails!!