Tuesday October 22, 2019
5 Meals for $50 - 10/23/2019
Do you dread the process of planning dinners for the week? Do you feel overwhelmed with all the shopping, prepping, and cooking when it comes to feeding your family? Sweat no more. We're here to make it easier for you with this easy guide that will save you time AND money. Keep reading for five complete dinners to feed your family of four—all under $50! You can find all the recipes below, as well as an easy to follow 
shopping list
!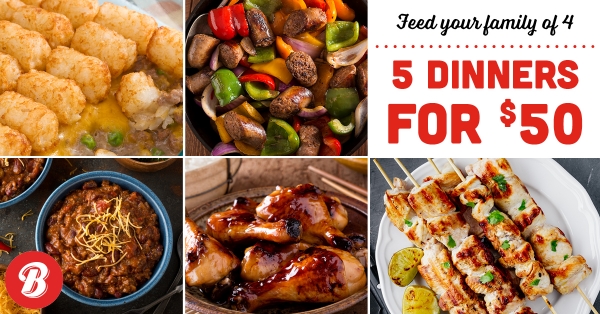 Meal 1 - Oven Baked Barbecue Drumsticks
Ingredients
Two dozen Chicken Drumsticks
½ cup olive oil
2 tsp garlic salt
1 tsp black pepper
1 tsp paprika

½ tsp onion powder

3 cups of your favorite BBQ sauce or to taste
Directions
Preheat oven to 400° and line a rimmed baking sheet with foil. Spray foil with cooking spray.
In a large bowl or ziploc bag mix the olive oil, garlic salt, black pepper, cayenne pepper, paprika, and onion powder together. Coat the drumsticks in the mixture.
Place drumsticks on foil lie baking sheet and bake chicken for 20 minutes.
Remove from oven.
Using a silicone brush, coat the chicken with BBQ sauce and bake at 400° another 20 to 25 minutes (or until the chicken is done 165°) turning the heat up to 450° the last 5 minutes to caramelize. Cooking times may vary based on the size of your drumsticks.
Remove from oven and serve.
Serve with Kraft Macaroni and Cheese and your favorite Food Club Canned Vegetable.
---
Meal 2 - Marc Angelo Skewers with Rice and Veggies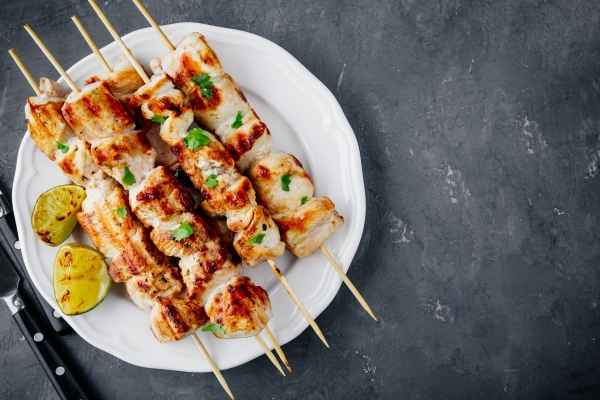 How to prepare Marc Angelo Skewers
Cook on foil-lined baking sheet, sprayed with cooking spray.

Preheat oven to 425°F (220°C).

Cook for 18 to 20 minutes.

Turn once or twice.
Serve with Doguet's Long Grain Rice and your favorite PictSweet Farms Southern Classic Frozen Vegetables.
---
Meal 3 - Homemade Chili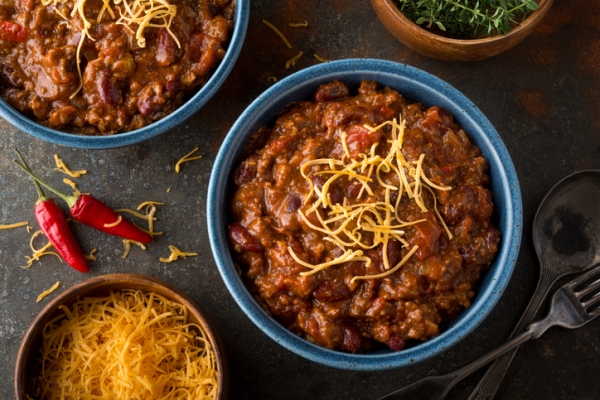 Ingredients 
1 lb ground beef
1/2 cup chopped onion
1/4 teaspoon garlic powder
1 tablespoon chili powder
1 Save $teaspoon ground cumin
½ teaspoon salt
2 (8 oz) cans Hunt's Tomato Sauce
1 (14.5 oz) can Food Club Diced Tomatoes
1 (12 oz) can Food Club Red Kidney Beans, drained
1 (12 oz) can Food Club Pinto Beans, drained 
Directions
In 3-quart saucepan, cook beef, onions over medium heat 8 to 10 minutes, stirring occasionally, until beef is thoroughly cooked; drain.
Stir in garlic powder, chili powder, cumin, salt, tomato sauce and diced tomatoes.
Heat to boiling over high heat. Reduce heat just enough so mixture bubbles gently. Cover; cook 1 hour, stirring occasionally.
Stir in kidney beans. Heat to boiling over high heat. Reduce heat just enough so mixture bubbles gently. Cook uncovered about 20 minutes, stirring occasionally, until desired thickness.
Toppings (optional)
Finely chopped red onion
Shredded Colby-Jack cheese
Fresh cilantro leaves
Sliced Jalapenos 
Serve with French bread. 
---
Meal 4 - Cowboy Casserole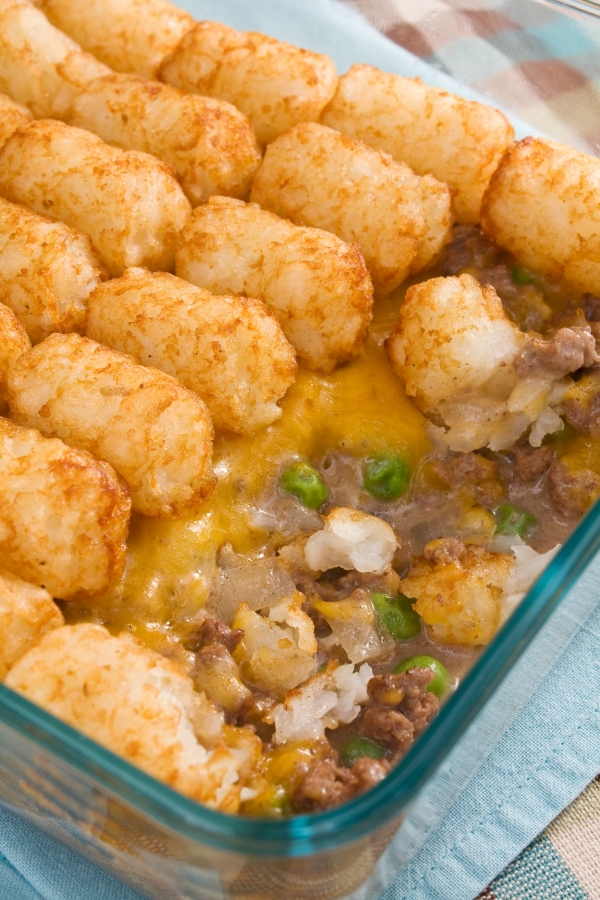 Ingredients
Bag 32oz frozen tater tots
1 lb lean ground beef
1 can Food Club Whole Kernel Corn, drained
1 can Food Club Green Peas, drained
1 can condensed Food Club Cream of Chicken Soup
1 cup shredded cheddar cheese. divided
⅓ cup 2% milk
2½ tablespoons sour cream
¾ onion powder
¼ pepper
Directions
In a large skillet, cook beef over medium heat until no longer pink.
Stir in the soup, ½ cup of cheese, milk, sour cream, onion powder, corn, green peas and pepper.
Place ½ of the bag of tater tots in a greased baking dish.
Layer with beef mixture and remaining tater tots; sprinkle with remaining cheese.
Bake, uncovered, at 375 degrees for 25-30 minutes or until bubbly.
---
Meal 5 - Bratwurst and Peppers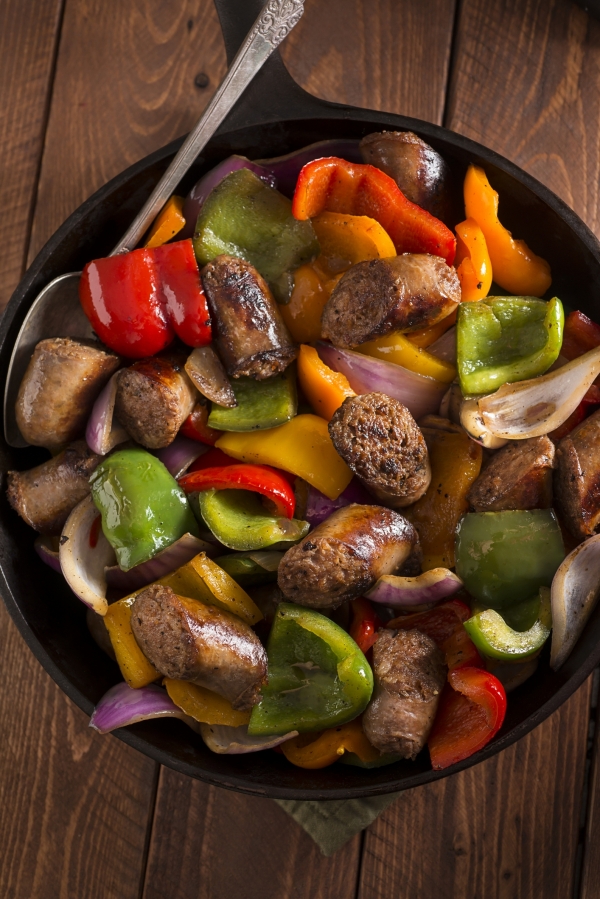 Ingredients
Johnsonville Bratwurst
Red, green and yellow bell pepper
1/2 white onion
Mushrooms (optional)
Jarred tomato/spaghetti sauce
Garlic powder
Red chili flakes (optional)
Directions
Saute sausages in a skillet for 10 minutes and then cut them in 1/2 inch pieces.
Meanwhile heat up the mushrooms, if you choose to use them. As their juices start to release, add onions and peppers, cooking around 2 minutes or so. They don not need long to cook, so add sausages back in after that along with garlic, salt & pepper and optional red chili flakes.
Add your tomato sauce, then cook another couple minutes. Serve immediately!
Serve with Doguet's Long grain rice.
Be sure to tell us #HowIFeedMyFamily at your local #BrookshireBrothers store and don't forget to download all of the recipes and your 
shopping list
 today!