Cormie's Grocery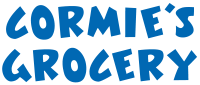 Cormie's Grocery is a unique neighborhood grocery and deli that also delivers fuel, convenience and some unexpected culinary surprises!
Situated at the corner of Big Lake Road in south Lake Charles, Louisiana, Cormie's Grocery is right on the way to prime fishing and hunting destinations as well as in prime position to serve the nearby neighborhoods. That's a big reason why this store has been an essential part of the area culture for generations.
Cormie's Grocery offers time-tested items as well as seasonal favorites such as delicious King Cakes and an unequaled hot deli featuring fresh prepared entrées. We offer an extensive selection of smoked meats prepared on site, hearty breakfasts, and prime beef cut to order. Cormie's Grocery stands ready to supply the outdoor enthusiast with everything from shotgun shells, fishing supplies, live bait and all the essentials.
From the traditional to the unexpected, this corner grocery has it all. For fresh produce, mouth-watering favorites, and the grab-and-go beer, gas and tackle, Cormie's Grocery is one stop you won't want to miss when visiting this part of the world.